Notification center
BEE Pro becomes Beefree
We're still the same design suite you know and love, just with a new name. Our team is working hard to update our documentation, but you might still see some information or screenshots that are out of date.
This article applies to all plans.
Overview
With the Notification Center in Beefree, it's easy to stay up-to-date with the rest of your team. When signed into your account, you'll see a bell icon in the top navigation bar. Clicking on this icon will open the Notification center.
When a new notification is available, a purple circle will appear on top of the bell icon. The notification will inform you which user performed the action and when. Timestamps for notifications will show in your local time zone.

The notification center is separated into two different tabs, Direct and Updates. Direct notifications apply specifically to the logged-in user and are often time-sensitive. They will also trigger an email. These are the types of notifications that you can mark as read or unread.
On the other hand, the Updates tab allows you to see what the rest of your team is working on. This information is available to view in the Notification center, but you won't receive direct notifications about them.
Here are some examples of the types of notifications you'll see in each tab:
| | |
| --- | --- |
| Direct | Updates |
| Mentions | Exports |
| Re-opened comments | Published pages |
| Resolved comments | Bulk Actions |
| New users requesting to join the team | Configured domain (Enterprise only) |
| CDN usage | Workspace import complete (Enterprise only) |
| Approval workflow requests (Enterprise only) | |
| Approval workflow complete (Enterprise only) | |
Notification Status
Direct notifications can be marked as read or unread. Unread notifications will show a purple dot, while read notifications will show an outline of a purple dot.
You can interact with this dot inside of the notification center to manually change the read status of your notification. You can also use the Mark all as read link at the top to clear all notifications at once.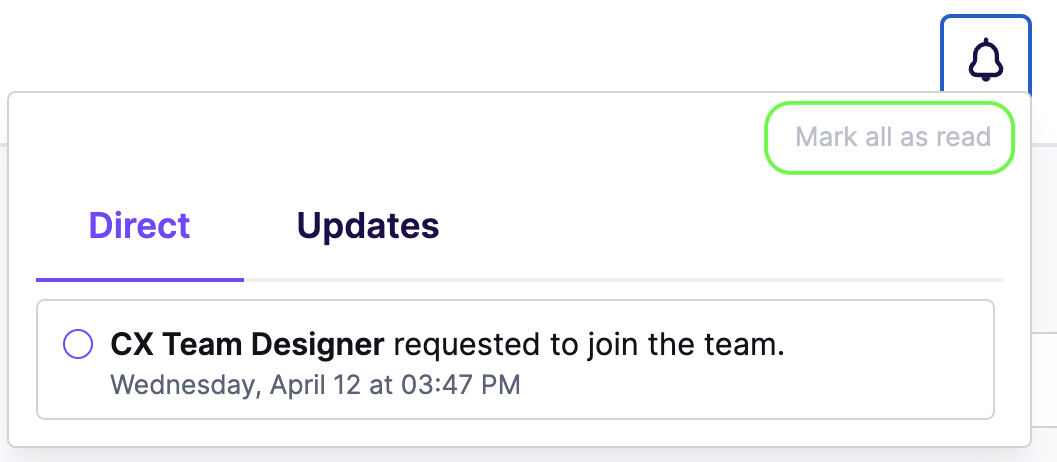 We also send an email notification for certain types of notifications, such as mentions and join requests. If you open the email notification, this also marks the notification as read inside of Beefree.
If you have any questions, feel free to contact us.