Notifications center
This article applies to all BEE Pro plans.
Overview
With the Notifications Center in BEE Pro, it's easy to stay up-to-date with the rest of your team. When signed into your account, you'll see a bell icon in the top navigation bar. Clicking on this icon will open the Notification center, which provides updates about:
When a new notification is available, a purple circle will appear on top of the bell icon. The notification will inform you which user performed the action and when. Timestamps for notifications will show in your local timezone.

Inside the notification center, the same purple dot indicates the notification status (read/unread). Unread notifications will show an identical purple dot, while read notifications will show an outline of a purple dot.
You can interact with this dot inside of the notifications center to manually change the read status of your notification. You can also use the Mark all as read link at the top to clear all notifications at once.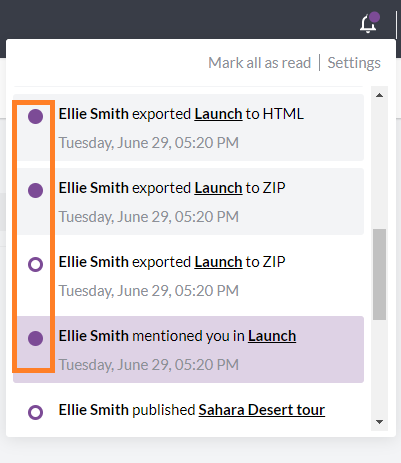 Mentions
Are you using the commenting feature? The notifications center is where you can keep track of the comments directed at you. Unread mention notifications use a purple background so that they are easy to find.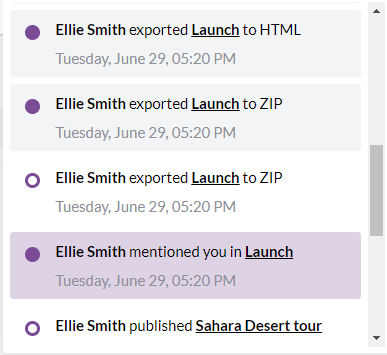 Clicking on a mention notification will direct you to the builder stage, which will open to the related comment thread. 
An email notification is also sent, in case you aren't working inside BEE Pro when the mention is created. Please note that the button in the email notification will only direct you to the comment thread if you are already logged in.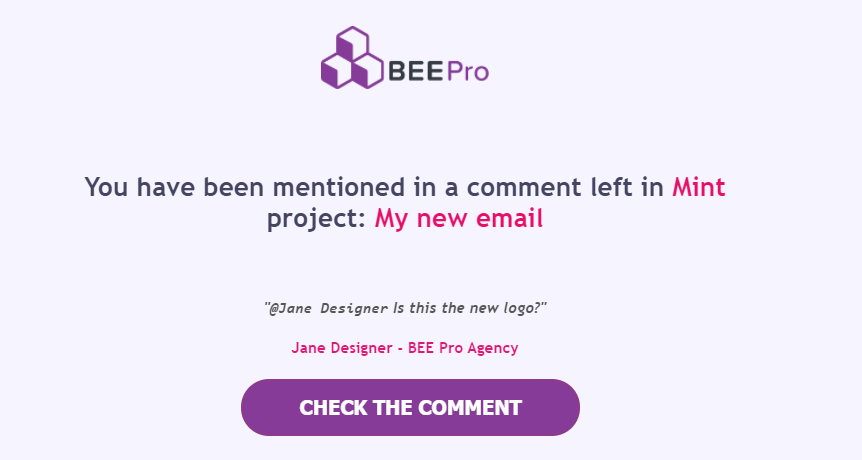 Mention notifications will never disappear, so you can revisit these at any time. To ensure that these are never missed, you must click on the mention notifications or manually mark them as read. 
Other Notifications
The notifications center will also let you know if someone exports an email or publishes a page. Clicking on these notifications will direct you to the details page for the associated design.

These notifications are automatically marked as read once you view them. You can always mark them unread if you need to review them later.
Please note that Mailchimp is currently the only connector that will show up by name in the notification center. If another connector is used, the notification will simply state that the design was exported to a connector. 
Notification Settings
Notifications are enabled by default for all BEE Pro users. But what if you're receiving too many notifications? No problem! On the My profile page within your account, you'll find the option to disable in-app notifications. You can also use the Settings link within the Notifications center to jump directly to this page.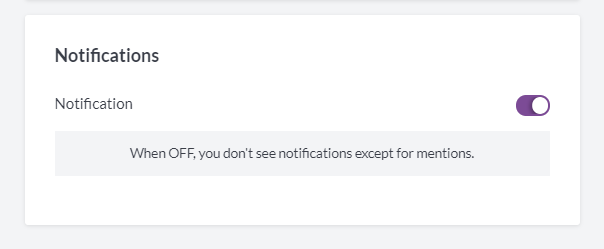 Use this option to stop receiving both in-app and email notifications regarding exports and page publishing. Mention notifications, however, cannot be turned off.
All missed notifications will appear when notifications are enabled again. Note that they will immediately be marked as read.
If you have any questions, feel free to contact us.