Creating and Storing Designs
This article applies to all BEE Pro plans. However, some features may be limited or unavailable on the Free plan.
Getting Started
Upon logging in to your brand new BEE Pro account, you'll see a page that looks something like this: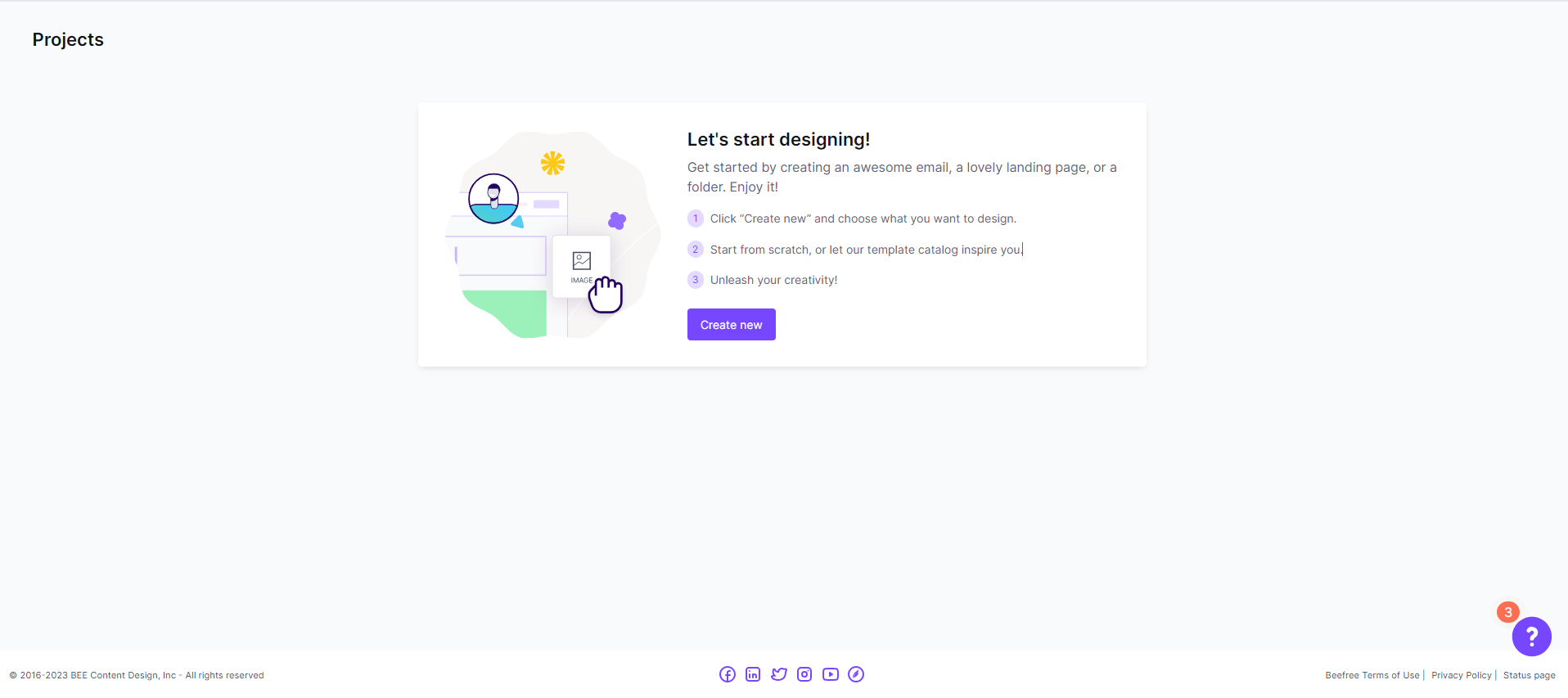 *If you imported a BEE Free design to BEE Pro, you won't see this page. This only populates when nothing is stored in BEE Pro yet. 
This is your new projects page, where you can store any emails or pages that you're designing. You can also use this page to create project folders to better organize your designs.
Once you're ready to get started, click the + Create new button. A modal will open to present some options.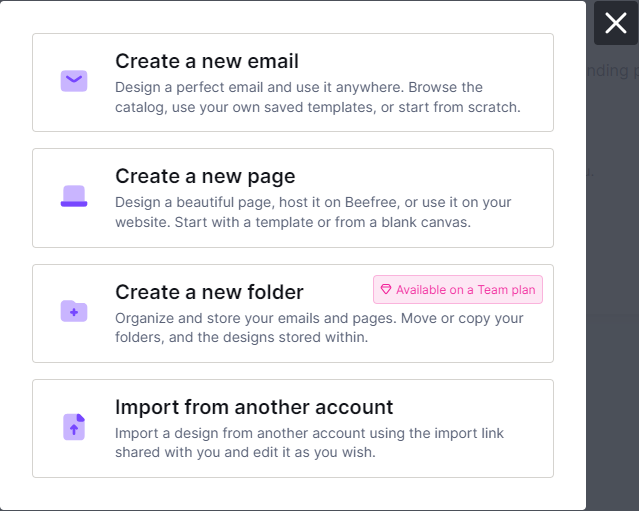 From this modal you can:
Create a new email. This will direct you to the email template catalog.
Create a new page. This will direct you to the pages template catalog.
Create a new folder. If you are using a Team or Enterprise account, this allows you to create a project folder. If you are using a Free account, selecting this option will prompt you to upgrade.
Once you create your email or page, you can return to the Projects tab to find it again.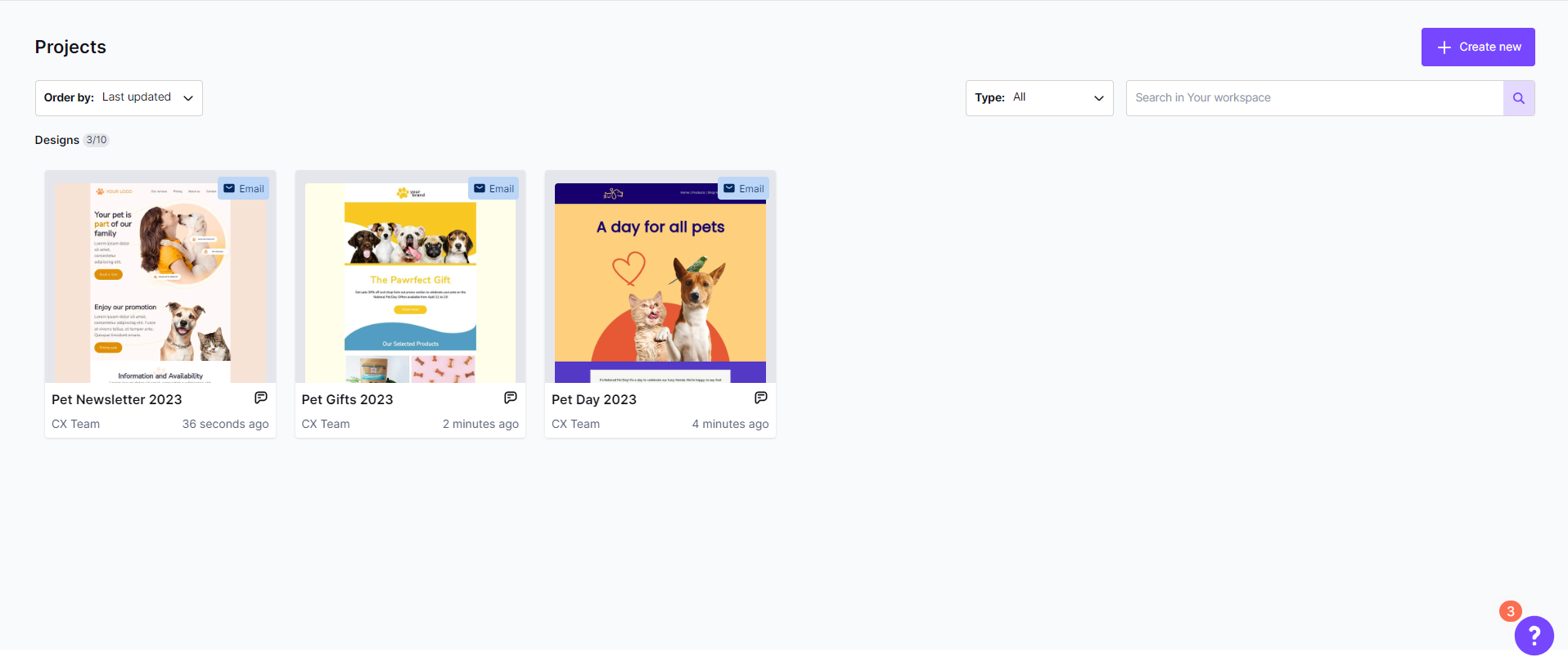 To continue working on your design, click anywhere on the preview. If you hover over the preview, you'll see an icon in the upper-right hand corner that you can use to:
View details
Send test (email only)
Copy
Export
Once you have at least one design stored in your account, the + Create New button moves to the upper right-hand corner of the Project page. You can interact with this at any time to create something new. 
Team and Enterprise accounts
If you're using a paid BEE Pro account, this means you have access to folders. As a result, you'll also see all your folders listed at the top of the page.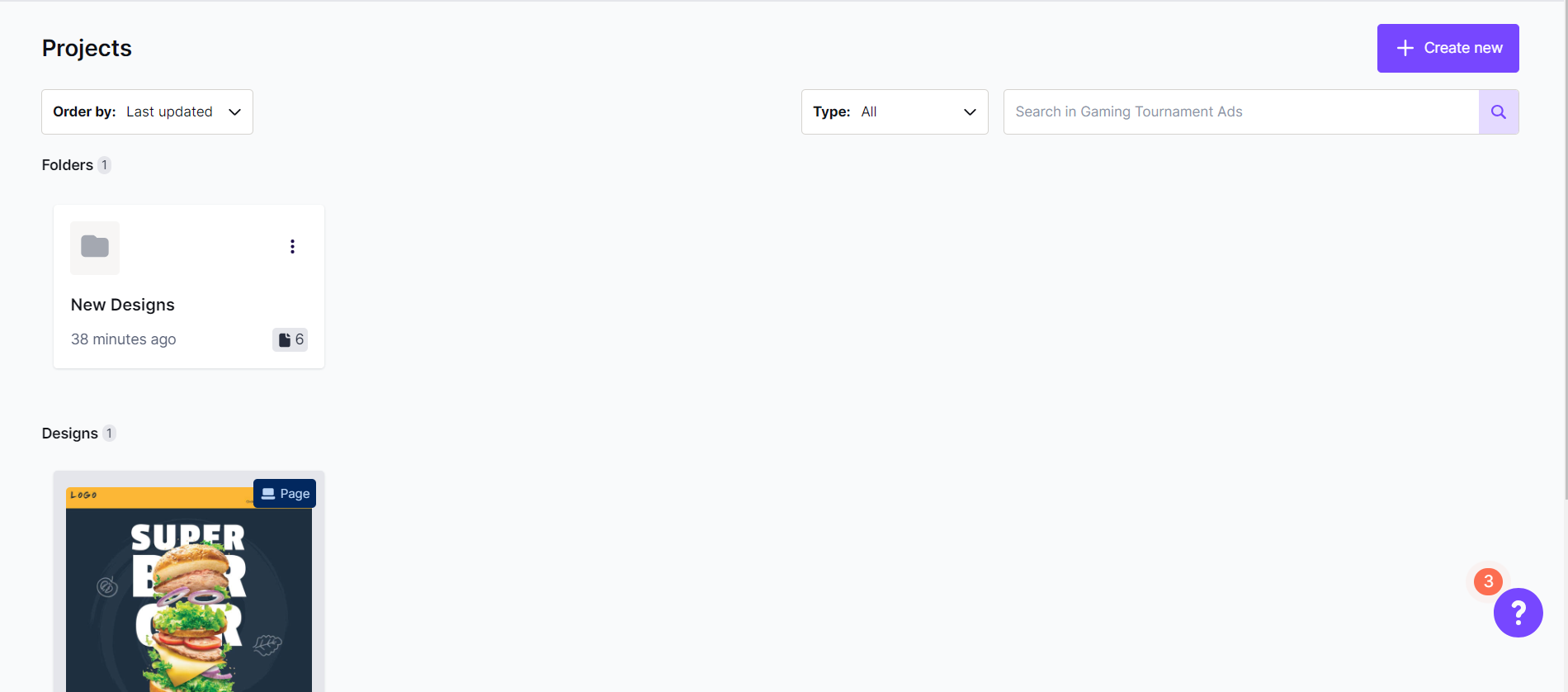 Folders are displayed at the top of this page. To differentiate them from emails and pages, you'll notice a folder icon in the lower left-hand corner of the folder preview. Click anywhere on the folder preview or details to go to the folder's page. 
You can also create emails and pages that aren't stored in a folder. You'll find a full list of those designs below your folders.
On paid accounts with access to folders, the Move option is also available for designs not stored in a folder. This allows you to move your designs into a folder if you would like to.
Related Reading
Are you looking for more information on creating and organizing your designs? The following articles might help!
Do you need to design a template instead? Check out Working with custom templates in BEE Pro.
If you have any questions, feel free to contact us.