Using Import Links in Beefree
BEE Pro becomes Beefree
We're still the same design suite you know and love, just with a new name. Our team is working hard to update our documentation, but you might still see some information or screenshots that are out of date.  
Are you experiencing issues with import links? Note that the format of these URLs has changed. Please refer to the chart below to make sure you're using a compatible import method for the link format. 
| | | |
| --- | --- | --- |
|   | URL example | Supported import methods |
| New format | https://beefree.io/app/design-import-link/[...] | Using the link, Create new |
| Old format | https://pro.beefree/design-import-link/[...] | Using the link |
This article applies to all plans.
Overview
Import links allow you to easily share designs with other Beefree customers. Import links allow anyone to import an editable version of your design to their own Beefree account. This works by effectively creating a copy of a design in a separate account. 
This option is great if you:
are consolidating the assets of several Beefree accounts.
are a marketing agency working with a client, and you both have your own Beefree accounts.
want to share a design you created with our community. 
All it takes is a few clicks. Let's take a look at how to use import links.
Creating Import Links
You can create an import link for any email or page. Find the toggle to Enable import link on the details page for your design.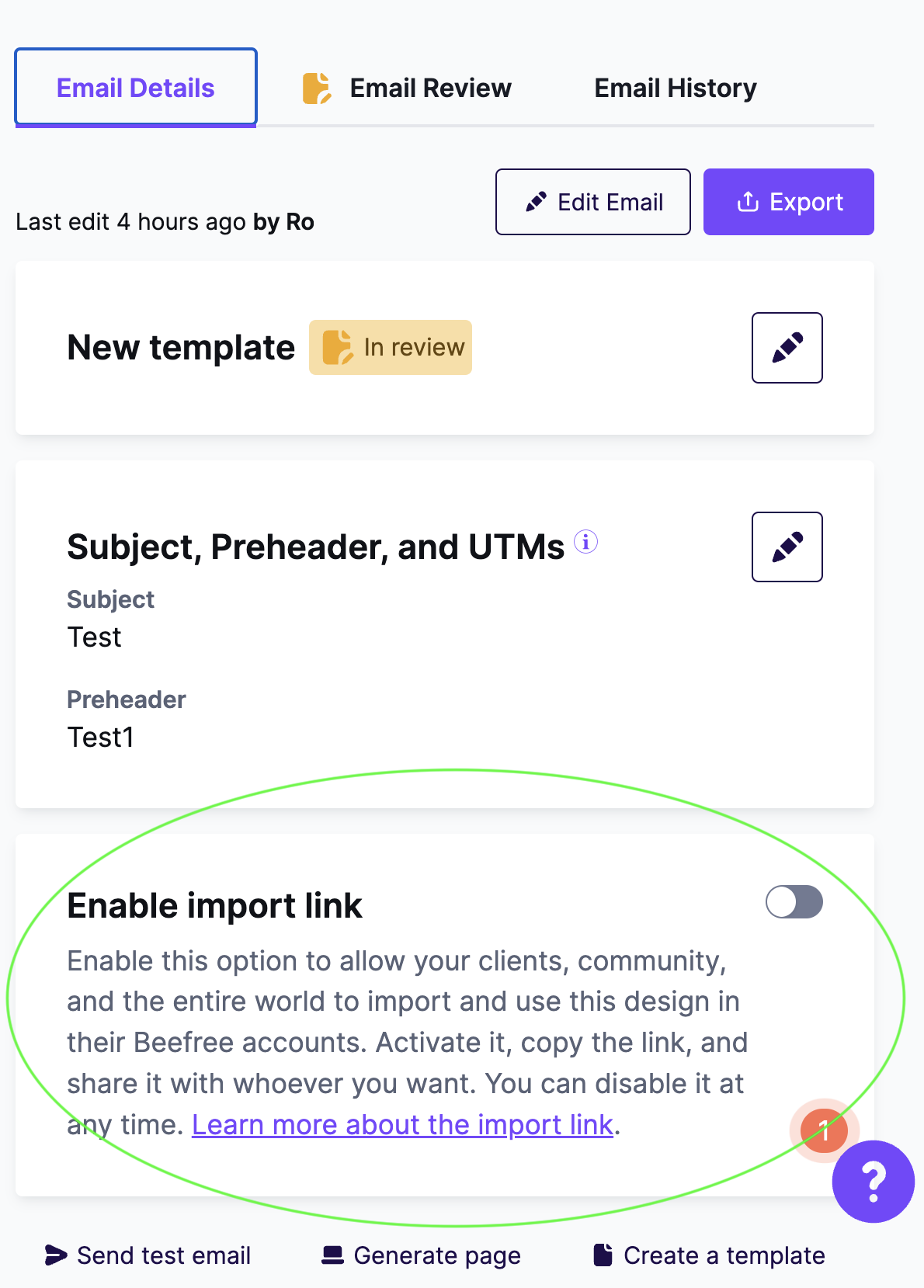 Click to enable the import link. The toggle turns purple, and a URL will populate. Click the copy link icon to easily share your import link.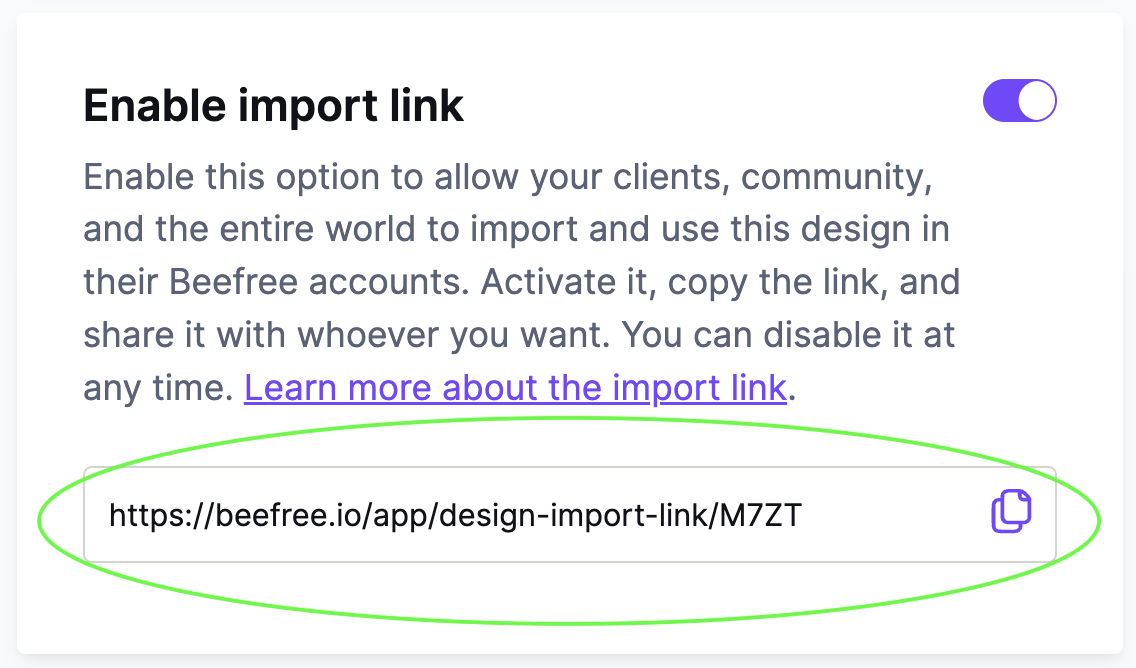 It's up to you to decide who you want to share your import link with. Keep in mind that anyone can use the link to import a copy of your email or page to their own account. 
Notes
Custom scripts of Page analytics are not copied

. 
Import links will return a 404 error if the design is no longer available. 
Fonts are included in imported designs, but you can't import font settings. If you want to add the font to your account, you must manually do so in Settings > Styles. This also applies to default or web fonts you may have disabled in your workspace settings. 
Synced rows will become regular rows. 
Import options are not available to Contributors or Viewers.
Importing Designs
There are a couple of different ways you can use an import link. Let's take a look at the options. 
Using the link
Anyone can interact with an import link, even if they don't have a Beefree account yet. By following an import link, you'll land on something that resembles a details page.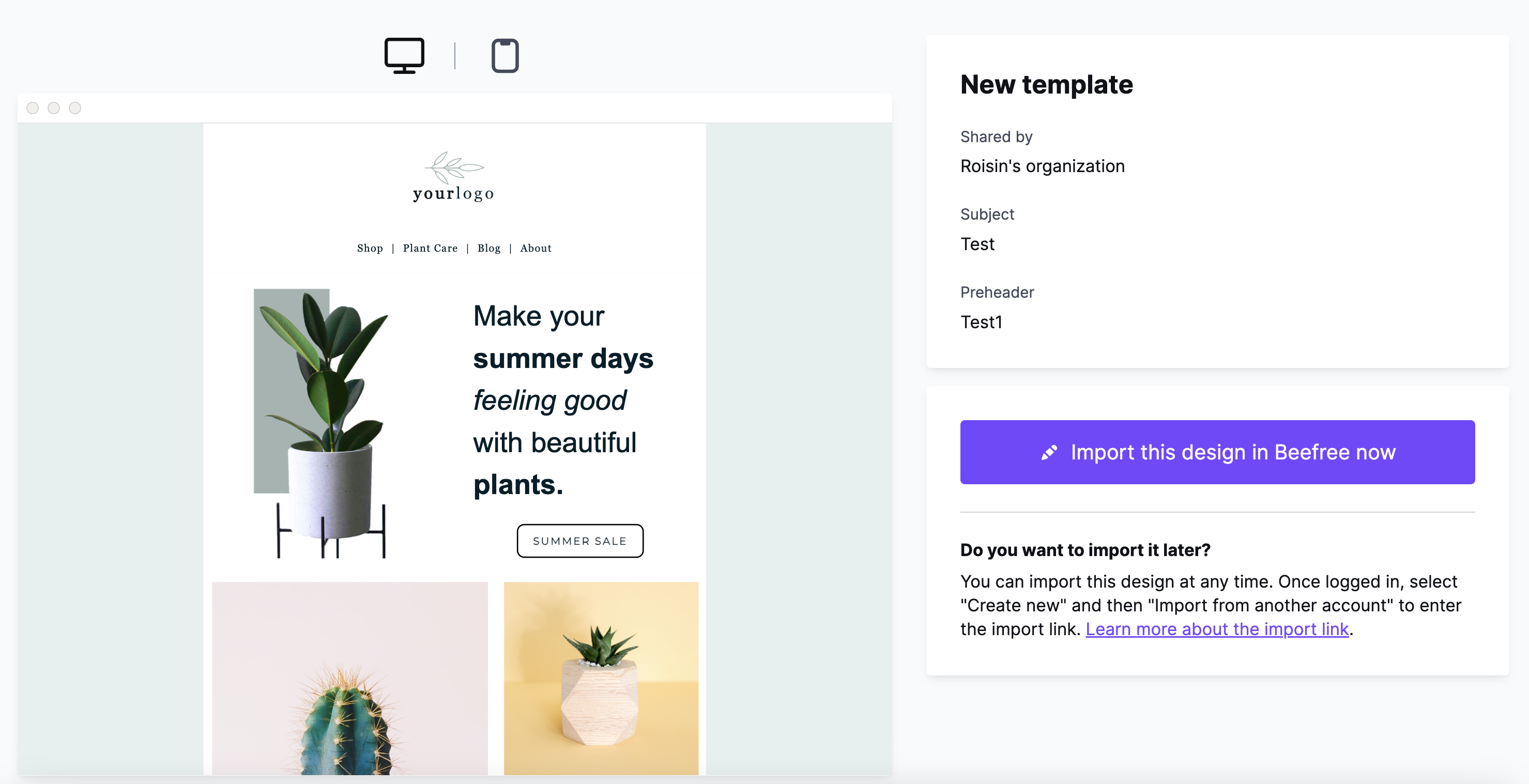 On the left, you see a thumbnail preview of the design. You can toggle between a desktop and mobile preview. On the right side, you'll see a summary of the design details. This always tells you who shared the design originally. It might also include other shared details, such as:
- Subject*
- Preheader*
- UTM Parameters*
- Title**
- Meta description**
*Emails
**Pages
Use the Import this Design in Beefree Now button to get started. If you're already logged in, the import will begin immediately. A modal asks you to select an organization or a workspace if you have these options in your account. Make your preferred selections and confirm by clicking the Import button. You will receive a confirmation message. Click Go to Beefree to open your account. If your designs are sorted by "Last updated", you'll see the imported design at the top of the list. 
If you're not logged in, the modal will first prompt you to do so. If you don't have an account, you can sign up from this modal. 
Create new
If you're already in the Beefree platform, you can use the Create New button in the projects tab. The bottom option in the modal allows you to paste an import link.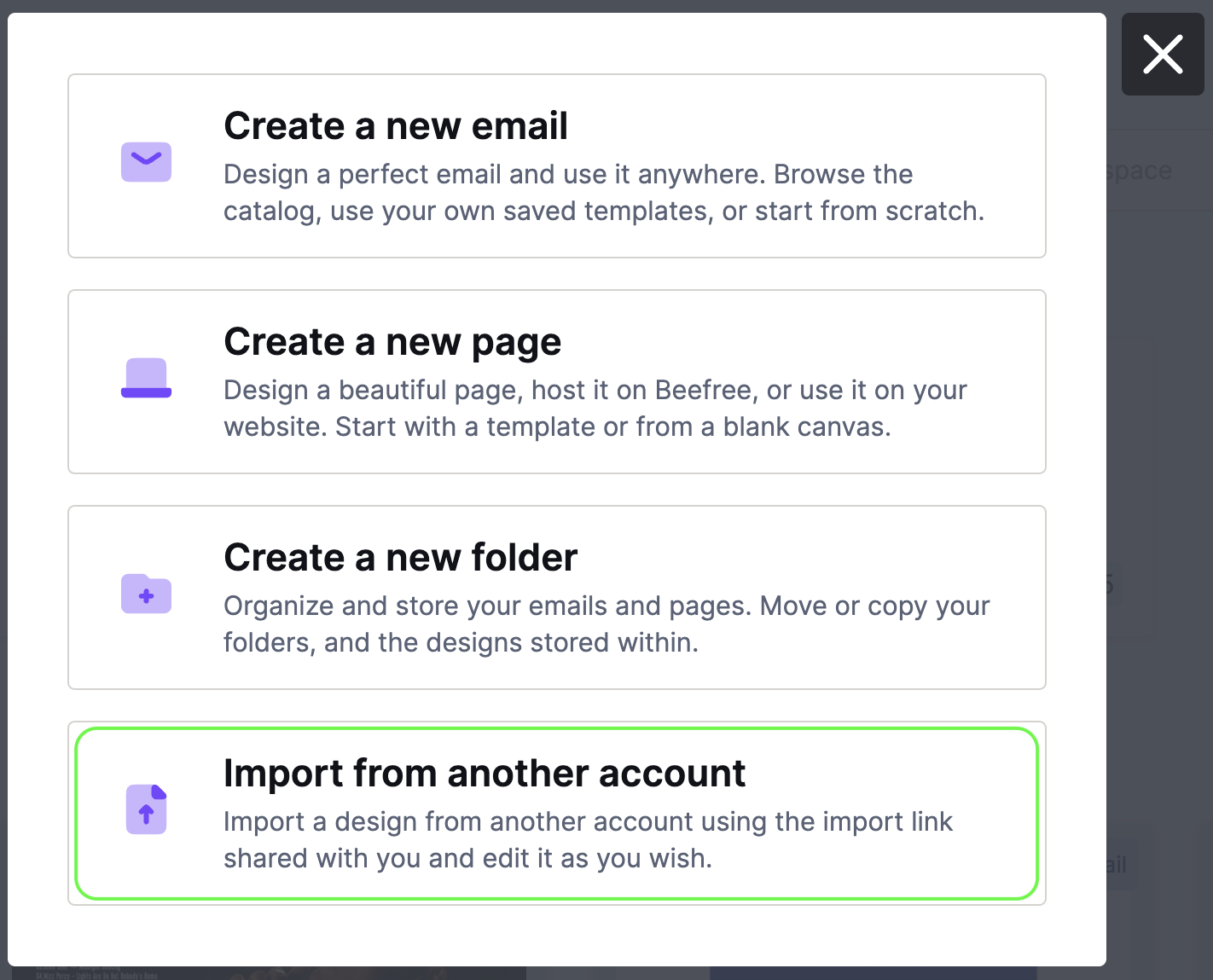 Click the Import button to complete this process. You'll receive a confirmation message and see the design populate at the top of your list.
Imported files
Imported designs may include images or other files hosted in the file manager. If you're importing a design with these types of assets, they are copied to your own account as well. Charges may apply, so be sure to check the size of any imported files.
The first time you import a design including hosted files, we create a file folder. You can locate this in your file manager; the folder is titled imported.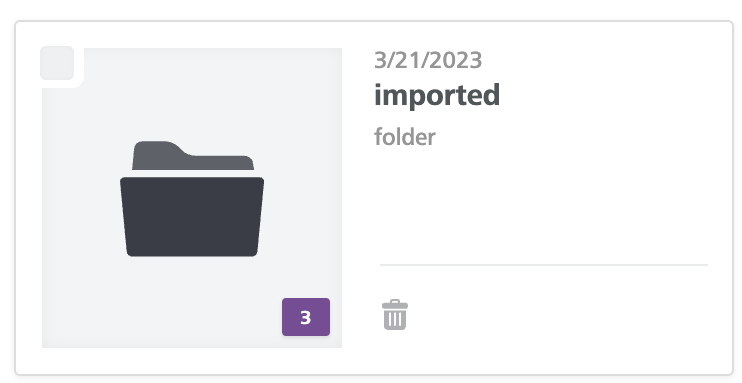 For every individual imported design, we create a subfolder within the imported folder. This folder will be titled as "imported design ID-date-time" for your convenience. These folders cannot be renamed. 

If you import the same design twice, this will not overwrite any imported files. We'll create a new file manager subfolder for every import you perform. 
We hope you enjoy the ability to share your designs with other Beefree users! Do you want to share your designs with a wider audience? If so, join the conversation in our Template Talk community forum. 
If you have any questions, feel free to contact us.