Finding your team in Beefree
BEE Pro becomes Beefree
We're still the same design suite you know and love, just with a new name. Our team is working hard to update our documentation, but you might still see some information or screenshots that are out of date.
This article applies to the Free & Team plans.
Overview
It's now easier than ever to find your team inside Beefree! The platform can now identify other accounts using the same company domain. The first time you sign in, you may receive a notification that your teammates are already using Beefree. This means that there are other accounts registered under the same domain. You'll also see that you have the option to join or request to join the account.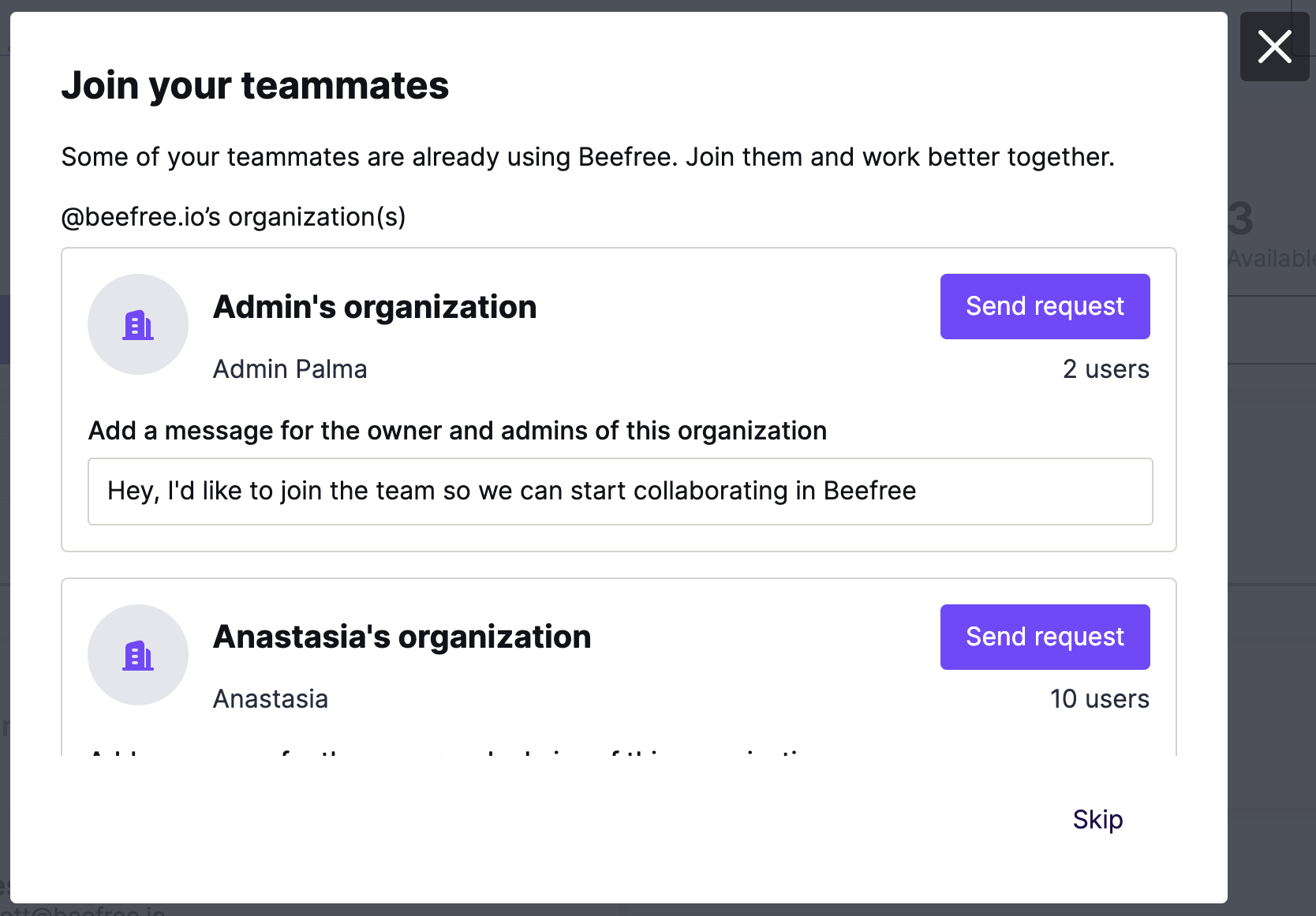 Let's take a look at how it works.
Setting up your organization
Owners manage whether their organization is visible for accounts using the same domain. These settings are available on the My subscription page. You'll find a Manage organization button to the right of your organization name.

Using this button, you can make changes to the following:
Organization name (required)
Organization industry
Visibility & join settings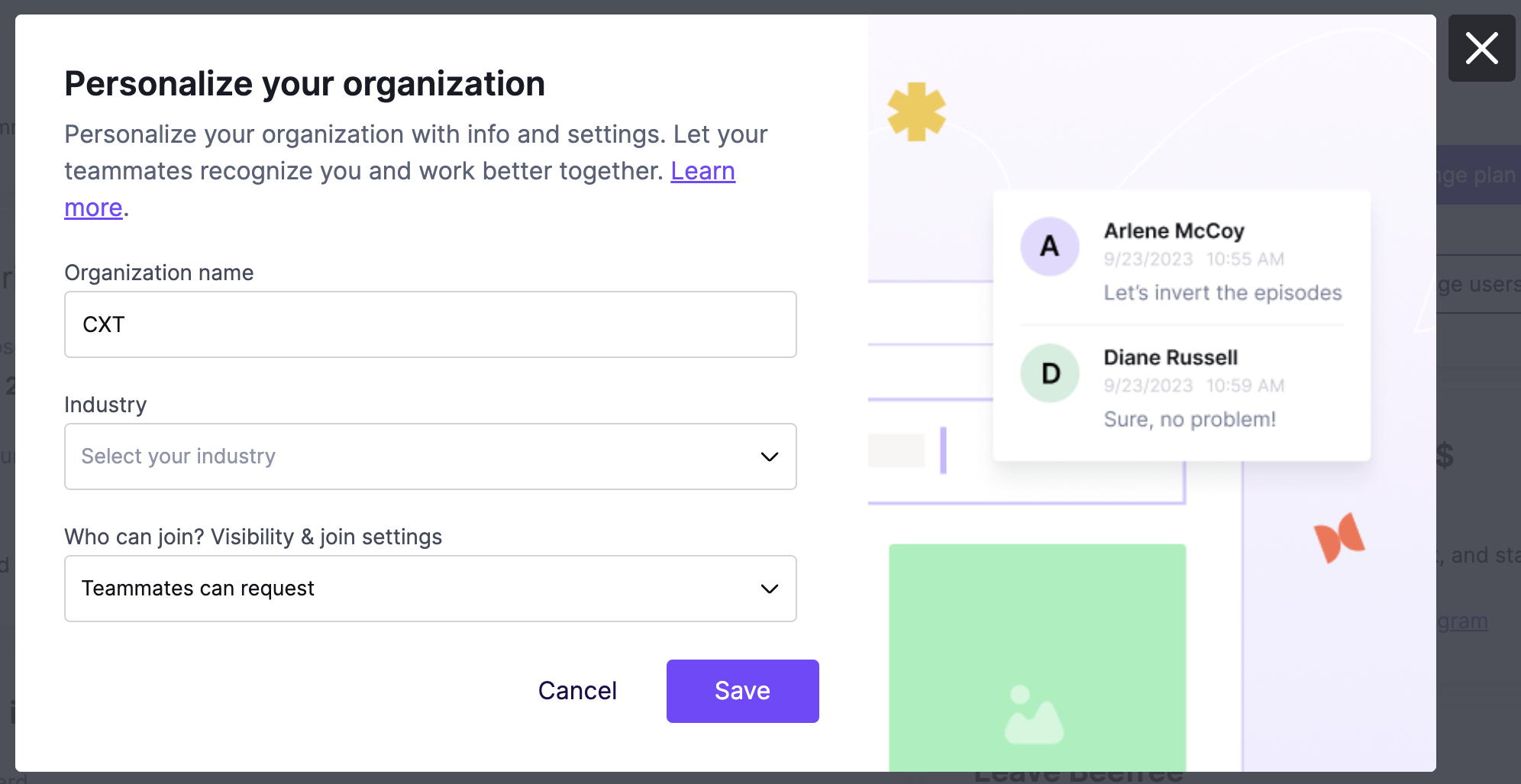 Visibility settings determine whether users with the same domain can see your account. Join settings determine how these external users can join (or request to join) the account. The following options are available:
Teammates can join Allows anyone with the same domain to join your account immediately.*
Teammates can request Allows people with the same domain to see that your account exists. They'll need to send a request to access your organization.
Only when invited Prevents anyone from seeing your account, even if they share your domain.
*This option is only available for the Free plan.
By default, all accounts are set to Only when invited. This means that your organization will only be visible to other users if you change the settings.
Managing requests
If you enable Teammates can request, you may start receiving join requests. Both owners and admins can manage these. The notification center will inform you of any new requests.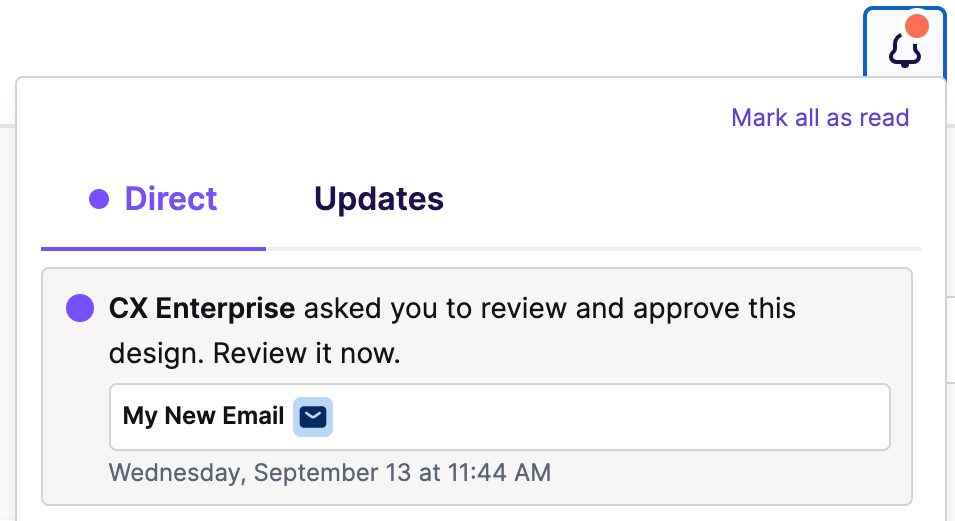 You can review any pending requests on the Manage users page.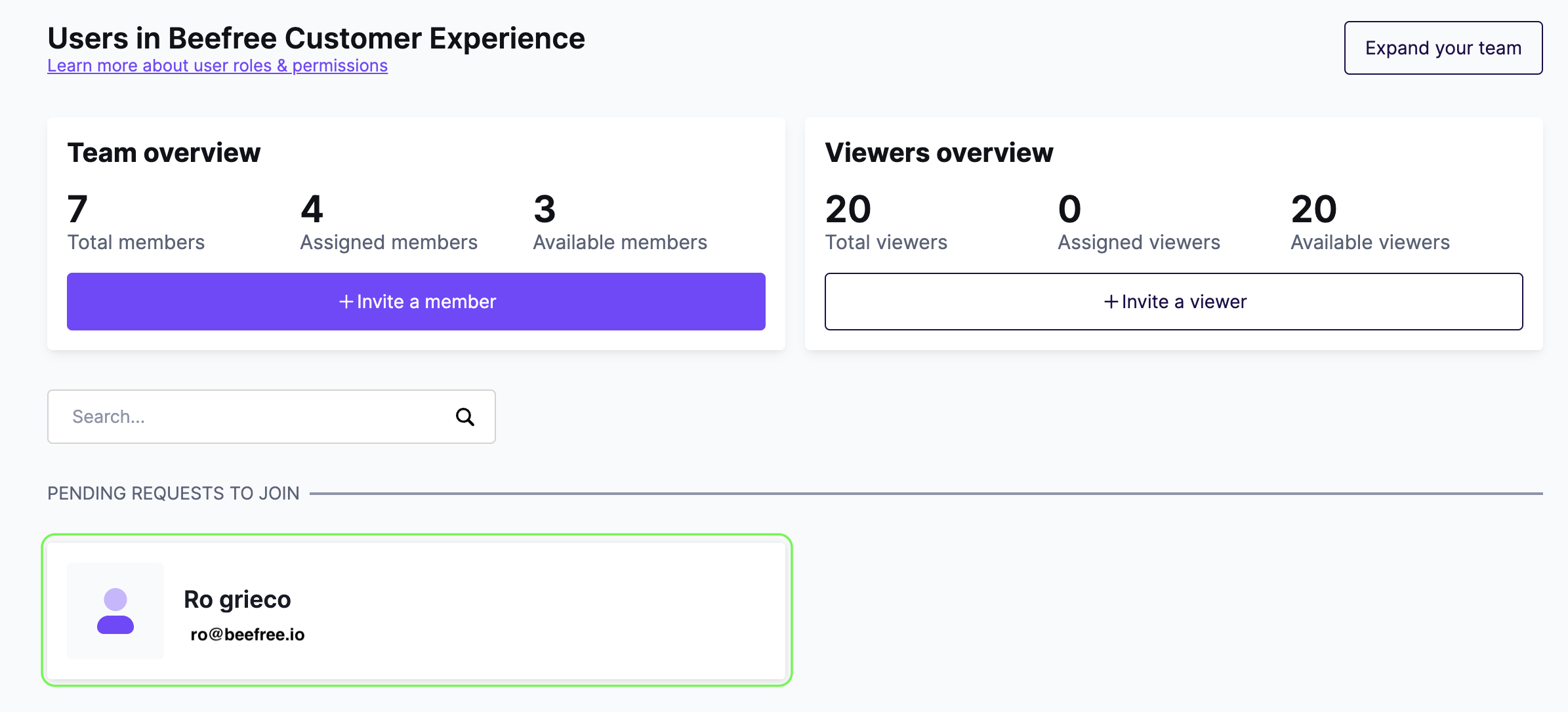 If you have any join requests, they'll populate above Your team members. If there are no pending requests, this section will not be visible. You'll see some icons if you hover over the request box. Use these icons to accept or deny the join request.

If you accept the request, the platform redirects you to a page similar to the one you use to invite new team members. You can accept them as either a member or a viewer. If giving the requester member permissions, you can also select their user role.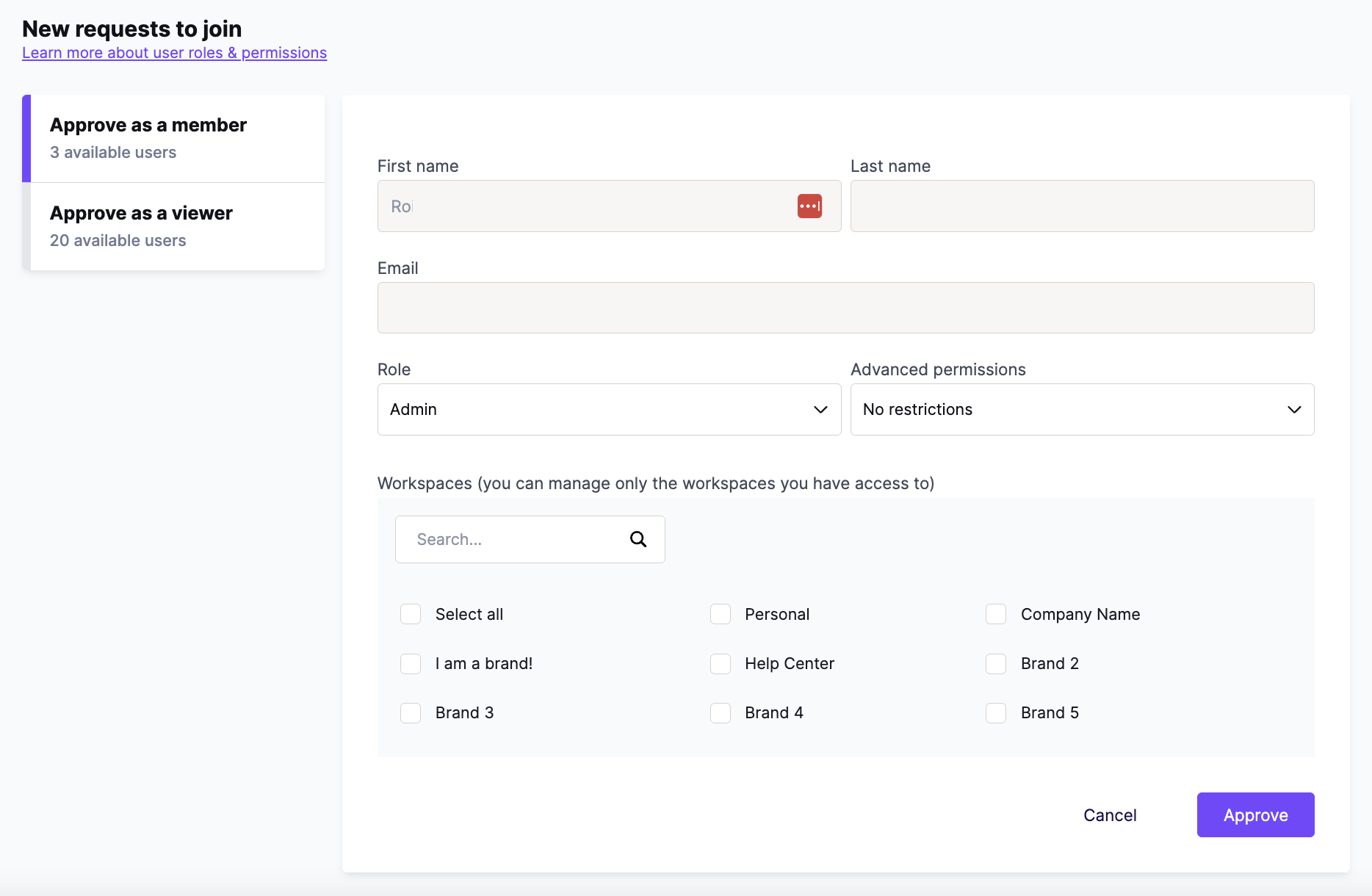 If you are an admin, note that you may encounter an error if there are no available users in your account. The error will notify you to contact the account owner so they can expand your team.
If you deny a join request, then the requester will not be able to request access to your account again. However, you can always invite them directly if you change your mind.
The user who sent the join request will receive an email notification. This notification lets them know whether their request was accepted or denied.
Join your organization
In the past, the only way to know if your teammates were already using Beefree was to be invited to their account. With this new feature, Beefree will let you know whether other members of your company are already using the platform.
New members
After signing up and activating your account, you can sign into the platform for the first time. If we've identified other accounts with your domain, we'll notify you about them as soon as you sign in. A modal will populate, and you may see the following options:
Note that you may not see all accounts associated with your organization. Account owners may choose to not make their account visible. You will only see those with visibility enabled.
The Join button will give you immediate access to that account. However, the Send request button will notify the owners and admins of the account. They must accept or deny your request. You'll receive an email notification to let you know whether or not your request is accepted.
After joining an account, you'll still have access to your personal account. When a Beefree user has access to more than one account, they'll land on a Select organization page upon signing in. The account you own will always populate first.

Existing members
You can still find your team if you were already using Beefree when this feature was released. You'll see a new option populate in the dropdown menu found in the upper right-hand corner of the platform. This option only populates if we find other accounts under your domain.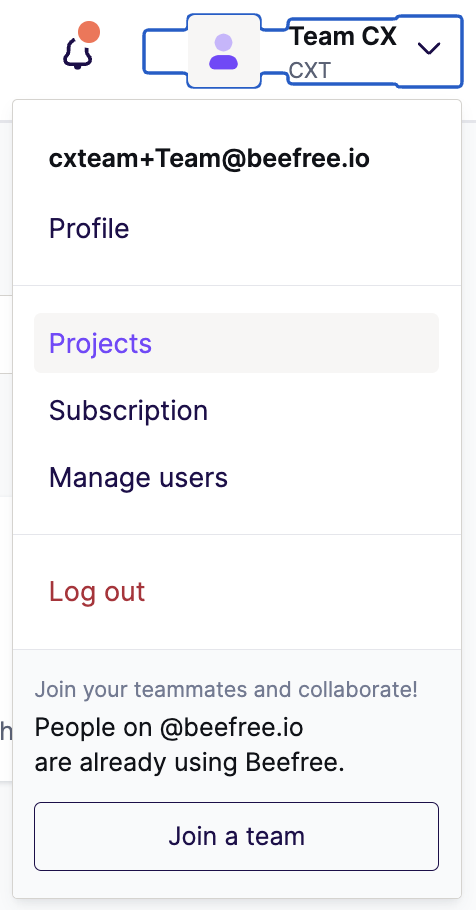 Use the Join a team button to open the modal that shows you any accounts matching your email. This option will also populate if you opt to skip the join team workflow at sign up.
If you have any questions, feel free to contact us.