How do I update my Beefree account credentials?
BEE Pro becomes Beefree
We're still the same design suite you know and love, just with a new name. Our team is working hard to update our documentation, but you might still see some information or screenshots that are out of date.  
This article applies to all plans.
When you sign up for Beefree, there are a couple of options:
Sign up using the traditional Beefree sign-in form.

Sign up using your Gmail or Microsoft credentials through single sign-on (SSO).
The process for updating your Beefree email or password depends on the sign-in method you use.
Traditional log-in form
Email address
You can update your account (log-in) email at any time by visiting the Profile page in your Beefree account. You will find a link to this page in the top-right drop-down menu for account navigation.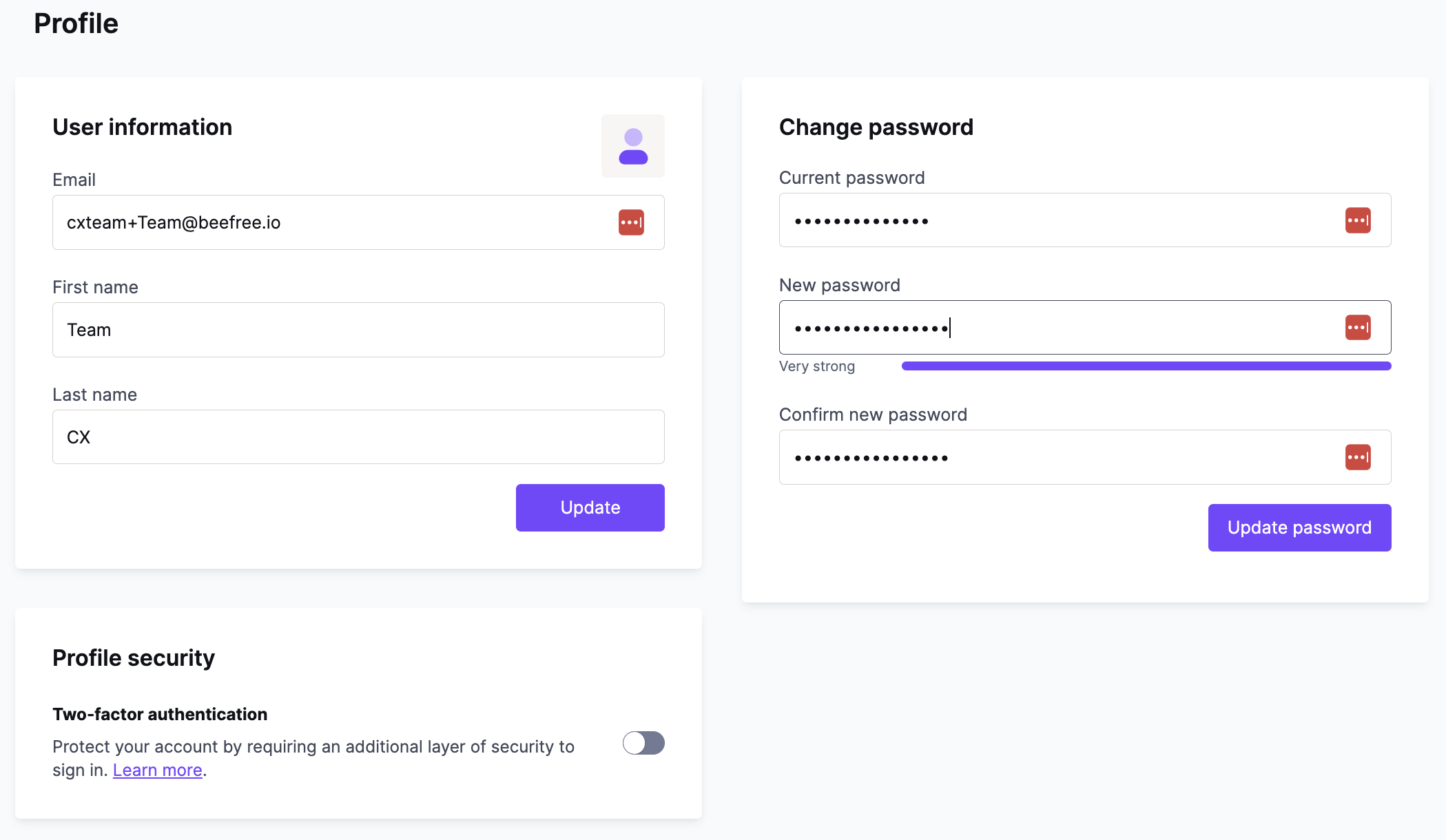 Use the section on the left-hand side of the page to type in your preferred log-in email address. When you click on Update, the following will happen:
The existing email address will receive a notification about the change.
The new email address will receive a request to confirm the account change.
It will be active only when the user confirms the address.
Password
Use the section on the right-hand side of the page to confirm your current password and create a new one. Keep in mind that your password needs to meet the following requirements:
minimum of 10 characters
different from the email address used
uses a combination of letters and numbers
the password can't be too similar to your other personal information or too common
the password can't contain repeated words or characters.
Please note that commonly used passwords may also be rejected. There is no confirmation email generated for passwords changed through this form.


Two-Factor Authentication (2FA)
This section applies to the Team and Enterprise plans.
If using the traditional login method, then you can enable Two-Factor Authentication (2FA). This option is located under the Profile security section. By default, 2FA is turned off. Toggle it on at any time to get started.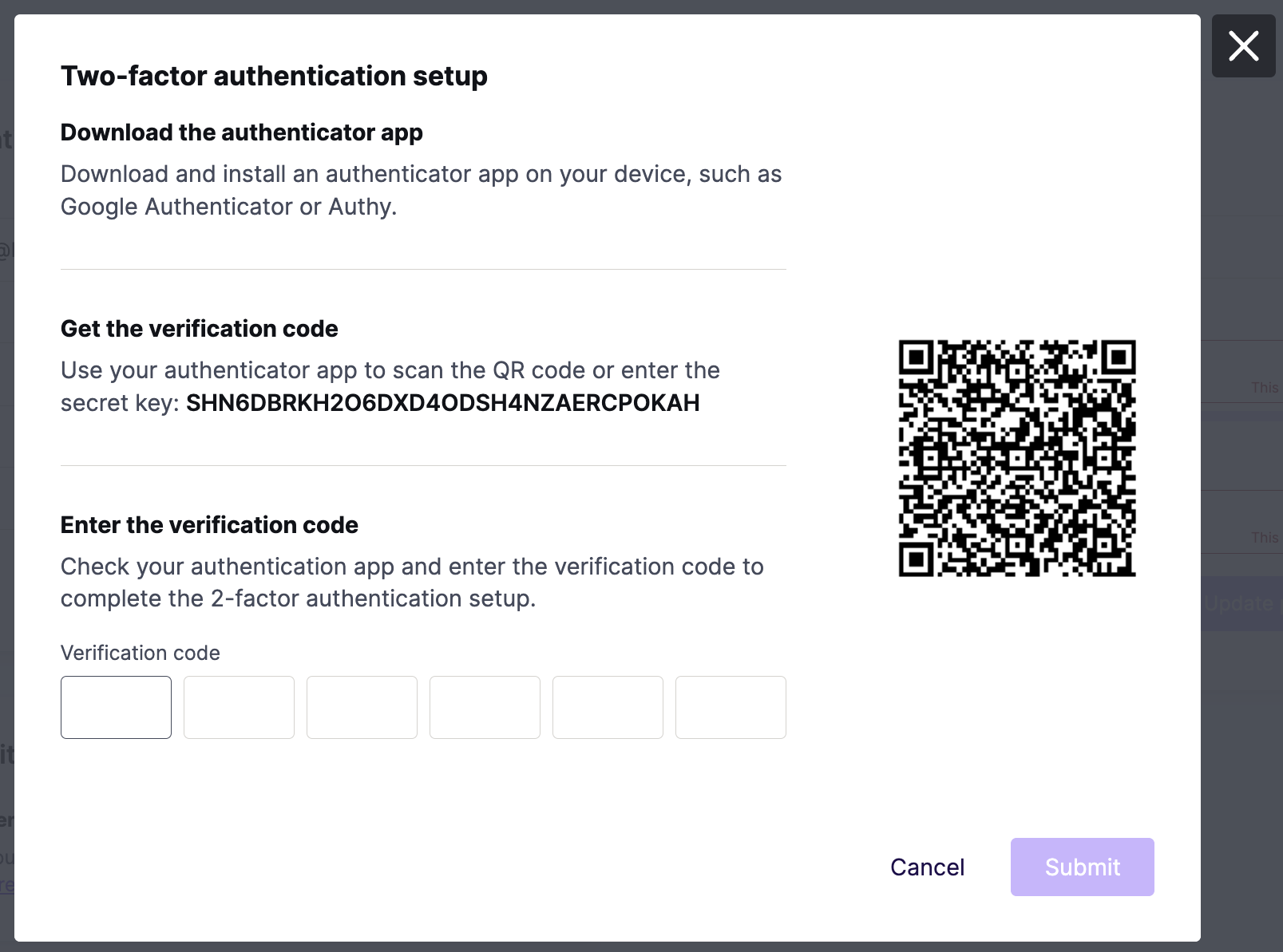 Use an authenticator app to generate a verification code by scanning the QR code or entering the secret key. Enter the verification code and click Continue to complete the setup for 2FA. After enabling 2FA, Beefree will ask for a verification code every time you sign into the platform
You can also use this option to disable 2FA at any time. You'll need to insert a verification code to do this as well.

Please note that 2FA is only available to users on paid accounts. If you downgrade to the Free plan, 2FA will be automatically disabled. However, if you have access to both paid and free accounts, then you can still use 2FA. 
If you're using an SSO login method, 2FA is available through your SSO provider. We talk more about SSO login methods below. 
Google and Microsoft SSO
When an account uses Google or Microsoft SSO, we don't store a password for that account. As a result, you'll have fewer options for what can be modified on the My profile page. At any time, you can update your first and last name. Below is an example of what this page looks like when you're using an account with SSO credentials.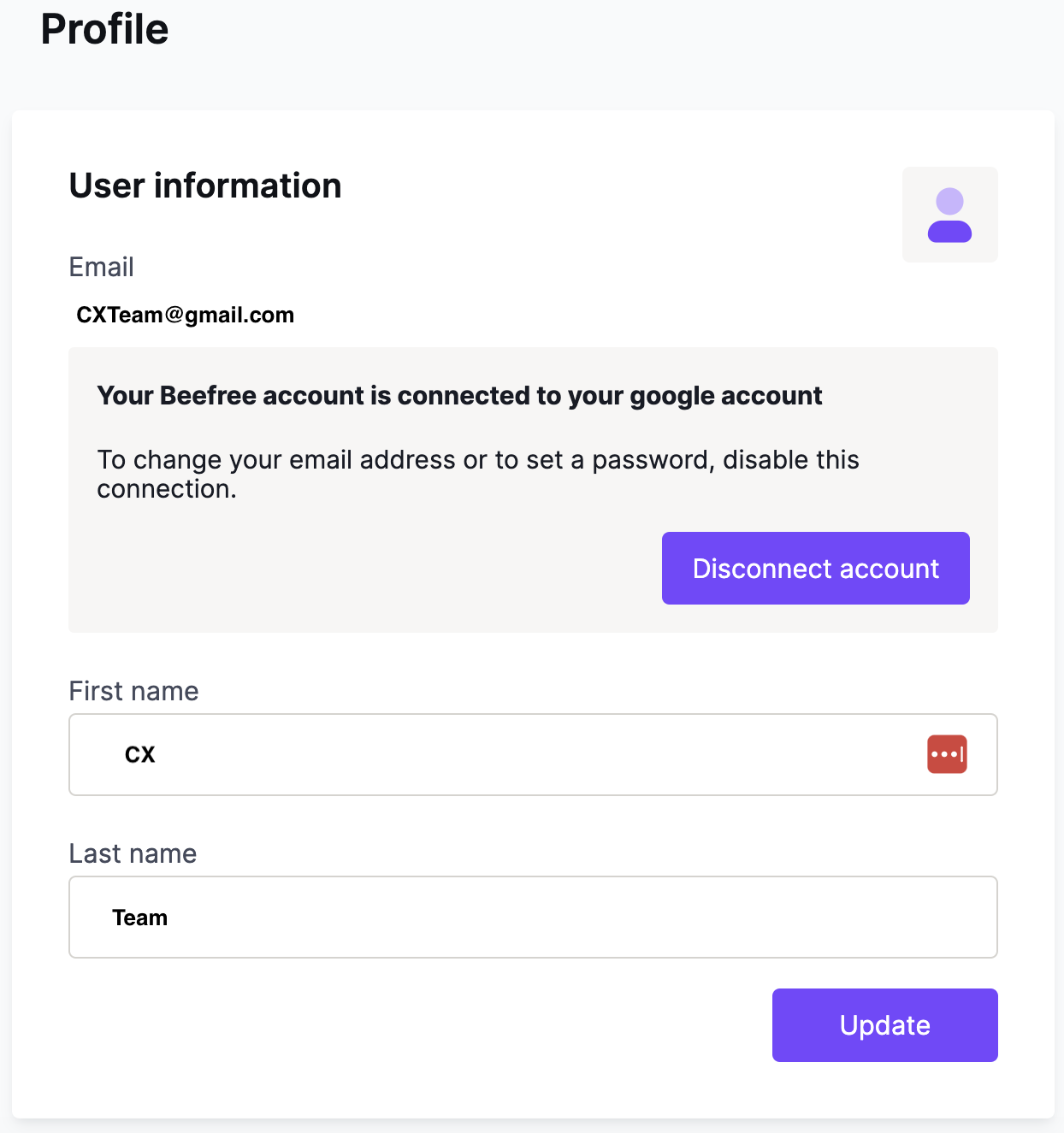 Disconnect your Gmail or Microsoft account from Beefree using the Disconnect account button. A modal will open that prompts you to set a password.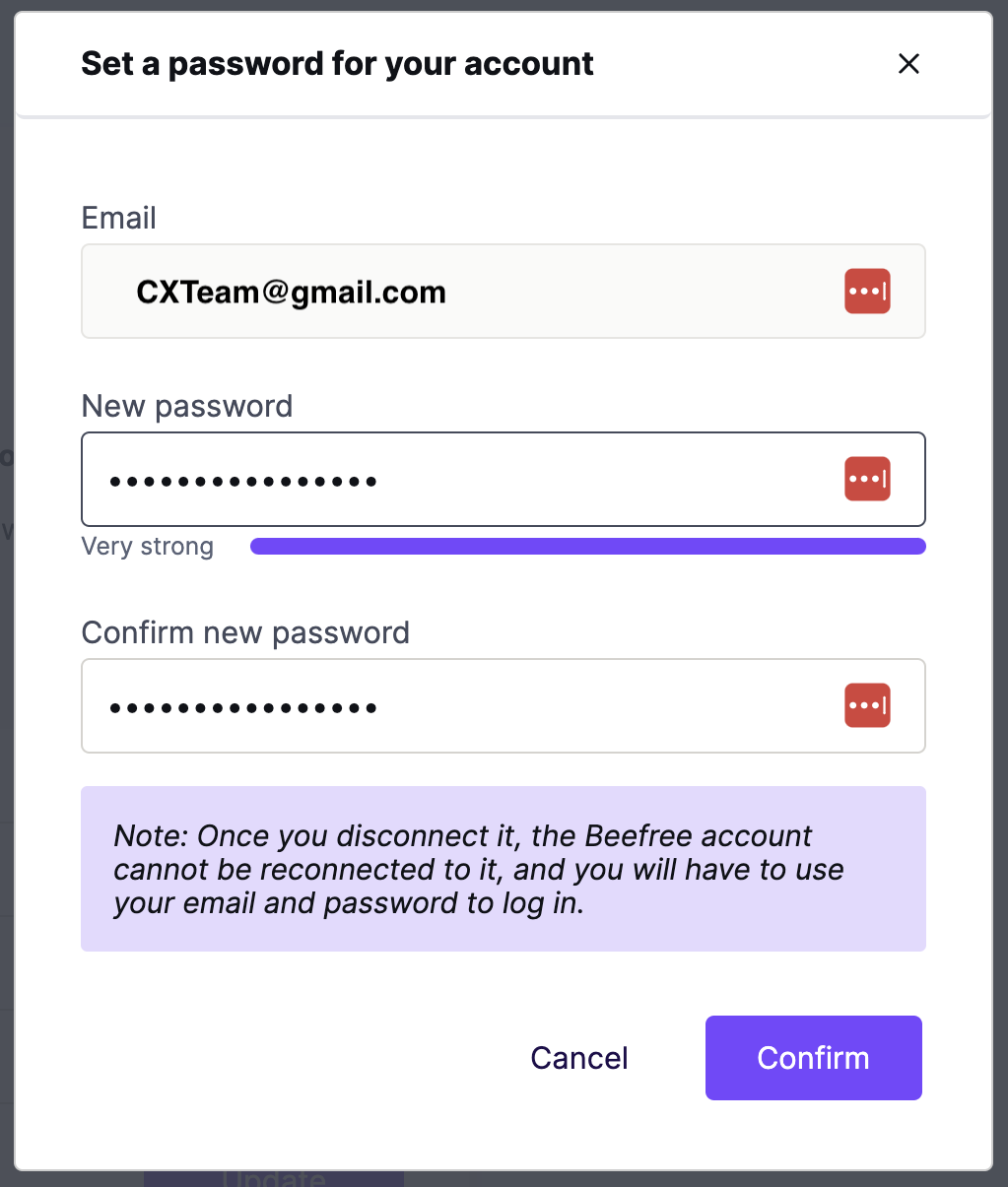 Once you've entered your password, click the Confirm button to return back to the Profile page. You will see a confirmation message in Beefree, and you'll also receive a confirmation email.
Once disconnected, you can change your login email using the same method described in the traditional log-in section. Keep in mind that, once the account is disconnected from SSO, it cannot be reconnected.
Updating your Billing Email (if applicable)
Beefree accounts have both a log-in email address and a billing email address. If you are listed as an additional user on your account, you will not have access to this information. Only the account owner can update the billing email address. Keep in mind that the billing email address does not have to be the same as your log-in email address. 
Your billing email address is where we send account invoices and billing notifications. To change the billing email, visit the Subscription page. It is accessible from the same top-right drop-down menu in Beefree.
Once there, click on Update billing information. This can be found on the left side of the page, below your subscription details. A modal will open where you can update your billing email address as well as your physical address. 
If you want to use more than one billing email address, our support team can help. 
If you have any questions, feel free to contact us.