Synced Rows
BEE Pro becomes Beefree
We're still the same design suite you know and love, just with a new name. Our team is working hard to update our documentation, but you might still see some information or screenshots that are out of date.
This article applies to all plans. However, some features may be limited or unavailable on the Free plan.
This article provides detailed information on synced rows only. If you're looking for tutorials on how to use saved rows, please check out one of our other Saved row articles:
Overview
In February 2023, we released a new type of saved row called synced rows. When you update the content of a synced row, this updates every existing version of the synced row. For example, say you use the same header in every newsletter you create. What if you need to update this header and all the newsletters where it's already used? Synced rows allow you to do this in just one edit session!
In many ways, synced rows operate the same way as standard saved rows. The workflow to create a standard or a synced saved row is the same. We've added an option to the saved row modal that allows you to select which type of row you want to create.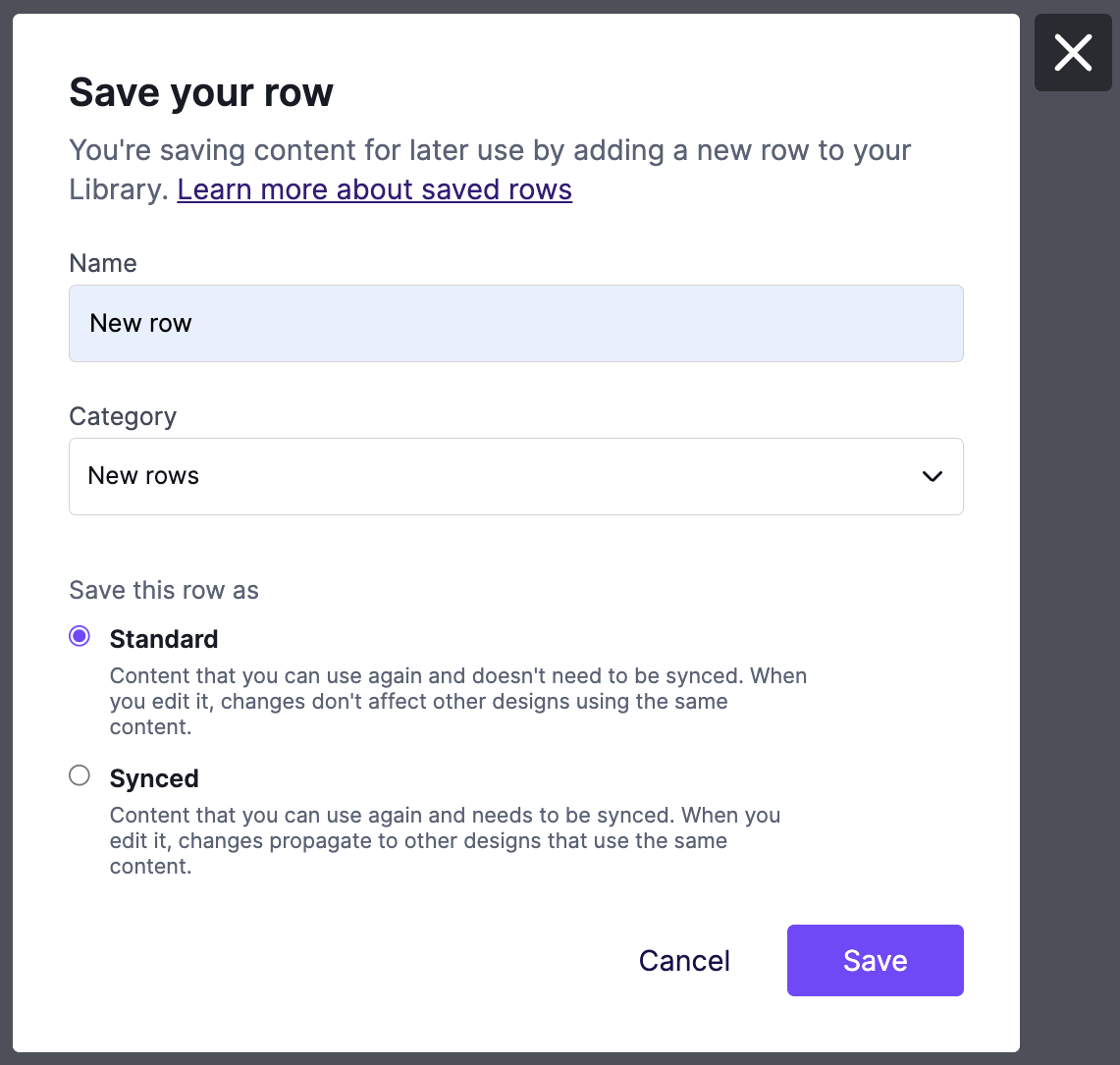 Working with synced rows looks slightly different from working with standard rows. In this article, we'll look at the options that are specific to synced rows.
Identifying Synced Rows
Let's start by looking at how you can identify synced rows in different places throughout Beefree.
In the builder
Identifying synced rows in the builder is simple. There are several indicators on both the builder stage and the sidebar.
Design Stage
When you hover over design elements, a label populates to let you know whether it's a row or a content block. A content block label will tell you which type of content block it is. When the label includes the icon pictured below, you're hovering over synced content.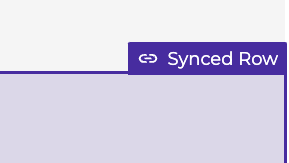 When you select a row, several options populate within the upper righthand corner. Synced rows show a unique Edit icon as one of these options.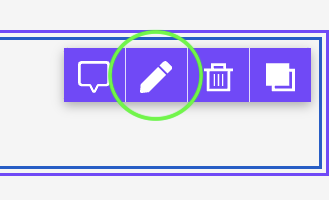 This icon only populates for synced rows. On every other type of row, you'll see the save icon instead.
Note that any content blocks within a synced row appear locked, so you can't select them. You can only modify synced row content in the row builder, which you can access from the sidebar or your Library.
Builder sidebar
You can see your synced rows in the builder sidebar's saved row list. They are displayed alongside your standard saved rows. Synced rows include the symbol pictured below so you can identify them easily.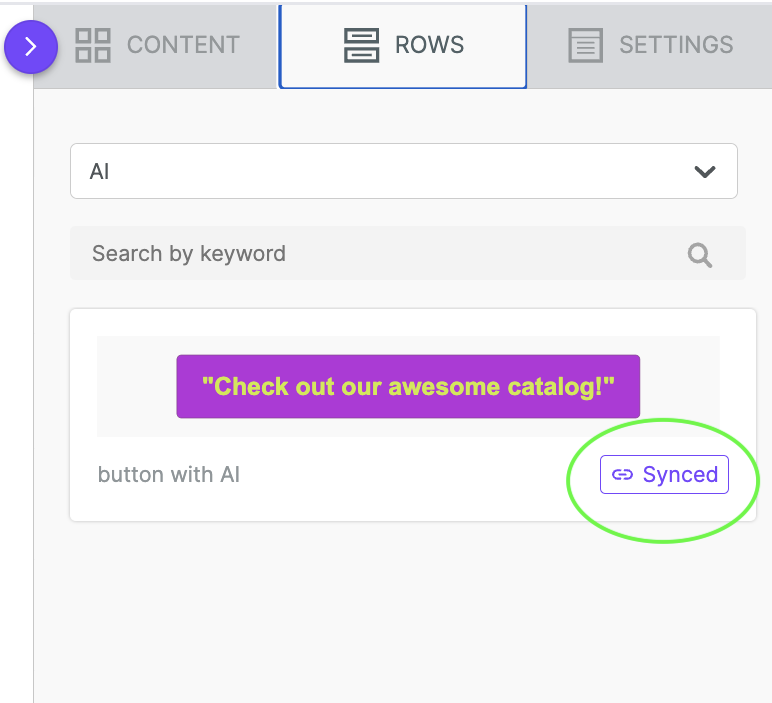 As mentioned above, if you select a synced row on the email or page builder stage, it's locked for editing. When you select a synced row, you'll see a disclaimer in the sidebar stating that this is a synced row. You'll also see a button allowing you to Edit the synced row, which will bring you to the row builder to make changes.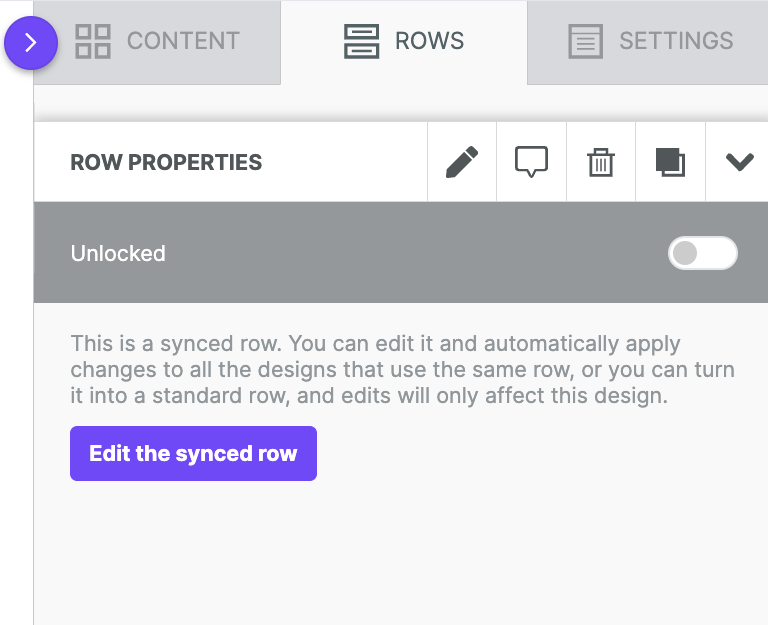 In the Library
When in your rows library, the synced rows display a special icon and label. This identifier appears in the lower left corner of the row thumbnail.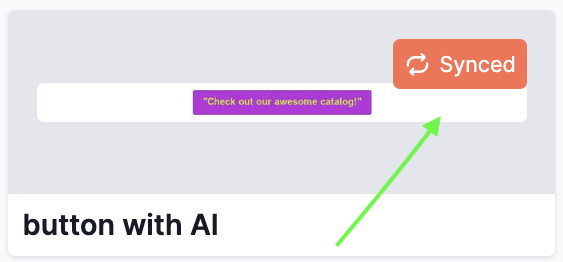 The workflows for updating and managing your synced and standard rows are similar. With just a few clicks, you can update and save your changes or select all your synced rows and move them to their own category.
While editing synced rows in the row builder, the banner includes additional information. You will see text stating how many designs contain this synced row.

When you save changes to a synced row, a modal displays the complete list of designs that include this row. This lets you know that any changes you made to this row will affect those designs.
Check out Designing with Saved Rows for more information on how this works.
Please note that if you want to delete a synced row, you must delete one row at a time from the library.
Collaborating with Synced Rows
There are some considerations to make when using collaboration features with synced rows.
Commenting
Commenting is only available for the entire synced row. This behavior exists because the individual content blocks are locked. Apart from this, commenting on synced rows is the same as commenting anywhere else.

There may be situations where you have to turn a standard row into a synced row. If that row had comments tied to content blocks, they will no longer be clickable once the row is synced. You can still view these comments on the row level in the sidebar.
Co-editing
This section applies only to the Enterprise plan.
If a synced row in a design is modified during a co-editing session, it will not update in real-time. This occurs because you must exit the co-editing session to modify the synced row. As mentioned above, all modifications to synced rows are performed in the row builder. In this situation, users will have to exit and resume the co-editing session to see changes to a synced row.
As a recommended best practice, we suggest commenting on the synced row after editing it. This way any users in the co-editing session know that there are updates they can't currently see.
Unsyncing Rows
Say your business is growing, and you now have a second location for your ice cream shop. You now need to change the address and contact information in your footer, which comes from a synced row. Because this is a second location, you wouldn't want to update any designs that refer to the original. It's possible to use your synced row as a starting point to announce your new location. By utilizing the unsync row option, you can do this without modifying any other designs.
When editing a synced row in the page or email builder, you can unsync it. As mentioned above, the email and page builder won't display row properties for synced rows. Instead, you get a disclaimer that you are about to edit a synced row and an Edit the synced row button. A modal pops up when you click this button. You are then given the option of unsyncing the row.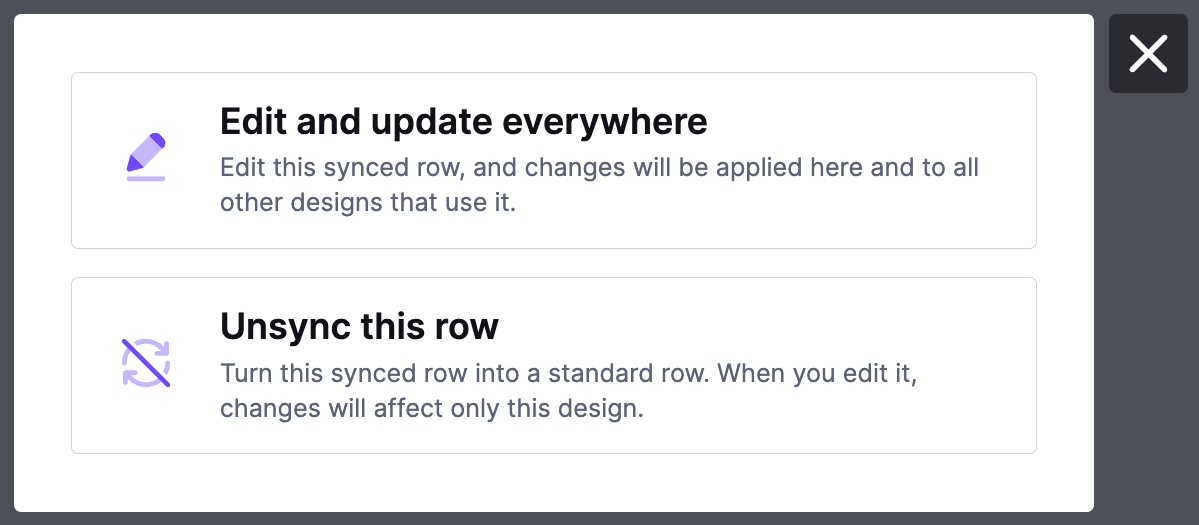 When you unsync a row, it then becomes its own version. The changes made will now only affect that particular design. Unsyncing a row does not automatically save this new version. Adding this new version to your library will require you to save it again.
If you have any questions, feel free to contact us.