Using the Page Details Section
BEE Pro becomes Beefree
We're still the same design suite you know and love, just with a new name. Our team is working hard to update our documentation, but you might still see some information or screenshots that are out of date.  
This article applies to the Page builder in all plans. However, some features may be limited or unavailable on the Free plan.
Overview
Once you save a page, you will exit the builder and land on the Page details section. The Details section for Pages is similar to the one for Emails. However, there are a few options only available for Pages.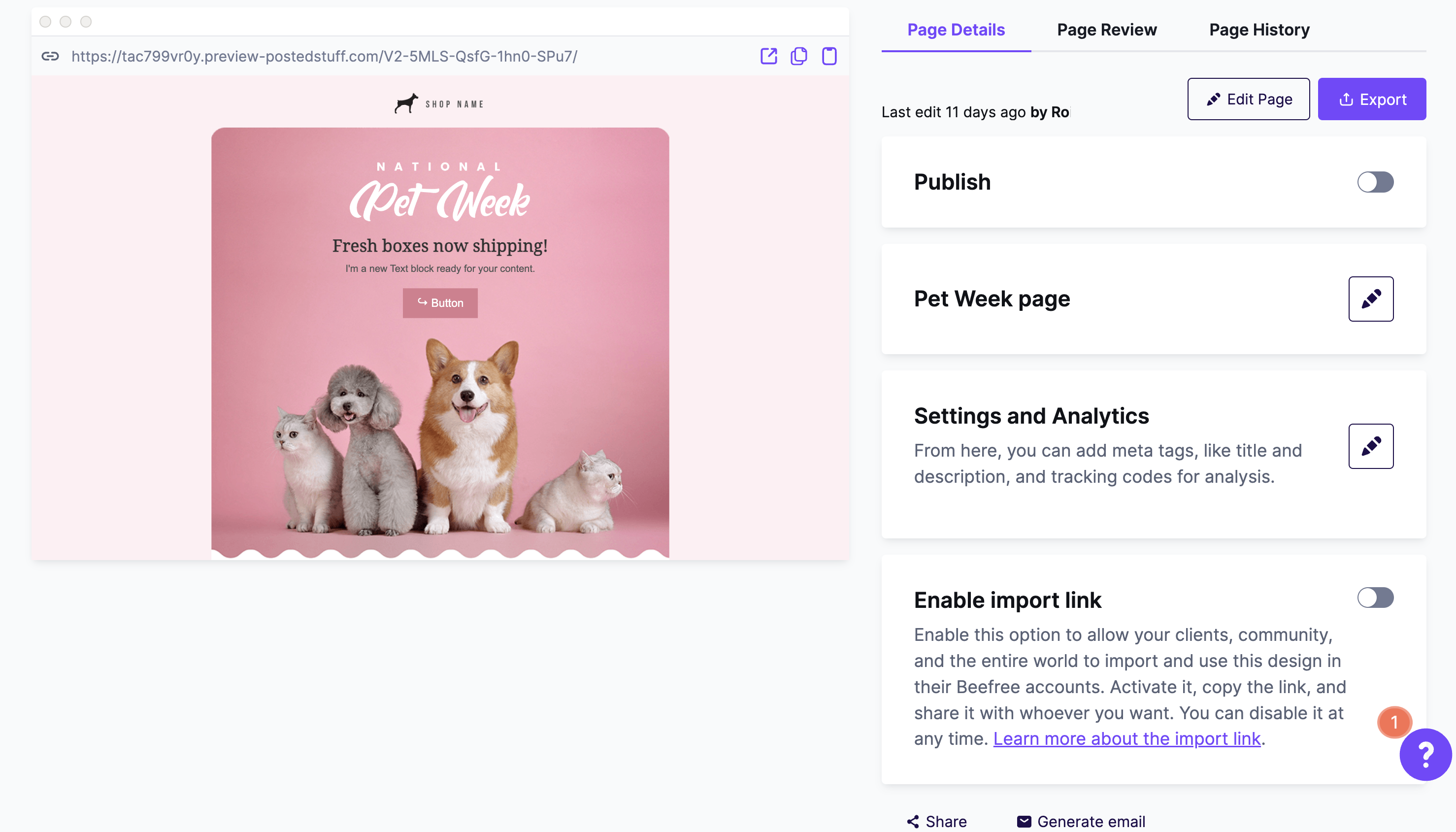 You can also return to this section by clicking on View details from the options menu.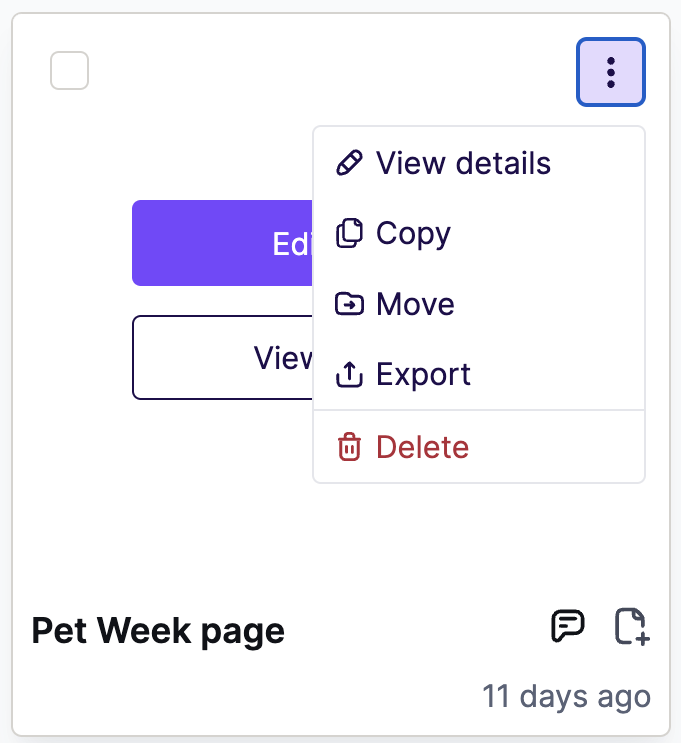 The Page Details section allows you to:
Publish your page
Edit the page name and description
Add and edit tags, which make it easier to find the later
Add metadata for the page title and description.
Apply an analytics code or custom script*
Share your page on social media
Generate an email from your page
If you're not hosting your page on Beefree, the export button offers the following options:
ZIP file with HTML and images
HTML to copy and paste elsewhere
Push the page to HubSpot using our connector
PDF download*
*Not available on the Free plan
Page Preview & URL
On the left side of the page, you can see a thumbnail preview of your page. Above the thumbnail, you'll see your page URL and three icons:

Use the icons to interact with your page URL in the following ways:
Open it in a new browser tab

Copy it to your clipboard to paste elsewhere (e.g. via instant message, social network, etc.)

View a QR code that you can read with your phone or tablet to see how the page renders on a mobile device
Publish

You can use the Publish toggle to instantly publish or unpublish your page when you are ready. This feature regenerates your landing page link without the word "preview" in the URL path. A published URL looks something like this: https://beeprocommunity.postedstuff.com/V2-887M-8REv-e06M-ryYc/bee-community-holiday-party/. The URL is composed of:
beeprocommunity.postedstuff.com, the main domain;

V2-887M-8REv-e06M-ryYc, a random ID;

bee-community-holiday-party, a specific name that pulls from your page metadata.
If you have Enterprise, you can use the Publish toggle to host your page with a custom domain.
Settings and Tracking
This feature is limited in the Free plan. See below for further details.
This is where you can apply metadata. You can include information such as:
Page title
Page description
If you're using a paid plan, you can also use the tracking features. We support the following tracking methods:
Google Analytics tracking codes
Meta Pixel tracking codes
Custom script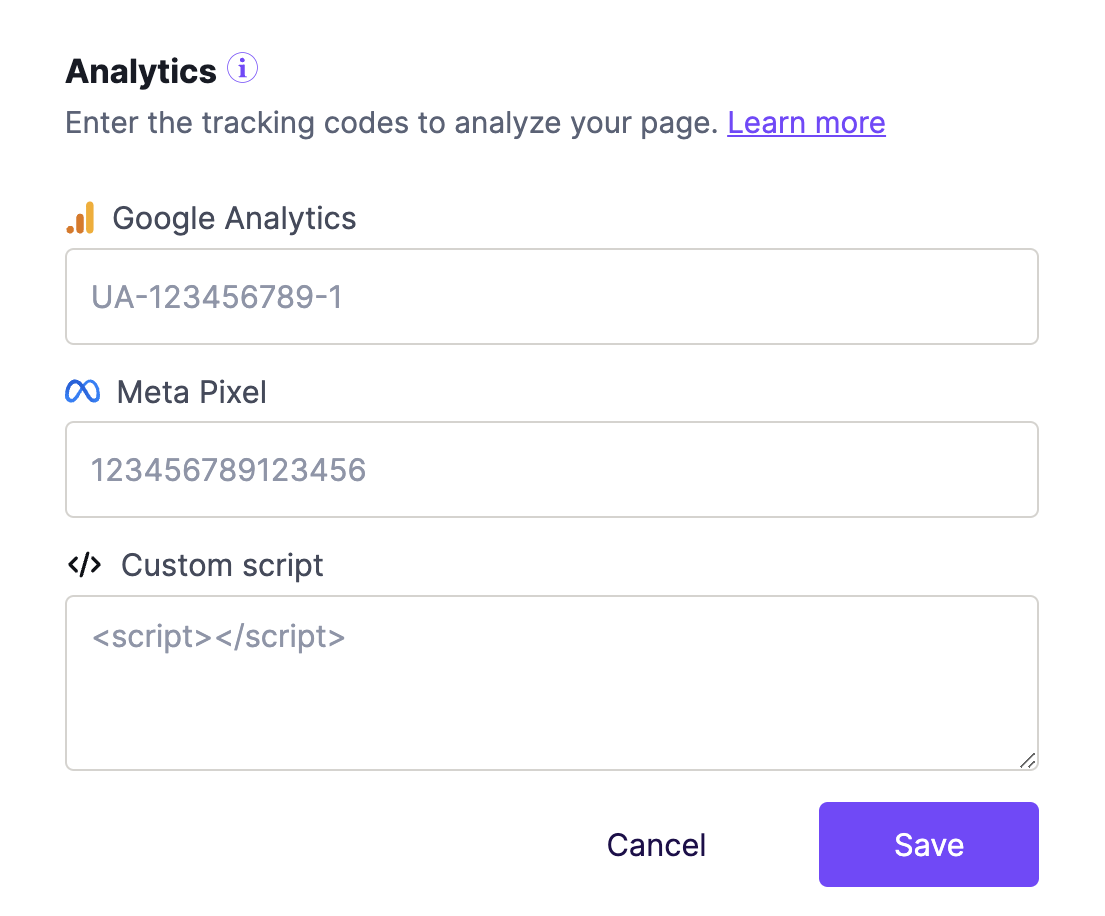 For full details on these options, check out Using Metadata and Analytics in Pages. 
Share
If you can't wait to start showing off your new page, you're in luck! Using the share button, you can easily share your design on social media with a click of a button.
Just click the share button. If your page is not yet published, a modal will prompt you to proceed to publish it before sharing.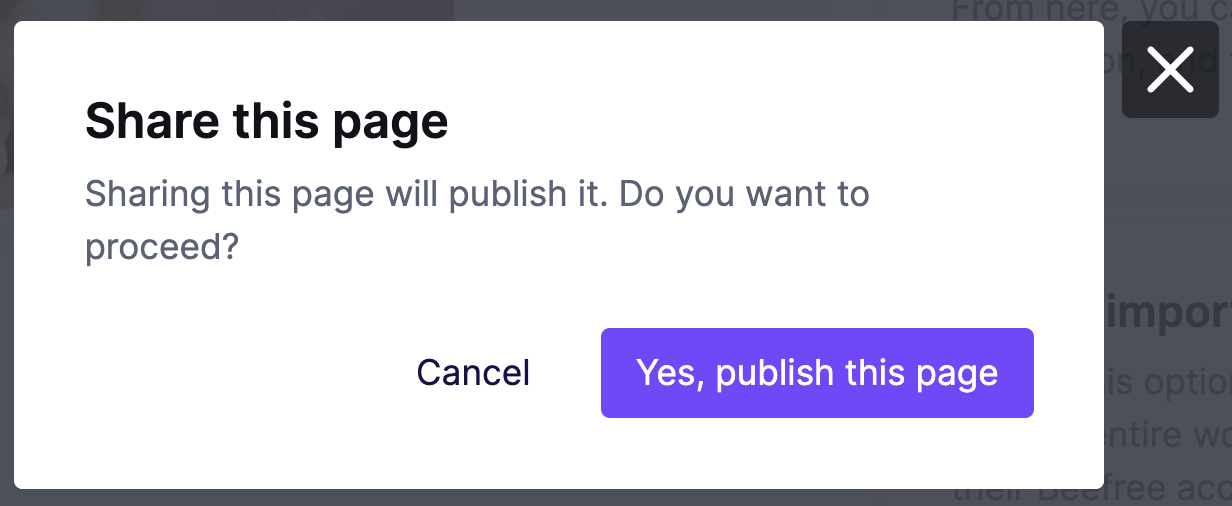 Then select the social media platform you want to use.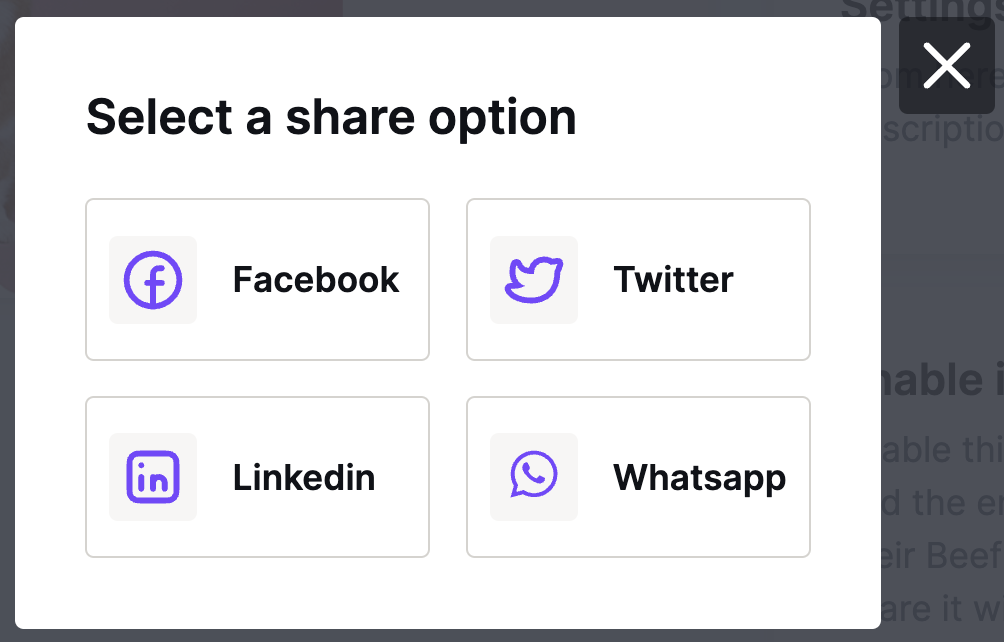 In a new tab, you'll be redirected to the platform you selected. You might need to log in. Once logged in, you'll find a post, tweet, or message ready to go with your design. 
Generate email
Have you ever wanted to create pages and emails with the same design with a click? What an amazing breakthrough for your marketing campaign, don't you think? Well, now you have this option!
Generate email creates an email on Beefree with the same design and content as your page. You immediately get redirected to the email builder to start modifying your design.

If you have any questions, feel free to contact us.