Exporting to Veeva Vault
BEE Pro becomes Beefree
We're still the same design suite you know and love, just with a new name. Our team is working hard to update our documentation, but you might still see some information or screenshots that are out of date.
This article applies to the Email builder in all plans.
The Veeva Vault connector is currently in beta. Check out the web widget in your account if you want to collaborate with us to help improve this connector!
Level Up your Emails in Veeva Vault
Beefree is all about creating beautiful emails, fast. By connecting your Veeva Vault and Beefree accounts, you can push your designs to Veeva Vault with the push of a button.
You can connect the two applications in one of the following ways:
Connect your Beefree and Veeva Vault accounts before you start designing (from Workspace Settings)
Connect the first time you need to send a specific template to Veeva Vault (from Export)
1. Connect from Workspace Settings
Go to Settings > Connectors.
Click the Connect button for Veeva Vault.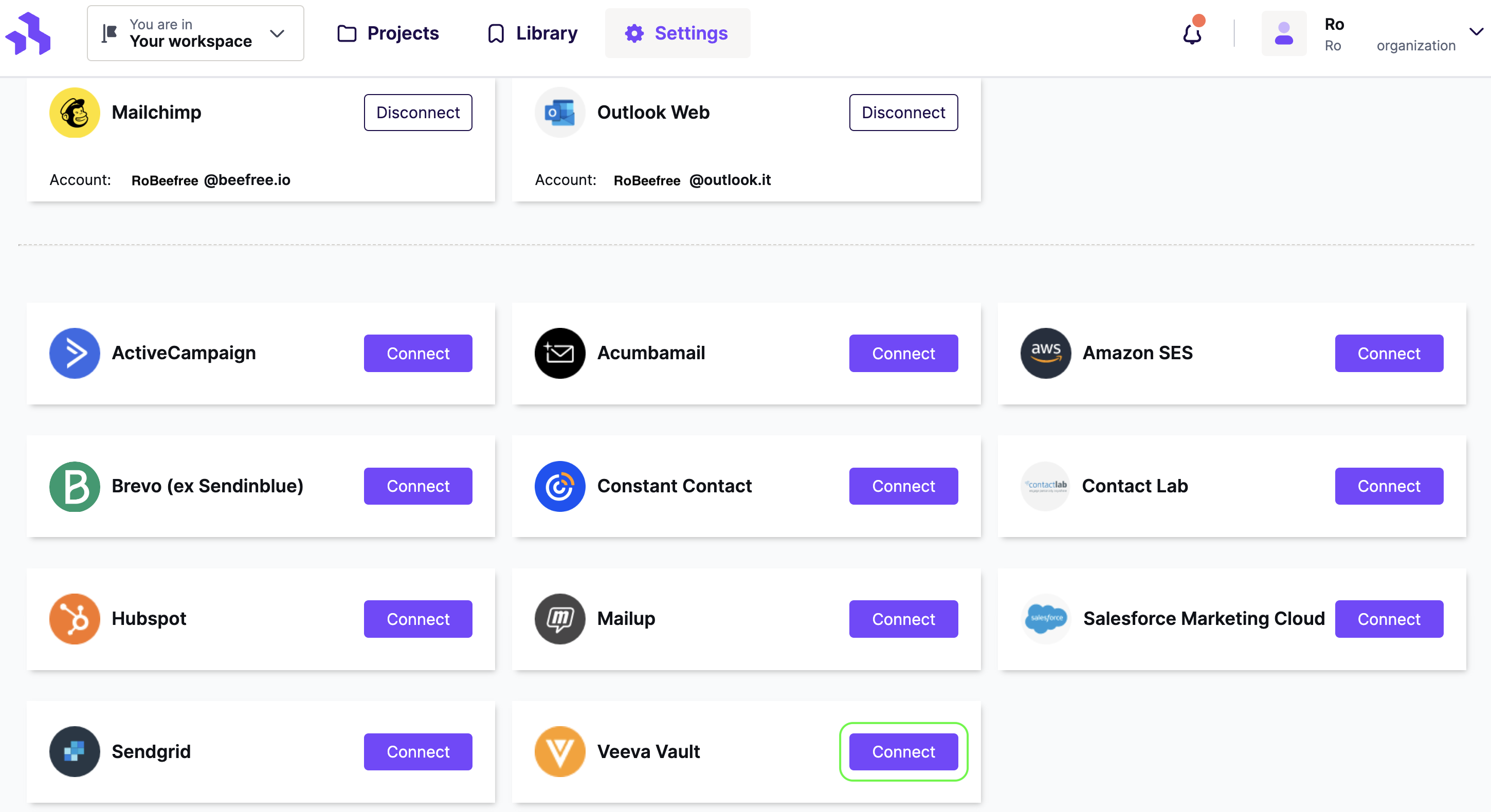 Insert your URL, email, and password to log into your Veeva Vault account.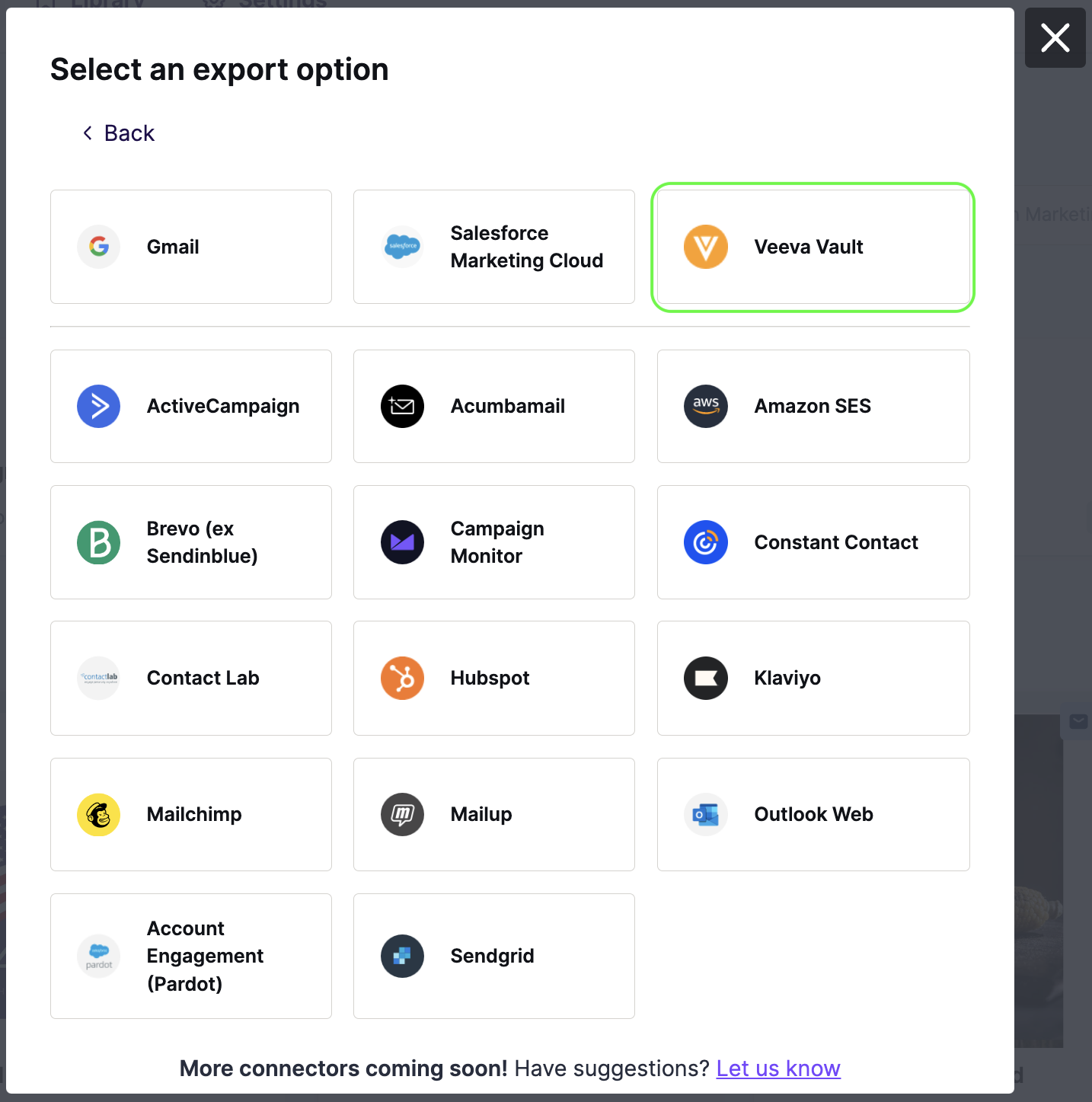 Beefree does not store your Veeva Vault credentials. The connection between platforms will time out after some time. This occurs according to the Session Duration settings in your Veeva Vault account. You can customize the length of time it takes for the time-out to occur. Navigate to Admin > Settings. The necessary option is found under Domain Settings. This action is only available for someone with the Domain Admin user setting. They also need a security profile granting the Admin: Domain Administration permission. Find full details in the following Veeva Vault documentation: https://platform.veevavault.help/en/lr/14691/#domain-information.
Beefree will provide a "Session expired" message when the connection times out.
2. Connect from Export
When your design is ready, click on the Export button found on the Email Details page. This option is also available from the actions menu for your email.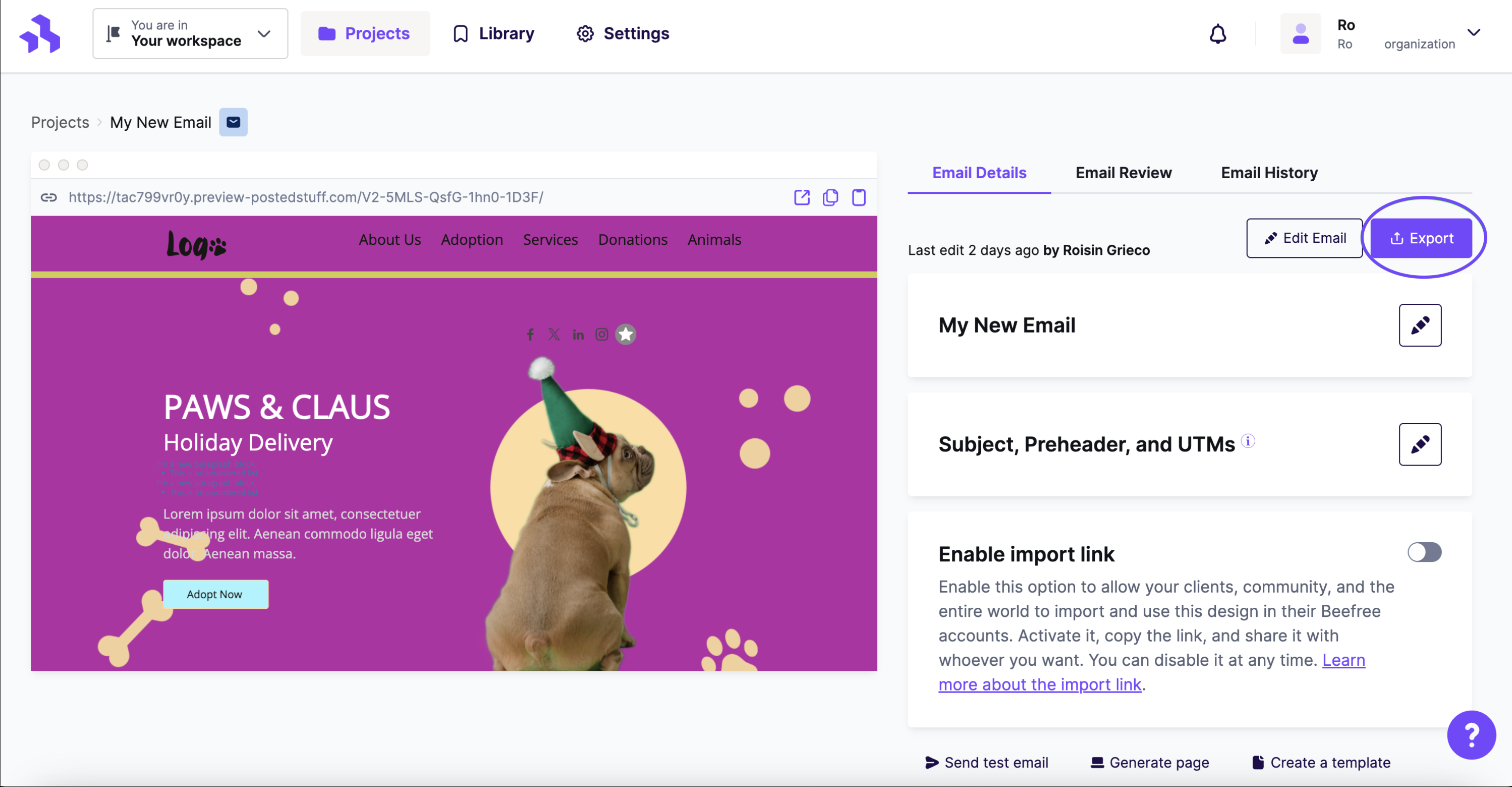 And then click on Push to your sending system.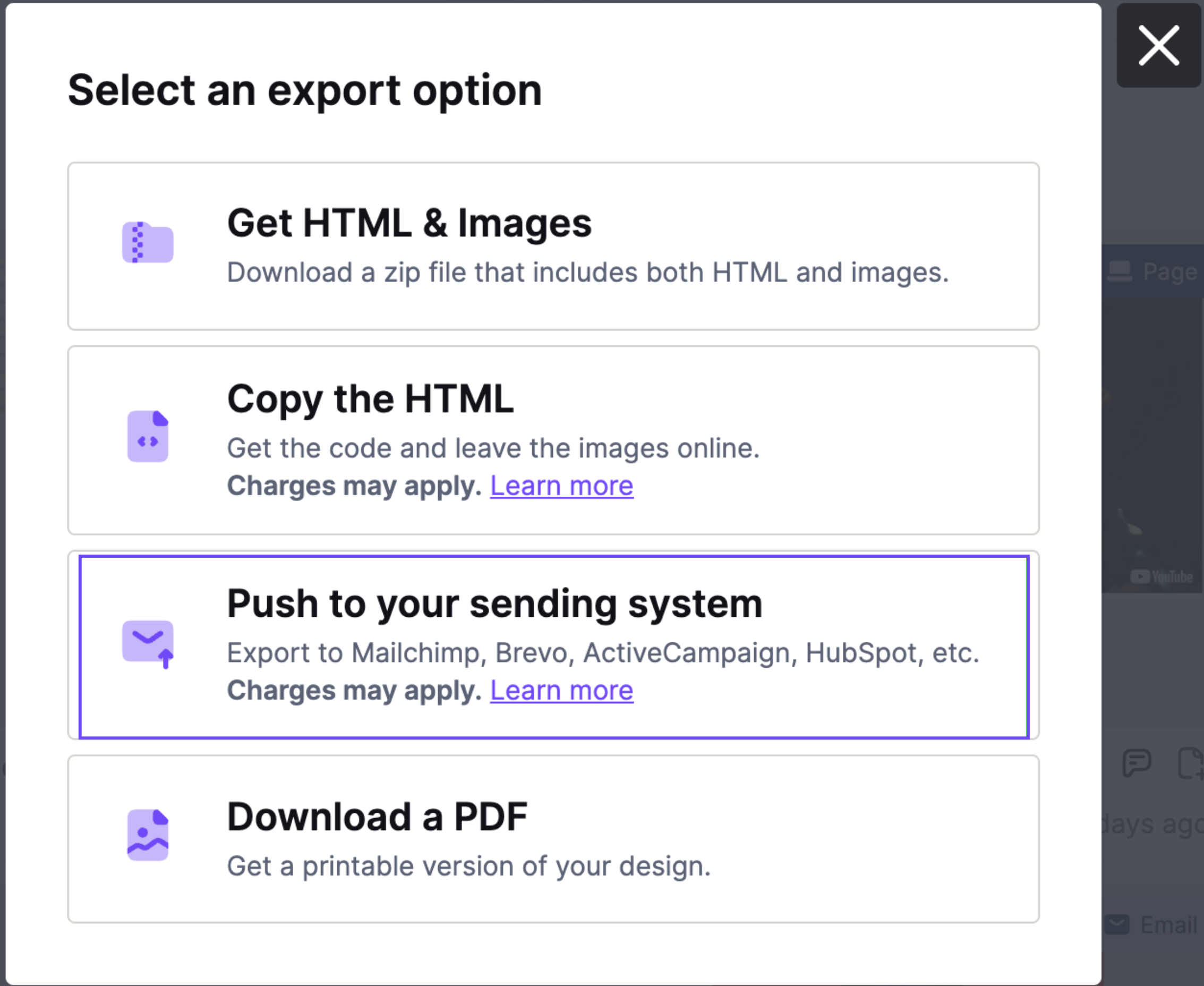 A new window will display the list of the available connectors. Select Veeva Vault and follow the steps to log in and connect it. If you have already connected, you will not be asked to do so again unless the connection times out.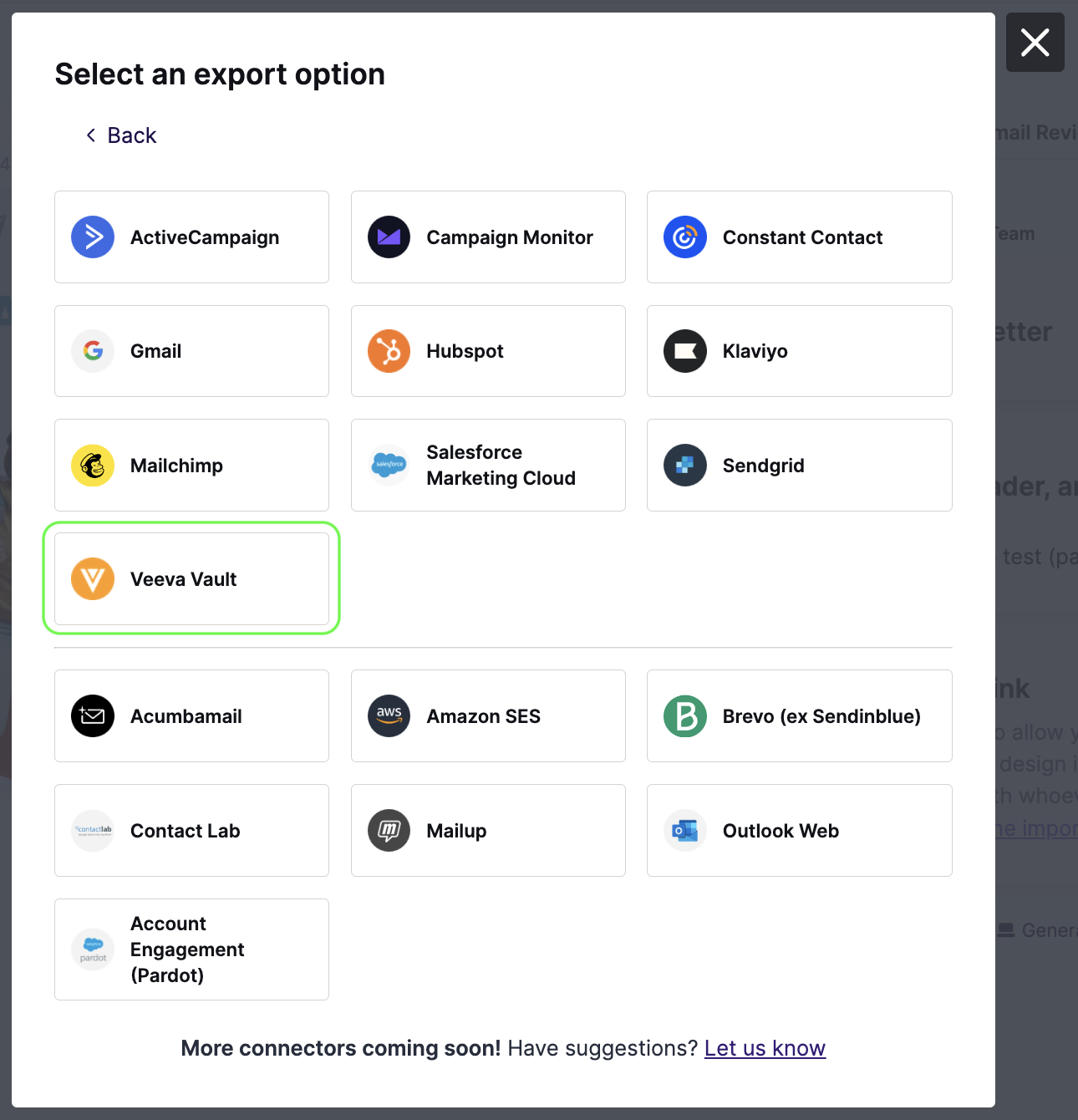 Veeva Vault requires some additional information for you to complete the export. Some of this information is required by Veeva Vault (name, from address, and subject.) You can also customize your Veeva Vault account to require custom information. We include all possible fields in the modal based on your Veeva Vault account settings.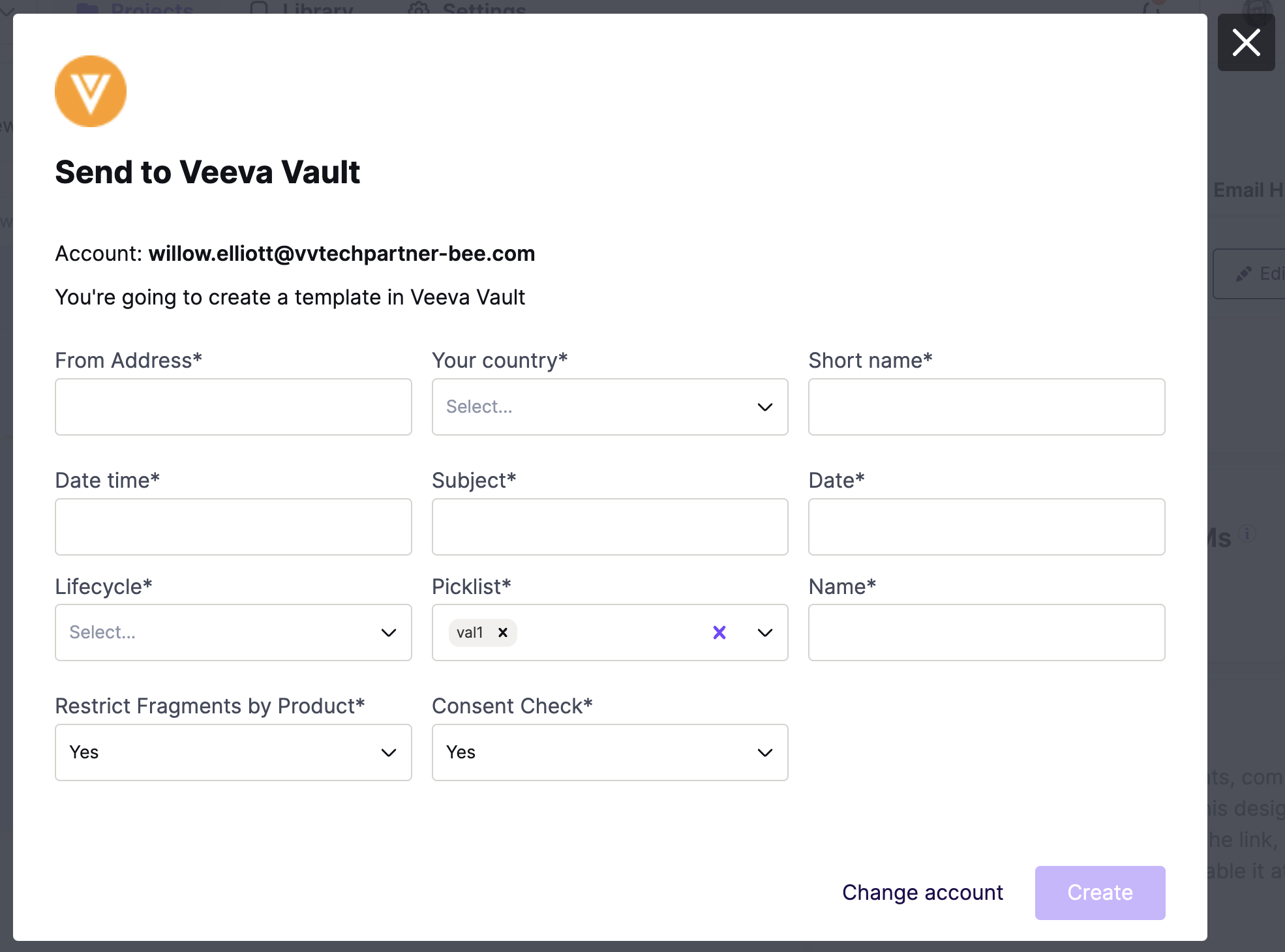 Beefree will confirm that the design has been successfully exported. Afterward, you will see it appear in your Veeva Vault account.
If exporting an email that you've already pushed to Veeva Vault, Beefree will recognize this. You will not be required to re-enter information about the email you're exporting. You can update the existing version in Veeva Vault using the Update existing option. This export option will overwrite the existing version. If you want to export a new version of your email instead, use Create as new.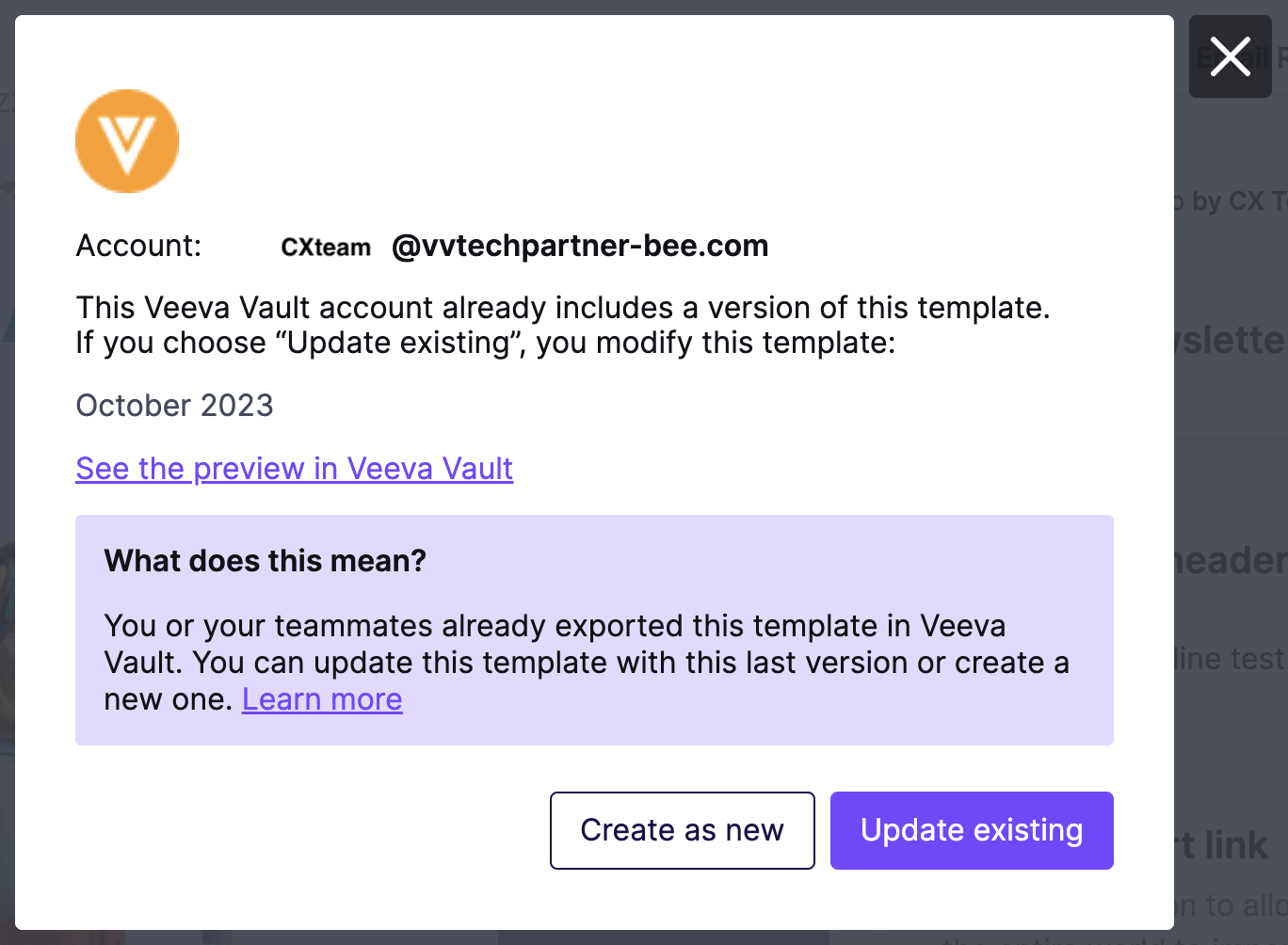 You can also use the builder in Veeva Vault to make minor edits to the design you created in Beefree if necessary.
Looking for a different sending platform? You can check our complete list of connectors for Beefree — or request a new one!
If you have any questions, feel free to contact us.