Advanced User Permissions
BEE Pro becomes Beefree
We're still the same design suite you know and love, just with a new name. Our team is working hard to update our documentation, but you might still see some information or screenshots that are out of date.
This article applies to the Enterprise plan.
Overview
As an Enterprise user, it's likely that many people have access to your Beefree account. Although you can manage users with roles and permissions, you may need more options. Now you can customize someone's access with advanced permissions!
Advanced permissions can be applied to any Beefree user except for the owner. This permission restricts any user from modifying workspace styles and creating new content. Someone with advanced permissions enabled can only edit specific attributes of existing content. They cannot drag and drop new content blocks, but they can drag and drop approved saved rows.
Advanced User Permissions
Advanced permissions can restrict users from several editing options. However, these users have full visibility within Beefree according to their role. Unavailable features will often appear locked rather than hidden. For example, say you have two admins in your account. One admin has advanced permissions enabled, and the other doesn't. The admin with advanced permissions will see a slightly different version of Beefree.
Let's take a look at what they can do in each section of Beefree.
Projects
Advanced Permissions apply very few limits to the Projects tab itself. These users can interact with any feature that exists here. They may not notice any differences until they open the builder.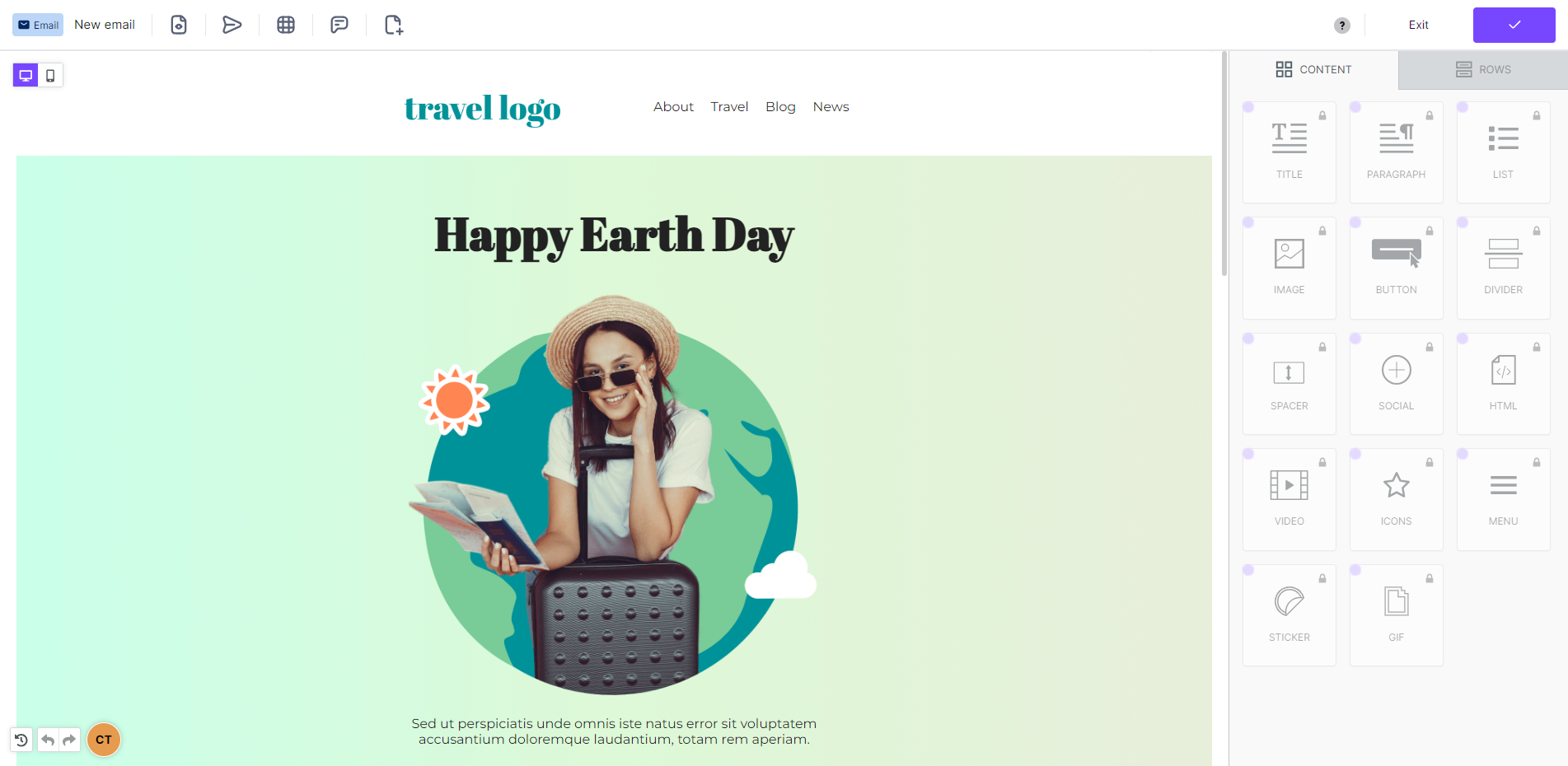 Users with advanced permissions enabled cannot drag and drop content blocks. As a result, all tiles in the sidebar will appear locked. Additionally, the settings tab is notably missing from the builder. This omission is intended to prevent them from making large changes to the design. These users still have limited access to the Content and Rows tabs.
With all this said, they do have some editing permissions for existing content. They can modify the following types of content:
Paragraph, List, and Title (includes legacy Text blocks)

Edit text directly on the builder stage

Image, GIF, and Sticker

Edit image URLs
Upload new images
Utilize the built-in image editor (image block only)
Edit action URL

Button
Video

Edit video URL
Change video type (in Page builder only)

Form

Set up the form
Manage form fields

Icon

Add new icons
Edit existing icon image, text, title, and action for existing icons

Menu

Add new menu items
Edit text, URL, and title for existing menu items
Any properties that can't be modified will appear translucent in the builder sidebar. They cannot interact with any of these features.
Upon selecting a content block, there are also fewer icons that populate on the builder stage. They cannot see icons to delete, duplicate, or move an existing content block. However, they will always have the option to comment.
On the other hand, these users can drag and drop approved save rows from the rows tab. (You can manage this by hiding categories you don't want them to use!) They cannot edit any row settings anywhere within the builder.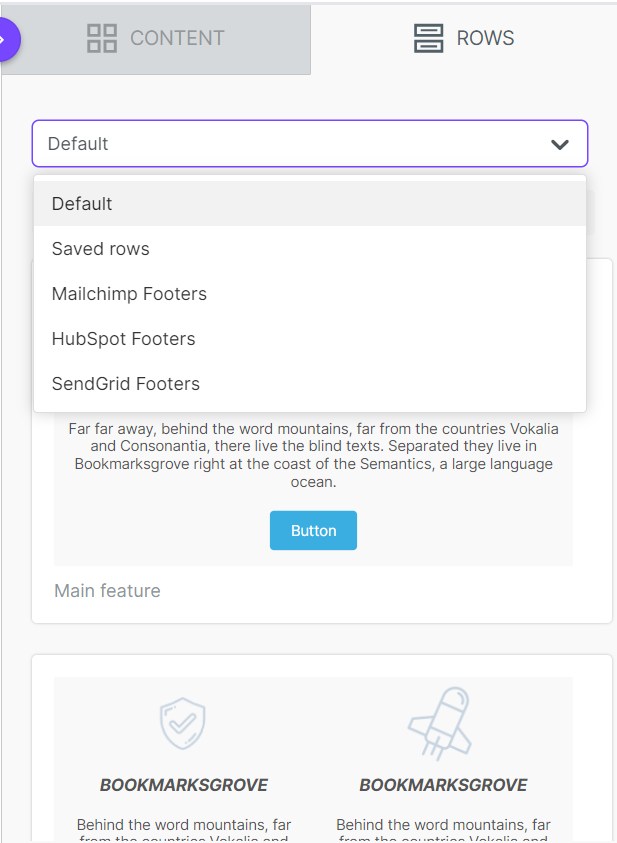 They can also save updates to existing saved rows, but they cannot create new saved rows.
Library
Only Admins and Managers can see the Library tab
Advanced permissions allow view-only permissions in the Library. Although they can see all templates stored in the My templates area, they cannot edit them. Their only option is to view the details page.

The same limitation applies in the My rows area. These users cannot see the category dropdown menu or the Add category button either.

In both sections, the user will see a message indicating they do not have editing permissions.
Settings
Only Admins and Managers can see the Settings tab
What someone can see in the Settings tab largely depends on their assigned user role. However, there are some unavailable settings for someone with advanced permissions enabled.
For example, these users will never see the Row categories order on the General settings area. Additionally, they have view-only permissions on the entire Styles area of settings.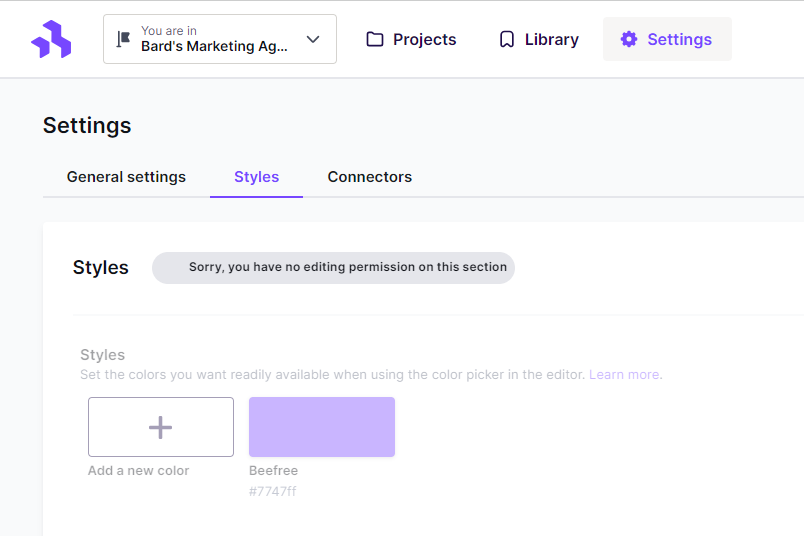 A user with advanced permissions enabled has full access to the Connectors area.
User roles & advanced permissions
Advanced user permissions impact different user roles differently. We've created a chart based on the one found in our User roles & permissions article to help you better understand how these permissions different impact each type of user.
* Indicates that there may be limitations as described in this article.
Applying advanced permissions to users
You can apply advanced permissions to your users at any time. This can be applied at invite, or you can edit an existing user's details to apply the permissions.
Advanced permissions appear as a dropdown to the right of the Role field. It appears in all paid Beefree plans, but only Enterprise users can select Restrictions on layouts and styles. If inviting a new user, click Invite to save. If editing an existing user, click Save to continue. The advanced permissions will apply immediately.
You can also change any of your users back to No restrictions at any time.
If you have any questions, feel free to contact us.