Beefree Footer
BEE Pro becomes Beefree
We're still the same design suite you know and love, just with a new name. Our team is working hard to update our documentation, but you might still see some information or screenshots that are out of date.
This article applies to the Free plan.
What is the Beefree Footer?
If you are using the free plan, every design you create in the builder includes a Beefree Footer at the bottom.

The footer populates by default if you are using our Free plan. Think of it as a watermark. If someone clicks on this footer in your email or landing page, it will lead them to this page on our website.
You cannot remove or edit this if you are using a Free account. It's only removable on paid plans (Team and Enterprise).
However, you can change the font used to display "Designed with Beefree". This text is controlled by the Default font, which you can change in the settings tab. You can change the look and feel of the footer to match your branding by changing your design's Default font.
You cannot interact with the content block or row where the Beefree Footer is located. Clicking on this content will open a pop-up prompting you to upgrade.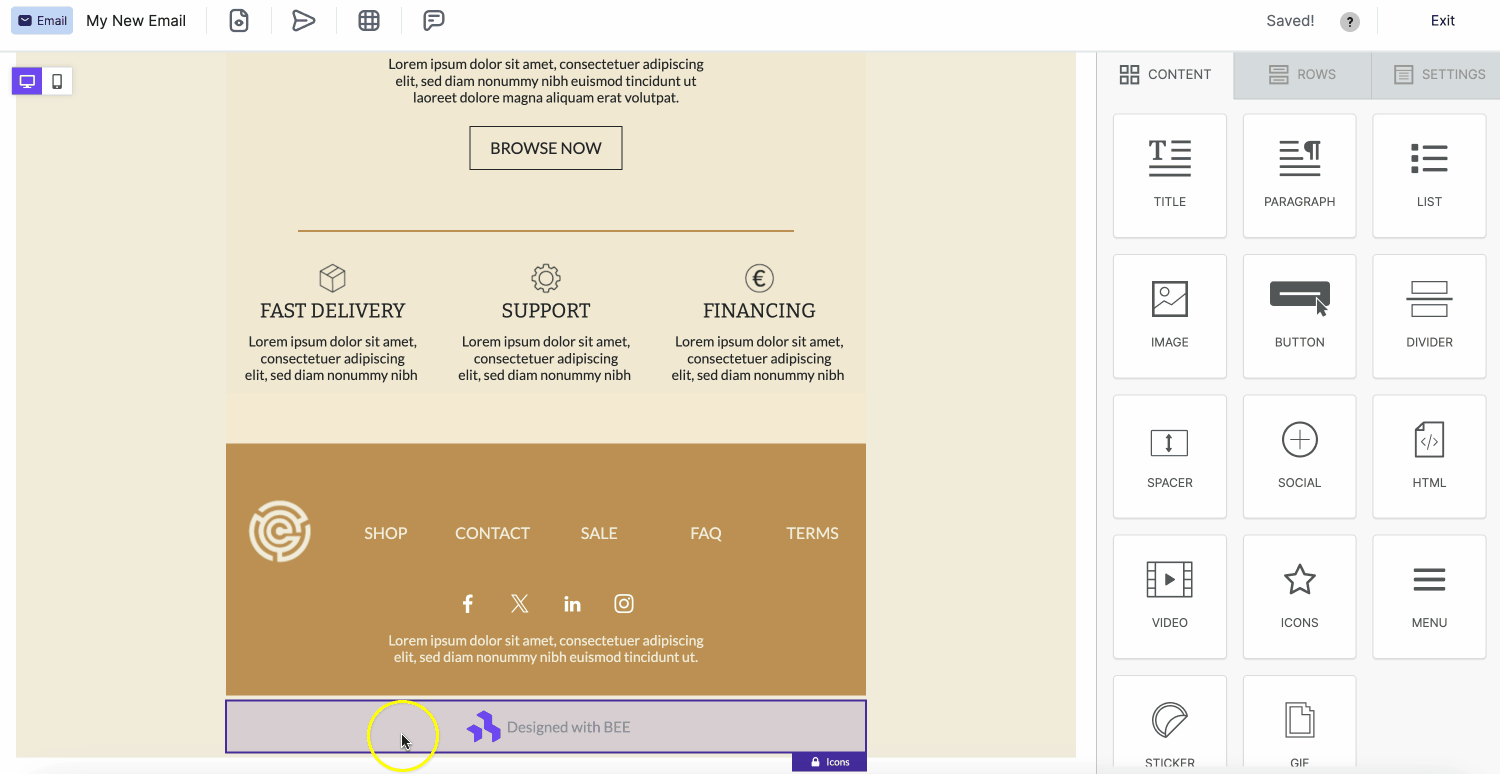 You can drag and drop new or existing rows below the Beefree Footer if you want it to populate elsewhere in your design.
But how can you remove it? Let's take a look.
How to remove the Beefree Footer
We used the lock content/row feature to prevent the Beefree Footer from being removed in free accounts. The lock option is only available in paid Beefree accounts. As a result, you need to upgrade to a paid plan to remove it.
The Beefree Footer automatically unlocks when you upgrade to a Team or Enterprise subscription. This allows you to select the content block or entire row and delete it.
On paid plans, the Beefree Footer does not populate when you start creating a new design.
If you have any questions, feel free to contact us.