Adding video to your page
BEE Pro becomes Beefree
We're still the same design suite you know and love, just with a new name. Our team is working hard to update our documentation, but you might still see some information or screenshots that are out of date.
This article applies to the Page builder in all plans.
Overview
Looking for documentation on using videos while designing an email? See Adding video to your email.
The Page builder offers a great deal of flexibility for video content. This version of the builder supports all of the following types of videos:
Self-hosted URLs (i.e. URL for any self-hosted MP4 formatted video file)
YouTube or Vimeo URLs
File Manager uploads of:
*CDN Charges may apply
**Only available for video backgrounds
There are also a couple of different ways that you can use videos on your pages.
A traditional video content block
A video background
Let's take a closer look at these options.
Video Content Block
You may already be familiar with the video content block for the email builder. The Pages video content block works similarly, but you have more options. This is because a web browser is less restrictive than an email client regarding rendering content.
When working with a video content block, the builder sidebar includes a dropdown menu. This menu allows you to select what type of video you are inserting.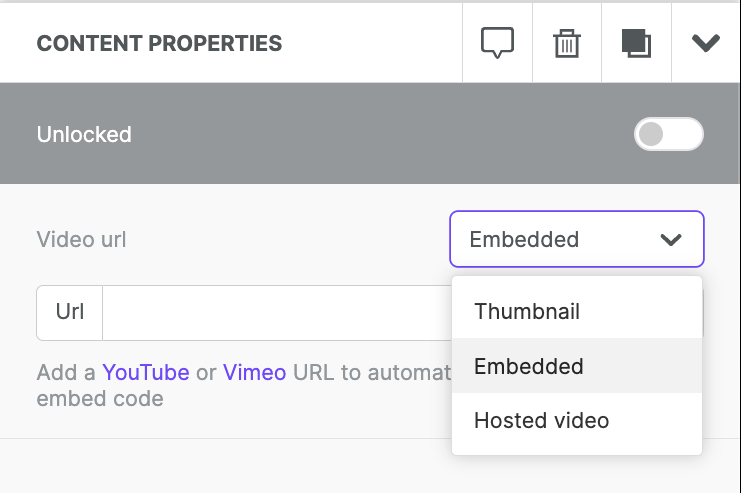 The builder supports the following aspect ratios for videos:
4:3 and 16:9 (standard video formats)
9:16 (YouTube shorts format)
21:9 and 9:21 (CinemaScope formats)
If you're using a YouTube video, you can also link the video starting at a specific timestamp. If you need information on how to generate this type of link, please see this Lifewire article.
Thumbnail
Thumbnail is the same type of video content used when designing emails. With this method, you can use public YouTube and Vimeo videos. We'll pull a thumbnail from the video hosting service and overlay a play button on it.
The video must be set to public in order for us to use to access the video thumbnail from the video hosting service. Supported privacy options are as follows:
Youtube: Public and Unlisted
Vimeo: Public, Unlisted
You have a few customization options for your play button.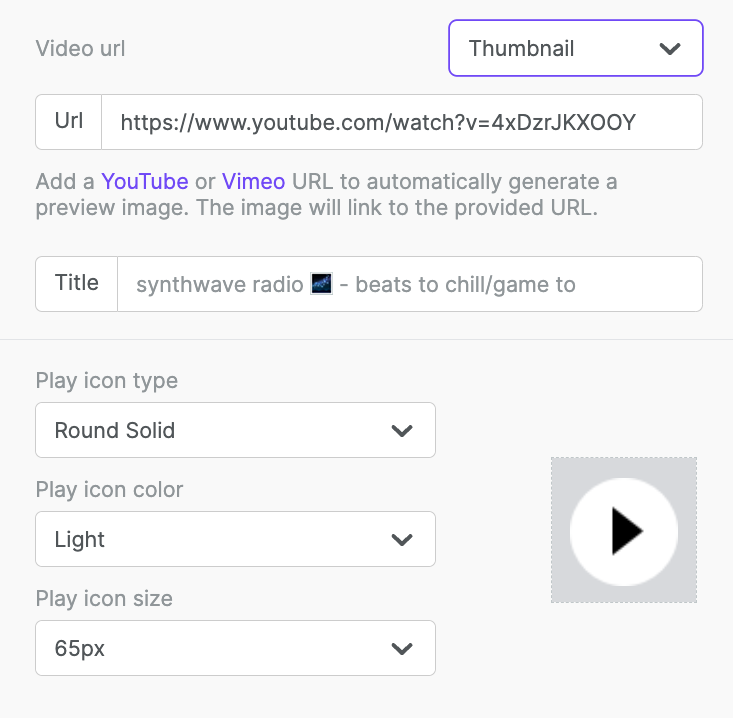 With this method, the video will not play on the page. The visitor is redirected to the Youtube or Vimeo page where the video is hosted.
Embedded
As the name implies, this option allows you to embed videos on the page. This allows you to embed your YouTube and Vimeo videos directly into your page. With this method, you can also use videos on all privacy settings except for Private.
Using this option generates a Controls toggle and a Loop toggle. The controls option allows you to control the video progress bar. The loop option allows you to create loop playback.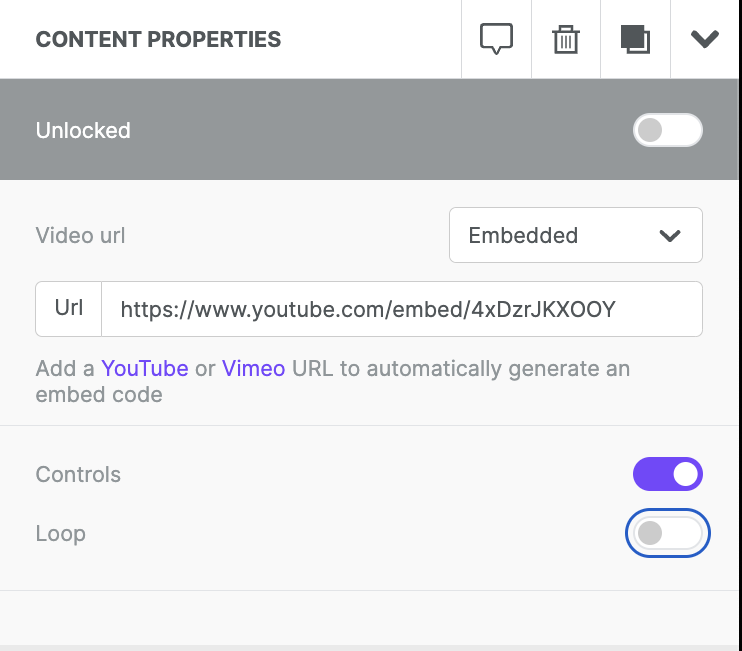 Hosted video
This allows you to embed a self-hosted video in an MP4 format. The same controls and loop options apply with this method as well. Note that the playback interface may vary depending on the browser or device.
Video Background
This method of using videos is exclusive to the Pages builder. As a background element, it exists on the row level of your design. It's very similar to the existing background image feature. This feature allows you to create designs that look something like this:

Start by selecting a row within your page. A background video option is now available in the sidebar. You can locate it directly beneath the existing background image toggle.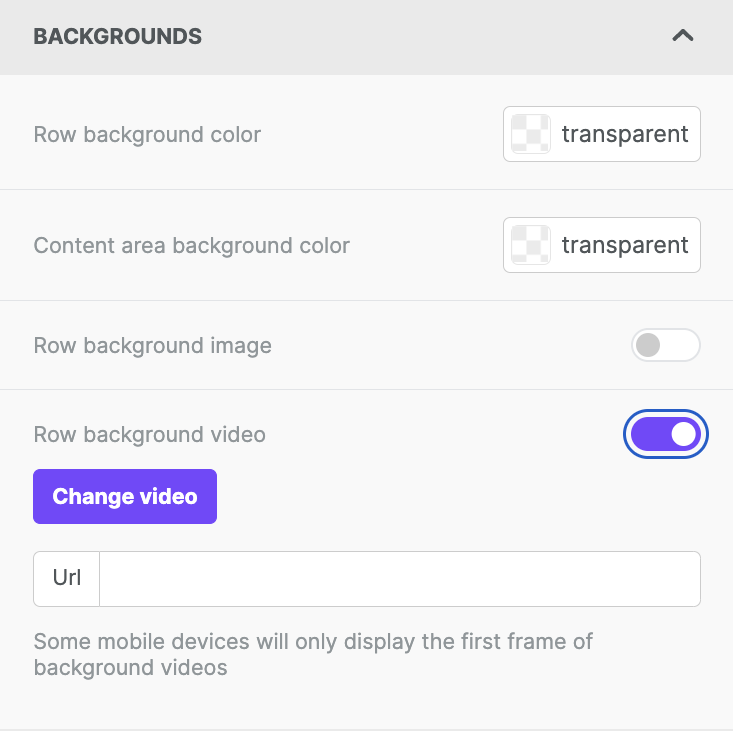 All video backgrounds will auto-play looped and muted without controls by default. If you are hosting your video in our file manager, keep in mind that CDN charges may apply.
Note that in-app warning that some mobile devices may not play your video background. On these devices, only the first frame will display. This typically only happens when a device is running in a power-save mode.
Examples
As an illustration of how to use the video background feature, we created some example pages. Click a GIF below to see the live page.
If you have any questions, feel free to contact us.