Working with viewers
BEE Pro becomes Beefree
We're still the same design suite you know and love, just with a new name. Our team is working hard to update our documentation, but you might still see some information or screenshots that are out of date.
This article applies to the Team and Enterprise plans.
Overview
Have you ever wanted to invite someone with view-only access to your Beefree account? Maybe you're looking for approval from your client or manager. Or perhaps you're just looking for someone to provide you with feedback.
We're happy to announce a new type of user called viewers that allows you to do this!
A set number of viewers are available in all Team plans. In Enterprise accounts, the number of Viewers can be customized. Viewers can be managed by both account owners and admins.
As the name implies, viewers have viewing permissions. They do not have any editing permissions within Beefree. However, there are a few other features that they have access to. Let's take a closer look.
Viewer permissions
In Beefree, viewers are able to:
comment
send a test email
open the preview in a browser
see the design history of both emails & pages
access and edit the My profile section
These are the only features that viewers have direct access to. As a result, Beefree will look different for a viewer when compared to what other types of users can see.
Let's take a closer look at what viewers can see inside of Beefree.
All workspaces/Projects
When a viewer logs into a Beefree account, they'll land on the Projects page, the same as other Beefree users. If the viewer has access to an Enterprise account, they'll land on the All workspaces page. In either case, the viewer will be able to see a full list of project folders and designs that they have access to here.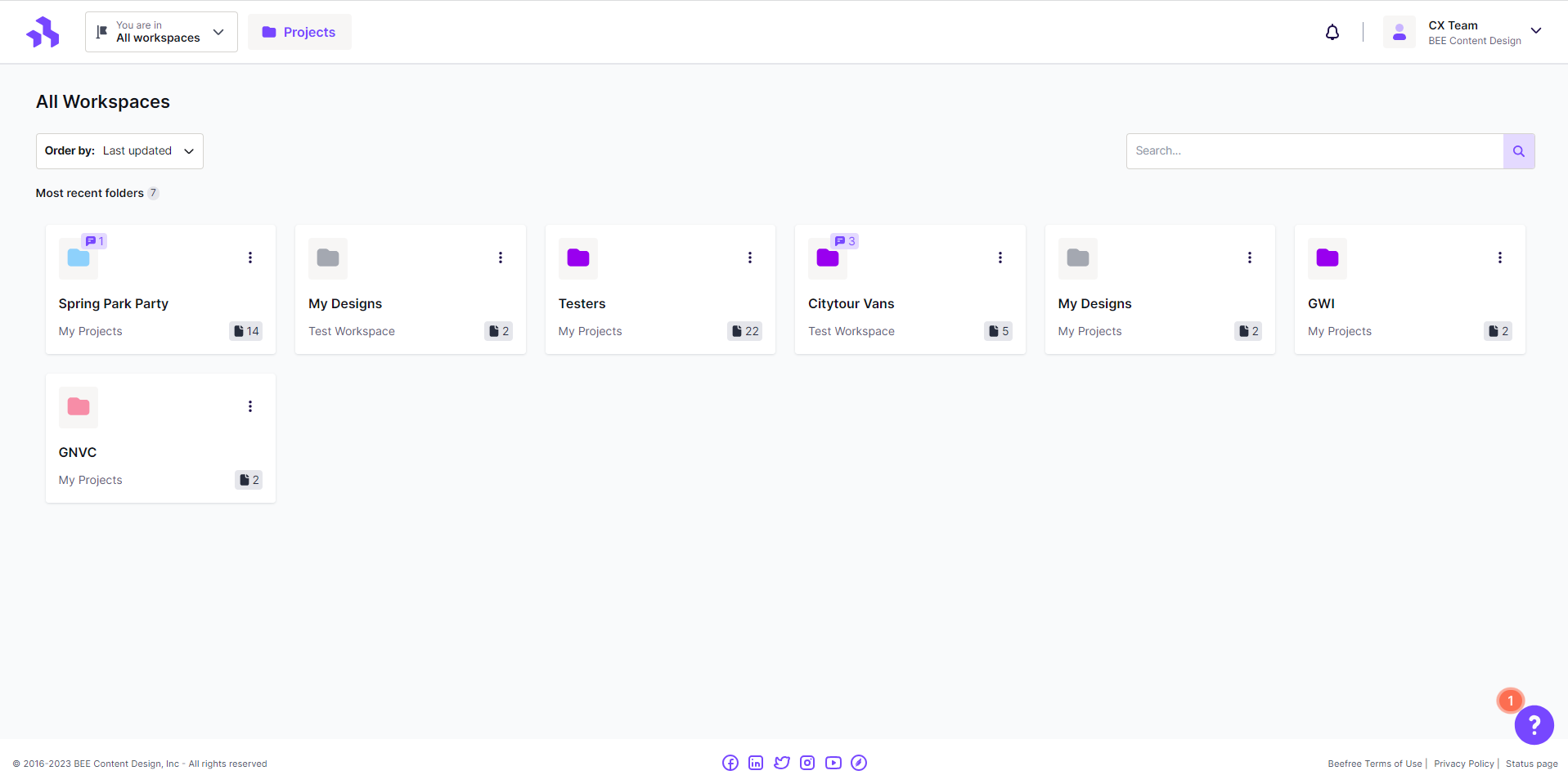 Viewers can use the Order by dropdown or search function from this page to find what they need. When they hover over a folder or design, their only option is to open it.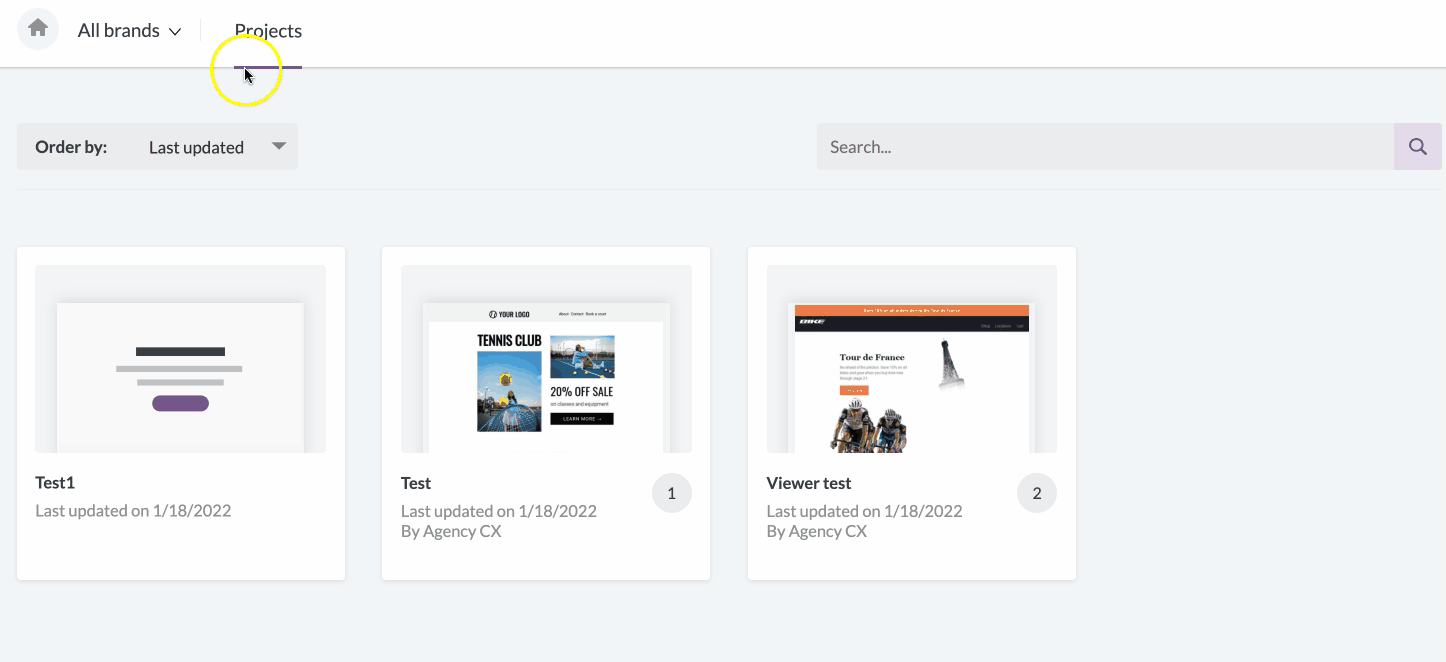 Note that Projects is the only tab available to viewers. They are not able to see the Library or Settings tab.
Emails and Pages
A viewer can find designs on the projects page or within a folder.
If they hover over an email or page, the overlay on the preview gives them the option to Open it. If they click the options icon in the upper right-hand corner of the preview, they'll see one or two options. This will depend on the type of design:
View details
Send test (emails only)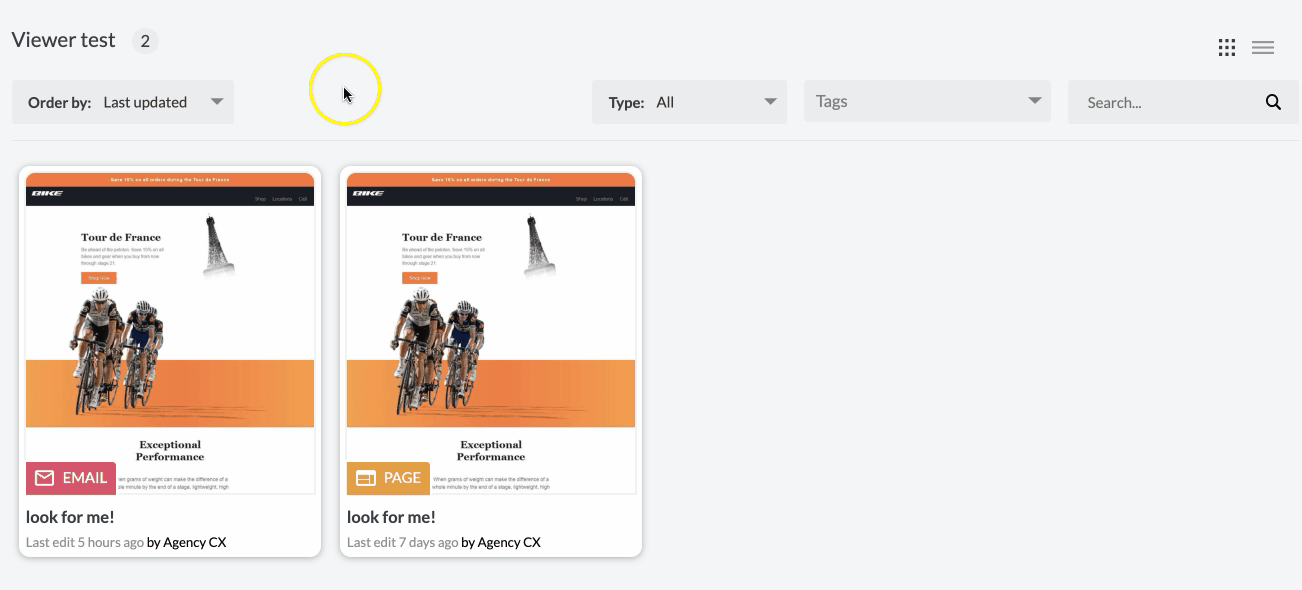 Inside the builder
When the viewer opens a design, they are redirected to a view-only version of the builder. They are not able to see the sidebar in this version of the builder. As a result, they are not able to drag and drop any content onto the builder stage. They're also not able to edit any of the design or content settings.
Although they have no editing permissions, a viewer can click on a content block. This will open the commenting sidebar. Commenting works the same for viewers as it does for other users.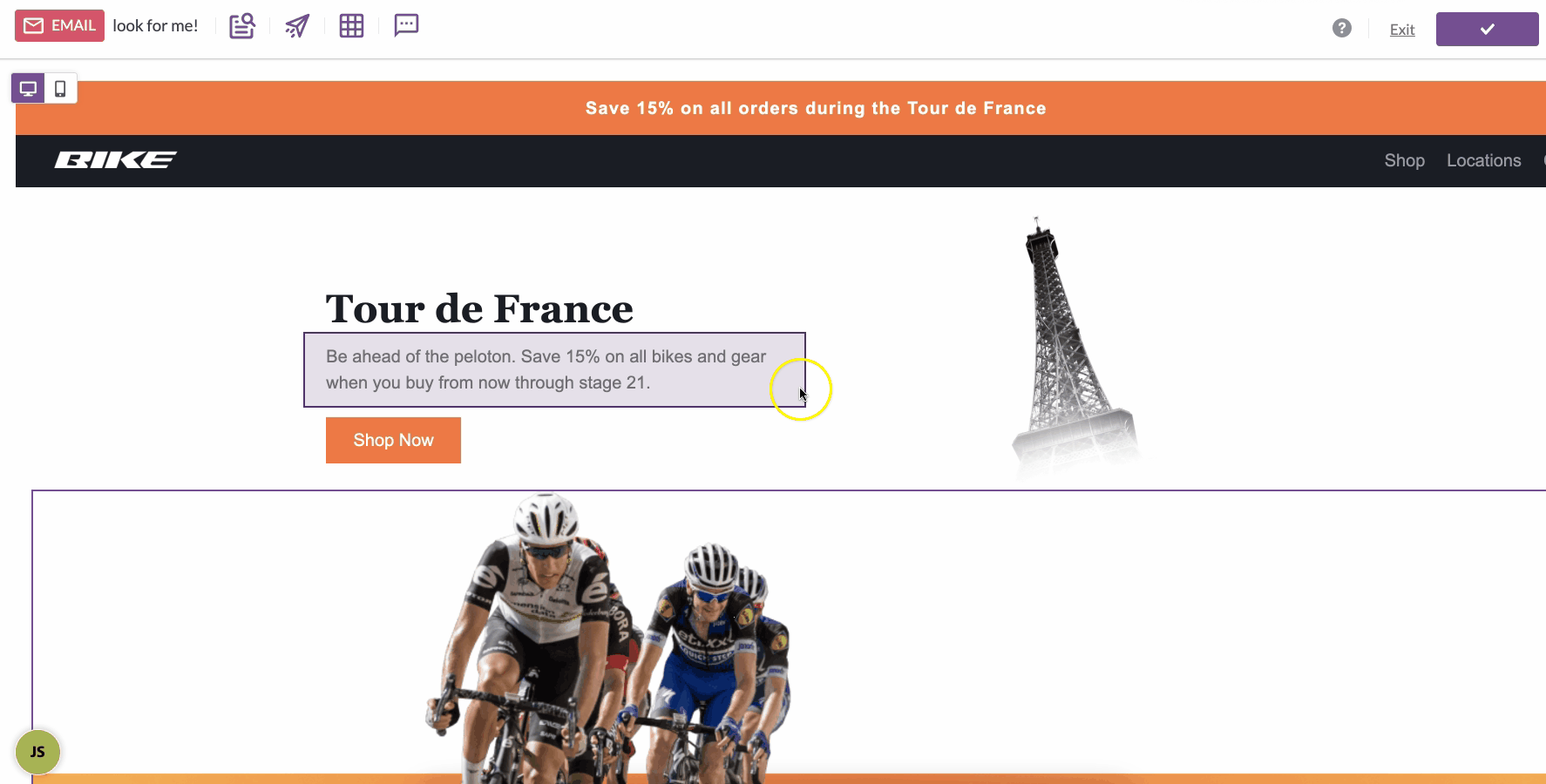 Viewers also have access to the options available in the banner above the builder. This means that they can:
preview the email on desktop and mobile devices
send a test email from inside the builder (emails only)
show/hide structure
view all comments
Viewers can also toggle between desktop and mobile in the upper left-hand corner.
Details page
Viewers can access the Details page from the design actions, or when they exit the design. Most of the options on this page are grayed out to indicate that they can't interact with these options.
They can toggle between the details and the history tab. Viewers are able to look at historical versions of the design.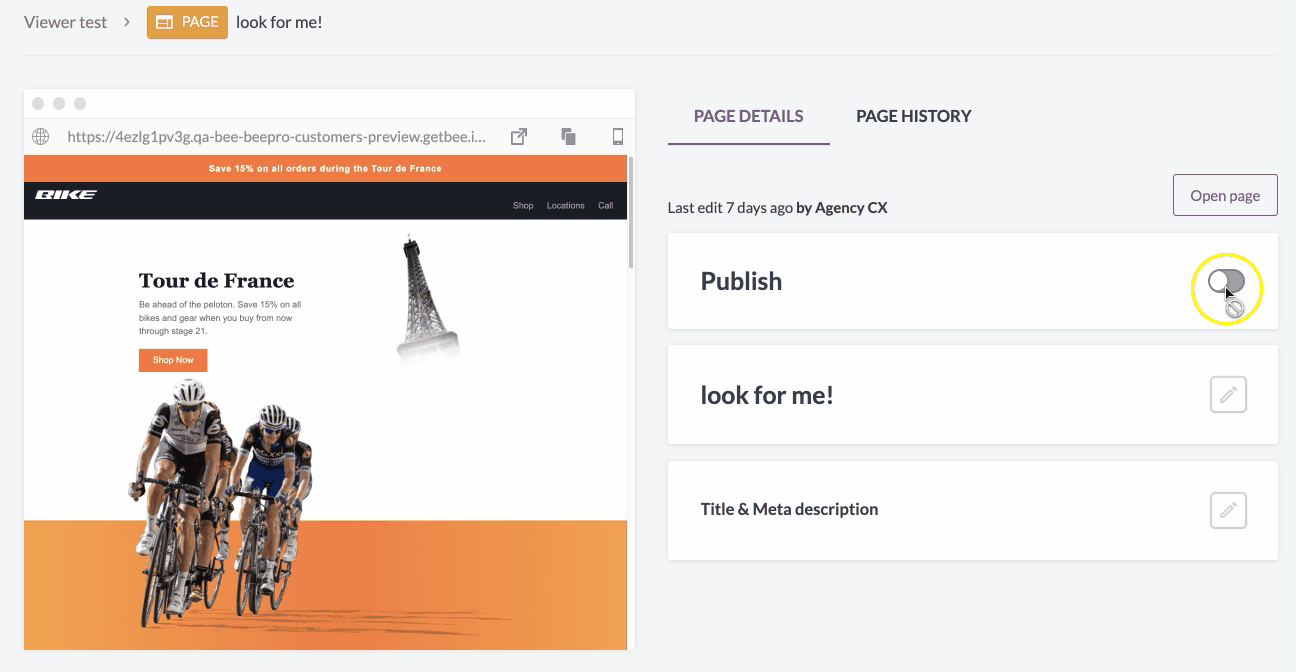 Viewers can also interact with the preview options above the design thumbnail. They have the option to:
Open in a new tab
Copy URL
Open on your smartphone
For emails, viewers can also use the send test feature from this page.
Inviting viewers
In order to invite a new viewer, you must be an Owner or Admin member of your Beefree account. You can invite viewers from the Manage users page, or while using the Commenting feature.
From the Manage users page
On the Manage users page, you can see how many viewers you have available. If you have available viewers for your account, you can use the Invite a viewer button on this page to send an invite. This button is not clickable if there are no remaining viewers available.

On the viewer invite form, provide the viewer's first and last name, as well as their email address. In Enterprise accounts, you can also select which workspaces they will have access to.
When inviting viewers, the role cannot be changed.
Click the Invite button to send an email invitation to your new viewer. They should receive an email with a sign-up link. If the viewer does not receive their invitation, you can always re-send it.
From Commenting
When commenting, a list of available users will populate any time that you type the @ symbol. At the bottom of this list, there will be an option to Send an invite. If you're an owner or admin, you can use this to invite a viewer from the commenting features.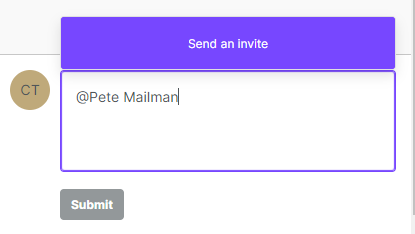 Clicking this option will ask you to enter the email address of the viewer that you want to invite. Click Verify to proceed to the next step.
If the email address has a pending invitation, the verification will fail.
If verification is successful, the system will ask for a first and last name. Click the Invite button to send an invitation email.
In Enterprise accounts, you can also use this method to invite your viewer to a new workspace as well.
Revoking a viewer's access
In order to revoke a viewer's access from your account, scroll to the bottom of the Manage users page. Use the red icon that populates when you hover over the viewer details.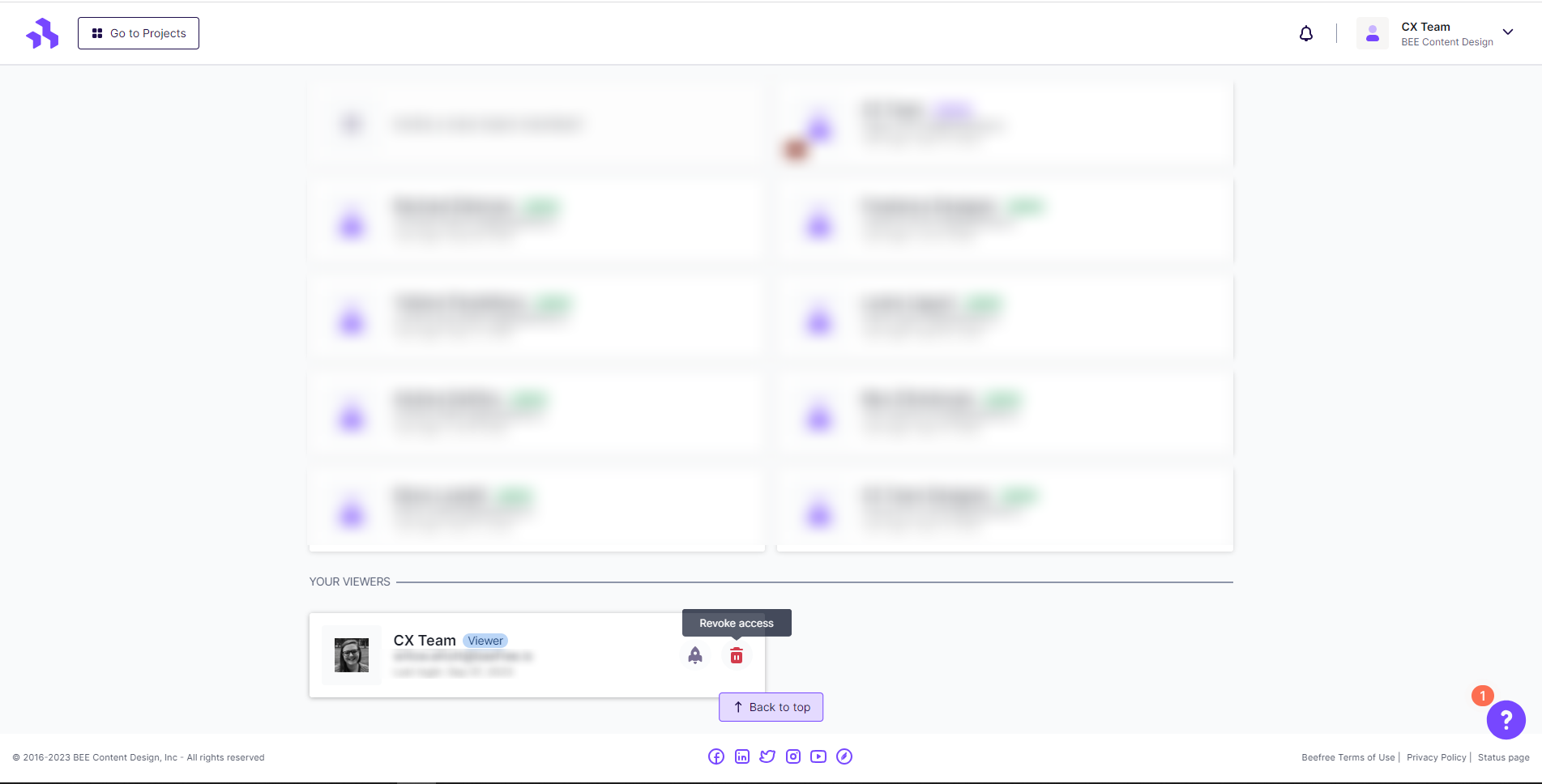 Upon clicking on this icon, a warning message will appear asking you to confirm the action.
If you click the Revoke access button to confirm, the page will reload. You'll have a new available viewer that can be used to send an invitation to someone else.
Removing available viewers is not possible. Keep in mind that they are included in the base fee for your subscription.
Upgrading viewers to members
If you are the account owner, you can upgrade viewers to a member (i.e. a paid user). This option exists when you are hovering over the viewer details in the Manage users page. You should see a Promote icon that allows you to upgrade the viewer to a member.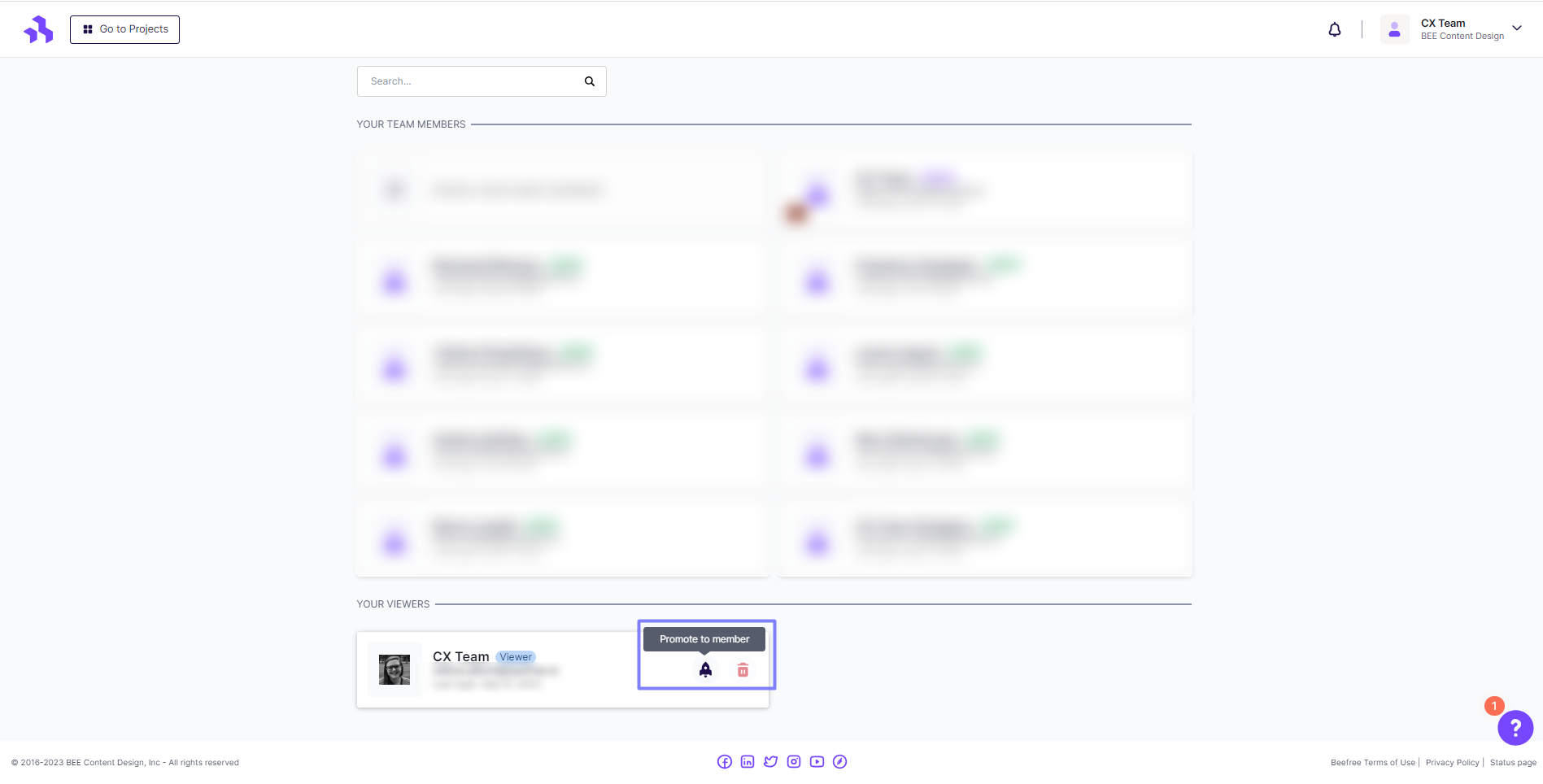 If you have available members, you can select the new user role assigned to this user immediately. You can choose from admin, manager, editor, and contributor.
If you have no available members, you'll be prompted to purchase a new member in order to continue.
Billing
Viewers are automatically available in all Team and Enterprise accounts. They are included in your base subscription fee. The number of available viewers depends on the subscription type that you have.
It's not possible to purchase more viewers if you're using a Team account. Additional viewers can only be purchased on the Enterprise plan.
Team plan
The Team plan includes up to four viewers.
Enterprise plan
The Enterprise plan doesn't have a set number of viewers. You can purchase as many as you need. Please contact our sales team for more information.
If you have any questions, feel free to contact us.