Using sub-domains in BEE Pro
In an effort to offer BEE Pro subscribers more personalized options for their designs hosted on BEE Pro, we are happy to introduce sub-domains. This update impacts all BEE Pro plans (including trials), but depending on which plan you are using, you may see different options.
Please note that these options are only available if you are the Owner or an Admin of your respective BEE Pro account.
Overview
Our biggest goal with this release is to ensure that our subscribers' assets are protected in the event that our primary domains are blocked by antivirus and antimalware software. By assigning every BEE Pro account a unique sub-domain, our customers will never be impacted by the actions of someone else using BEE Pro. If you are on a Team or Agency plan, this also allows you to customize your domain to varying degrees.
Below we'll talk about how this release impacts Freelancer, Team, and trial accounts. This information also applies, in part, to Agency and Enterprise subscribers, but full documentation for these types of accounts can be found in our other help center article.
Sub-domains will apply to the hosted versions of your emails and pages that you have designed in BEE Pro. Please note that the sub-domain does not extend to assets hosted through the file manager, but you can always use externally hosted images (or files) if you wish to have more control over this.
What is a sub-domain?
If you're using BEE Pro because you're on the less technical end of things, this is a completely understandable question to ask. The easiest example of a sub-domain is the one that we use for the BEE Pro platform (https://pro.beefree.io). In this example, "pro" is our sub-domain, while "beefree.io" is our primary domain. However, the domain that we use for our hosted assets is different - postedstuff.com (paying customers) or posted-stuff.us (trialing customers).
In order to implement sub-domains for hosted assets, we will add a string of characters in front of the domain that the customer is using. This sub-domain is unique to your BEE Pro account.
If you still want to learn more about how sub-domains work, check out GoDaddy's documentation on this topic: https://www.godaddy.com/help/what-is-a-subdomain-296.
Trial and Freelancer accounts
If you are trialing BEE Pro (on any plan) or using a Freelancer plan, your sub-domain is assigned randomly. It is created upon account creation, or if you were using BEE Pro prior to the release of sub-domains, one was generated for you when we released this feature.
Freelancer and trial accounts have no customization permissions over the sub-domain. However, if you locate this section within your account's general settings, you may see that some options exist.
If you're on a trial (note that this applies to all trial plans), you'll see the option to skip the trial period and begin your subscription to begin using sub-domains.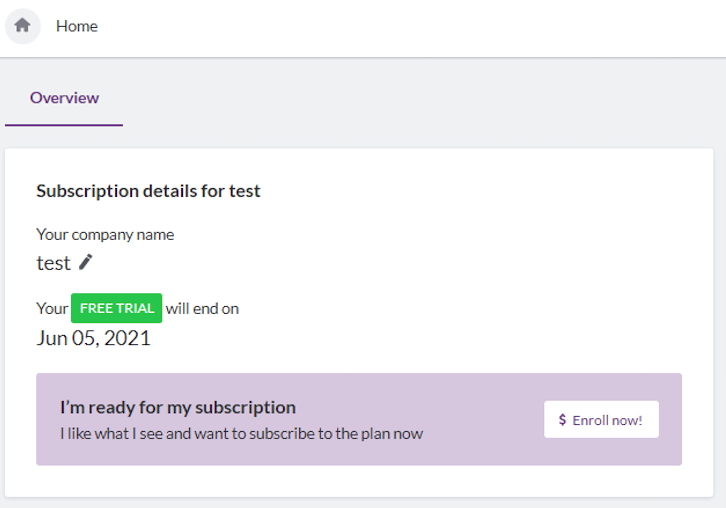 Conversely, if you are on a Freelancer plan, you'll see that you need a Team or Agency plan to use customizable options for your sub-domain.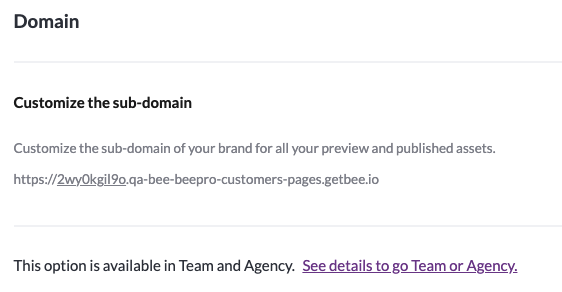 Team accounts
If you are using a Team plan, then you have the option to customize your sub-domain! However, a randomly generated sub-domain will be available for you at first.
Before we get started, please keep the following information in mind:
Your sub-domain can only be changed once. You'll see this reflected in BEE Pro throughout the customization workflow as well.
Your custom sub-domain can be composed of 20 characters maximum. You can use characters such as capital letters and dashes. However, you cannot use dots (.) or special characters/symbols.
In order to customize your sub-domain, click the pencil icon next to the randomly generated sub-domain. This will change your sub-domain to an editable text field.

Type your desired sub-domain and press the purple checkmark button to the right of the textbox. We'll perform an automatic check to make sure your sub-domain is available. Some text will generate directly below the textbox to let you know whether or not this sub-domain you've typed is available. If you decide you don't want to change your sub-domain right now, you can also use the gray X icon to cancel this.

Upon clicking the checkmark, a modal will open for you to confirm the changes that you are making. This includes a preview of your full sub-domain and a warning that you will not be able to change this domain again. If you are happy with what you see, press Confirm to save your new sub-domain.
Once saved, your custom sub-domain is immediately available for use. Note that, once you've customized the sub-domain, the pencil icon disappears since it can only be changed once.
This same customization option exists in Agency and Enterprise plans. However, those particular versions of BEE Pro offer even more extensive customization options. For more on Agency and Enterprise options, please jump to Using custom domains in BEE Pro.
Do you have any questions? Let us know by opening a ticket through the BEE Pro widget!