Locking content to prevent editing
BEE Pro becomes Beefree
We're still the same design suite you know and love, just with a new name. Our team is working hard to update our documentation, but you might still see some information or screenshots that are out of date.
This article applies to both versions of the builder in the Team and Enterprise plans.
Why lock content?
One of the most powerful features associated with user roles and permissions in Beefree is the ability for some users to lock content. By doing this, other users will not be able to edit it.
For example, let's say you're a digital marketing agency and hire a new, junior editor on the email marketing team. One of your clients is in a highly regulated industry and the footer of their emails contain legal language that should not be altered. How do you prevent the new staff member from editing it?
Locking Entire Rows or Individual Content Elements
Users with a Manager role or above can lock entire rows or individual content blocks.
When a row is locked, all content within that row is also locked by default.
Individual content blocks can be blocked without blocking the entire row.
Individual content blocks can be unlocked within a locked row.
In this third scenario, by unlocking individual content elements within a locked row, users with a Manager role or above can lock the layout of that section of the email (e.g. a header or footer), while still allowing for the editing of text, images. etc. in the same section.
Locking a row
Locking a row is very easy to do. Users that have permission to do so will see a feature at the top of the Row Properties panel that allows them to toggle the selected row between Locked or Unlocked.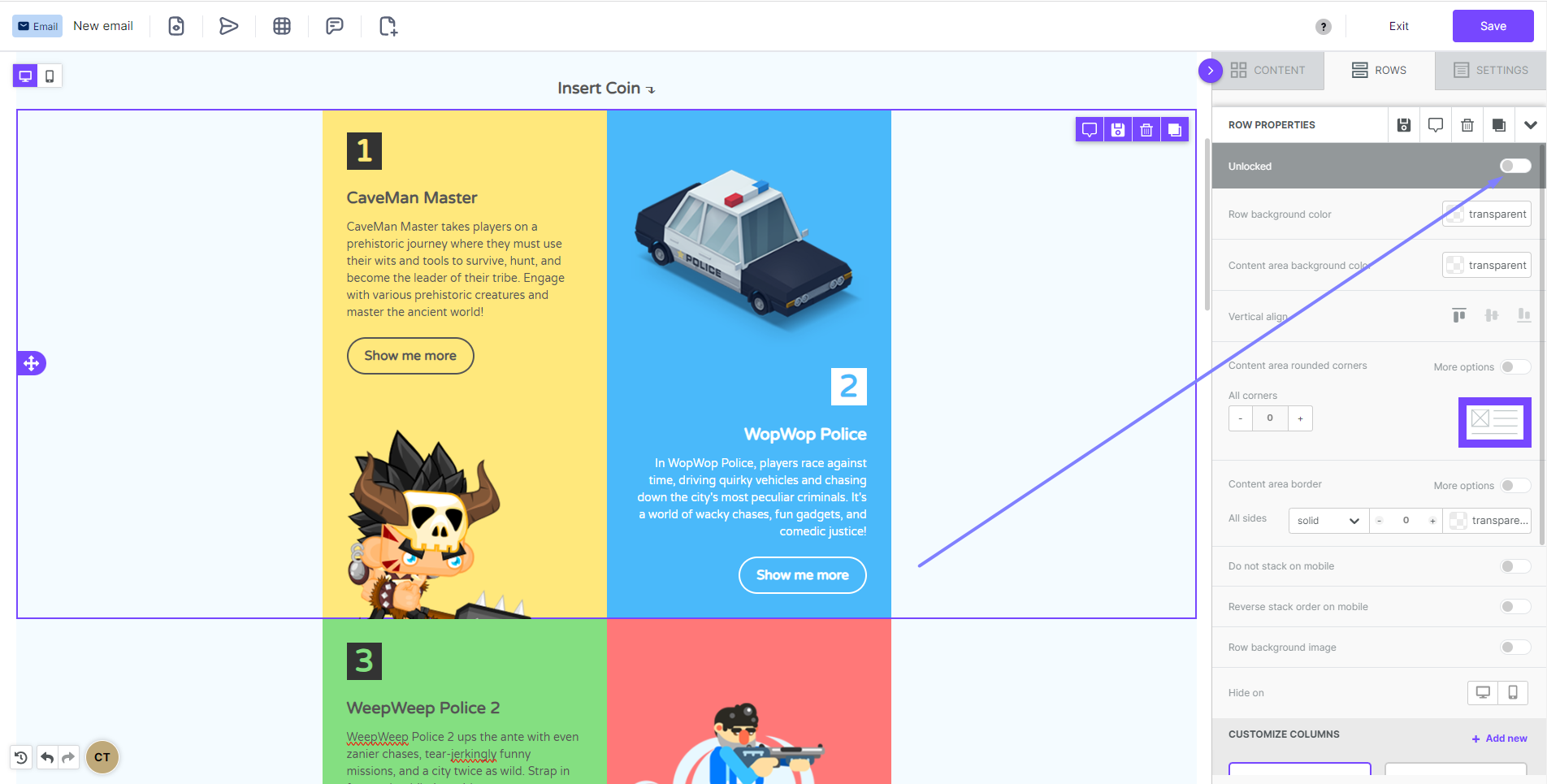 How locked content displays
Editors and Contributors - who cannot lock or unlock content - will not be able to edit a locked row or a locked content block. When they click on any locked content, a friendly alert message will pop up in the lower right-hand corner. This lets them know that they cannot edit the row or content.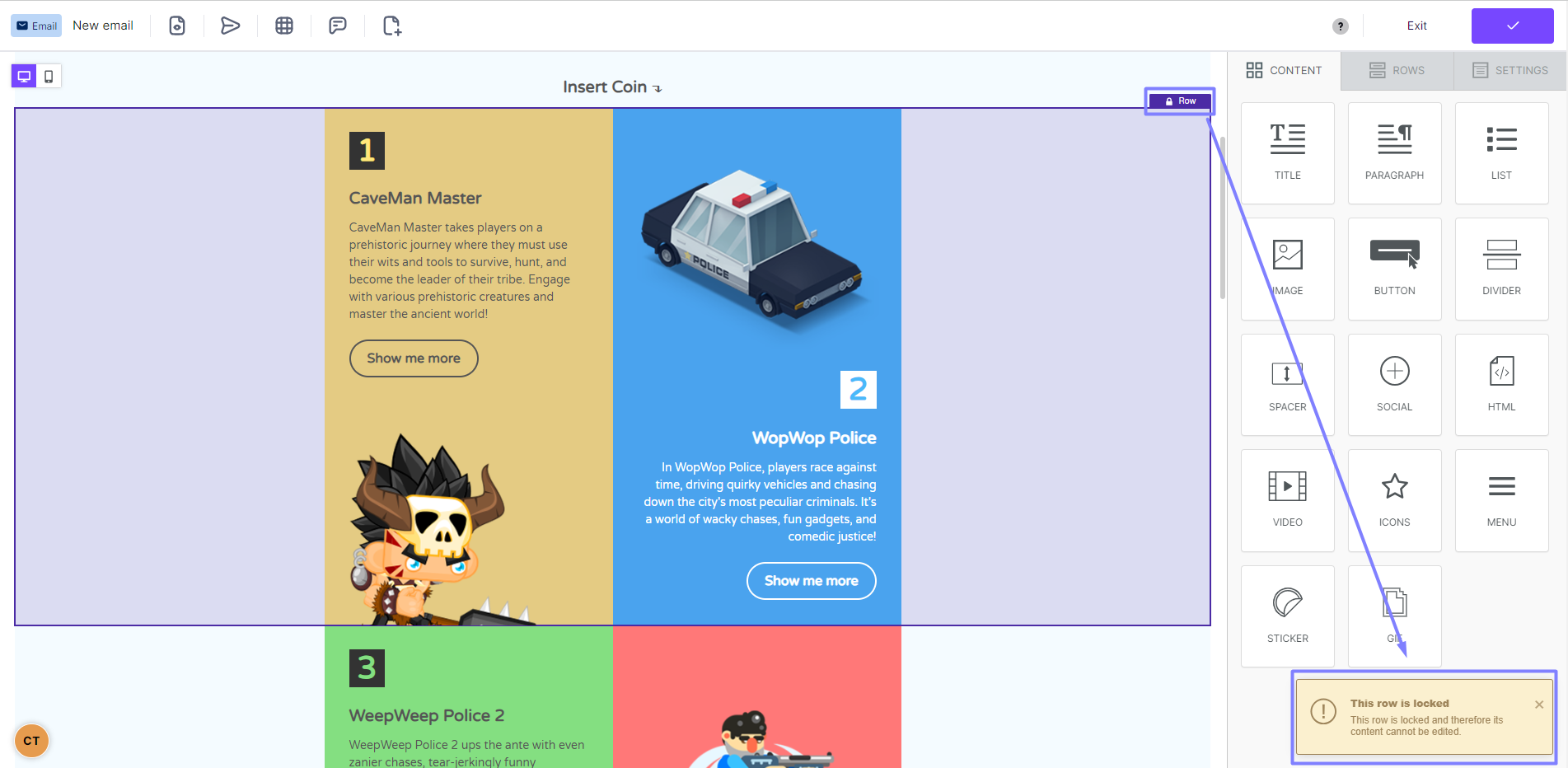 Likewise, they are not able to drag and drop any other content on the locked row. When they attempt to do so, the builder overlays a diagonal pattern on the row, indicating that there are no available actions.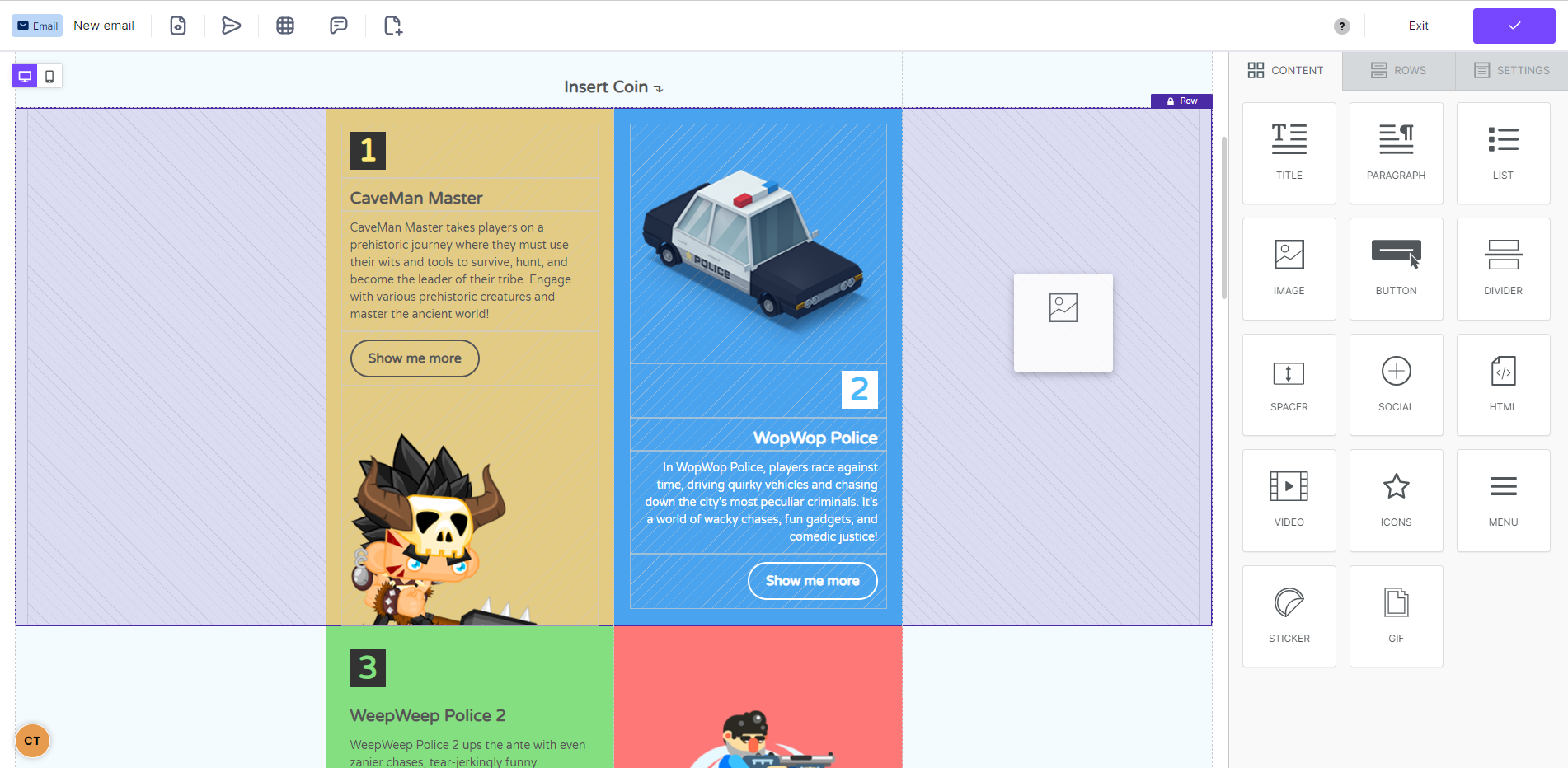 Locking individual content elements
Individual content blocks can be locked, instead of an entire row. When Editors and Contributors try to edit a locked content block, they receive a similar alert message.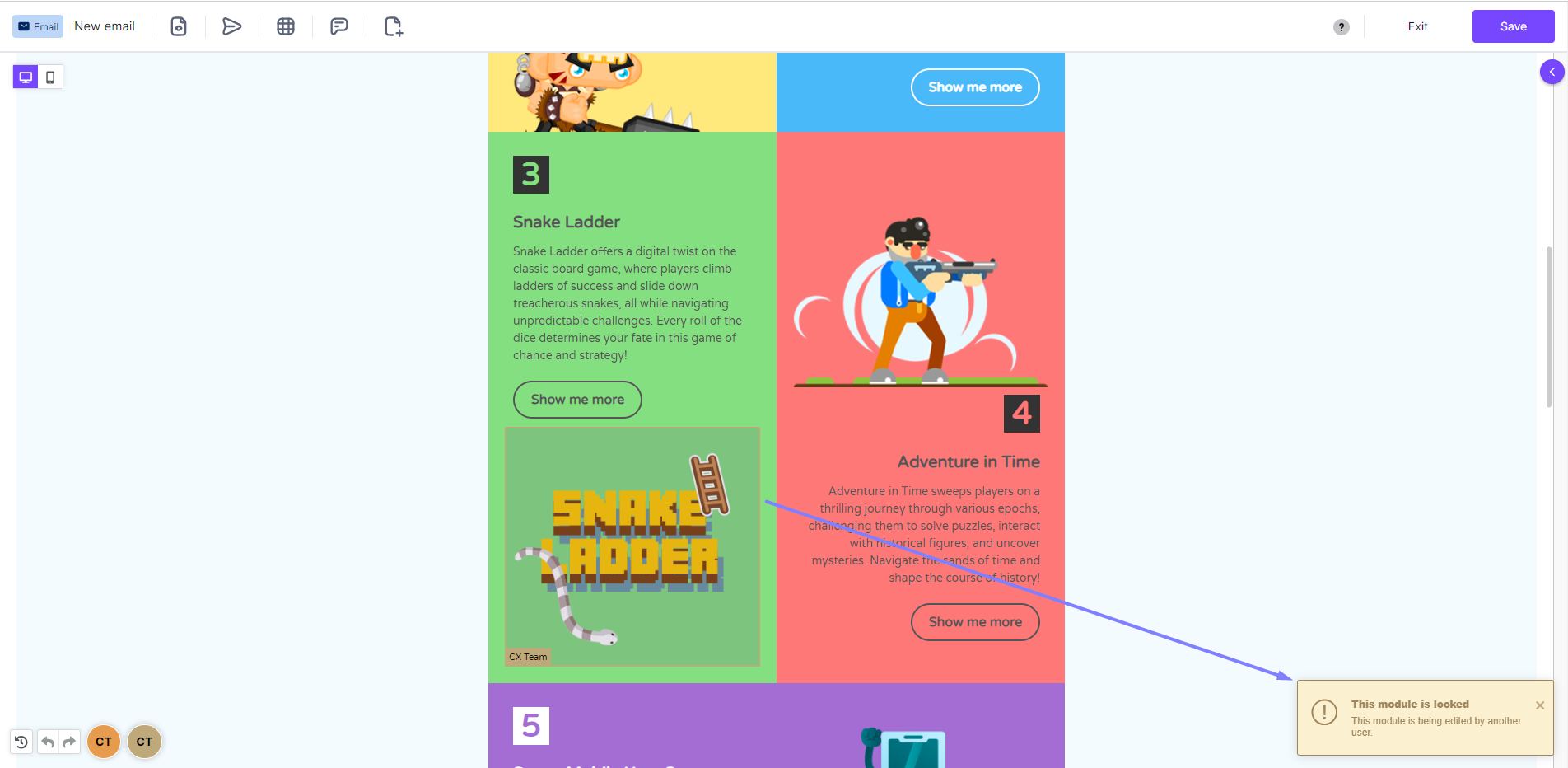 Locking the layout while allowing content editing
To lock the layout of an email by still allowing content editing, a content block can be unlocked within a locked row. This allows Admins and Managers to lock the design layout - or sections of it - while still giving Editors and Contributors the ability to modify select content.
For example, in the screenshot below the user can edit the logo, but not the rest of the information in the footer, which contains social icons and the address, other than merge tags.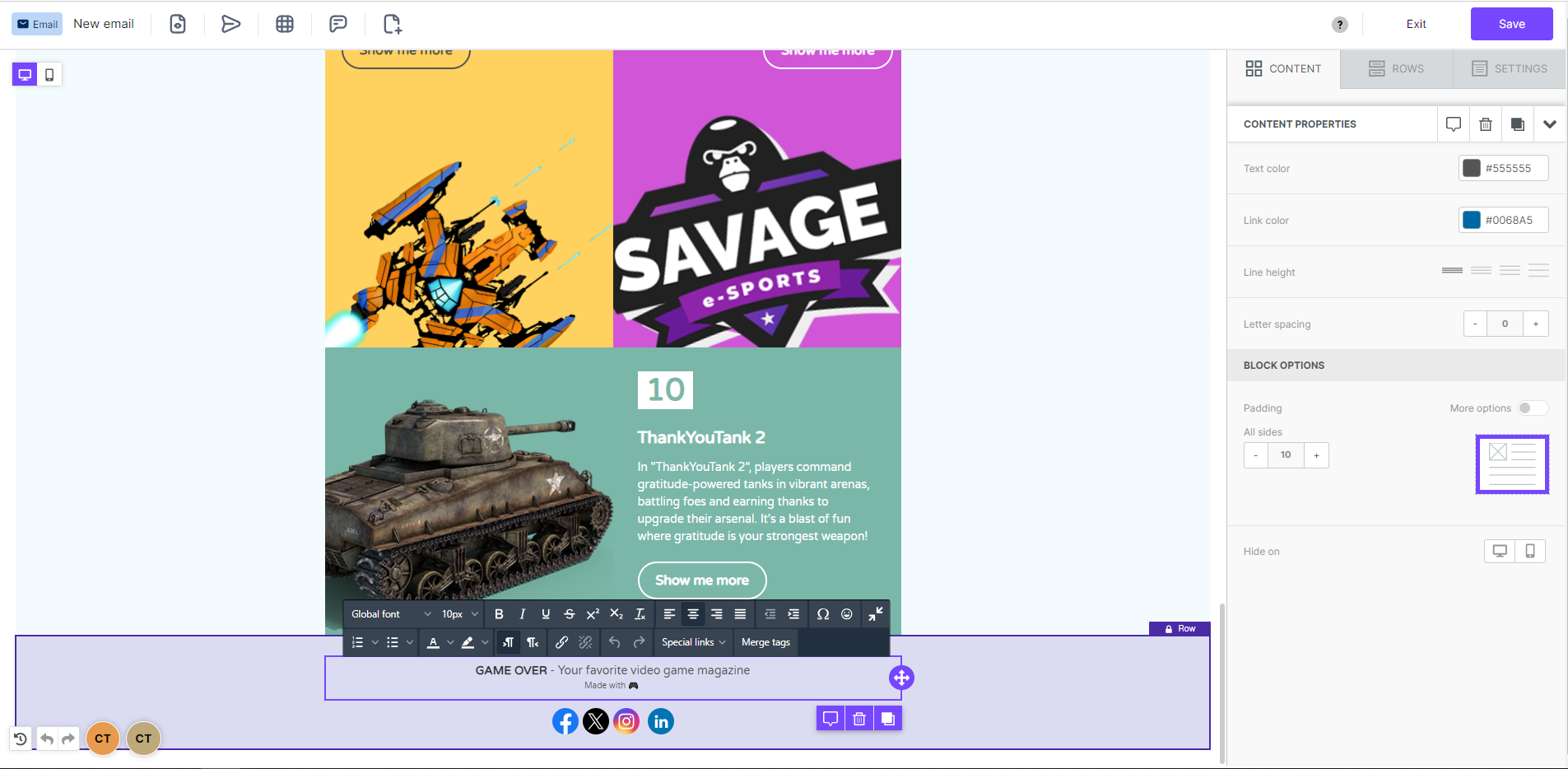 If you have any questions, feel free to contact us.