 How many times do you need to reuse content in a different email? How about a footer that you spent time optimizing and want to use everywhere? That's what BEE is about: beautiful emails, fast. So here's another feature to speed up your email design efforts.
Save and reuse footers, headers, and other content
Users of BEE Pro can now save content and use it again later. It's a new feature called Saved rows, and it's available in all BEE Pro plans.
When editing a message in your BEE Pro account, you can now design a custom row (e.g. a header, a footer, a "Product of the Month" section, etc.), save it, and easily reuse it in other email messages or templates, dragging-and-dropping it from the Rows tab by selecting My Saved Rows.
There are many ways you can use Saved rows. Here there are a few options:
Design a custom footer and use it whenever you need it
Update your set of templates with just a few clicks
Split a template into different pieces that can be used in multiple layouts
How it works
1. Find the new icon
You will find a new save icon:
In the Row actions toolbar.
In the Row Properties panel shown when selecting a row.
This new icon is available for all rows in any email message or template you have created.

2. Pick a name and save
After clicking on the Save icon, pick a name and a Category for your new saved row, and click on Create to confirm and save it.
3. Reuse your saved row
Once a row has been saved, it becomes available under the Rows tab, listed under its Category, sorted newest to oldest.

4. Update a row 
After clicking on the Save icon, if the row is already saved, you can choose to:
Save a new version of the row.
Update the existing row (please note that this choice will not update the row in the templates where it's already used: that's a new feature that we'll work on later this year).
Update the Category to which the row is assigned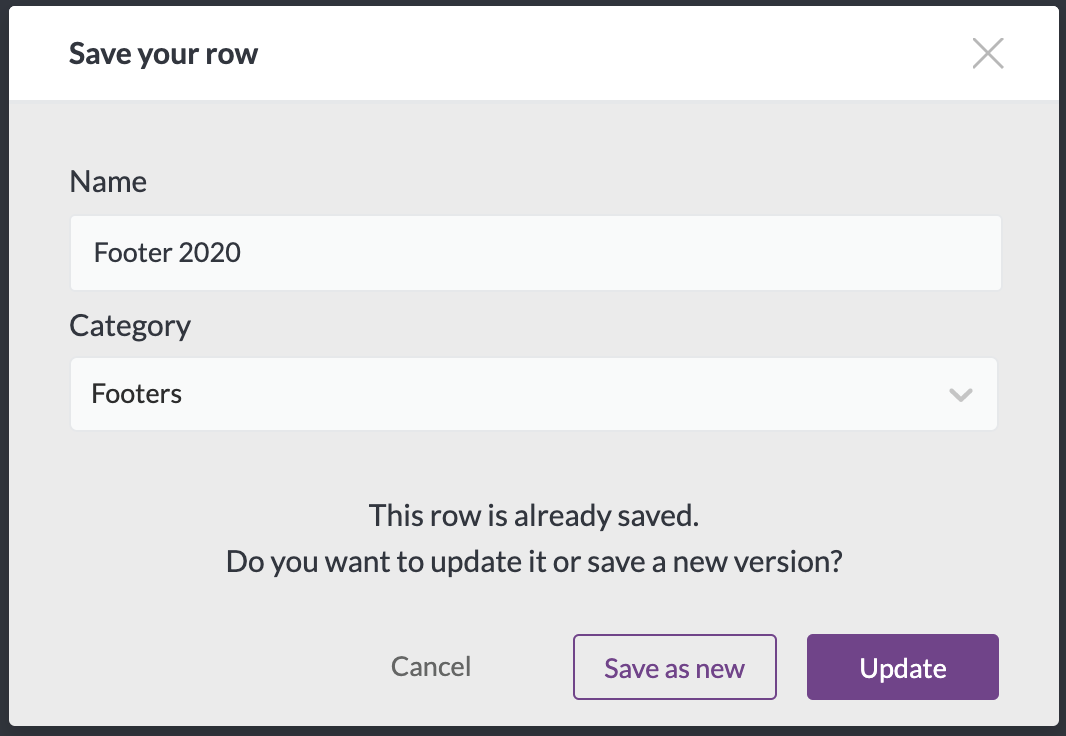 5. Manage your rows 
You can find all your saved rows in the Library section of your BEE Pro account, under My Rows. If you have an Agency account, keep in mind that the Library is available at the Brand level, so you first need to select a Brand to see it. In the Library you will also find your Templates, along with your saved rows.
Under My Rows, you can:
Filter rows using the search bar at the top left.

Order your rows using the 'Order by' drop-down.

See a preview of any row by clicking on it.

Rename a row and change the Category that it's assigned to by selecting Edit Details.
Delete the rows no longer in use. Please note that t

hi

s action will delete the rows from your Library, but it will not delete th

em in the messages where they are used.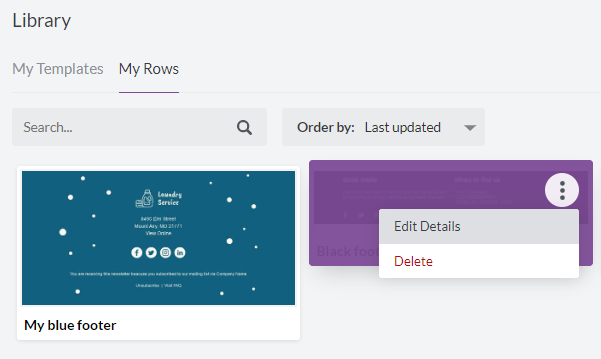 6. Manage row categories 
(New)
In the Library, you can now also manage row categories. This helps you keep rows organized in the Library and make them easier to find in the ROWS tab in the editor sidebar.
For example, if you want to organize a bunch of email footers that you use in different campaigns by storing them in a dedicated category, you can now easily create a new Category clicking on the Add Category button:

Type a name for your category (in this example: Footers), and clicking on Create to confirm and save it.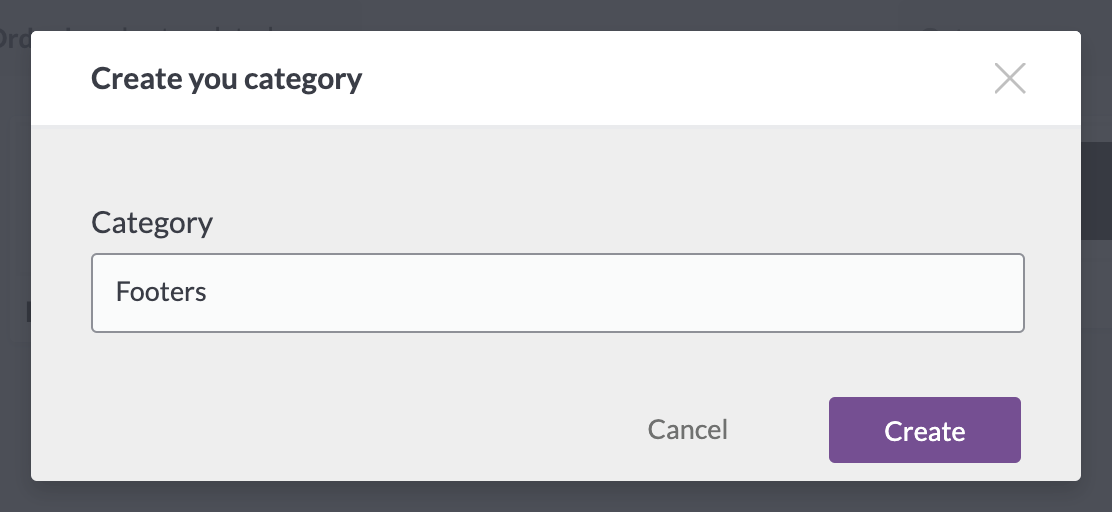 Your category is now created and shown in the categories list, from where you can edit and/or delete it.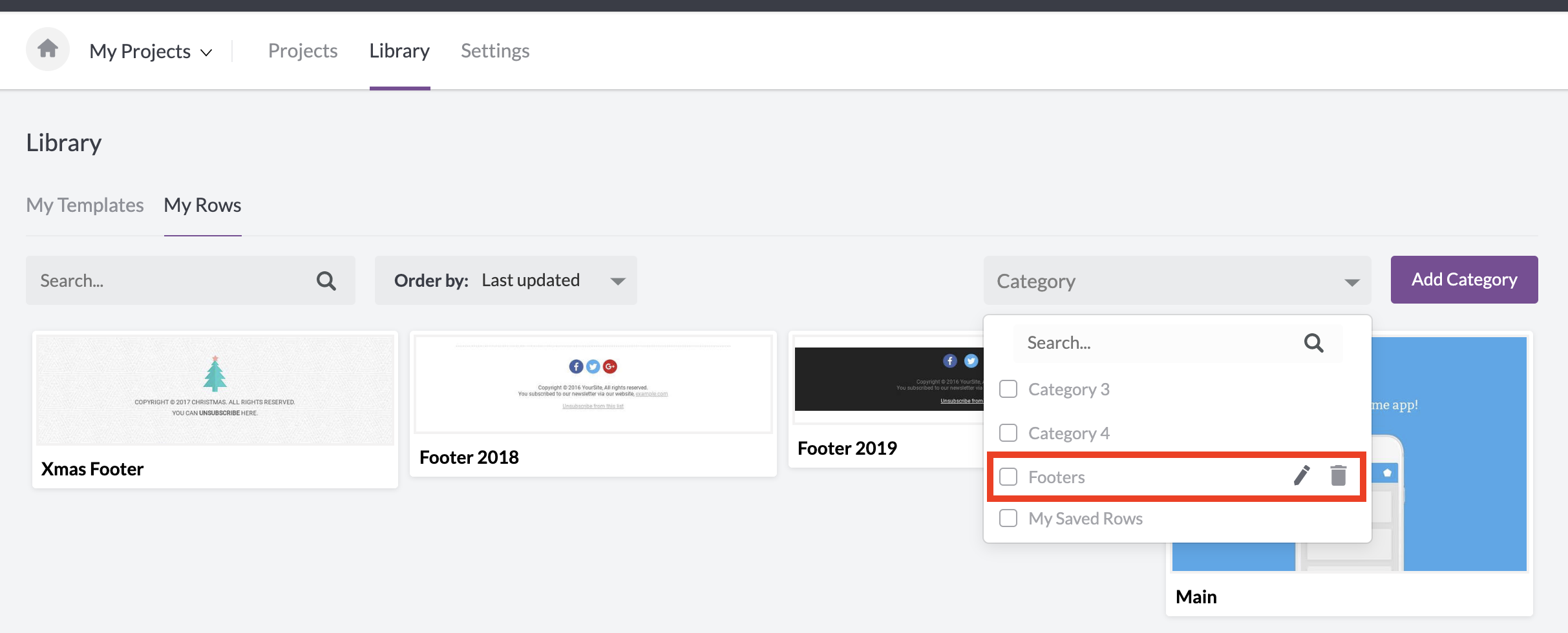 Your new category now exists, but it's still empty. In order to add your footers in the new category, select any saved row and click on Edit Details:

A modal will open which includes a drop-down list that allows you to change the Category: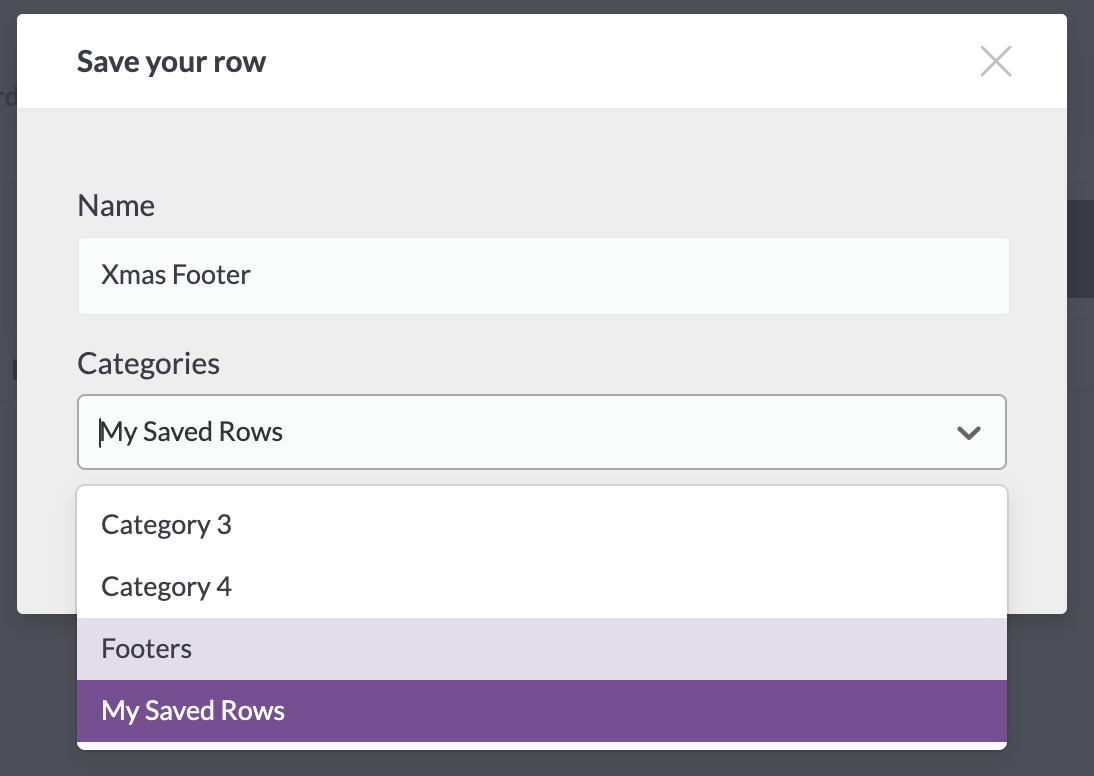 Click on Update to save your changes.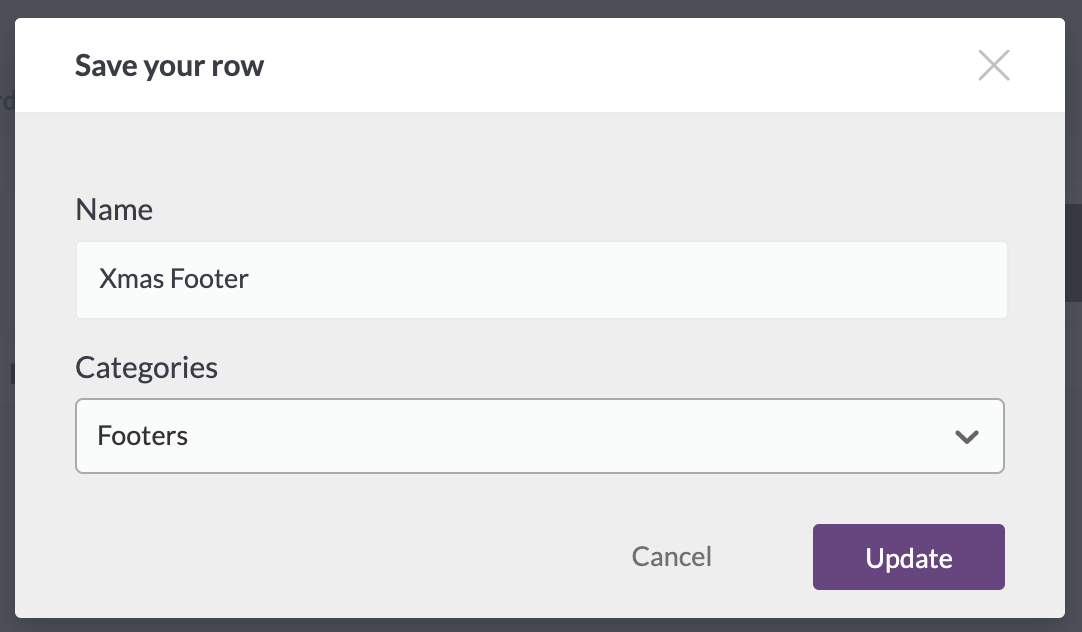 Now repeat the same steps for each footer you would like to include in the new category. When you're done, you will be able to:
1. Filter your rows (in this case all your footers) by that category in the Library

2. Easily find them in your new category in the editor sidebar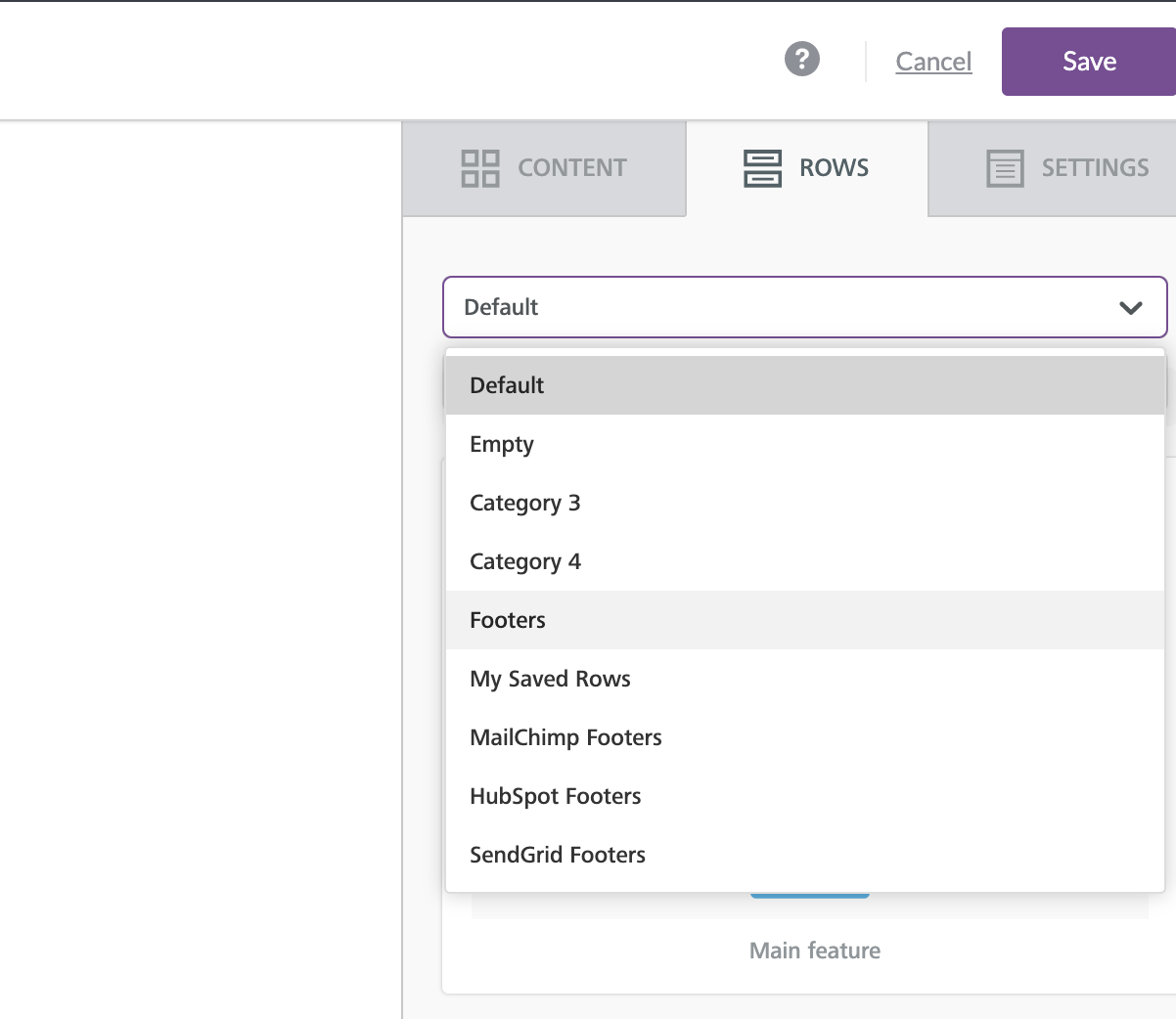 How User Roles and Permissions Affect this Feature
All users in your BEE Pro account can reuse a saved row, but only Owners, Admins, and Managers can save and manage new rows. For more information read User Roles and Permissions in BEE Pro.
| | | | | | |
| --- | --- | --- | --- | --- | --- |
|   | Owner | Admin | Manager | Editor | Contributor |
| Save & manage rows | | | |   |   |
| Use saved rows in the editor | | | | | |
Agency Plan Users
For Agency plan users there is a big plus! Saved rows are brand-specific, so when a new row is saved, it becomes available only inside that specific Brand. This means that your Single Brand Users will see only the custom rows for the brand you want to share with them!
What's Coming Next
We're working to enhance Saved rows with lots of additional, useful features, like for example an option to apply the row updates across messages where it's used. So... stay tuned!