Pages
Overview
BEE was originally created as an email editor, and thanks to you, we are the number one drag-and-drop email editor in the market. We also know that many of you have requested to add the ability to create landing pages. However, since the BEE editor provides HTML that is targeted toward email clients, these designs weren't always compatible with web hosting services... Until now!
If this issue sounds familiar to you, we are happy to announce that the Pages editor is no more in Beta version, and it's available for all BEE Pro plans, including free trials. You can find it in Projects now!

Pages editor includes special types of content blocks and, upon export, will provide you with an HTML file optimized and intended to be used as a landing page.
If you're looking to simplify your web design workflow, we encourage you to try out this new feature and let us know what you think!
If you are looking for your already created Pages, you'll find them in a Project named "Pages Beta". We moved them in a specific project for each brand so you can organize and move them as you prefer.
For Freelancers: you might see 4 Projects instead of 3, as your plan provides since one is dedicated to Pages Beta. If you delete it, you won't be able to create a 4th again.
How it works
Starting from the home page, you select Projects and open the one you're interested in, then you can click on "Create new" to choose between a new page or an email.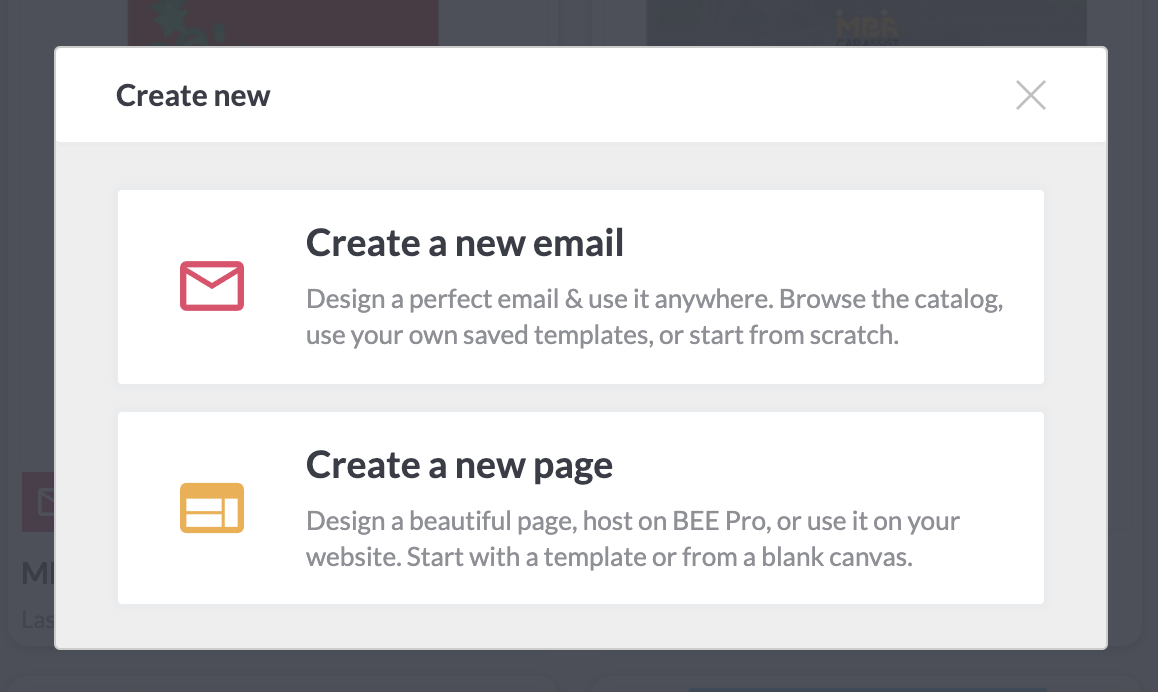 By selecting Create a new page template, you'll be directed to the Template catalog.
This template catalog looks a bit different when compared to the one you may already have used in the email BEE editor because it includes templates specifically for web pages. So you can start from scratch, select the perfect template for your idea, convert an email template to a page, or opt for one of your templates (My templates).
"Convert an email template" is very useful. For example, you may want to convert a newsletter you have previously created so that it can also be used as a landing page on your website. The Pages template catalog will allow you to convert the design into a page.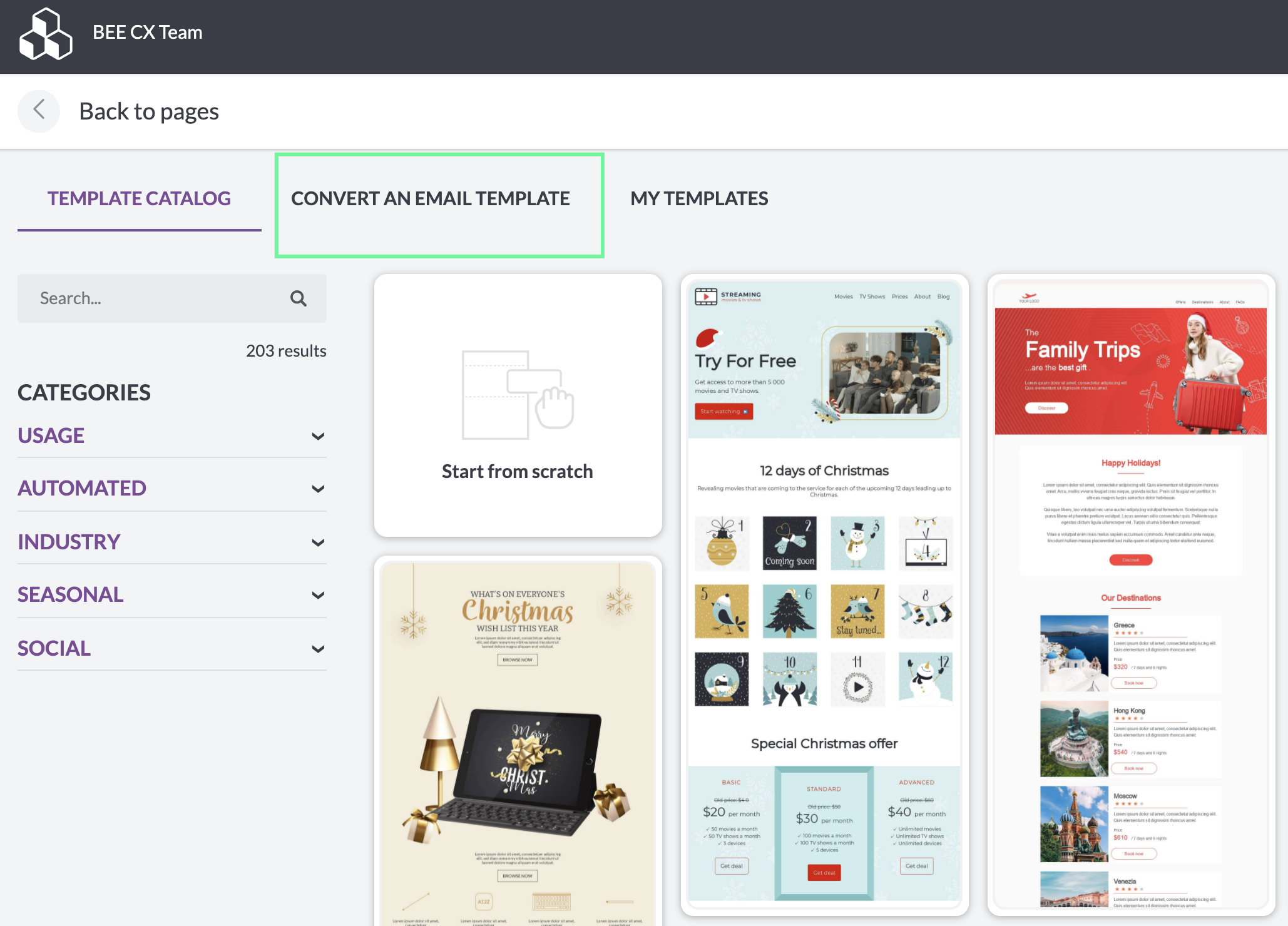 After the design selection, you're ready to create your page. For more info about the main differences between the email builder and the page builder, go to Emails vs Pages.
If you go back to your list, you can view details, copy, move, export or delete your page. More on this below.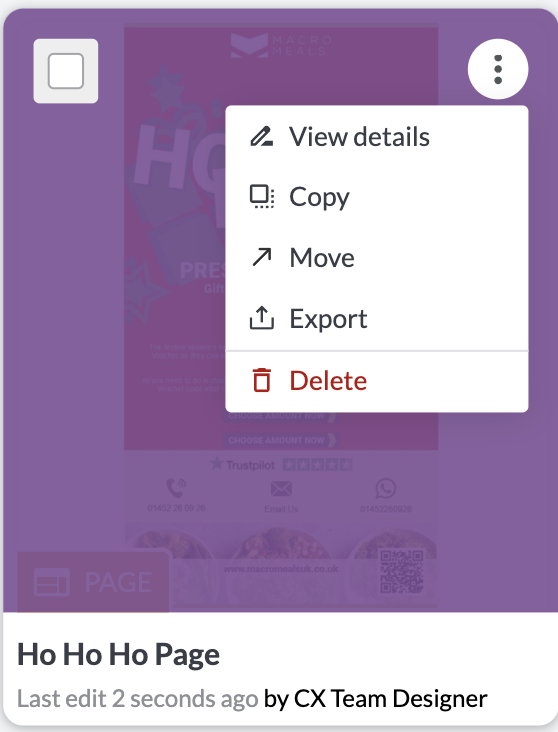 View details
The View details section for pages is quite similar to the one for emails, but it has few different options.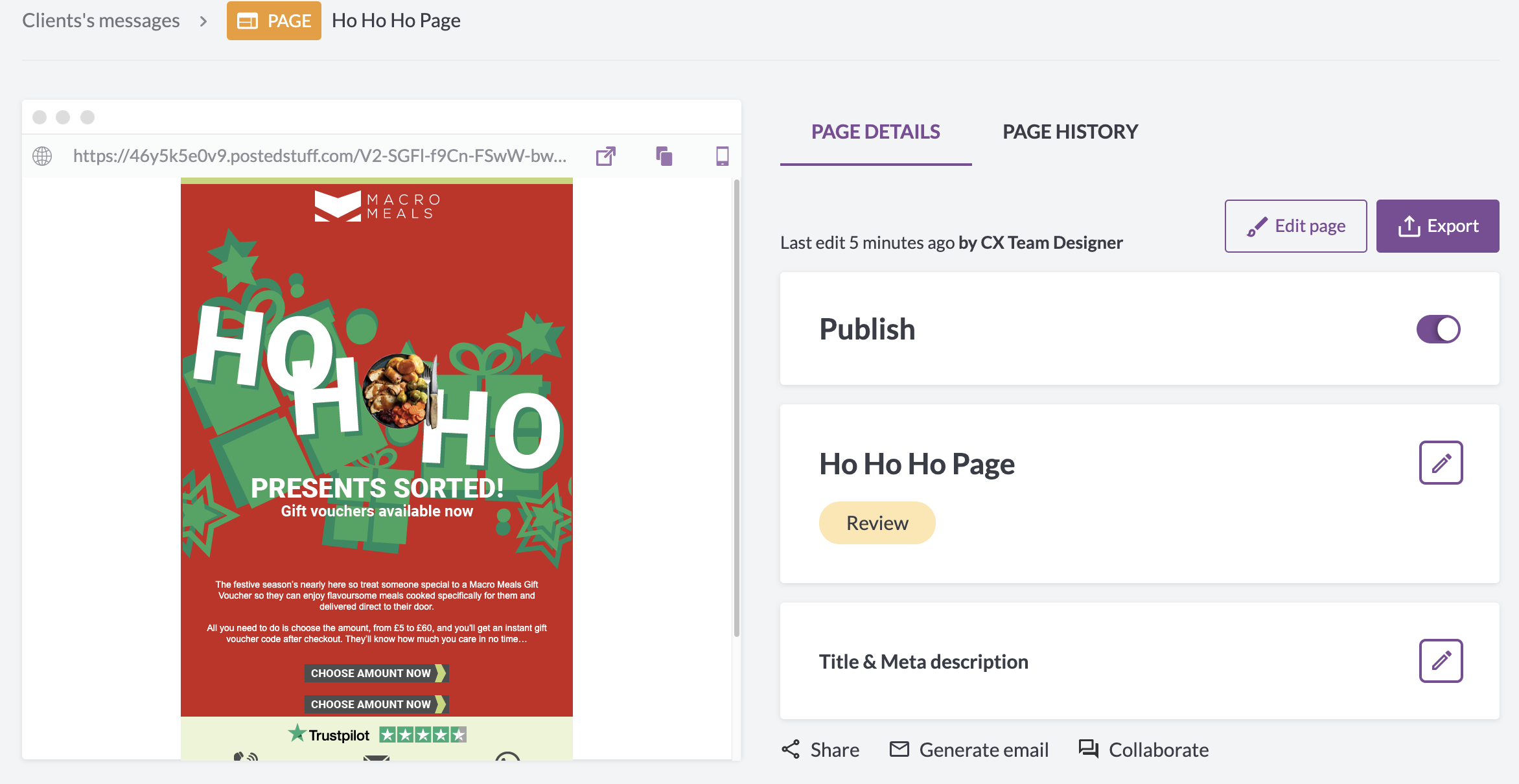 On the left, you see the page preview and three icons:

"Open in a new tab", so you can see the preview in a new tab of your browser;

"Copy URL" to share the page and get some feedback. Would you like to have a cute URL, remember to title your page and publish it!

"Open on your smartphone" to get a QR code and preview the page on your mobile phone.
On the right side, you have two sections: Page Details and Page History.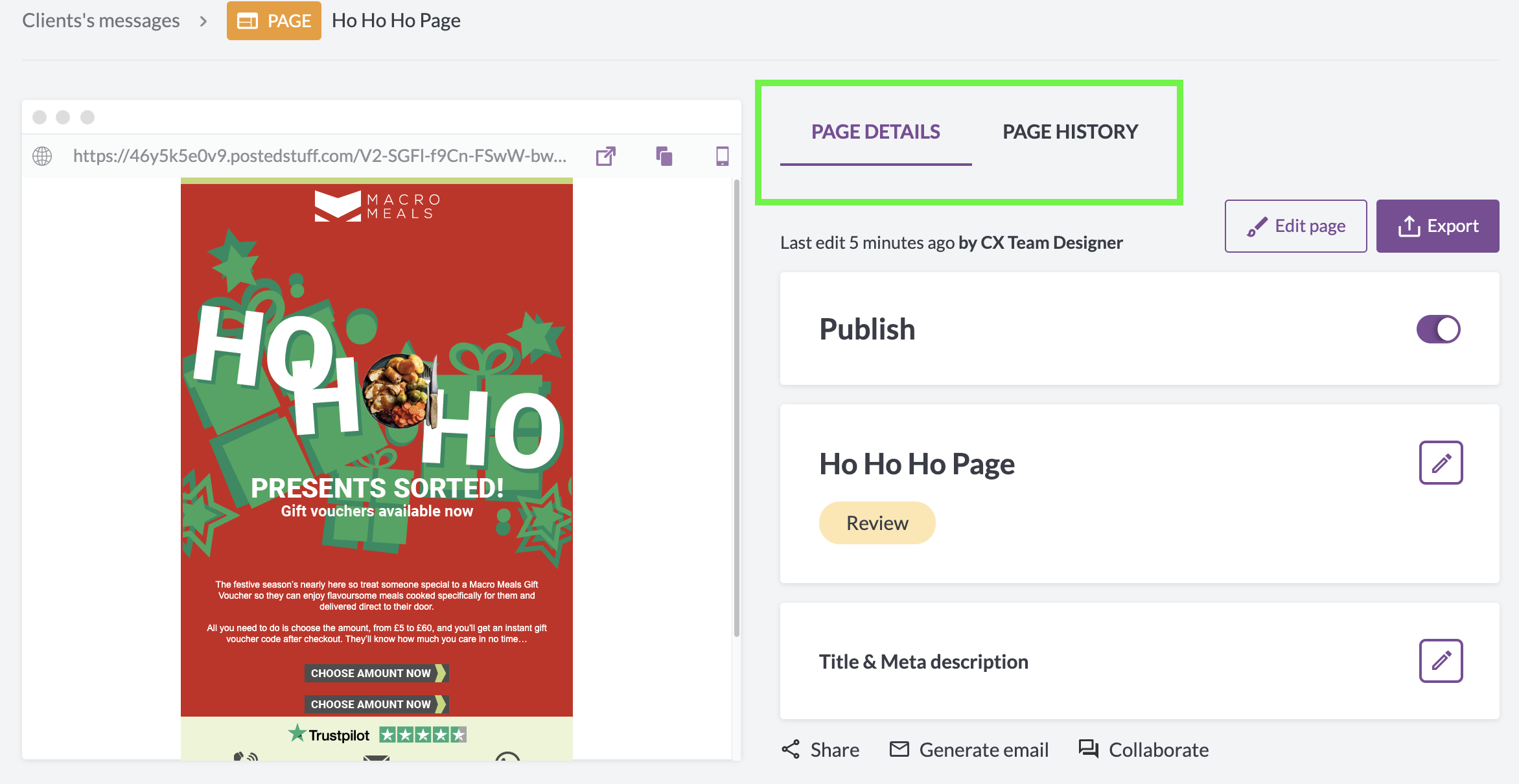 Page History is available only if you have a Team or Agency plan subscription. It shows the page history, who did each change, and when. View & restore a previous version of a message.
Page Details shows you when and who edited for the last time page, the Edit page and Export buttons, and more.
Publish option

You will find the new Publish feature with a corresponding toggle switch and instantly publish or unpublish your page when you are ready.
We provide you with a specific link for your page like this one- e.g. https://46y5k5e0v9.postedstuff.com/V2-SGFl-f9Cn-FSwW-bwR2/well-timed-calls/, which is composed of:
46y5k5e0v9.postedstuff.com, the main domain;

V2-SGFl-f9Cn-FSwW-bwR2, a random ID;

well-timed-calls, a specific name, which is the title you enter in "Title & Meta description".
This version of Page details offers two options exclusive to the Pages editor: Title & Meta description and Share.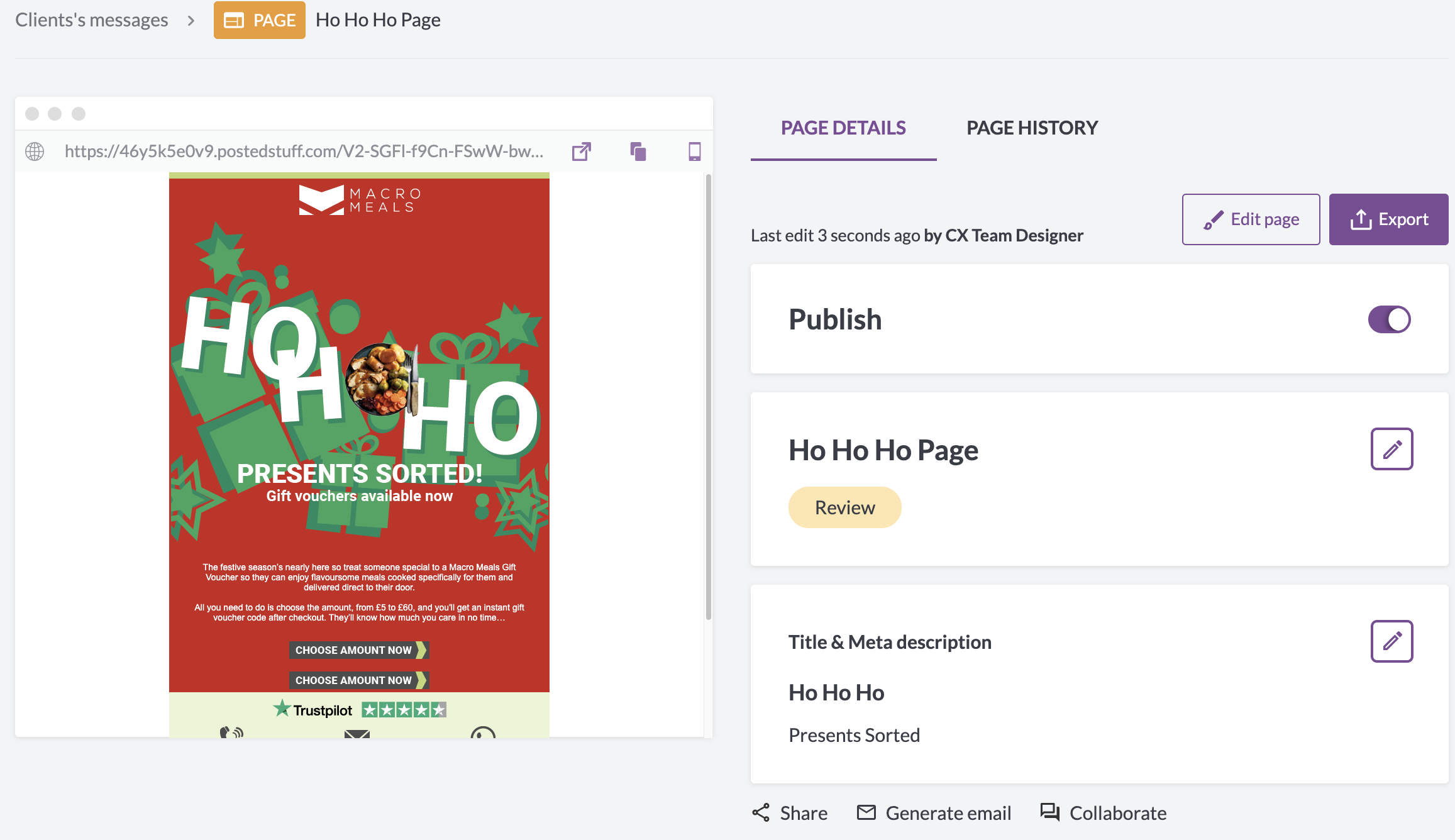 Title & Meta description
This option allows you to set a title and description that will populate in the page URL and in its preview if you share the page on social media. In this case, the description might be also described as preview text.
So, for example, if you insert the following: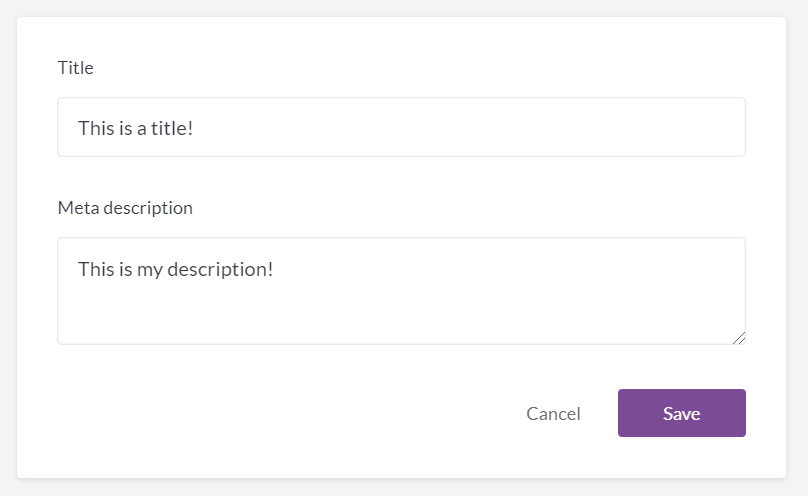 The page will populate like this if shared on Facebook: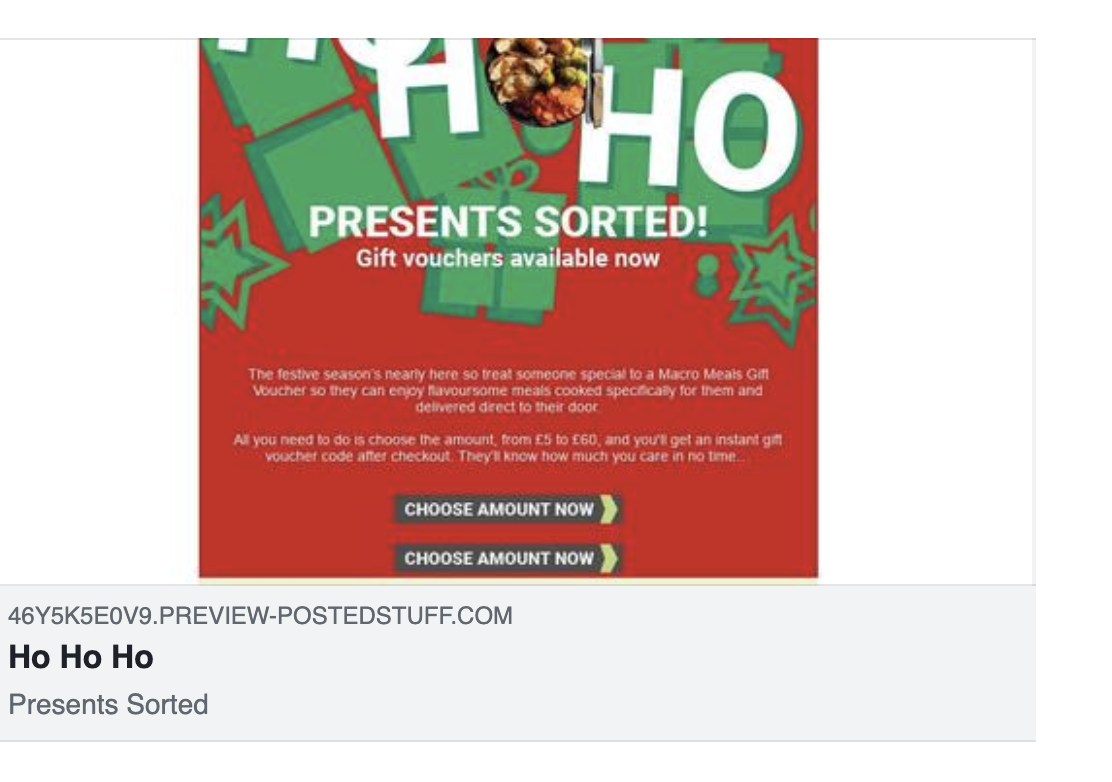 For those who are more technically inclined, these options are included as metadata in the head of the HTML document upon export.
Then, you have additional possibilities to complete your marketing plan: Share, Generate email, Collaborate (which launches your design in the Collaboration tool - available just in Team or Agency plan)!

Share
If you just can't wait to start showing off your new page, you're in luck! Using the share button, you can easily share your design on social media with a click of a button.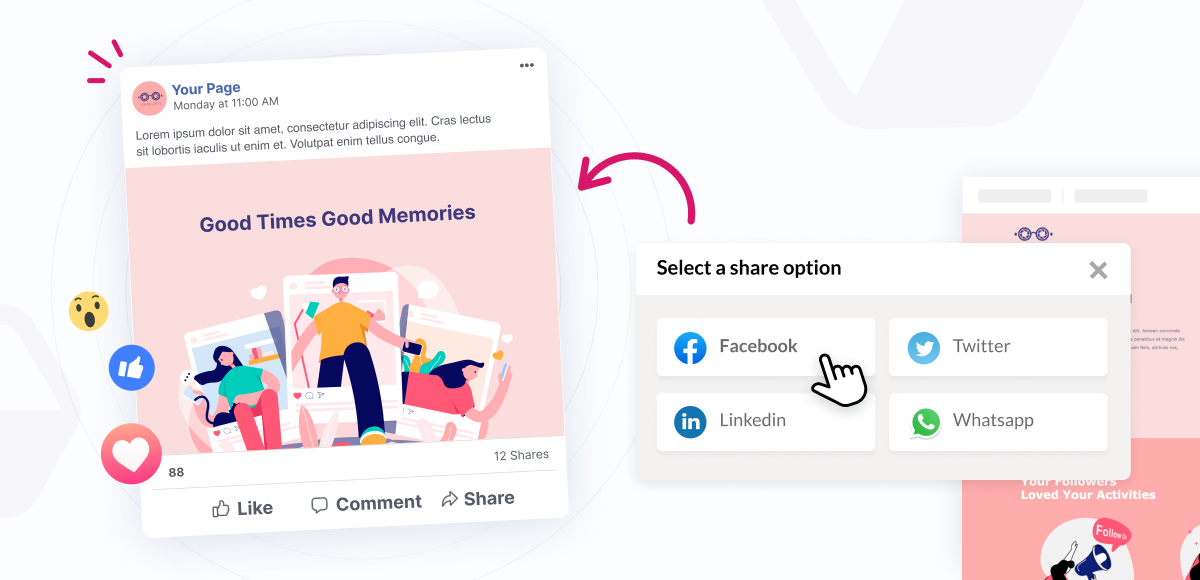 Just click the share button, if your page is not yet published, a modal will prompt you to proceed to publish it before sharing.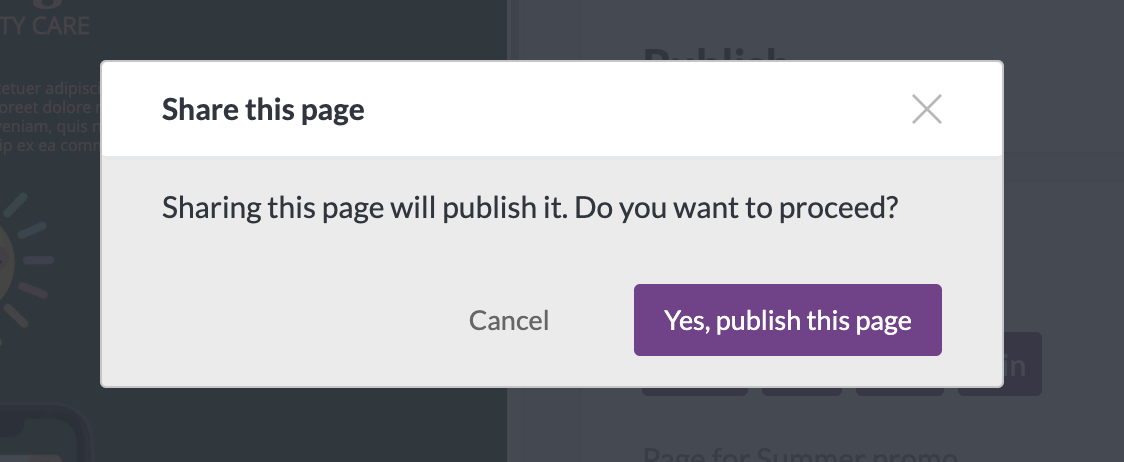 Then select the social media platform you want to use.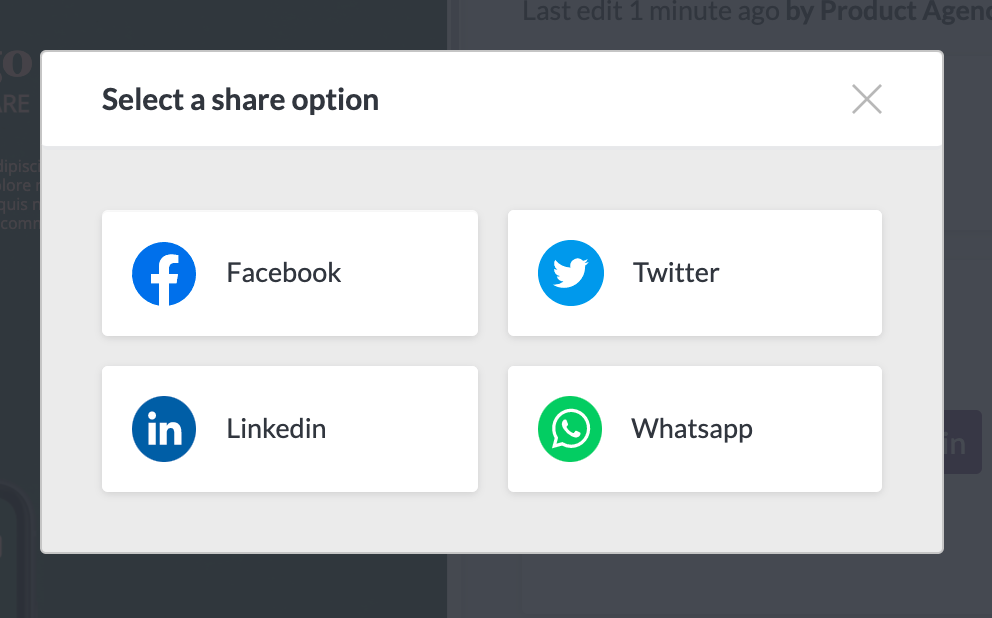 In a new tab, you'll be redirected to the platform you selected - you might need to log in - and you'll find a post, tweet, or message ready to go with your design.
Generate email
Have you ever desired to create pages and emails with the same design in a click? What an amazing breakthrough for your marketing campaign, don't you think? Well, now you have this possibility!
Generate email creates an email on BEE Pro with the same design and content of your page. You immediately get redirected to the email editor to start modifying your design, and this new email will be part of your projects.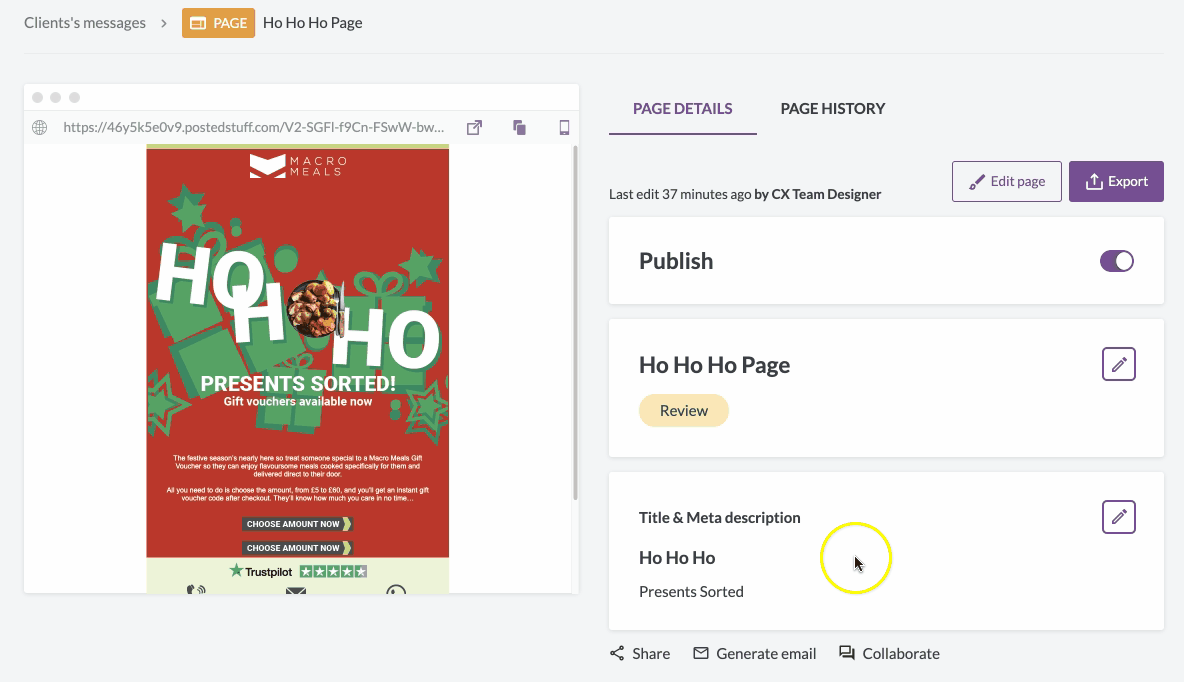 Collaborate
Collaborate is available just for Team and Agency plans and it gives you the possibility to collaborate actively with your team. All info here: Collaboration: a teamwork tool to share, comment and approve email campaigns.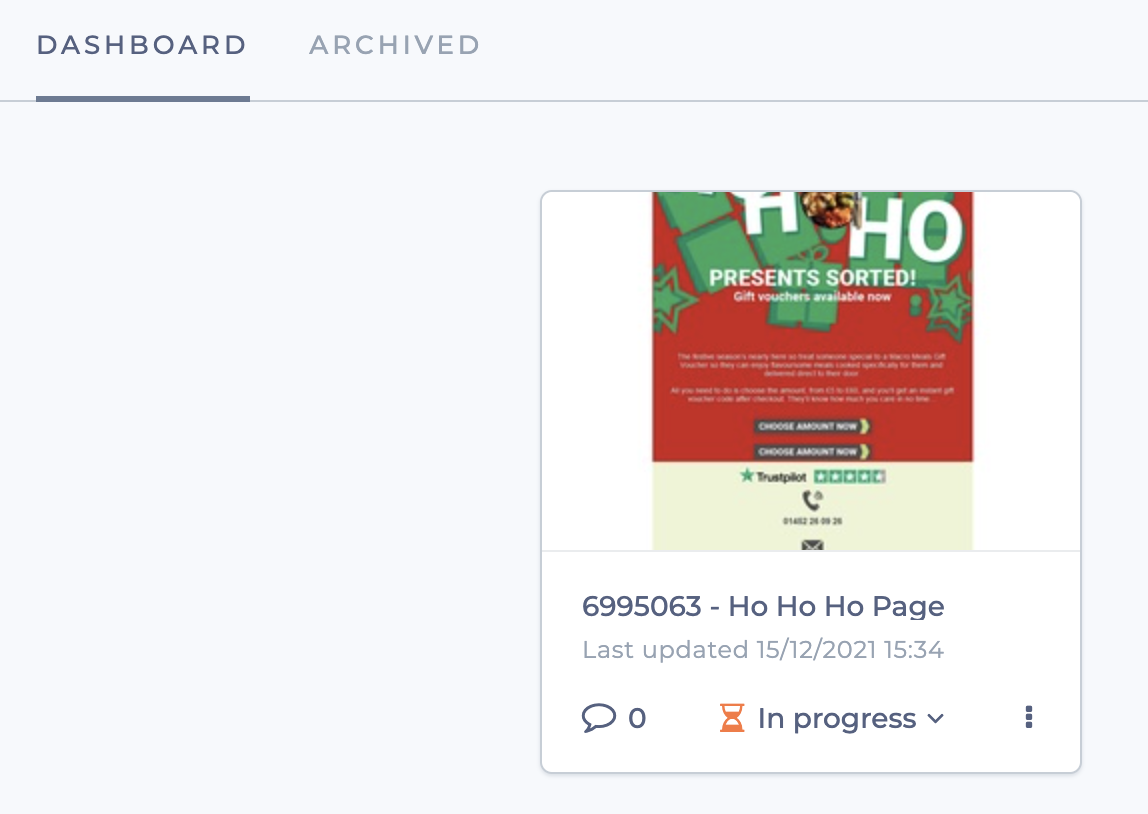 Hosted email delivery
You can find more info about the storage and delivery of hosted images on pages following this link: Hosted image delivery in BEE Pro.
Email vs. Pages
Content
What are the main differences between the email builder and the page builder? When using the Page builder, you can take advantage of a very useful tool which is the Form builder.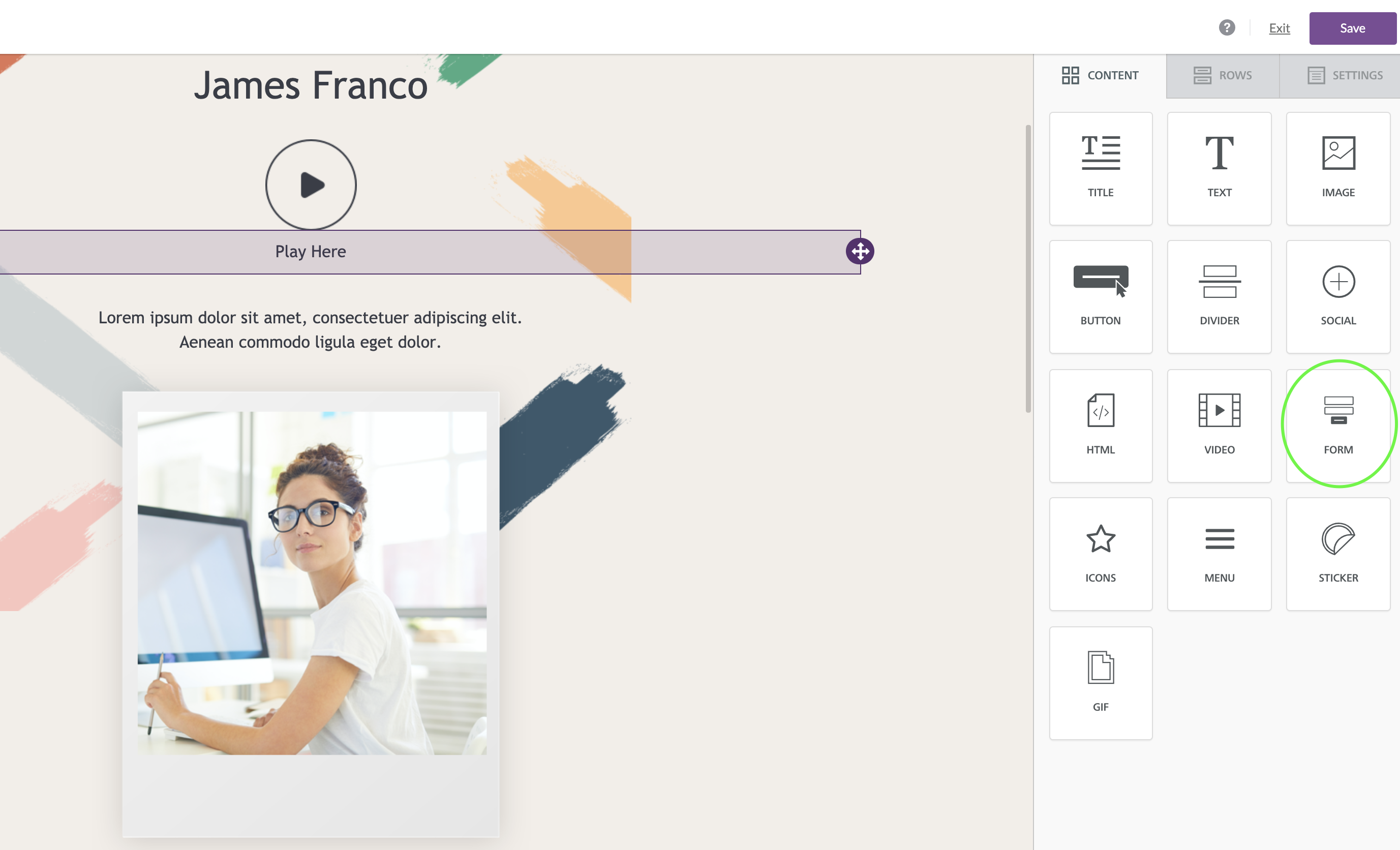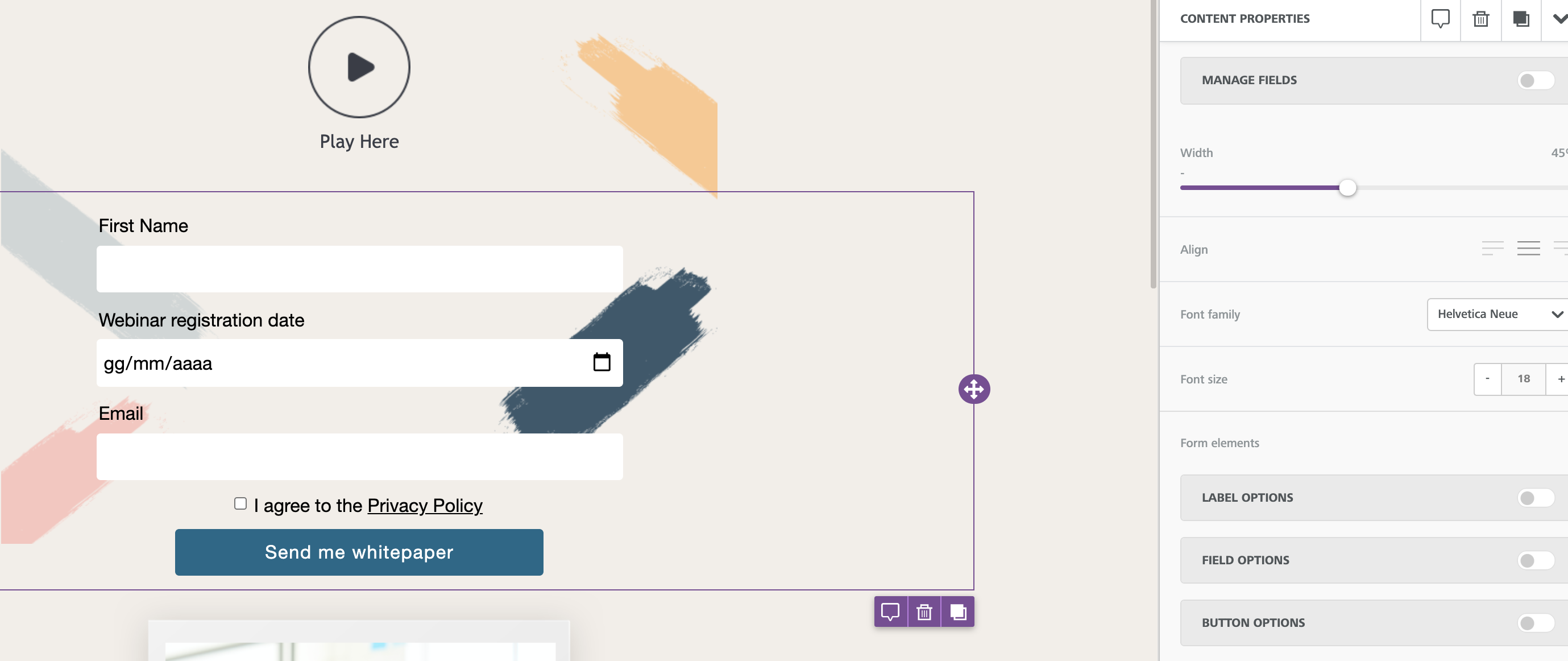 Forms
Designing a form
When you design a page with BEE Pro, you can add forms to it. Drag & drop the Form content block to the page, and the panel on the right will show you 4 sections:
Manage fields
Label options
Field options
Button options
The Manage fields option allows you to adjust the positions of your fields. You can also edit, delete or add more of them (note that they are limited to 10 at the moment).
When you edit a field, it is possible to modify the label name, select the type among several options, set it as required or read-only.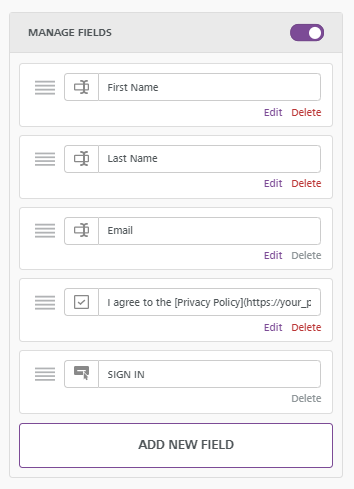 For each field, you can also change the type associated: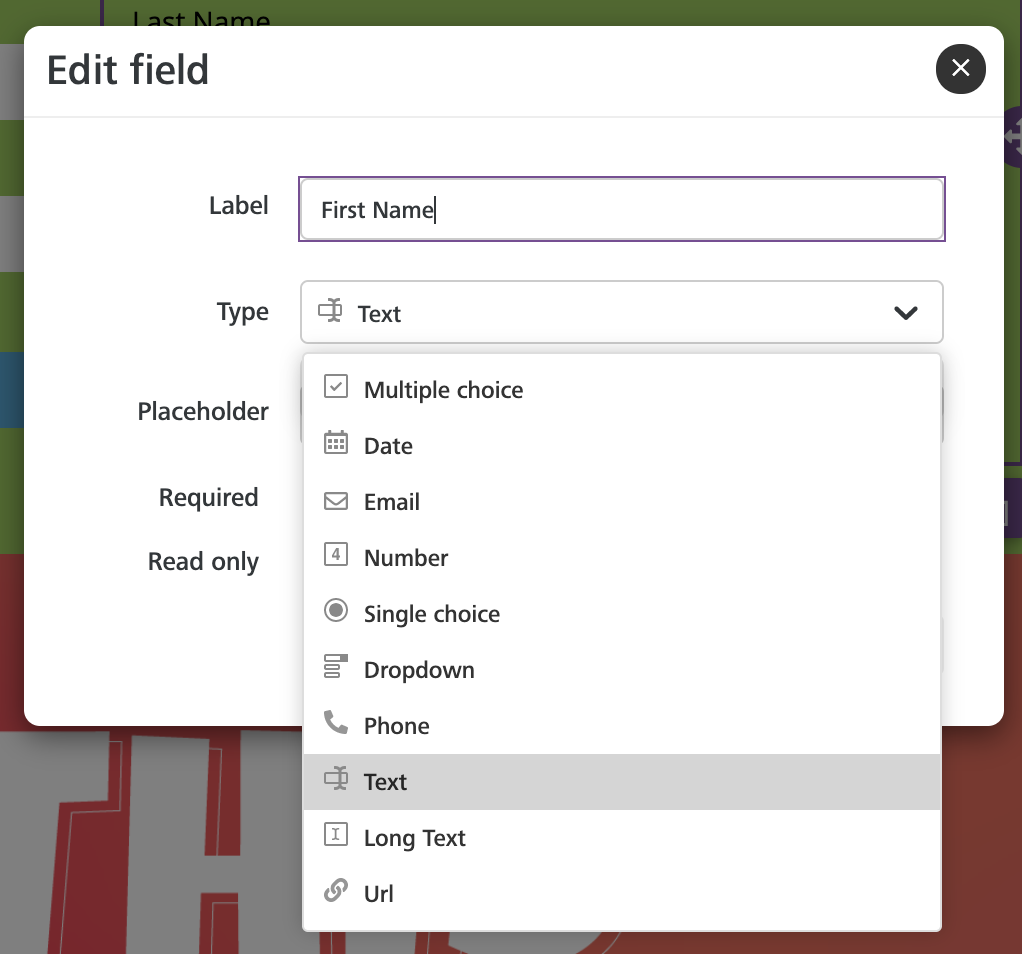 The Label option is useful when you want to change the text color, the label position, or the width (this is available only when you choose the 'Side' in the label position).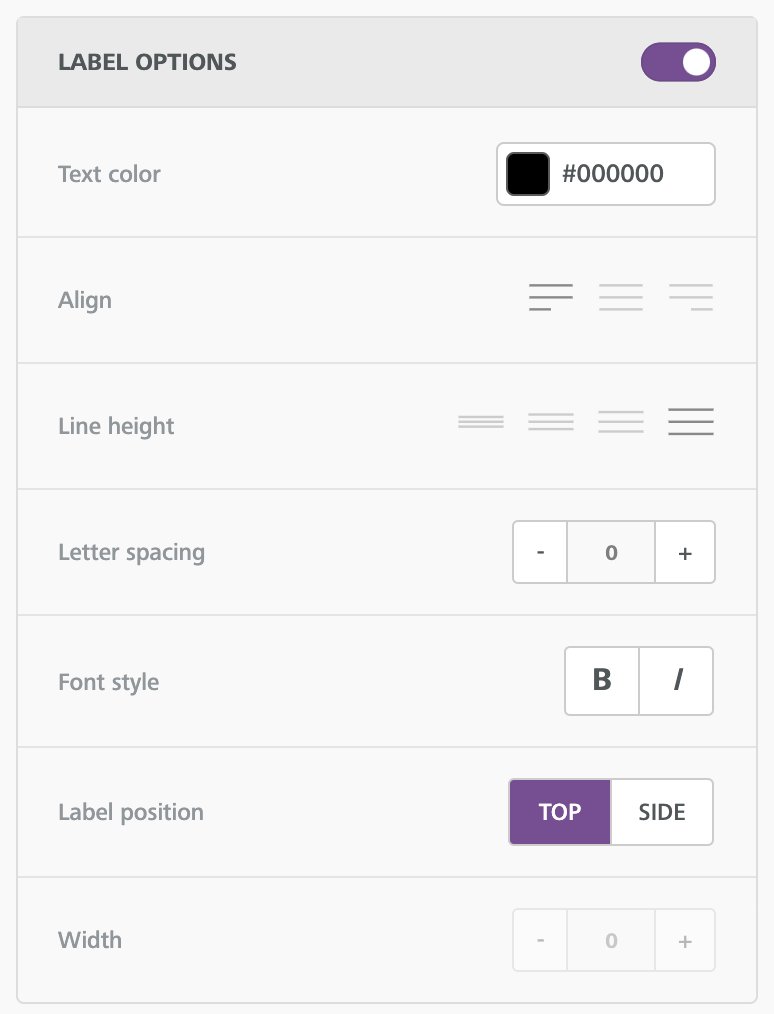 Example:

In the Field section, you can customize the look of your form even more by adding the background color to your fields.

The Button field is giving you the chance to edit the background color, edit the letter-spacing and change the font color in order to catch the attention of your readers.

Handling form submissions
What happens when the form is submitted depends on whether you download the page and host it on your Web site, or decide to host it directly with BEE Pro.
If the page is hosted by BEE Pro, you can have BEE Pro handle form submissions. You can receive the data via email or save it somewhere else. Saving form data to a spreadsheet, a database, an email list, or other apps.
If the page is hosted elsewhere (e.g. on your Web site), you will need to edit the HTML document and add an action to the form when you download the page from BEE Pro. The action specifies what happens to the form data when the form is submitted.
Settings
Since web pages are often viewed on larger displays than an email, you have a greater content area width to work within the Pages editor. Your Pages designs can be as wide as 1440px.
Since the Pages editor does allow a much larger content area width, you can actually minimize the editor sidebar. Whenever your cursor is placed within the space of the editor sidebar, a purple icon will populate to the left of the tabs listed at the top of the sidebar.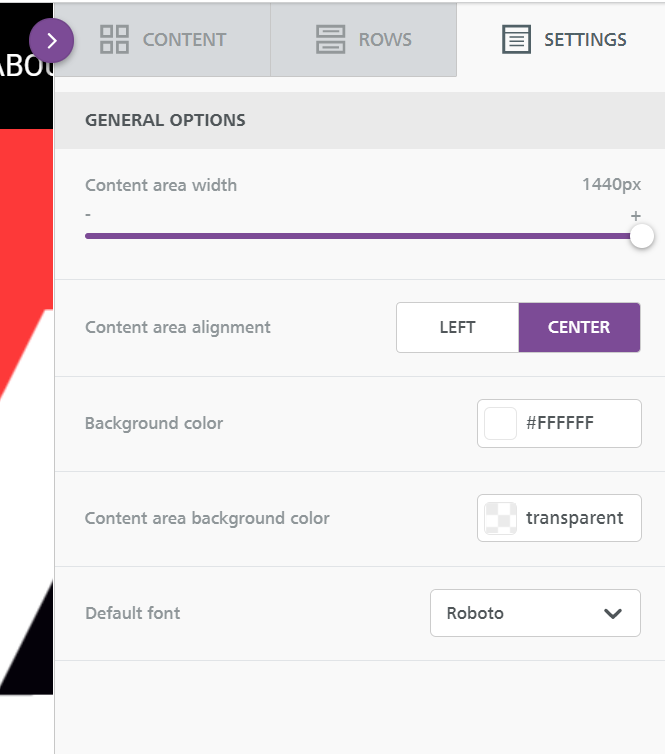 If the editor sidebar is minimized, the icon to open it will always be available on the far right corner of the editor stage.
Also, now the favicon option in BEE Pro is available in the Settings tab. Its main purpose is to help visitors locate the page easier when they have multiple tabs open.

By clicking "Add favicon", it's possible to upload or import the favicon that has to be PNG, JPEG, or GIF source images.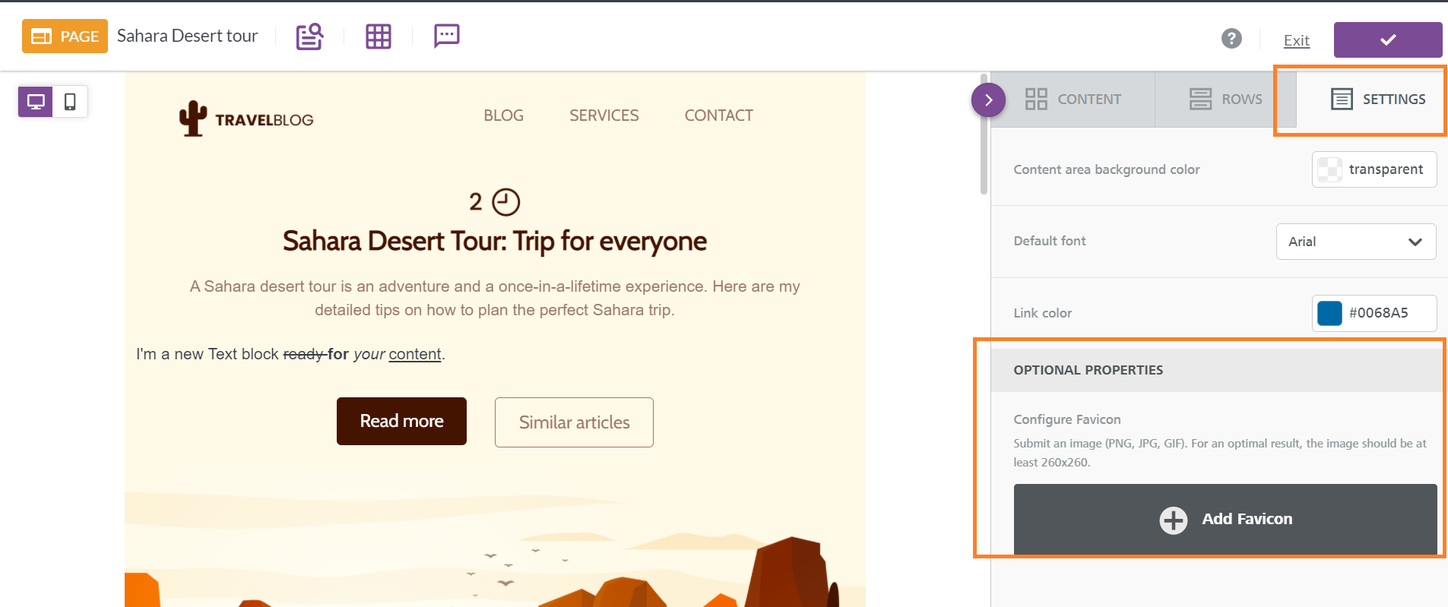 Export output
As mentioned above, the Pages article provides a different HTML output upon export. The main difference here is that the export file will not include conditional comments that we use to target email clients such as Outlook. However, the export file will likely include a lot more internal CSS, as web browsers have more support than email clients for this syntax method.
When exporting a message out of the Pages section of your account, you'll see a familiar export options modal. Note that there are no connectors currently compatible with the Pages editor, so this option is unavailable.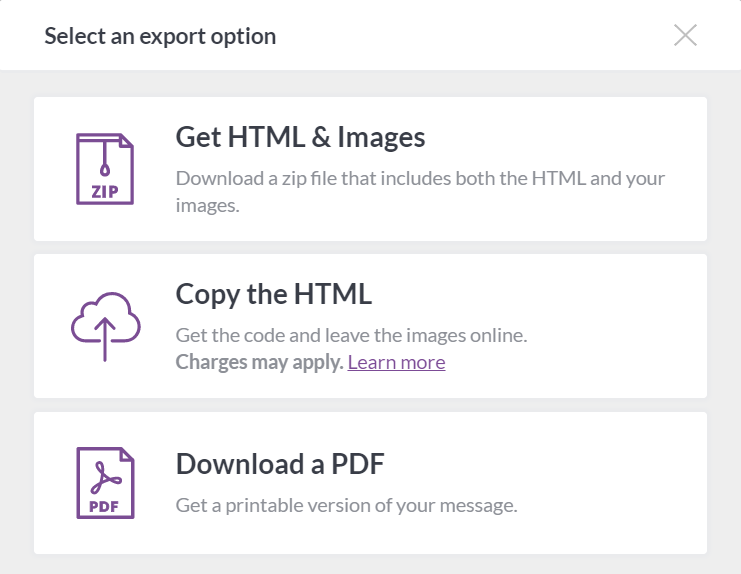 Please let us know in the comments below what do you think about this feature.