My Subscription and Statements
Overview
Have you received a statement and you don't know how to read it? Below we've provided a breakdown of BEE Pro statements as well as the My subscription section of your BEE Pro dashboard.
Example statement
This is how your statement looks like: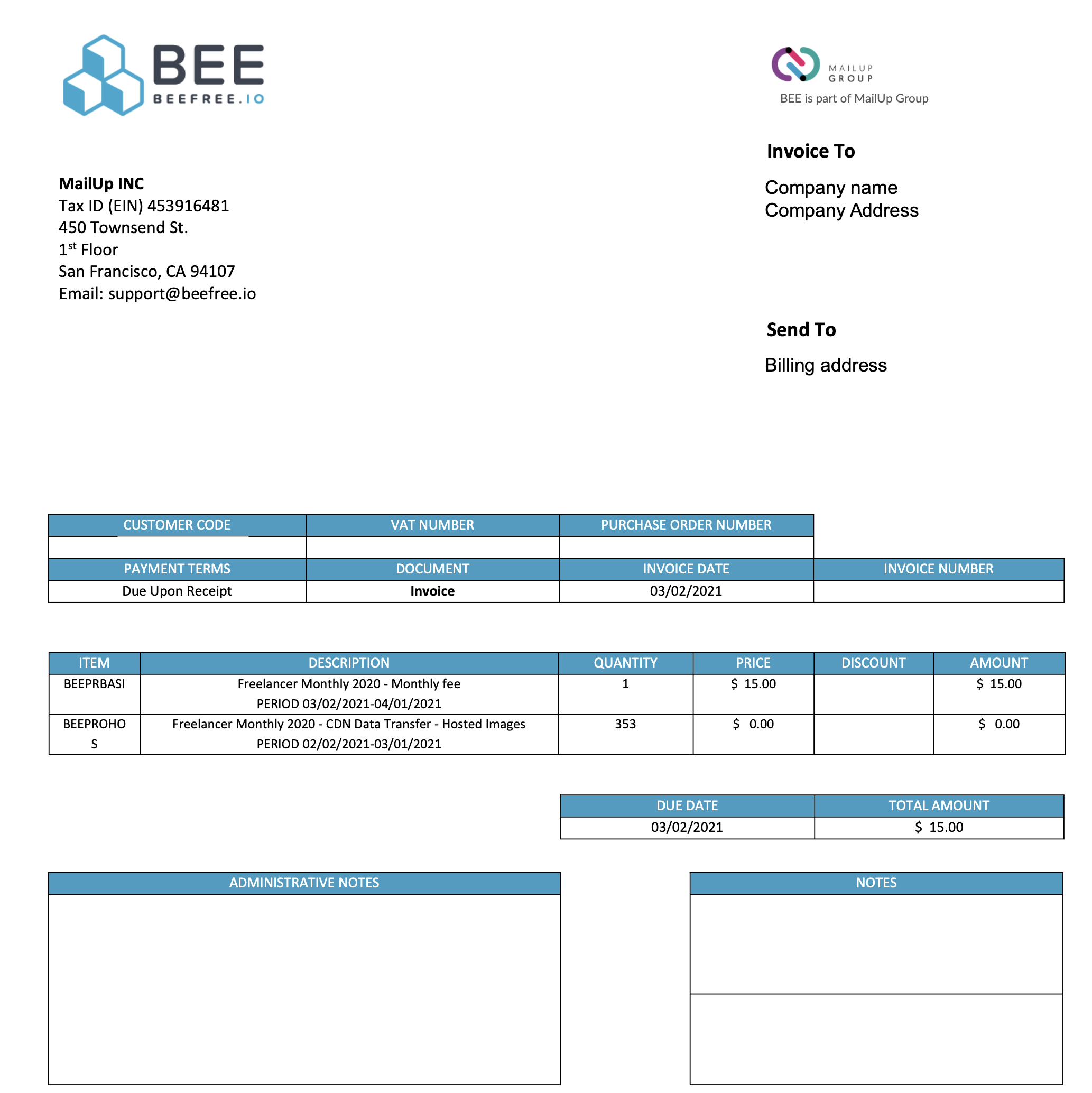 Please note that, since BEE Pro is a subscription service, most transactions are handled online through our auto-pay system.
Click for details

MailUp INC information
Your company information and your billing information
Customer Code - this is useful when you reach out to the Support Team
VAT Number - if this field is empty, you can request to add it to the Support Team
Purchase Order number -this is useful when you reach out to the Billing Team
Item - an internal code we use in our billing system that states which type of subscription you have
Description - here you can find the name of the plan you have as well as the billing period associated with the invoice
Quantity - This column can help you determined how many additional users you are paying for, or how much data usage you've incurred. Data usage quantities are always in MB.
Price
Discount (if applicable) - this may apply if you are a Nonprofit organization
Amount
Due date
Total amount
Administrative notes/ Notes (if applicable)
What is a proration?
If in your statement you see the description 'Proration Credit' with a given period of time and a negative balance, it means that you will see a discount reflected on your payment. The period reflected for proration credits is often a portion of an existing billing period that you've already paid for.
The most common situation where this happens is when you upgrade plans. In the example below, the user upgraded from Freelancer to Team. The system automatically created a proration credit for the remainder of the pre-paid billing period on the Freelancer plan. That proration is automatically applied to the balance of the invoice that is generated upon upgrading to the Team plan.

What is a CDN charge?
If you see a CDN charge on your statement, this means that your data transfer in the previous billing period exceeded the allowable amount of data available on your BEE Pro plan. The amount of data included in your subscription fee depends on which BEE Pro plan you have.
Freelancer - 50 GB per month
Team - 250 GB per month
Agency - 500 GB per month
CDN usage is always billing monthly, even if you have an annual subscription. Annual subscribers will continue to receive monthly statements that just reflect CDN usage. More on this below!
For more information on CDN charges, please refer to Hosted image delivery in BEE Pro.
I'm on a yearly plan, why was I charged again?
In order to allow annual subscribers to monitor their CDN usage, annual customers will continue to receive monthly statements that reflect just their CDN data usage. Typically, charges for CDN overages are fairly small. However, you will receive a statement with a $0 balance even if you did not exceed your CDN allowance.

What is the additional users charge?
If you have the Team or Agency plan, there are already a few additional users included in the base fee for your subscription. However, if you add more users beyond those already included in the basic version of your plan, you'll find another line item on your statement that reflects this. Refer to the quantity column to determine how many additional users you are being charged separately for.


Navigating the My subscription page
All BEE Pro users have access to a drop-down navigation menu in the upper right-hand corner of their BEE Pro dashboard. If you are the Owner of the BEE Pro account that you're using, you will have access to the My subscription page. You can use this page to update your billing information, download past statements, or check your current account usage. Depending on what you need to do or check, you'll need to select the appropriate tab within this section of your account.
Overview
As the title of this tab suggests, this is where you can find a general overview of your BEE Pro subscription. In general, this is the tab you'll want to use when you need to make changes to your billing information or BEE Pro plan. You can use the Overview tab to perform the following actions:
Update your company name (this is the name that populates on your billing statements)
Update your credit card
Update billing information (mailing address and email address)
Upgrade your plan (Note that, if you're looking to downgrade, you'll need to reach out to our support team.)
Cancel your subscription
This tab also includes some helpful information, such as:
Your upcoming subscription renewal (if applicable)
Total recurring fees (subscription and additional user fees)
Total usage-based fees (CDN usage)
A summary of your user count, including a link that will navigate you to your Manage users page.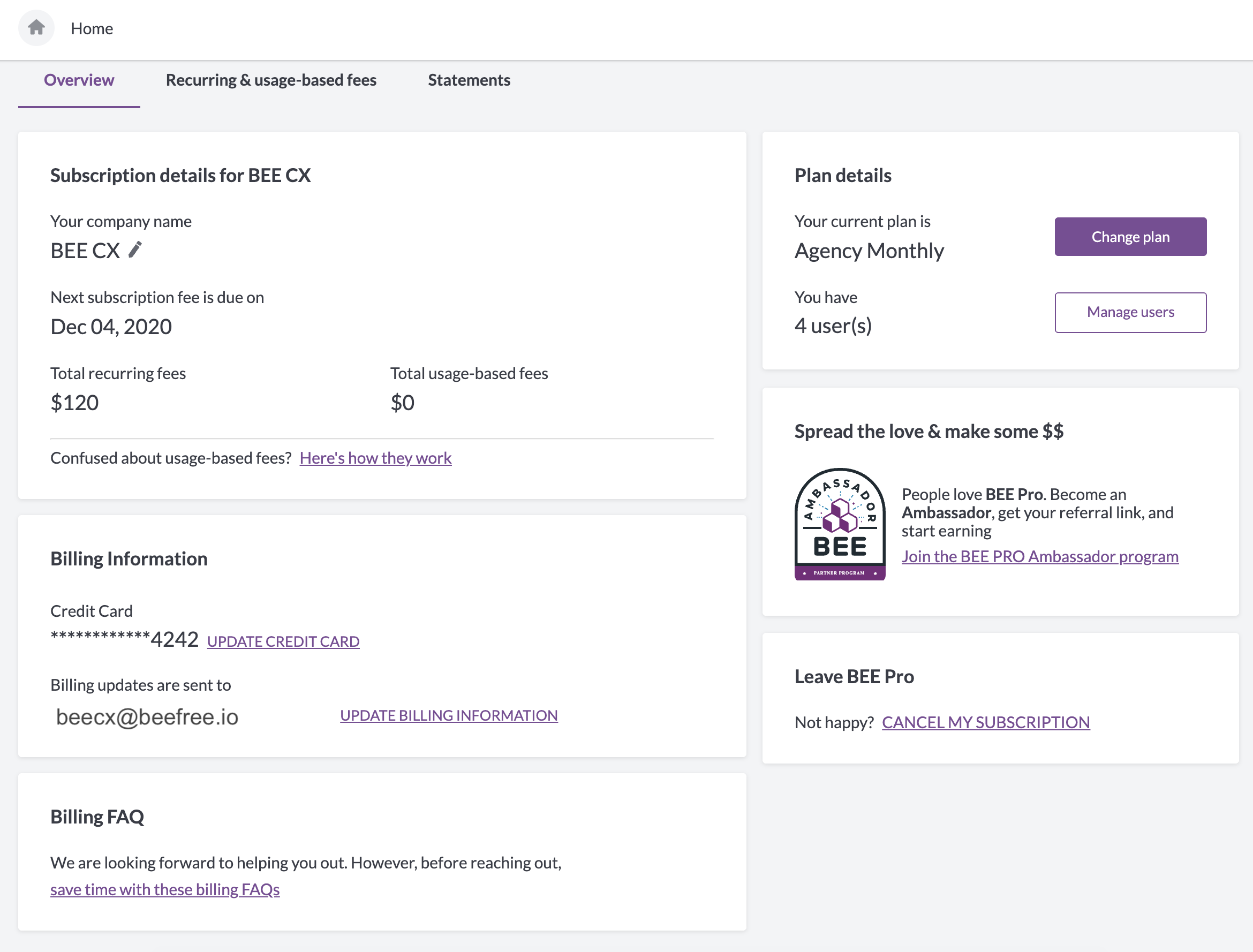 Recurring & usage-based fees
This tab is great if you are looking for a more thorough breakdown of your subscription fees. While you can't interact with this page, this is the tab you can use to monitor your CDN usage. On the left-hand side, you have a breakdown of your recurring fees, and on the right-hand side, you'll find a breakdown of your CDN fees (if applicable), which will also show you how much of your monthly allowance you have used.

Statements
Finally, we have the Statements tab, which allows you to download all statements associated with your BEE Pro account. Keep in mind that all statements are automatically sent to the email address indicated in the Overview tab, but in case you've lost one - or even if you just prefer having them all in the same place - this is where you can download your statements inside of the BEE Pro platform.
Here's a summary of tasks you can accomplish through the Statements tab:
download a single invoice
add a filter by date to locate a specific document

navigate through a bulk selection to download all invoices needed
Note: If you are looking for a statement that was generated prior to October 2019, please reach out to our Support team.