Exporting to Gmail
BEE Pro becomes Beefree
We're still the same design suite you know and love, just with a new name. Our team is working hard to update our documentation, but you might still see some information or screenshots that are out of date.  
This article applies to the Email builder in all plans.
Level up your emails in Gmail
Beefree is all about creating beautiful emails, fast. By connecting your Gmail and Beefree accounts, you can push your designs to Gmail with the click of a button. If you'd prefer not to directly connect your accounts, you can also use the Gmail add-on to accomplish this. 
There are two ways to use Beefree with Gmail:
The Gmail connector (Export method)
The Gmail Add-on: Beefree Templates for Gmail (Import method)
Follow the steps below or watch our video tutorial.
Setting up a connector does not sync your designs with external services. If you update a design after exporting it, you must re-export to see the updates. The export file will populate as a new design inside your ESP.
1. Gmail Connector
There are two ways you can get started with the Gmail connector in Beefree. 
Connect your Beefree account to your Gmail account before you start designing (from Brand Settings)
When you want to send a specific email to Gmail (from Export).
From Brand Settings
Go to Settings > Connectors.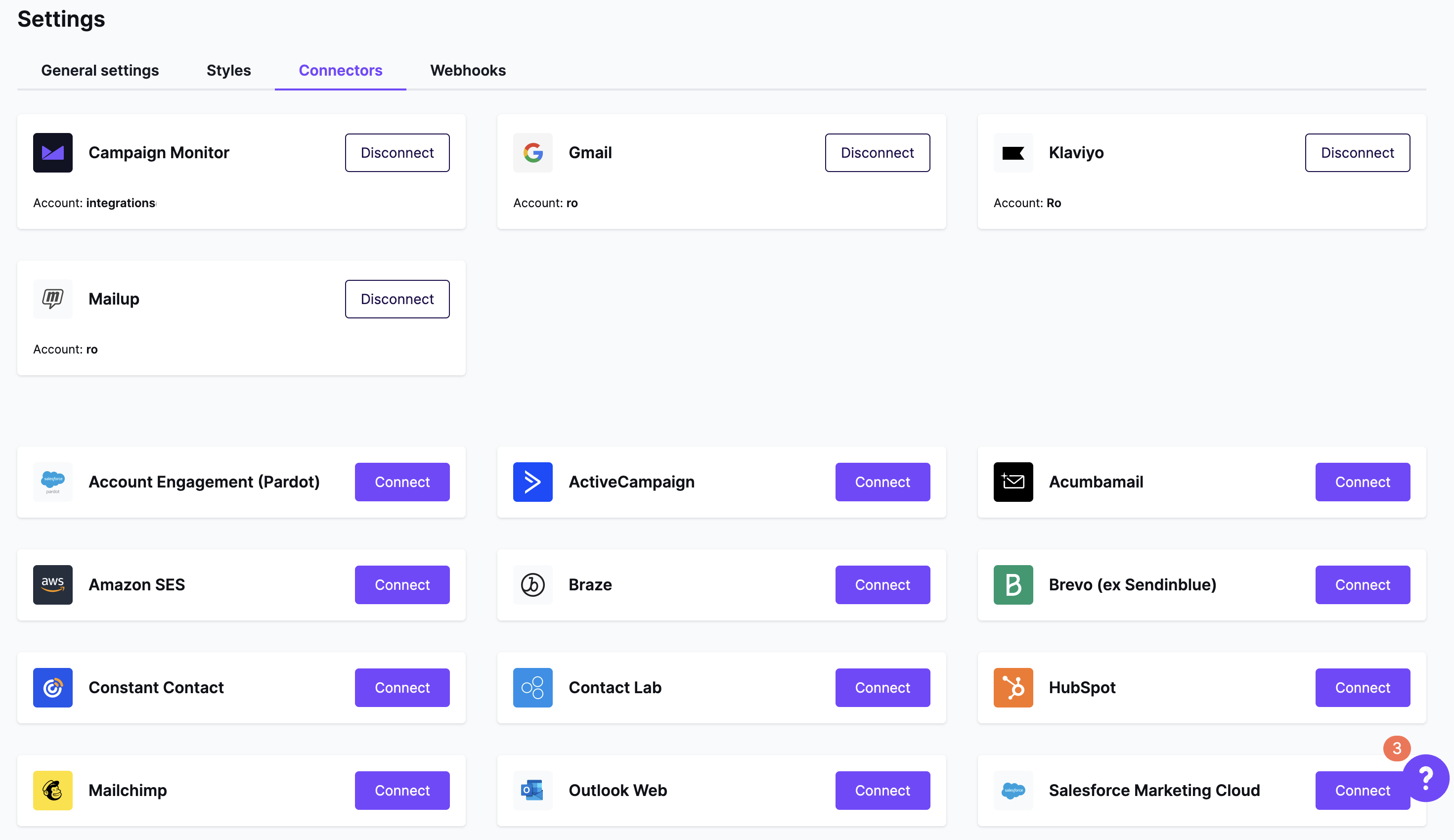 Click the Connect button for Gmail.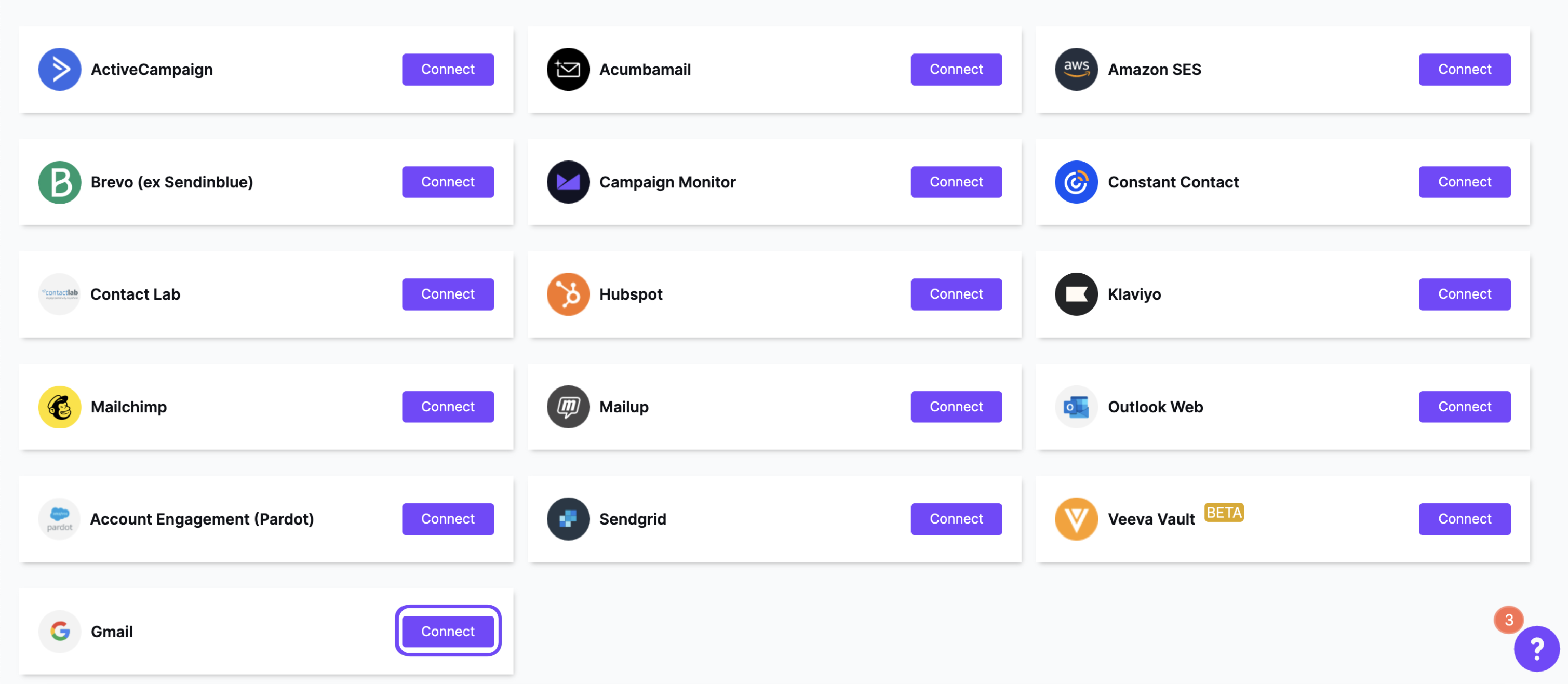 And follow the steps to log in. Your credentials are not stored in Beefree. They are just used to connect your accounts.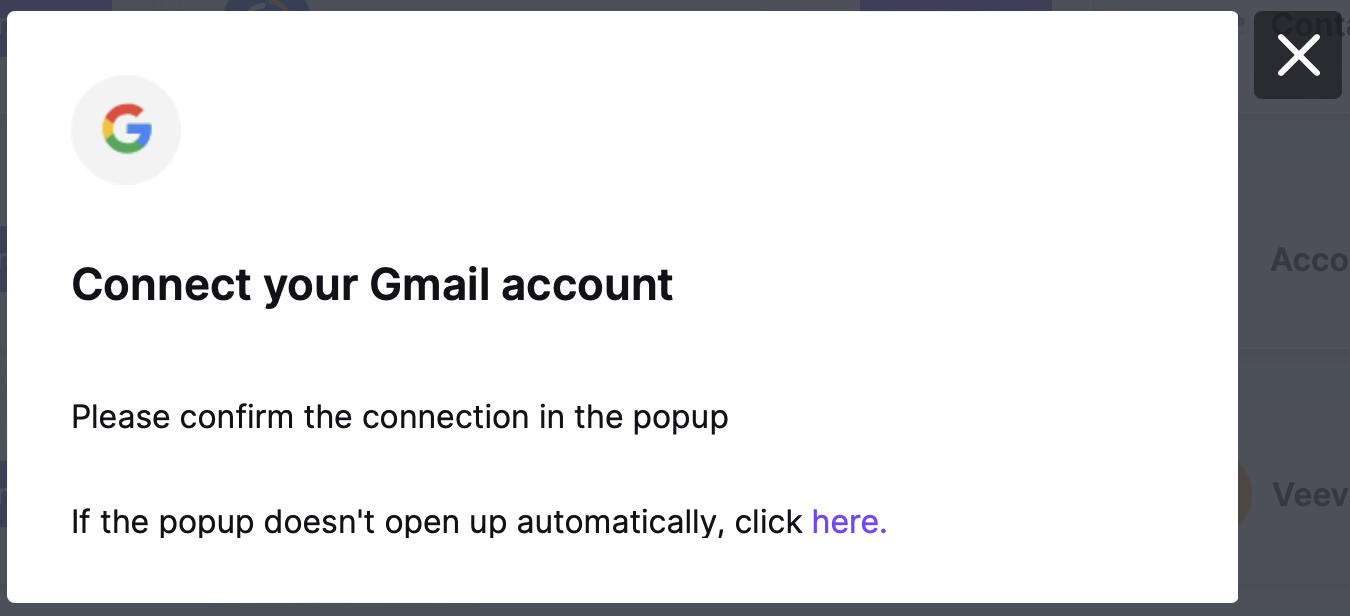 From Export
Log in to your Beefree account, choose your favourite template, then edit and save it as an email. When your email is ready, click on the Export button on the Email Details page.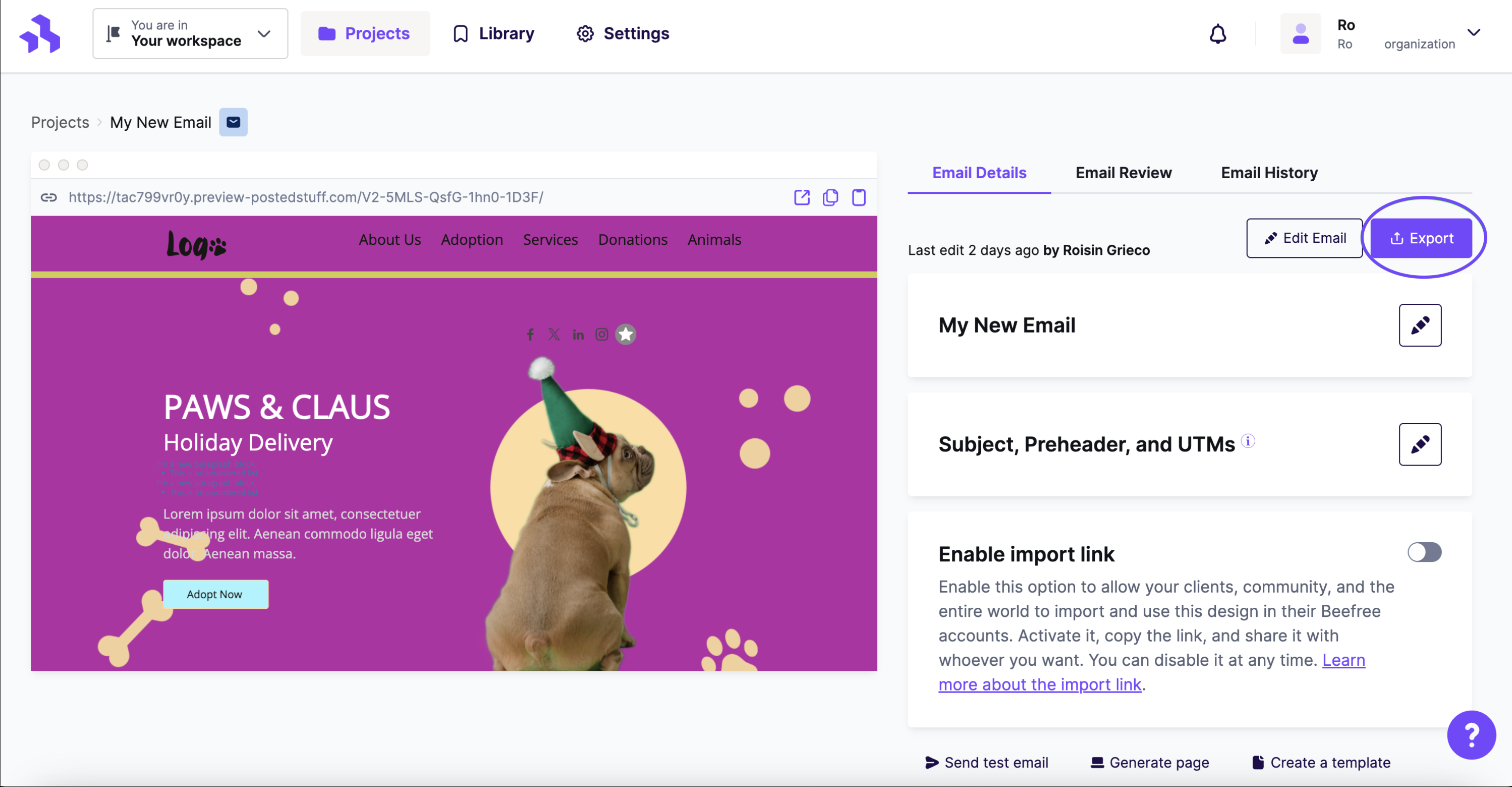 And then click on Push to your sending system.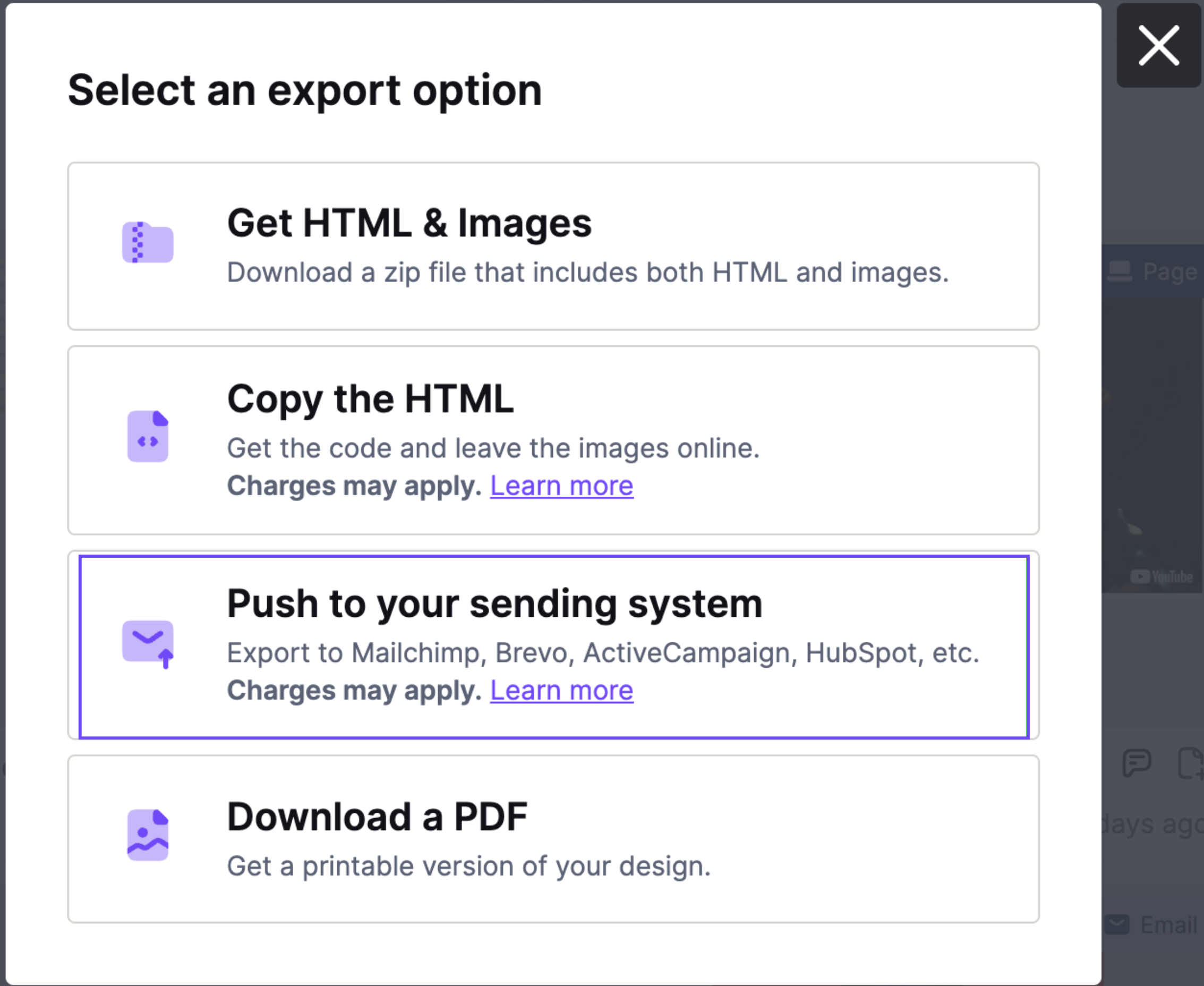 A new window will display the connectors list. Select Gmail.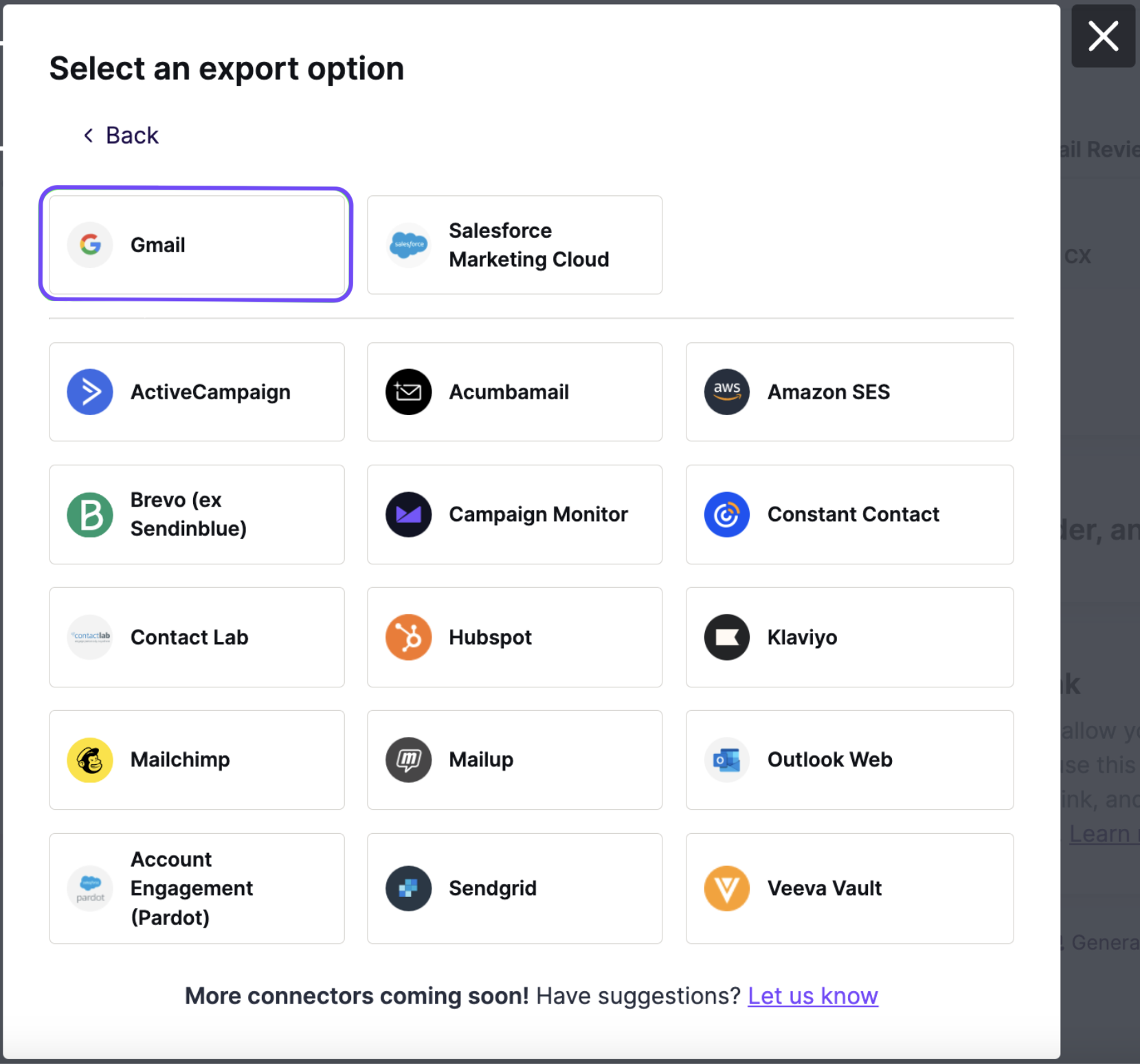 Follow the steps to log in. Your credentials are not stored in Beefree. They are only used to connect your accounts. Finally, you can log in to your Gmail account and you will find your email in the Drafts folder!
2. Gmail Add-on
A Beefree account is not required to use the builder email templates within your Gmail account. To get started, install the add-on and start creating your new emails inside your inbox! The add-on includes several ready-for-use templates that have been selected specifically for Gmail.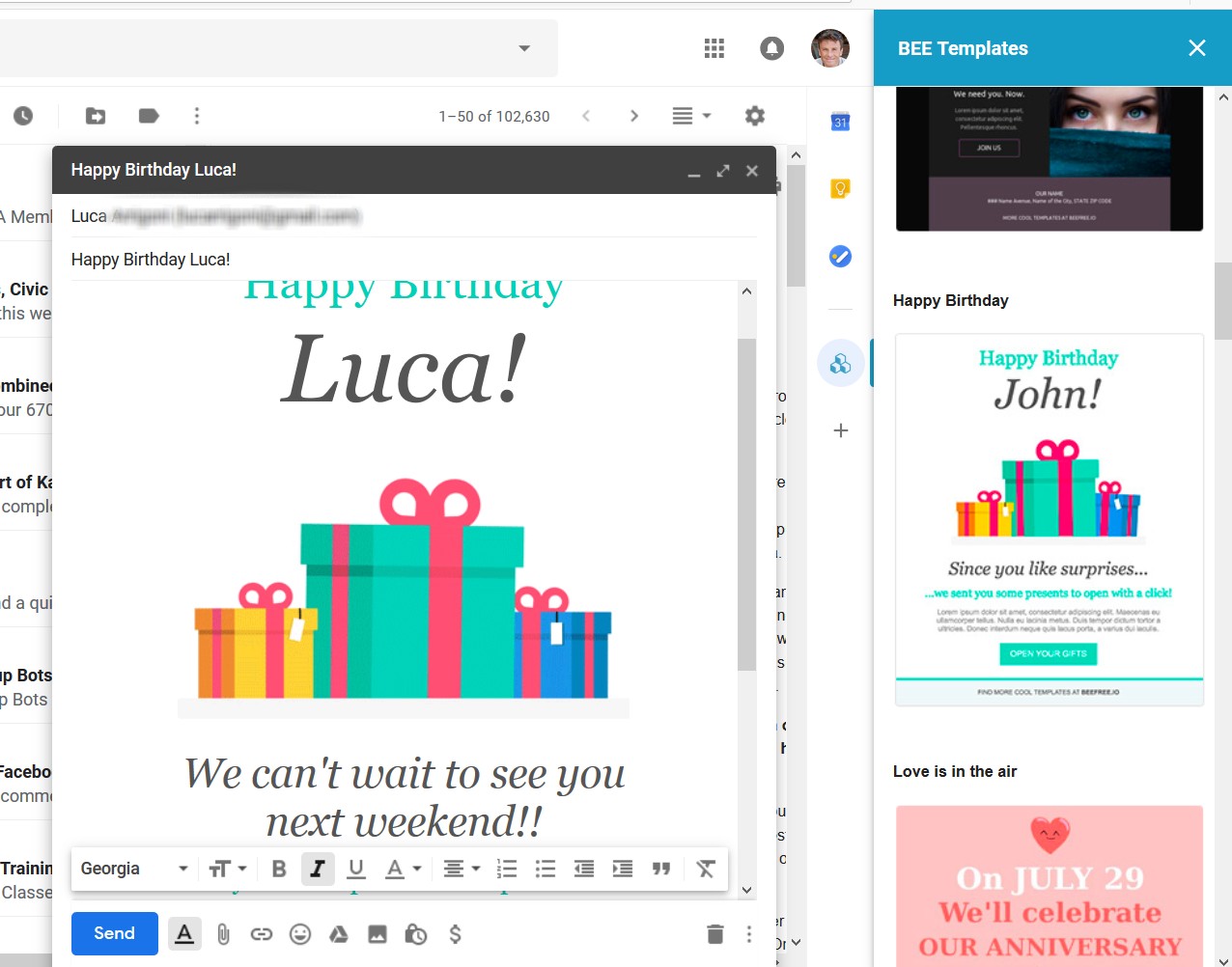 However, if you have a Beefree account, you can use the add-on to import a design using the hosted design URL. To learn more, head over to our Beefree Templates Add-on for Gmail article for the full details. 
Are you experiencing any issues with Gmail?
Unfortunately, Gmail has some limitations when used as a sending platform. Most notably, it ignores mobile responsiveness. To make the most out of the Gmail integrations, we suggest keeping your design simple and in a single column.
Note that Gmail also will "clip" your design if the HTML file is over 102KB. This can happen regardless of how the email is sent, so be mindful of the size of your exported design. While our HTML parser will reduce the size of the file, some elements may increase the HTML footprint. Below we've listed some common causes of this issue and how to avoid them.
Heavily formatted text If your design is text-heavy, start with plain text and don't apply any formatting until all text is in place. 
Using the hide on desktop/mobile feature Try to create a single design optimized for any type of device. Hiding content creates conditional statements and often requires duplication of content as well. This can result in a large HTML file.
Adding new rows for each content block When possible, stack content blocks inside of the same row.  
Frequent use of dividers Use padding in place of dividers to cut down on the HTML footprint for your design. 
Keep in mind that this is by no means a comprehensive list! If you need any more help troubleshooting why Gmail is clipping your email, feel free to let us know!
Looking for a different sending platform? You can check our complete list of connectors for Beefree — or request a new one!
If you have any questions, feel free to contact us.