Why send visually rich messages in Gmail
Many people design their emails with BEE and then send them with Gmail. Why? Because there are many scenarios when sending a more visual message to your friends or your colleagues might be exactly what you are looking to do. For example:
A "happy birthday" or "happy anniversary" message to a loved one
A "let's get together for dinner" or "let's go for a hike" email to some friends
A "nice work everyone!" or "let's do it!!" message by a manager to her team
... and so on
... right from Gmail, without having to use another email sending tool.
There are two ways to use BEE with Gmail.
A free Gmail Add-on: BEE Templates for Gmail
A free BEE Pro feature: Gmail connector for BEE Pro
Let's look at both, starting with the Gmail Add-on.
Using our Gmail Add-on: BEE Templates for Gmail
Our free, super-cool Gmail Add-on was released in the summer of 2018 and it brings beautiful, BEE-designed email templates right into your Gmail inbox.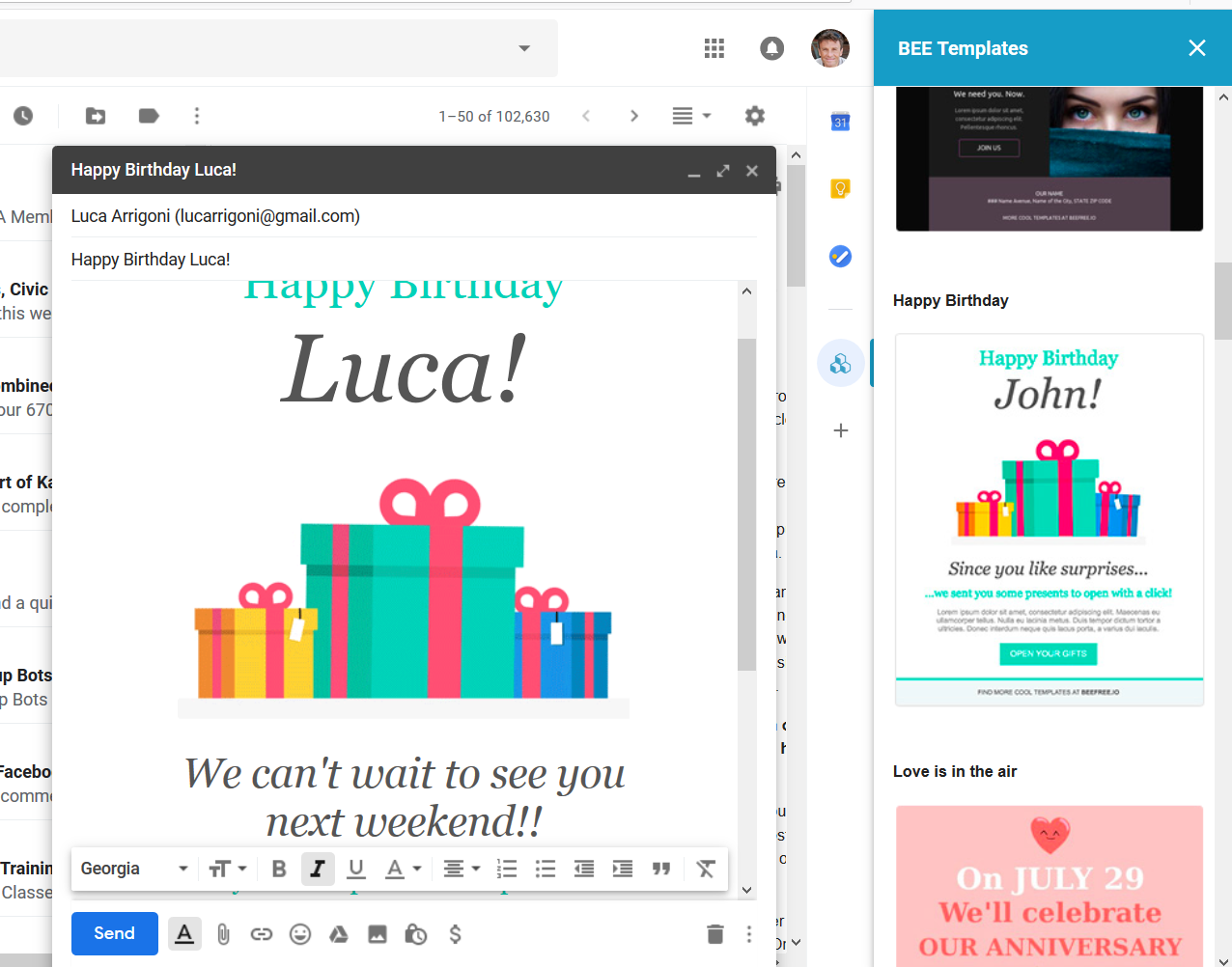 See more details about using the BEE Templates Add-on for Gmail.
Using the Gmail connector for BEE Pro
You can also design message in BEE Pro and then push them to your Gmail account as "drafts". This is also the way to go if you see a cool template in the Gmail Add-on mentioned above, but you would like to edit its design: there are limited tools to edit the email inside the Gmail inbox, so you may want to use the BEE editor instead, and then push the message to Gmail.
For a general overview about exporting emails from BEE Pro to other applications, see Using connectors in BEE Pro.
To export your emails to Gmail using the connector:
Install it as indicated here.
On the messages page or message details page, select Export
Select Export to another application




Select Gmail from the list of available connectors.




Your email will be saved to the Drafts folder in your Gmail inbox.