Gmail connector is on-hold:
Sorry for the inconvenience, the Gmail Connector is temporarily unavailable.
Level up your messages in Gmail
Have you ever thought about sending a cool email message to your friends, your colleagues or your loved one? It's now easy with BEE!
You can choose your favorite between a lot of ready-to-use Gmail templates (made for promotions, invitations, greeting cards, thank you notes, startup presentations, blog updates, job alerts, product announcements). Are you wondering how? 
There are two ways to use BEE with Gmail:
The Gmail Add-on: BEE Templates for Gmail
The BEE Pro feature: Gmail connector for BEE Pro 
1. Gmail Add-on
No registration is required to use the BEE email templates within your Gmail account: just install the add-on and start creating your new beautifully designed emails!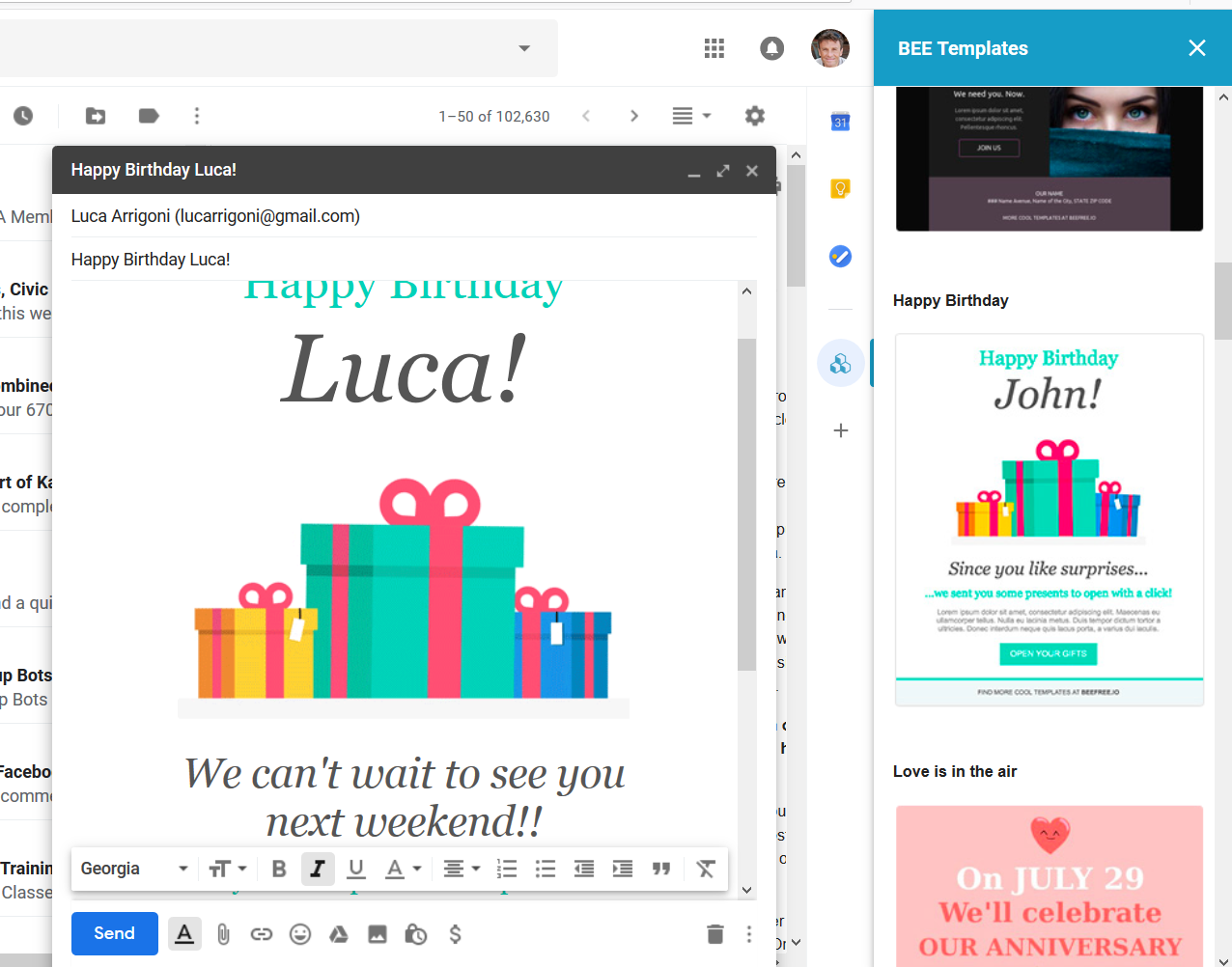 See more details about using the BEE Templates Add-on for Gmail.
2. Gmail Connector (BEE Pro)
Have you seen a cool template in the Gmail Add-on and would you like to edit it? It's simple! 
Connect your BEE account to your Gmail account before you start designing (from Brand Settings)
When you want to send a specific message to Gmail (from Export).
From Brand Settings
Go to Settings / Connectors ...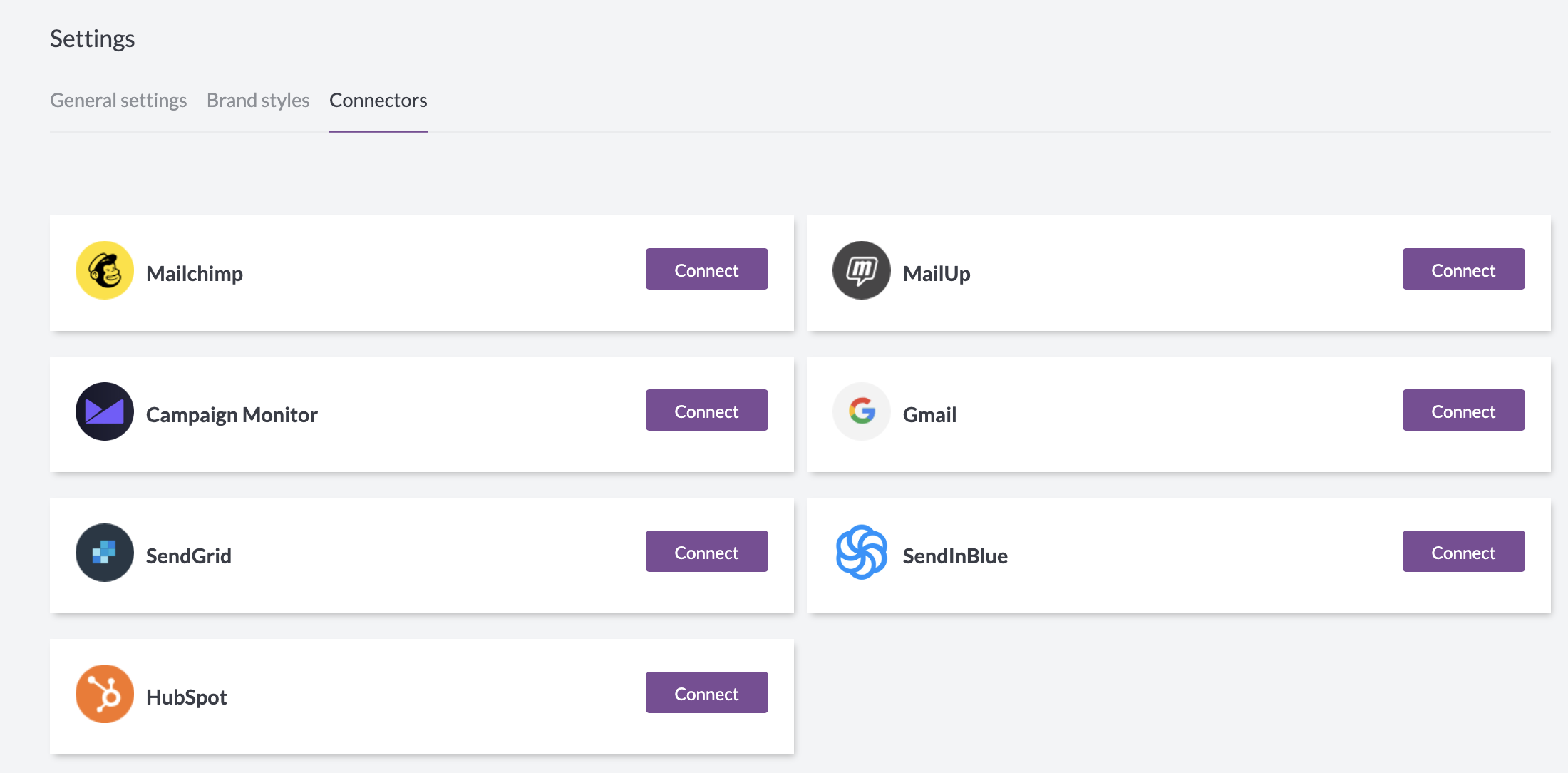 ... Click the Connect button for Gmail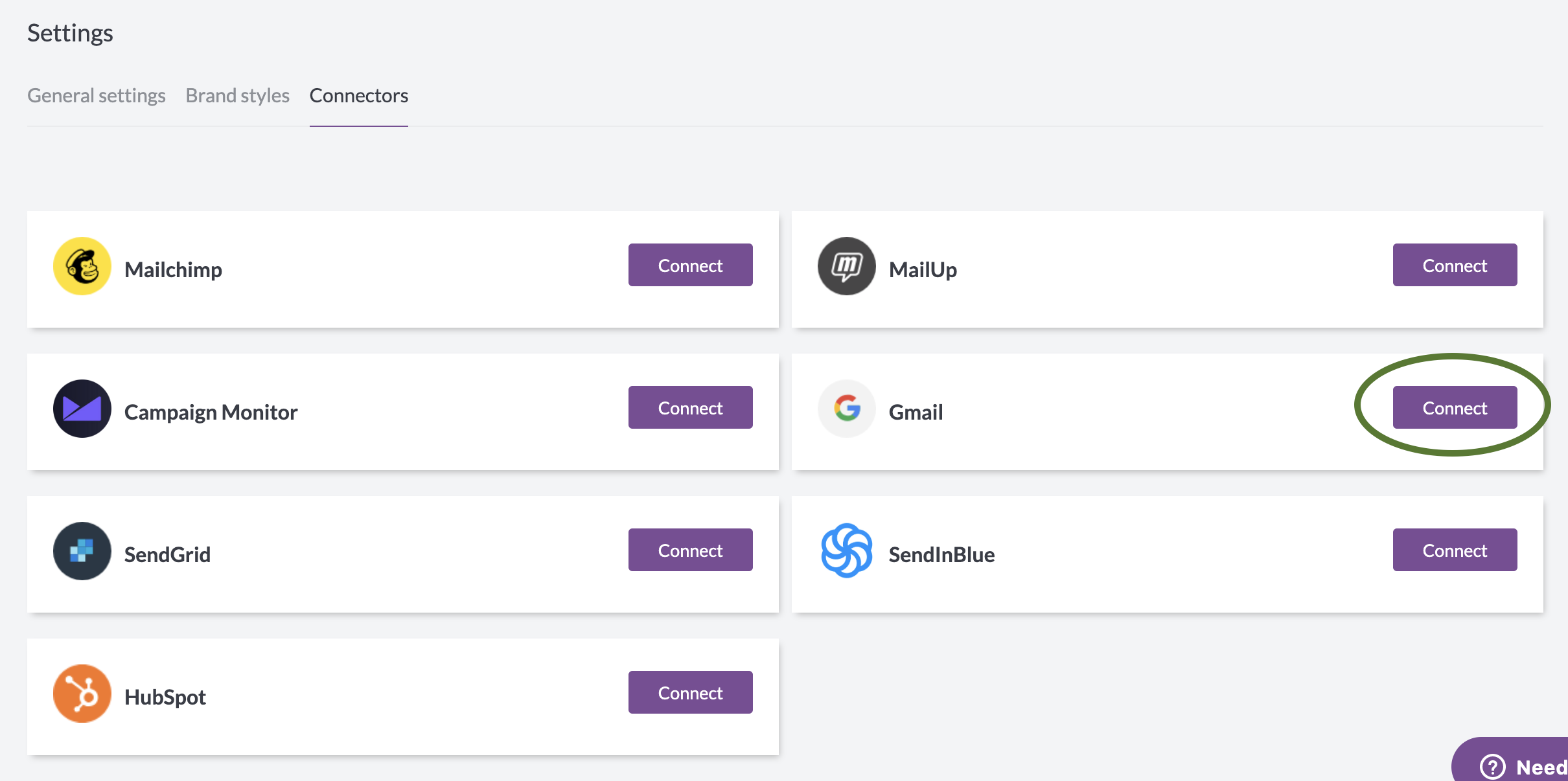 And follow the steps to log-in. Your credentials are not stored in BEE Pro: they are just used to connect your accounts.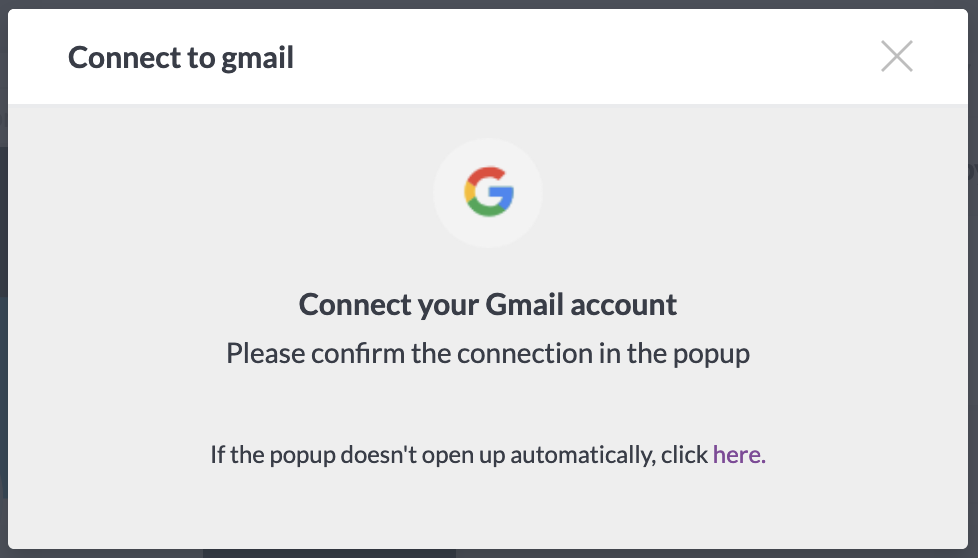 From Export
Log-in to your BEE Pro account, choose your favorite template, edit and save it. When your message is ready, click on the Export message button in the Message Details page...

... and then click on Export to another application.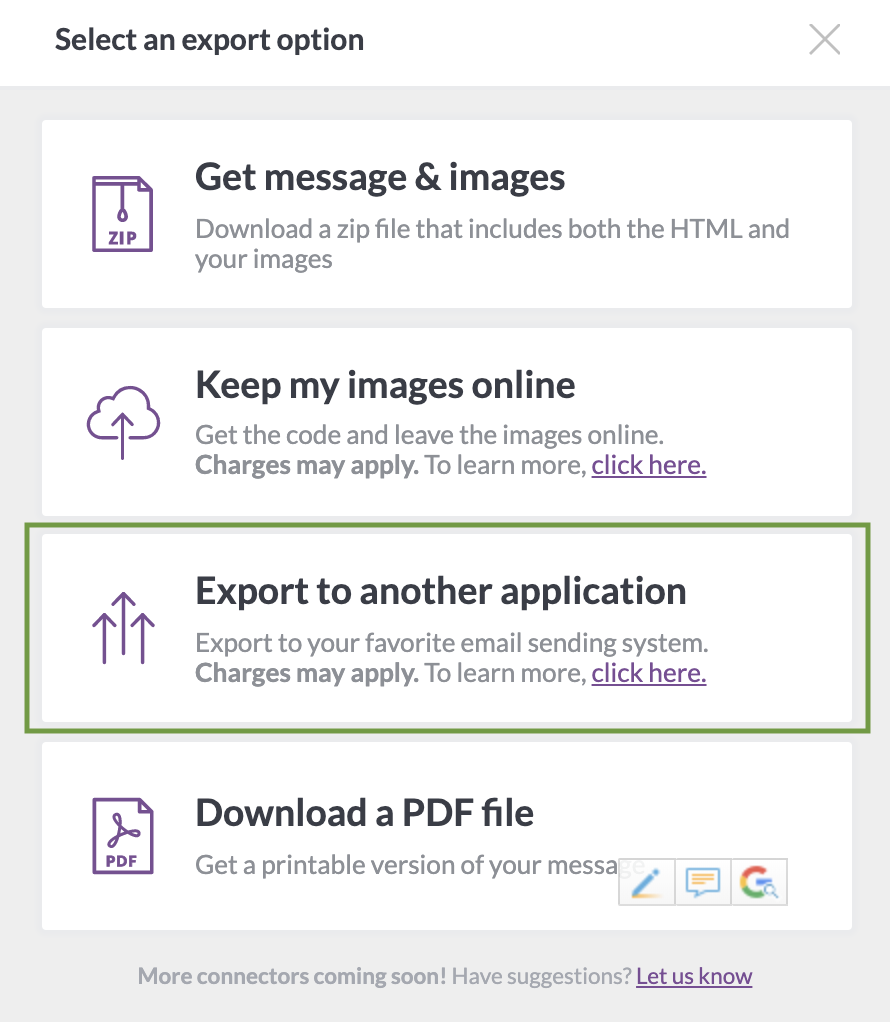 A new window will be displayed with the connectors' list: select Gmail.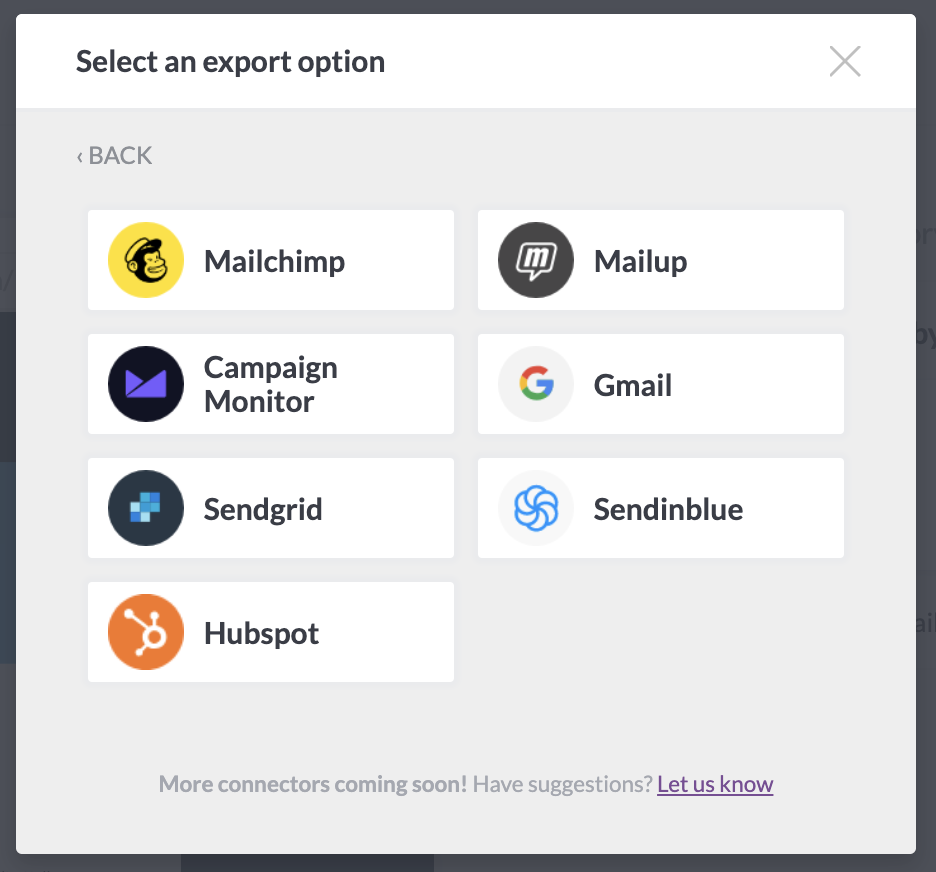 Follow the steps to log-in. Your credentials are not stored in BEE Pro: they are just used to connect your accounts. Then, Log-in to your Gmail account and you will find your email into the Drafts folder!
Are you experiencing any issues with Gmail?
Unfortunately, Gmail has some limitations (e.g. it ignores email responsiveness). To make the most out of the Gmail Connector, we suggest you keep your design simple and in a single column. 
Are you curious about the other sending apps' or ESPs' connectors available?
Take a look at Using connectors in BEE Pro.