Saving your messages in BEE Pro
Overview
We're excited to introduce some changes to the save function in BEE Pro!
In the past, the save button redirected you out of the editor and to the message details page. We knew this wasn't the best user experience, so we've made some changes to the save button so you now have the options to:
Save and continue editing
Save and exit
Exit without saving
As a result of these new features, the appearance of the save button has been updated. When you first open a message or template, you'll see the following options in the upper right-hand corner of the screen.

As you start making changes to your message, you'll notice that the purple button changes.

This allows you to have a visual representation of whether or not the progress you have made is saved. If you have the option to save the message, it means you have unsaved content. If you see a checkmark, this means that all changes have been saved. Interacting with the save button will now keep you inside of the editor.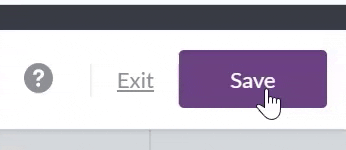 In order to leave the editor, you now need to use the Exit link to the left of the save button.
If you exit while the save button is displaying the checkmark, you will simply be redirected to the message or template details page. However, if you have unsaved progress, you will be prompted to save before continuing.