Using Preheaders and UTMs
BEE Pro becomes Beefree
We're still the same design suite you know and love, just with a new name. Our team is working hard to update our documentation, but you might still see some information or screenshots that are out of date.
This article applies to the Email builder in all plans.
Overview
Are custom-coded preheaders causing you frustration? Are you spending extra time manually entering UTM links? We know that this has been a pain point for many Beefree subscribers, and we're happy to tell you that you no longer need to worry about this! Now you can set a preheader and UTM parameters from the email details page. It will be easier than ever to create beautiful, ready-made emails with click-tracking and preheaders with no need for outside tools.
This feature is available for all Beefree accounts. Keep reading to learn more about these new features and how to use them.
The options for both UTMs and preheaders are inside the email details page. A new infobox has been introduced underneath the existing email details.

To change these settings, use the edit icon to the right of Subject, Preheader and UTM. This will open the menu displayed below.
Adding Preheaders
Inserting a preheader into your email is easier than ever. Simply use the form to type your preheader. This text will appear below the subject line of your email once the design is sent to your recipients. Keep in mind that there is a character limit for preheaders, but you will receive a message within the textbox if you exceed this limit.

Once you're ready, use the save button at the bottom of the form to save your new preheader.
You can test the preheader by sending a test message through Beefree to an email client that supports preheaders. If you're not sure whether the client you're using to test this supports them, Email on Acid has a great article that lists email client support for preheaders as well as the typical character limits for these clients.

If you're looking to learn more about preheaders and how they can help your email campaign, we recommend looking at this great article by our friends over at MailUp: https://blog.mailup.com/2018/02/email-preheader/.
Adding UTMs
Using UTMs to generate click tracking data is an integral part of email marketing, but creating each URL individually - even through an automated tool - can be tedious. To save you time and streamline your workflow, you can now simply enter your UTM parameters into the email details once. The builder will take care of the rest.
You can preview the resulting UTM parameters in the locked field below as you insert the values for your UTM links.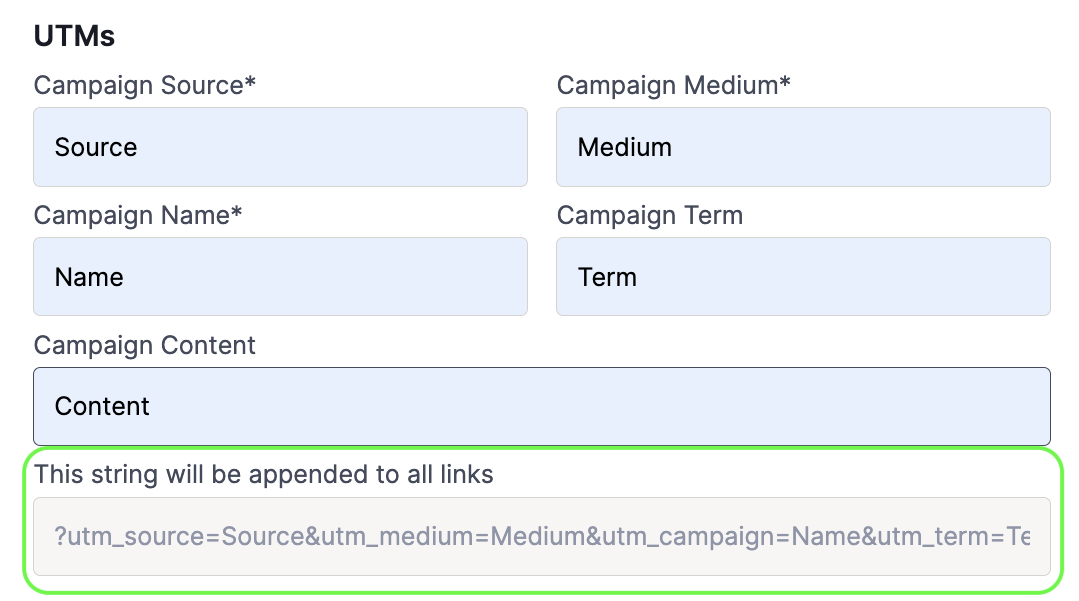 Use the save button at the bottom of the form to apply the UTM parameters to your links.
The UTM parameters will not be visible inside the builder, but you can verify the links through a test message, the permalink for the email, or an email preview service. All links in an exported design will include this information.
Looking to learn more about how to use UTMs and how they can help with your campaigns? Check out this article from Email on Acid: https://www.emailonacid.com/blog/article/email-marketing/how-to-use-utm-parameters-in-email-utm-parameter-checker/
Mandatory Fields
With the UTM form, you can use up to five parameters for your email. If you begin inserting keywords, you'll find that some of these fields are mandatory.
Campaign Source
Campaign Medium
Campaign Name

Changing the preheader or the UTMs
Once you've added the information you need to the email details, you'll be able to preview the information on the email details page.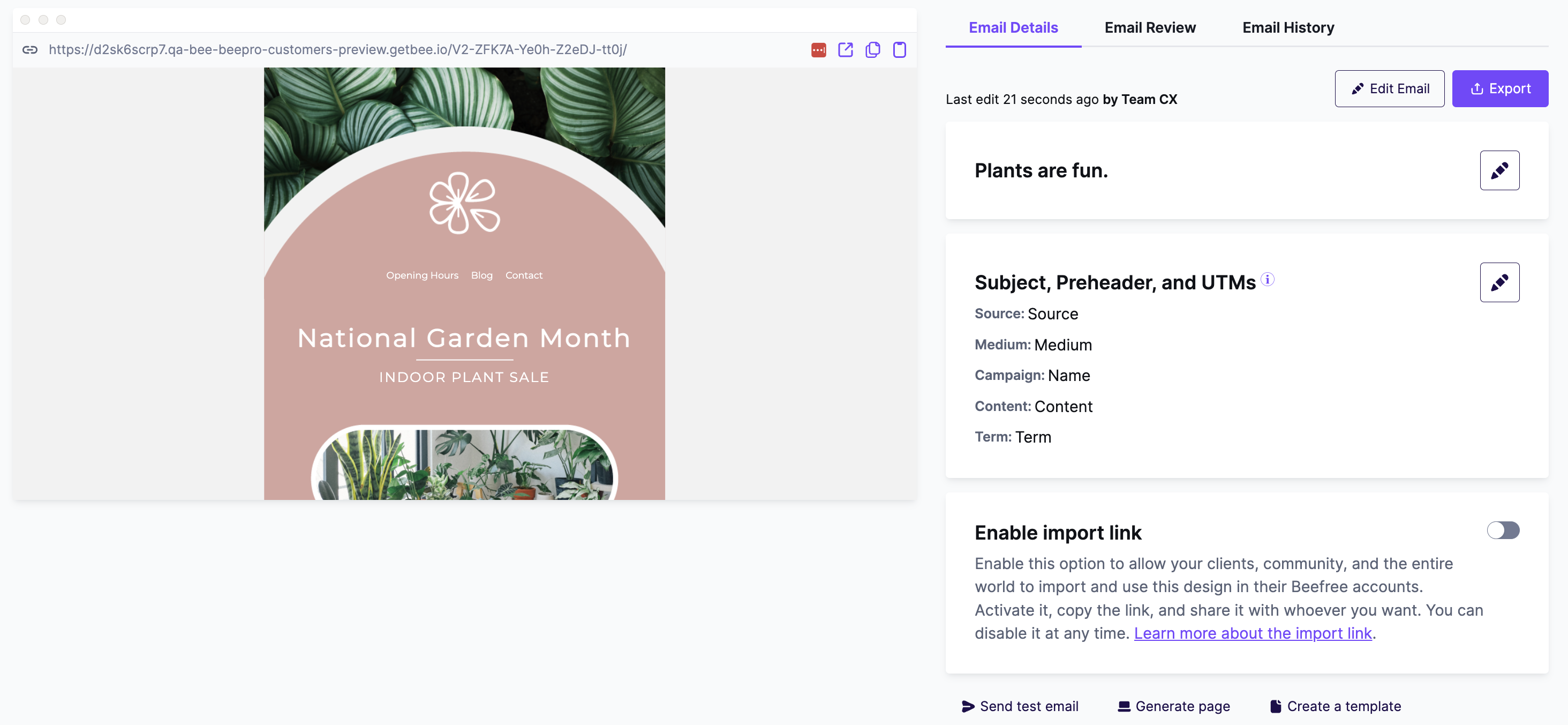 Using the edit icon, you can update or remove these details at any time.
Current Limitations
The URL needs to follow either HTTP or HTTPS protocol in order to have the UTM parameters added.
UTM parameters will not be added to special links.
If you create a template with an email using UTM links, these parameters will not be carried over to your template.
Updates to UTM links will not be reflected in the email history.
If you have any questions, feel free to contact us.