Overview
To allow you more control over the colors used in your messages, we're happy to introduce brand palettes! This new feature is available in all plans, but it is restricted to certain user roles. By defining the brand palette, the editor will automatically show those colors inside the color picker.
Adding colors
In order to get started, you need to select your desired brand colors. Start by making sure that you have the appropriate user role to access this information. If you are an Owner, Admin, or Manager, you can navigate to the brand color settings by going to Settings > Brand Styles.

In order to start adding colors, press the + icon to open the color picker.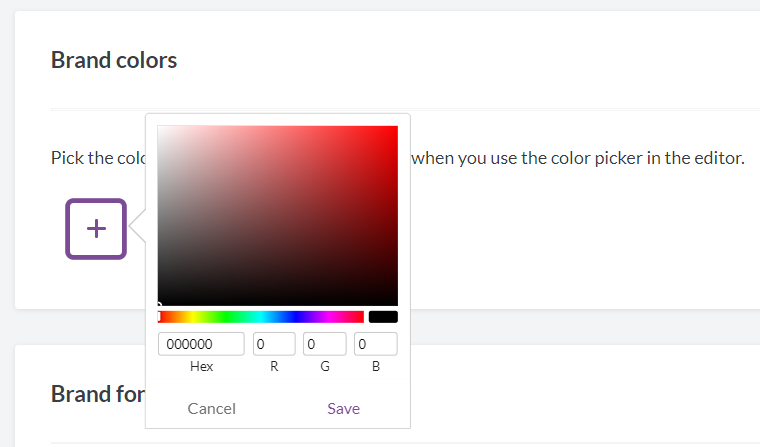 You can select a color by clicking around the color picker interface, or you can insert the Hex code or RGB values. Once you've found the color you want, select Save to keep it as part of your brand palette. You'll receive a confirmation message in the lower right-hand corner of the screen.

Removing colors
If you need to remove a color from the palette, simply hover over the color to populate the delete icon.

If you click on the delete icon, you will be asked to confirm this action before proceeding.

Using your brand palette
Now that you've selected your brand palette, it's time to start designing! Whether you are working on a template or a message, you'll find that your color palette is available at the bottom of the color picker as soon as you open your message.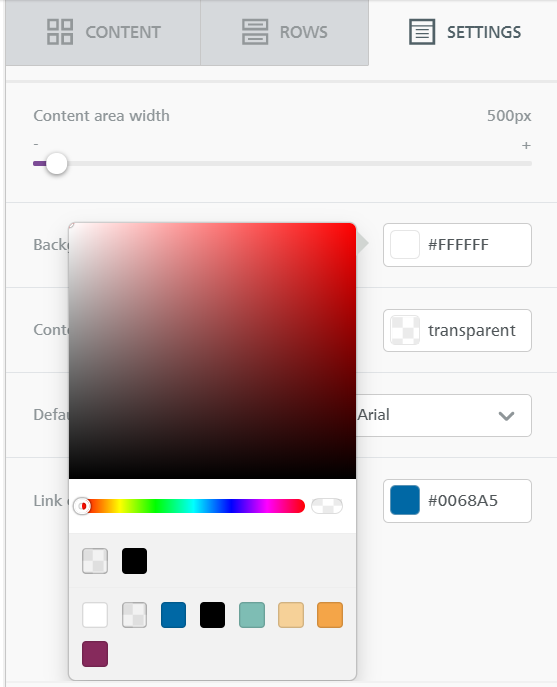 You may be wondering, what are these extra colors doing here? Those aren't a part of my brand palette! Not to worry; some of these colors are determined by settings that already existed inside the template or message. You'll usually see these same colors indicated in the message settings, as demonstrated below.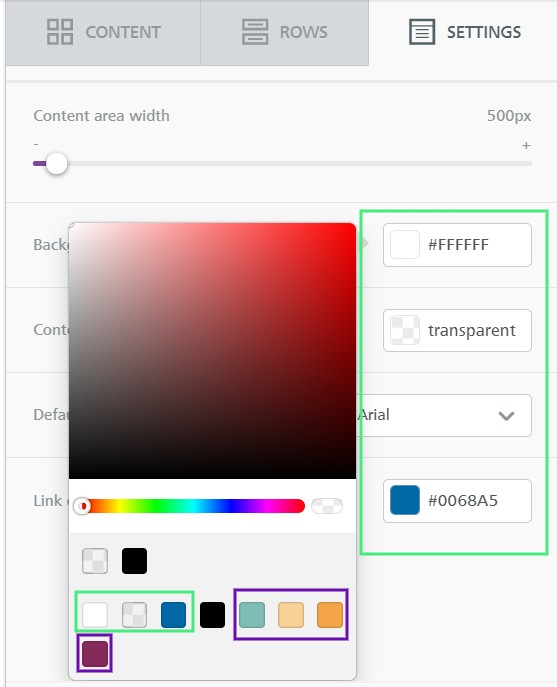 Note that black (hex code #000000) will always populate with your brand palette for easy access. However, if you have the colors in your settings to match the brand palette, the other additional values will disappear, as demonstrated below.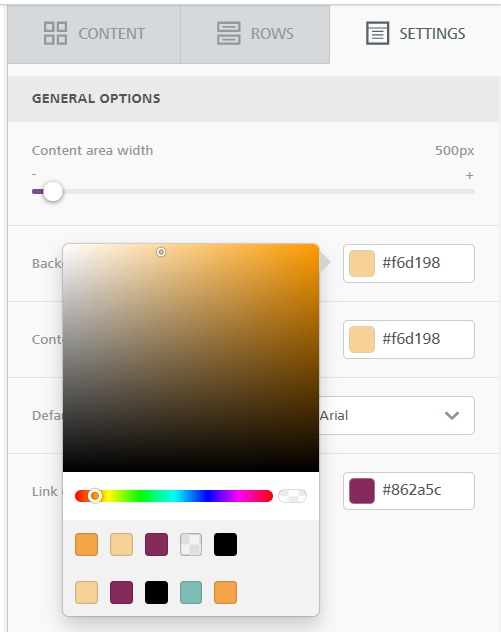 Now that we have replaced the values in the settings tab with only colors from our brand palette, the unwanted colors have been removed. Brand and template colors will always be available on the lower row(s) of the color picker, while the top row(s) will display your recently used colors. 
Limitations
Your color palette does not extend to the color picker on the text editing toolbar. 
The brand palette can include a maximum of 17 colors.