Team & Enterprise
BEE Pro becomes Beefree
We're still the same design suite you know and love, just with a new name. Our team is working hard to update our documentation, but you might still see some information or screenshots that are out of date.
This guide focuses on features only available in the Team and Enterprise plans for Beefree. Both of these are paid plans and offer a variety of premium features. Are you looking for more information about Beefree features available in all plans? If yes, see Navigating Beefree.
If you're looking for something else altogether, check one of our other guides:
Our Team plan starts at $30 a month, or $300 annually. This price includes two users and removes many limits on design storage. It also introduces project folders, user roles, and expands custom workspace settings.
The Enterprise plan is also a paid plan, but it can be customized to your organization's needs. It includes everything available in the Team plan. It also introduces co-editing, custom domains, and the ability to create multiple Workspaces. Enterprise subscribers receive premium support, a dedicated account manager, and custom design services.
Let's take a closer look at the features available in paid Beefree plans.
Team
You can trial the Team plan at any time for 15 days to test the features described below. No credit card is required!
Storage & Delivery
As mentioned above, the Team plan removes many limitations applied to Free accounts. Let's take a closer look at what this means.
Project folders
You can use project folders to organize your emails and pages. Folders reside within the Projects tab, where they can be copied and edited.

Design history
Your Design History keeps track of the versions of your design. Each time you save your design, Beefree records a historical version. You can restore a previous version of your design from the View Details page.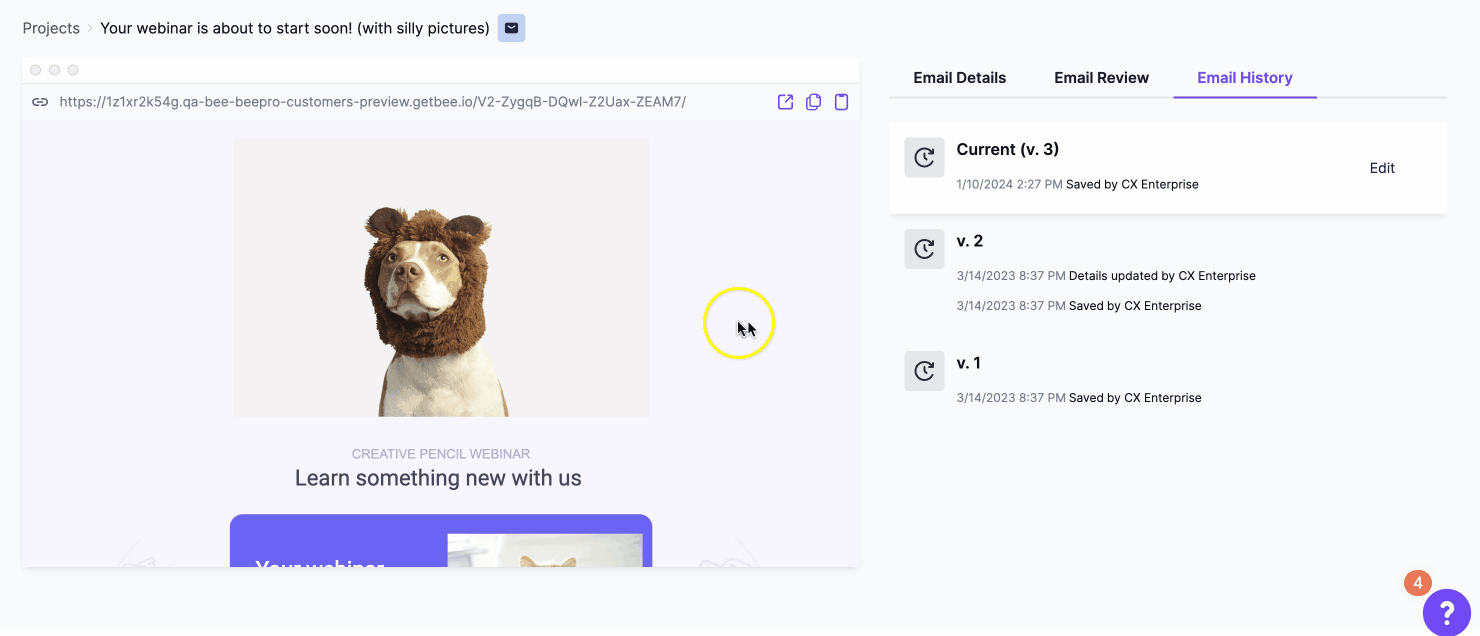 Library
You can store an unlimited number of custom templates and saved rows in your Library in Beefree. The Team plan also introduces saved row categories as an additional organizational tool.

Hosted image delivery
All plans allow you to upload and host your images on Beefree. When you upgrade to the Team plan, your monthly data transfer allocation increases from 50 GB to 250 GB. Overage fees may apply.
Settings
The Team plan adds many settings to your Beefree account. Many of these settings allow you to customize Beefree to better fit your needs.
Custom settings
Custom settings make it easy to design consistently branded emails and landing pages. This includes options like:
Workspace styles
Set default content values for text elements, content blocks, and design settings. This allows you to customize how certain content blocks look before you drag and drop them.
User Roles
While you can work with multiple users on the Free plan, Team introduces user roles. User roles assign permissions to control what your users can access within Beefree.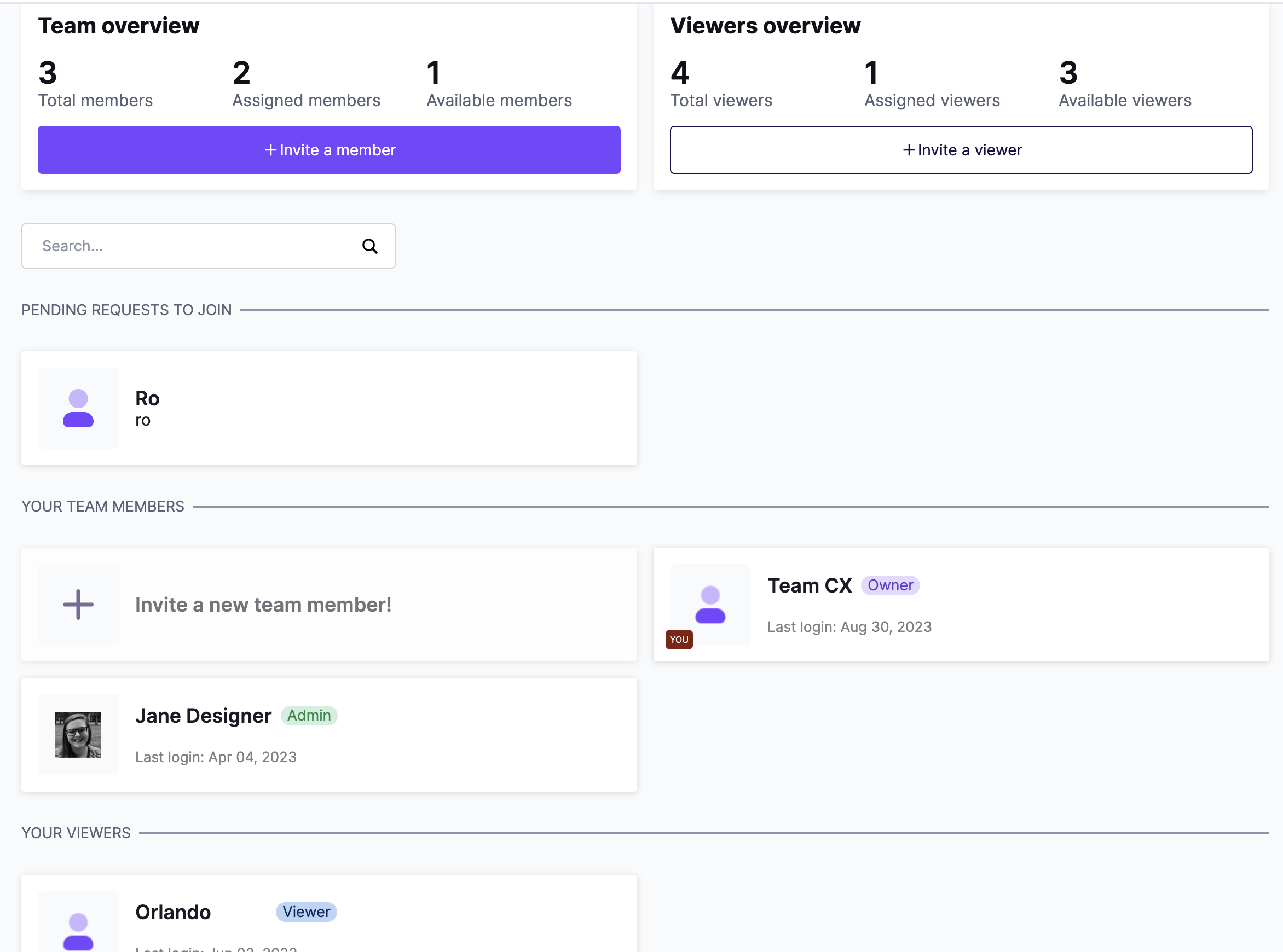 The following user roles are available:
Owner - This user manages the subscription. They are the only user that can make purchases (upgrade plan, add new users, etc.)
Admin - This user has access to all the features in Beefree. Typically, this type of user is a person that is in charge of overall team management.
Manager - This user has all the capabilities to manage the design creation workflow.
Editor - This user is someone that creates, edits, and exports designs.
Contributor - This user contributes to content editing (e.g text optimization) of existing designs.
Viewer - This user cannot make any changes or edits to designs. However, they can collaborate by commenting on designs already created in Beefree.
Designing & Exporting
Content locking
Content locking lets you prevent additional users from making unwanted design changes. This feature is only available to specific user roles.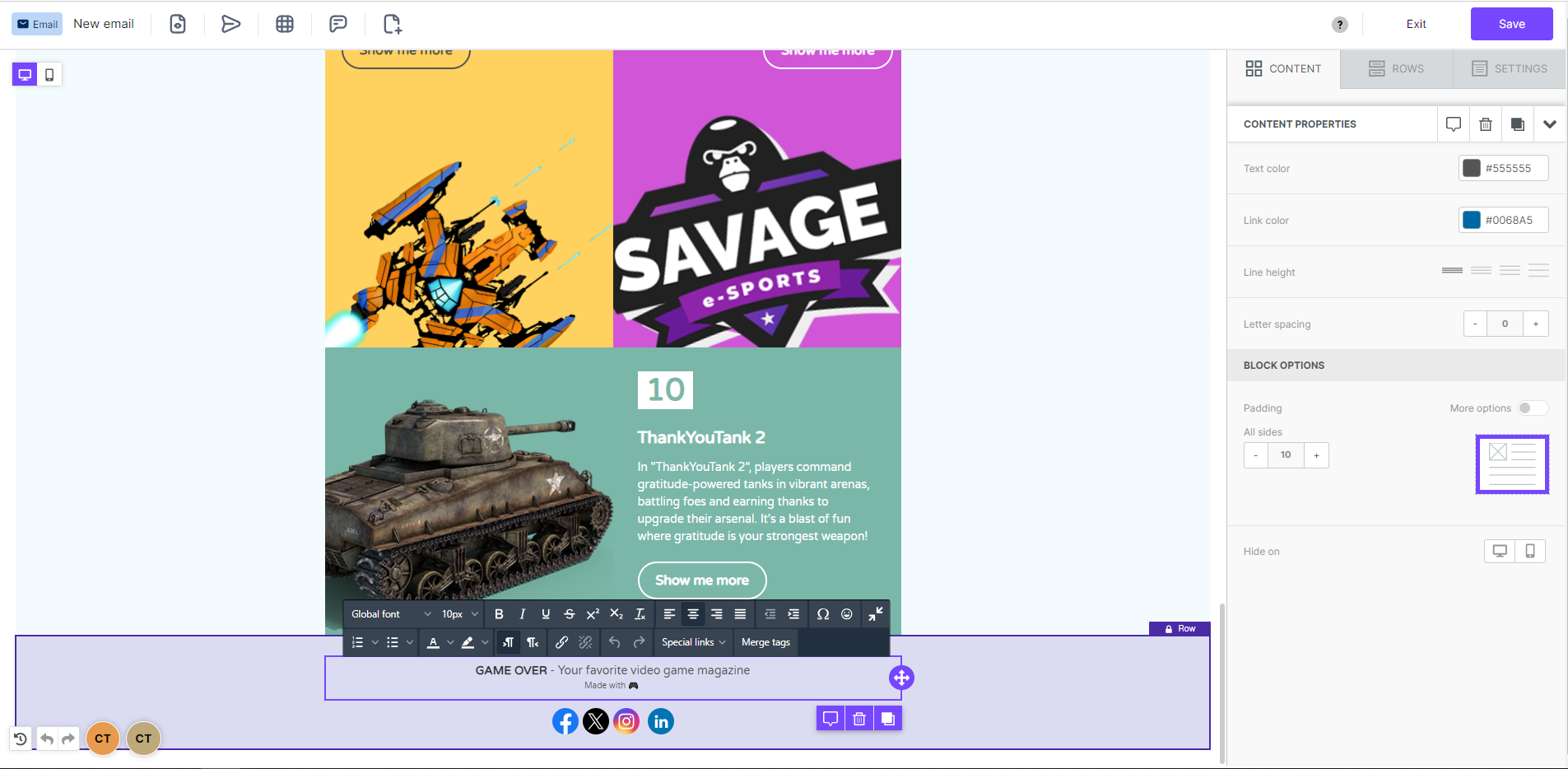 Display conditions
Display conditions allow you to create content optimized for the recipient. You can insert the syntax your sending platform uses directly inside the builder. Enabling display conditions also unlocks a display condition preview mode.
PDF export
The PDF export option allows you to export your design as one long page or in the following formats: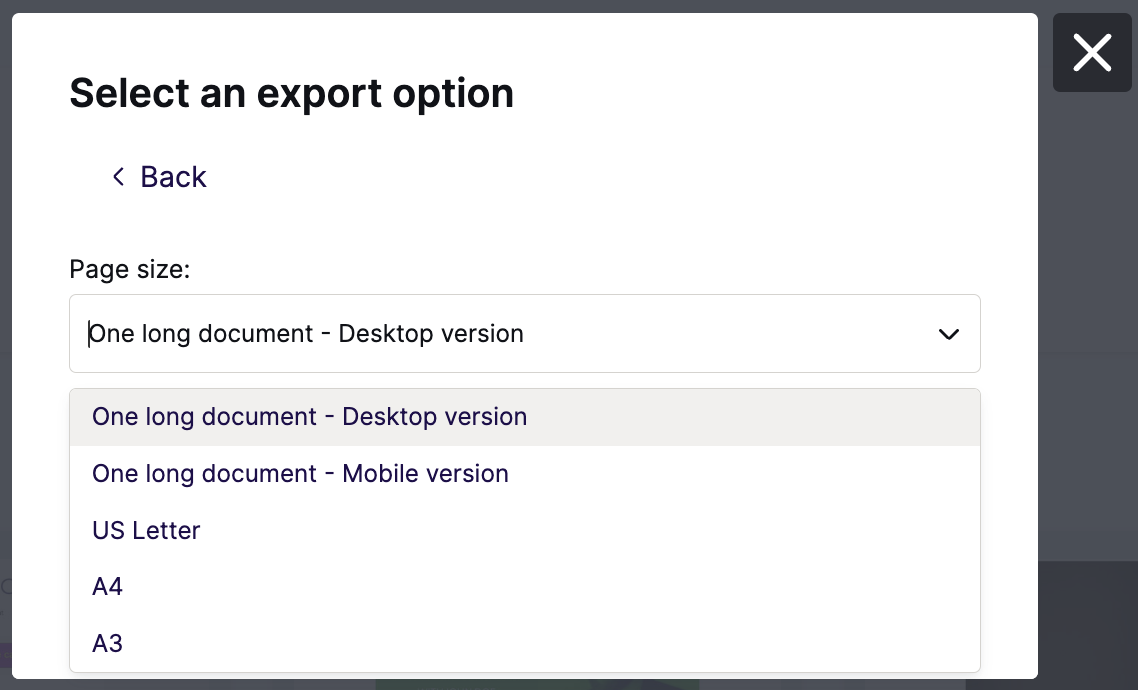 Enterprise
As mentioned above, the Enterprise plan includes everything introduced with Team. All of the information above also applies to Enterprise subscribers. Enterprise also includes some additional features only available on this plan.
Workspaces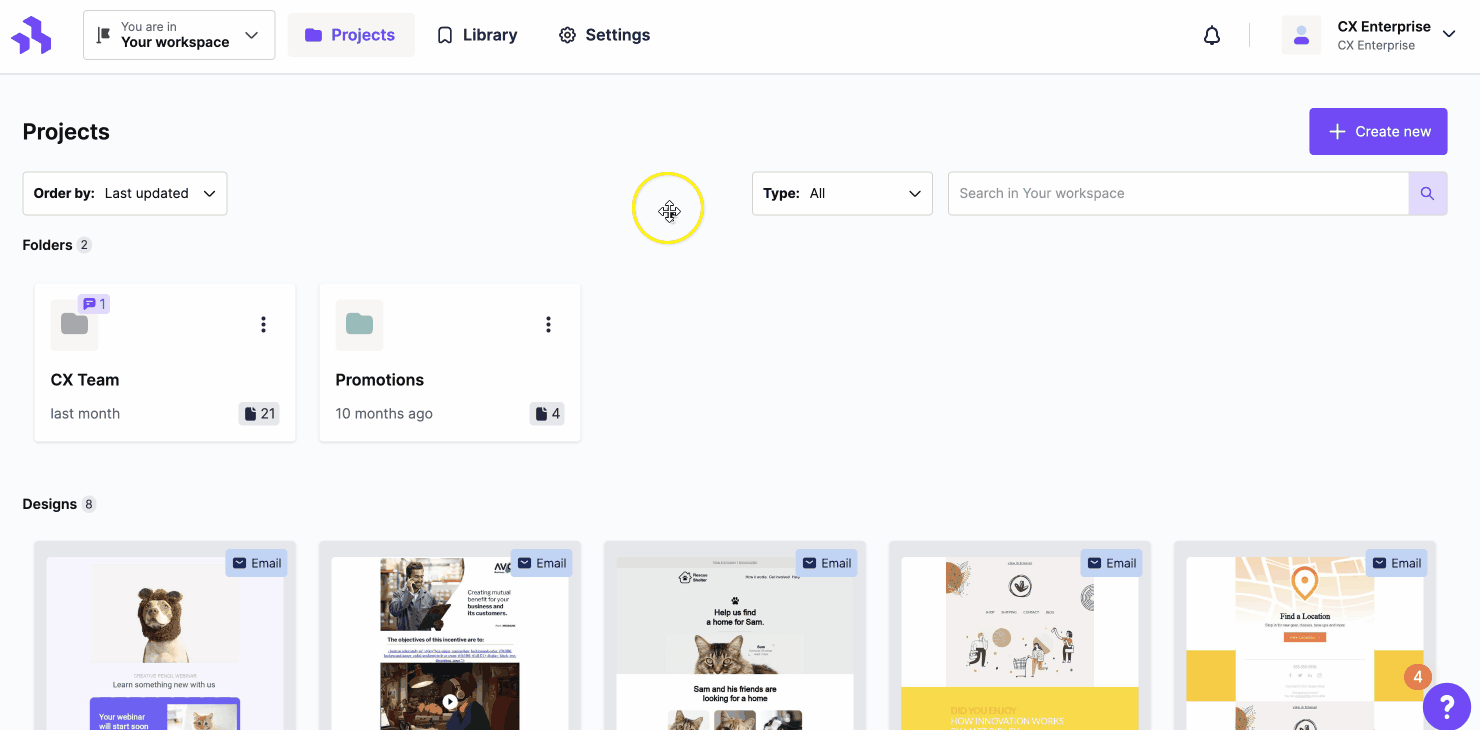 Each Workspace has its own settings, styles, templates, and user permissions. This can help you to better manage your clients or business units. Additionally, it allows you to isolate a project with special requirements.
Enterprise allows you to create multiple workspaces in your account. There is no limit on the number of workspaces you can create with an Enterprise plan.
Co-editing
With Enterprise, you can work simultaneously with up to five others on the same design in real time. This allows you to easily collaborate on designs and provide feedback efficiently.
Custom domains
Add your custom domain to the URL for your landing pages hosted in Beefree. You can set a custom domain for each Workspace.
Advanced user permissions
Advanced user permissions can restrict users from creating new content and workspace styles. Someone with advanced permissions enabled can only edit specific attributes of existing content.
Advanced Style Kit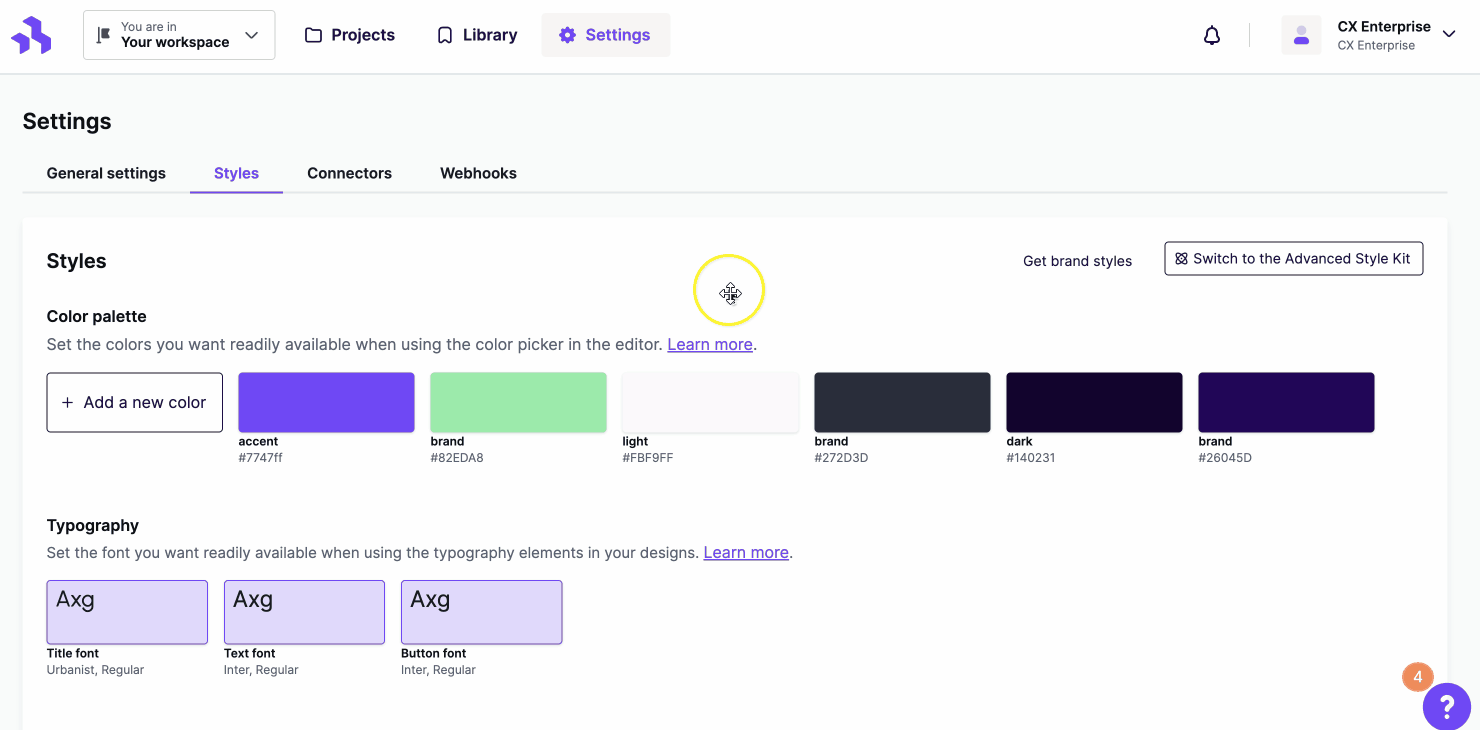 Our Advanced Style Kit expands on the Workspace Styles feature. It gives you access to a special version of the builder where you can set custom design values. You'll have access to even more content default settings.
Next: Glossary
If you have any questions, feel free to contact us.