Design beautiful email templates for Amazon SES
BEE is all about beautiful emails, fast. That now includes designing great-looking email templates that developers can use when sending a transactional or marketing email with Amazon's Simple Email Service.
Whether a developer integrates Amazon SES to send a promotional or transaction message, and whether they use the SMTP interface or one of the many available SDKs, they can now invoke an email template created with BEE Pro when making that API call to deliver the message.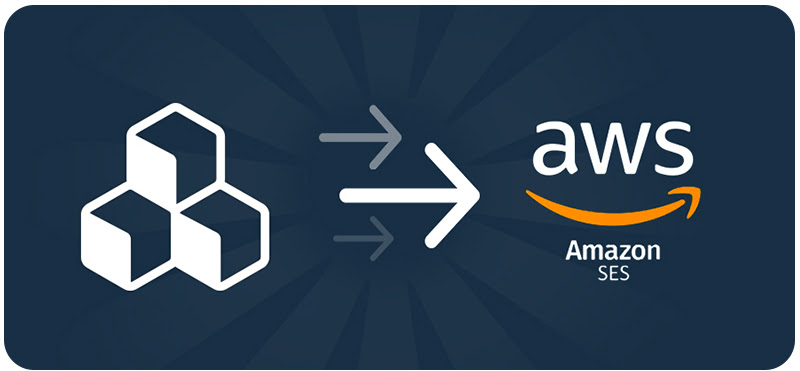 An email template builder for Amazon Simple Email Service
Amazon SES is one of the most popular, cloud-based email sending tools available today. Applications of all kinds leverage the service to send all sorts of emails, from password reminders to order notifications, from seasonal promotions to welcome messages. One thing it does not do, however, is help you design awesome-looking, responsive templates to use when sending those messages.
Well, problem solved! You can now build a fantastic email in BEE Pro (starting from our rich design catalog), push it to your SES account, and use it for any message sent with it.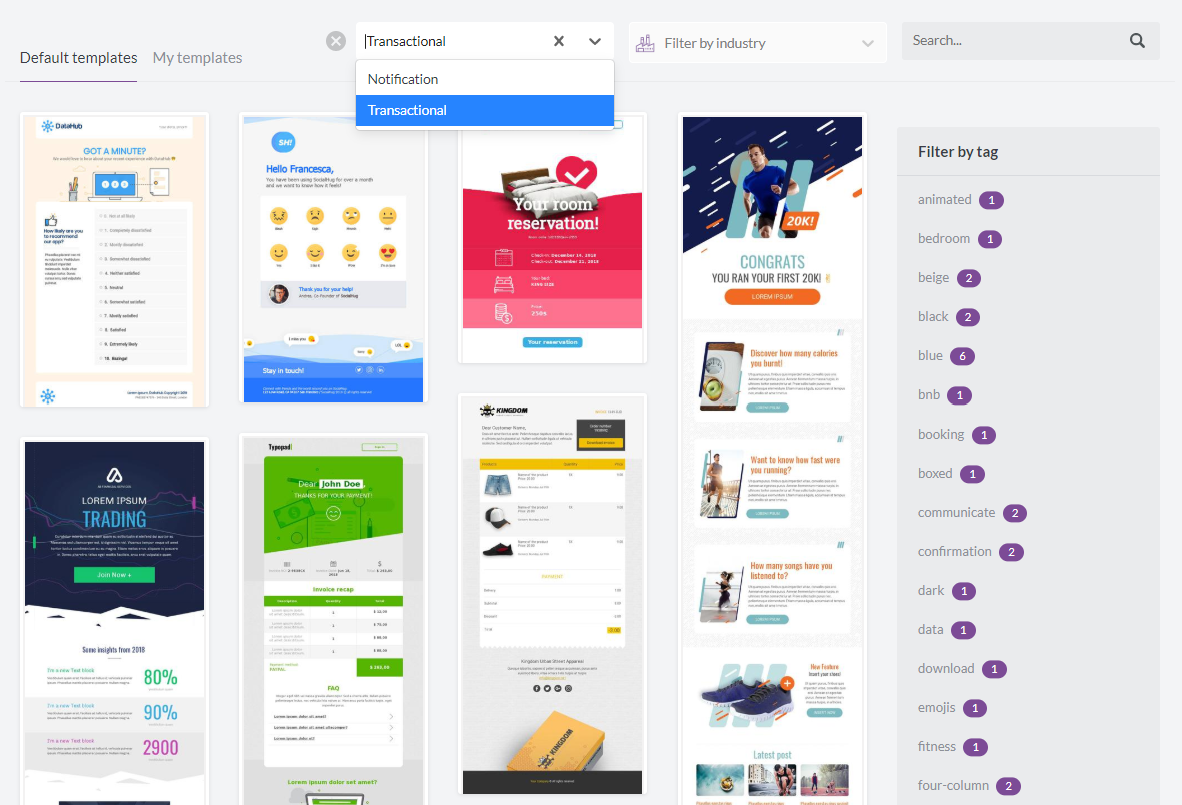 How to export an email template to Amazon SES
First of all, you need to connect your Amazon SES and BEE Pro accounts. Then, you can take advantage of the email design power and flexibility of BEE Pro to create any templates that you may need, push it to SES, and invoke it when calling the SES API.
Connecting the two applications is very easy, and you can choose to do so in one of two ways:
Connect your BEE Pro and Amazon accounts before you start designing (from Settings > Connectors)
Connect the first time you need to export a specific template to Amazon (from Export)
Follow the steps below.
1. Connect from Brand Settings
Go to Settings > Connectors and click the Connect button for Amazon SES.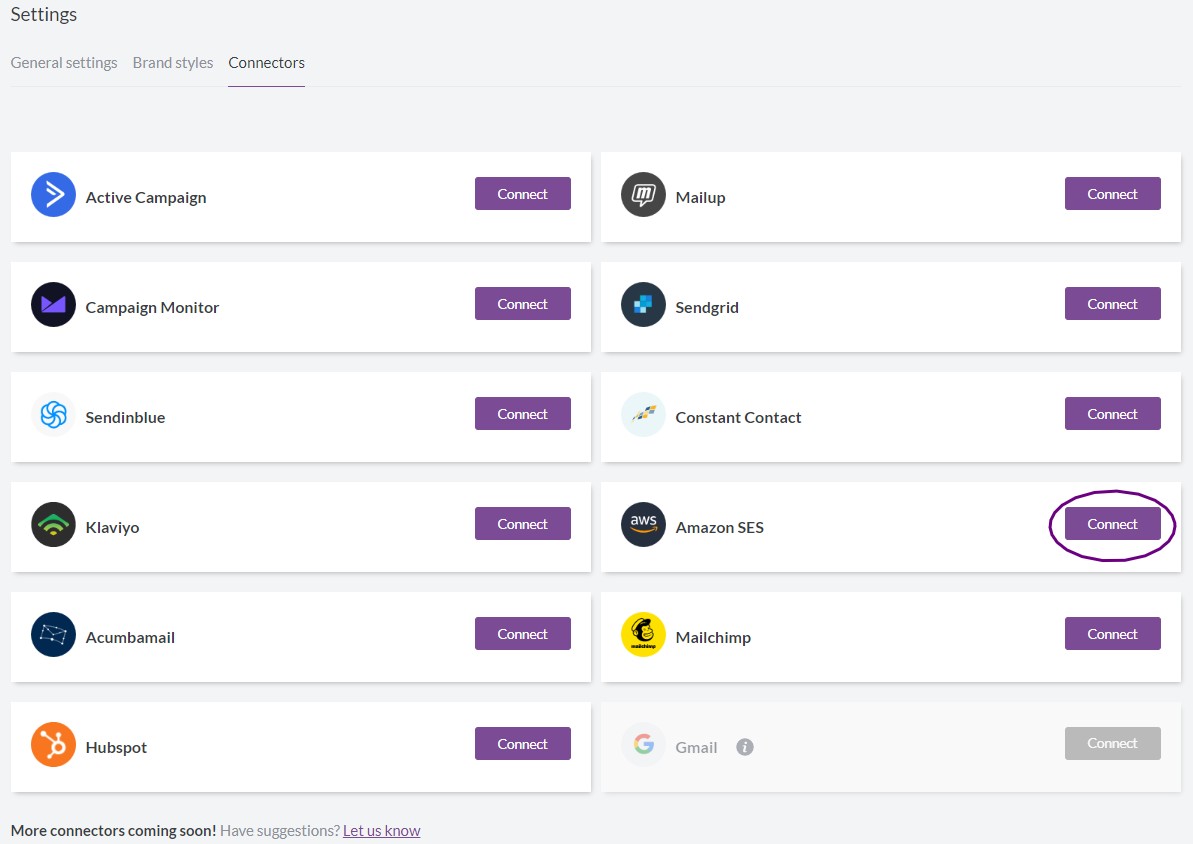 Insert the following information to connect: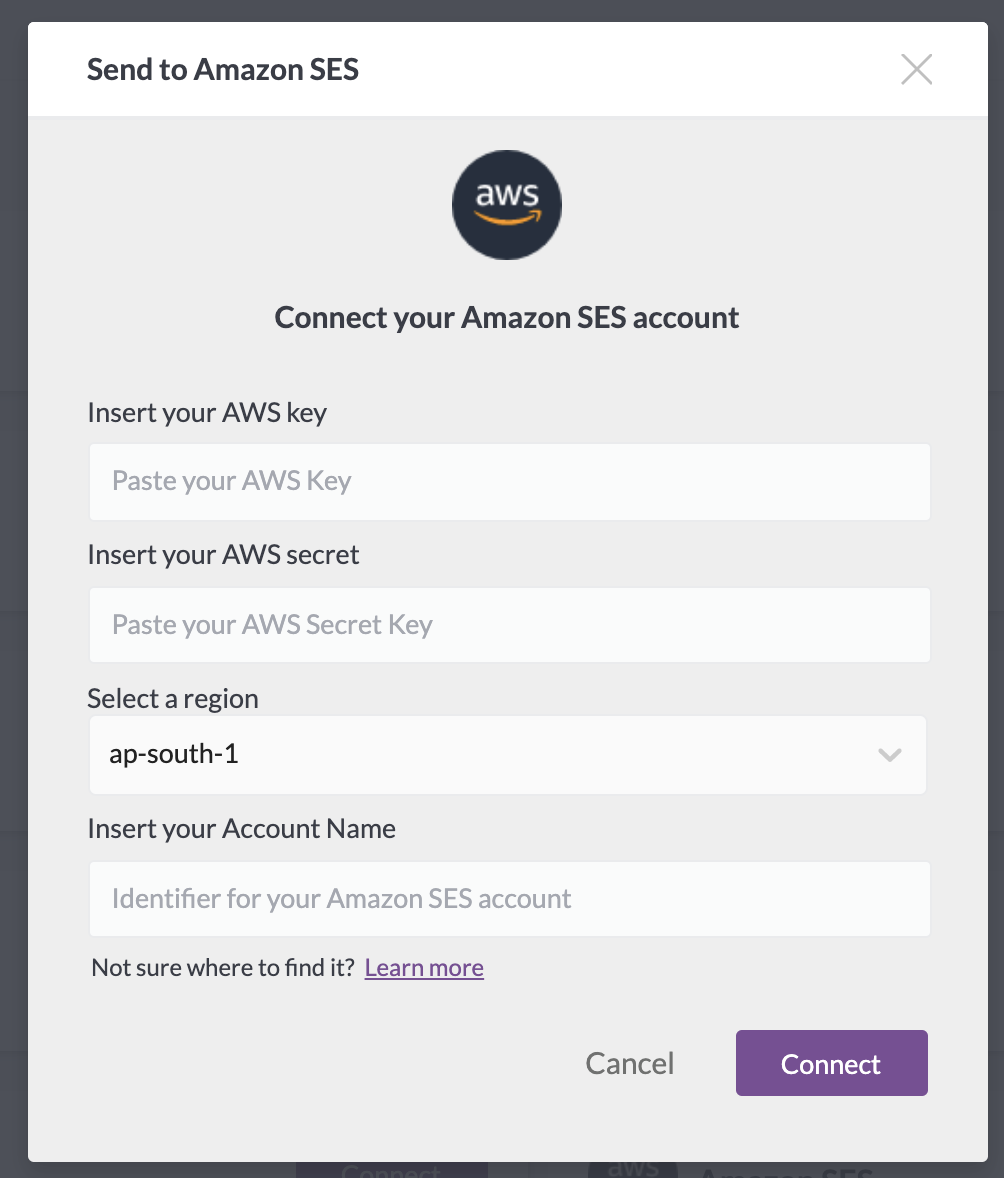 2. Connect from Export
When your message is ready, click on the Export message button in the Message Details page or from the actions menu on the Messages page within any project.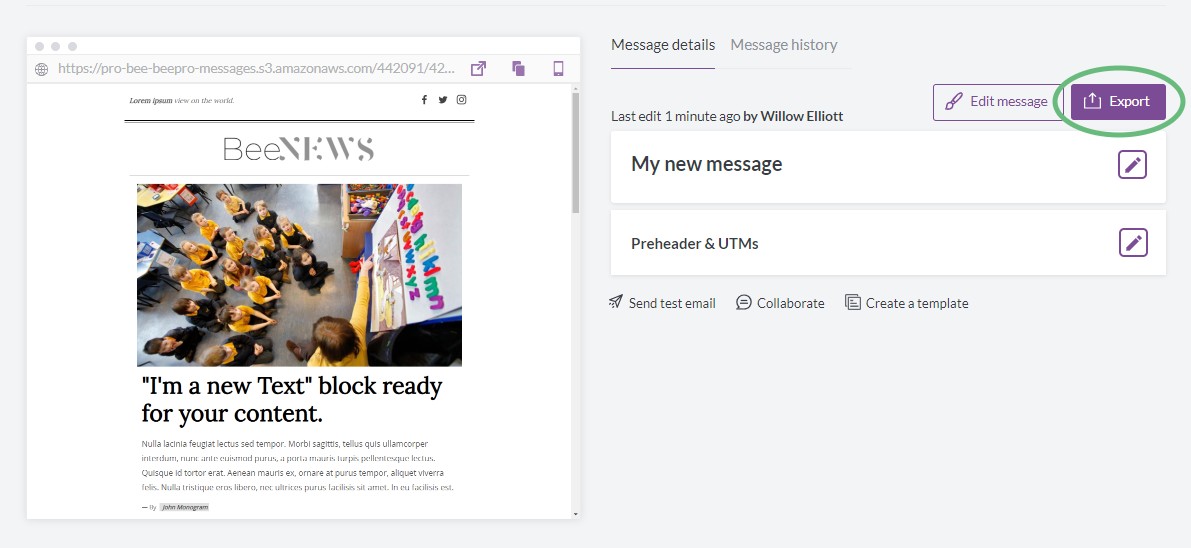 Then click on Push to your sending system.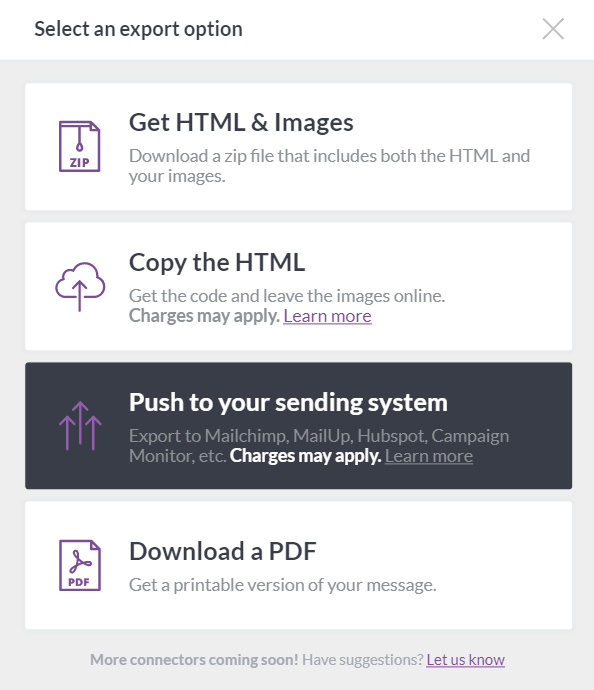 A new window will be displayed with the list of the available connectors. Select Amazon SES and follow the steps to log in and connect it.
If you have already connected, you will not be asked to do so again.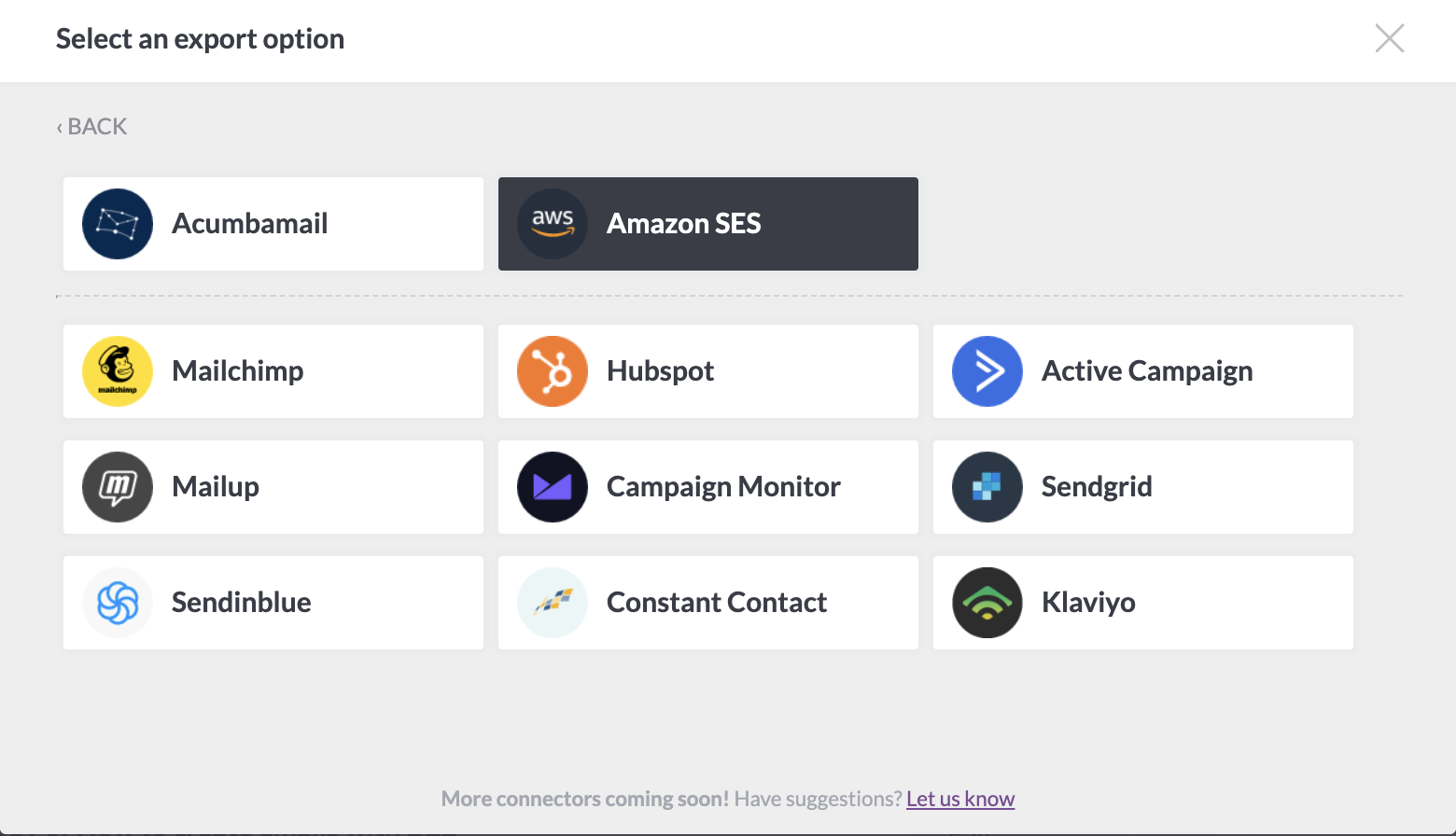 BEE Pro will confirm that the message has been successfully exported, and you will see it appear in your Amazon SES account, in Email Sending > Email Templates. The name of your message in BEE Pro will be used as the name of the Amazon SES template, along with a unique identifier. Here's an example: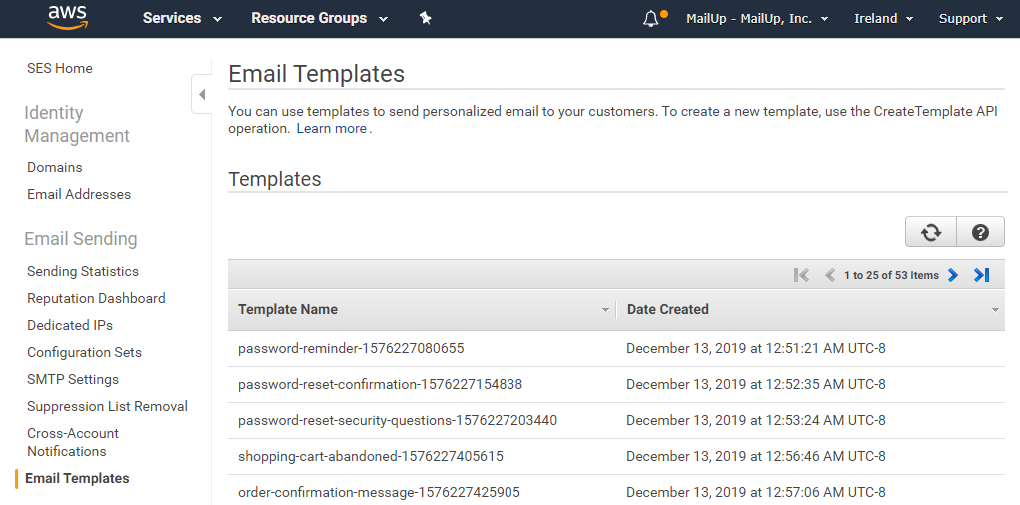 Multiple Brands / Customers
Do you often need to switch between different accounts? For example, you are designing email templates for several customers, each one with their own Amazon SES account? Or you are developing multiple applications that use different AWS accounts?
In that case, you might want to look at the Agency version of BEE Pro as it allows you to use different accounts for the same connected application. Brands help you better organize your emails, control user access, and specify different connectors for each brand (without switching accounts before exporting!)
For example, if you are a digital marketing agency with 10 clients that use Amazon SES, you will be able to create 10 brands in BEE Pro and connect each of them to their specific Amazon SES account.
Are you curious about using BEE Pro with other sending apps or the availability of new connectors? Take a look at Using connectors in BEE Pro.