Exporting to Campaign Monitor
Due to Campaign Monitor's API limits, you may experience rendering issues in Outlook when using our connector. If you are concerned about this, please import your BEE Pro message manually using the HTML ZIP. Disable the option titled, "Move my CSS inline" during the import phase in Campaign Monitor.
Level Up your Emails in Campaign Monitor
Would you like to connect your Campaign Monitor account to BEE Pro? It's quick and easy, and you can choose to connect the two applications in one of the following ways:
Connect BEE to your Campaign Monitor account before you start designing (from Brand Settings)
Connect the first time you need to send a specific template to Campaign Monitor (from Export)
Follow the steps below or watch this video tutorial:
1. Connect from Brand Settings
Go to Settings > Connectors.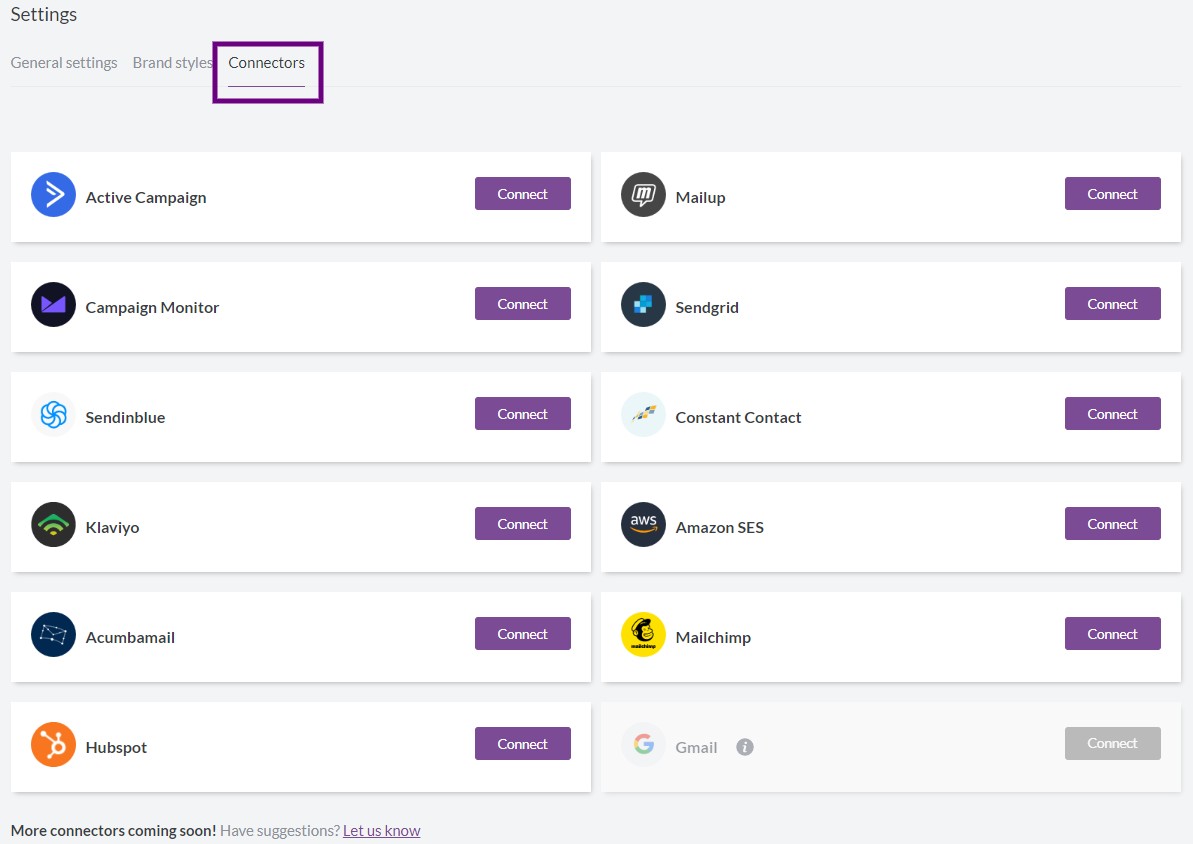 Click the Connect button for Campaign Monitor.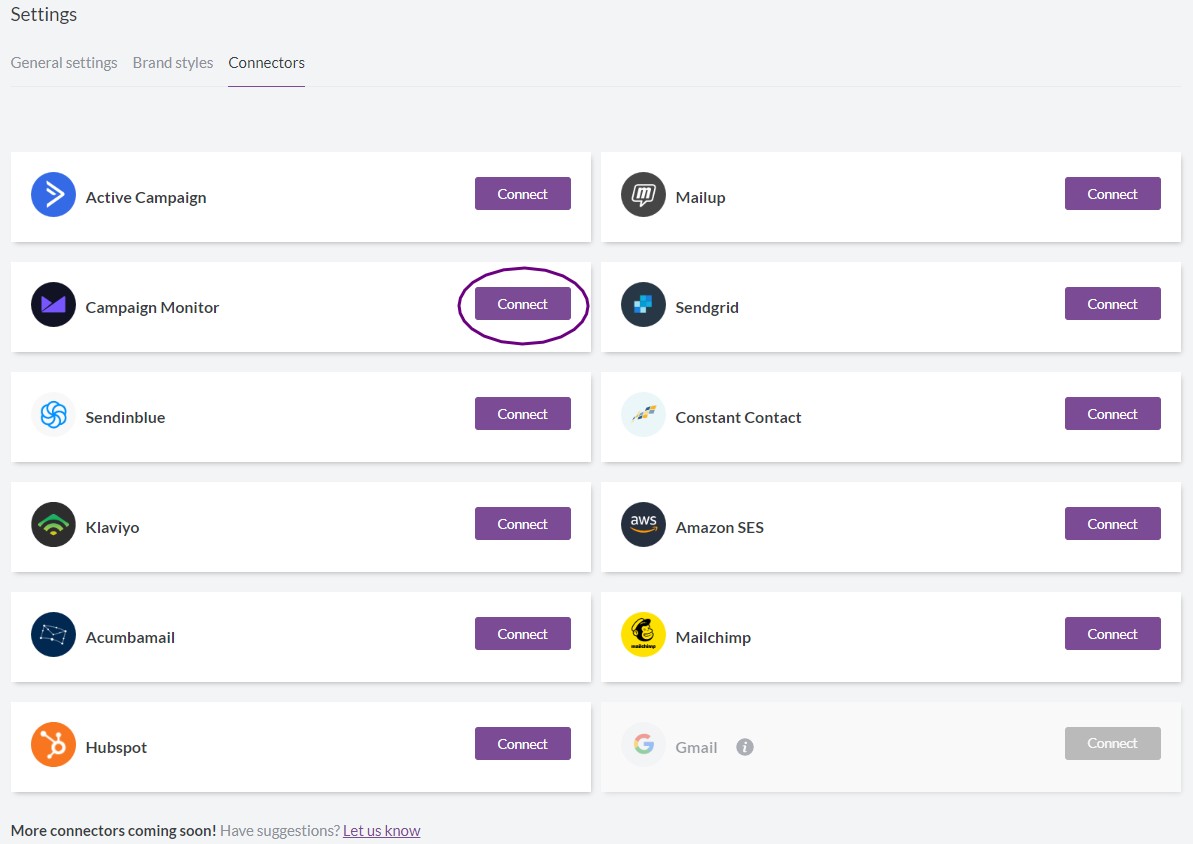 Log into your Campaign Monitor account.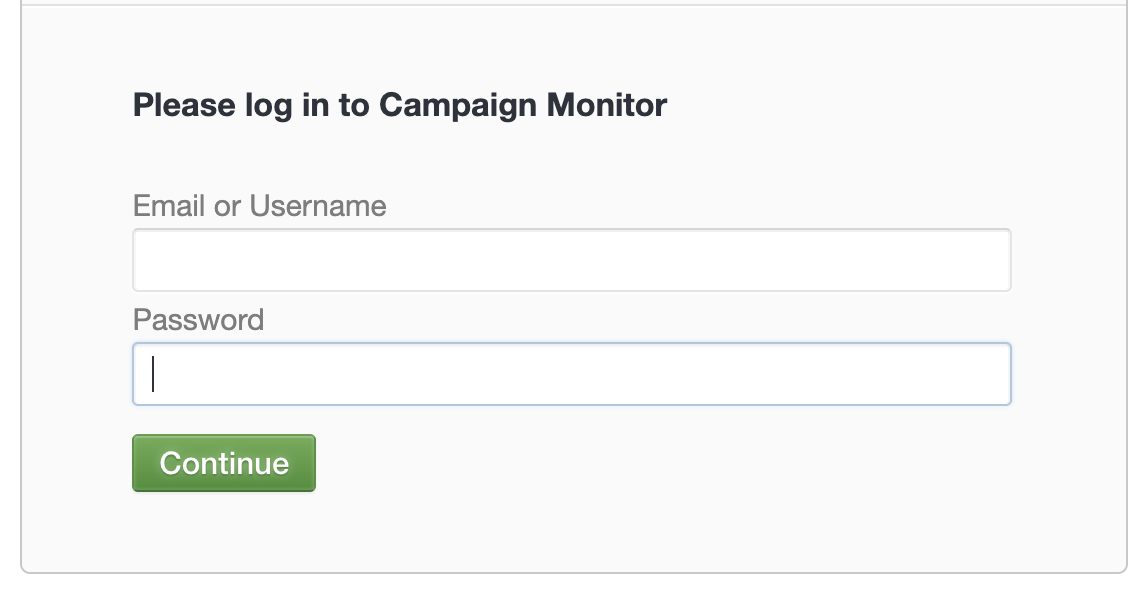 And allow permissions to access your account.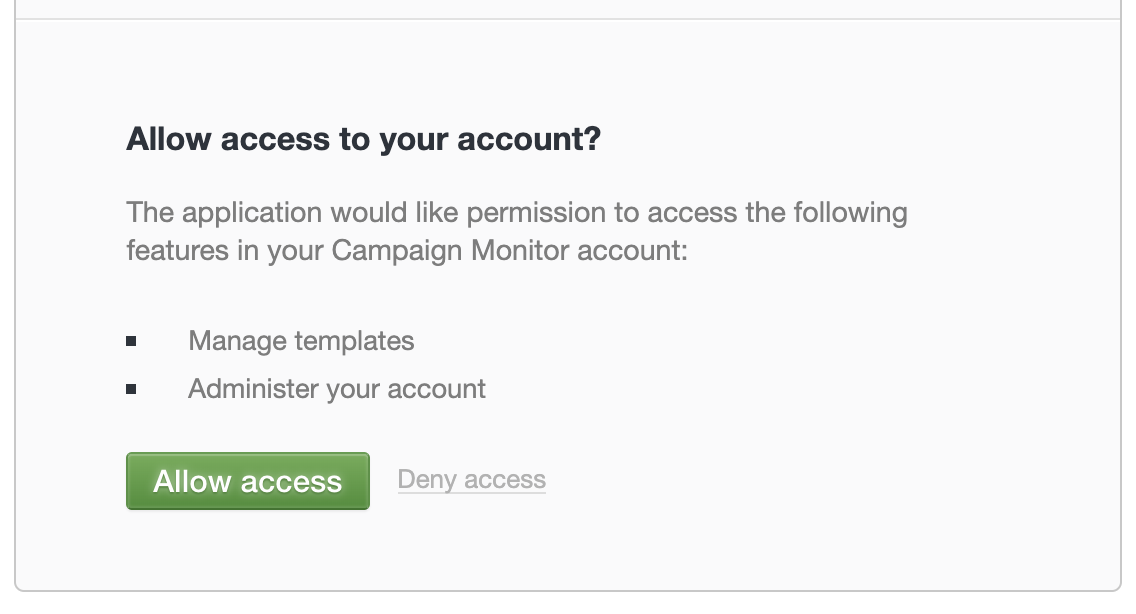 You must be an Administrator for your Campaign Monitor account to set up the connector.
2. Connect from Export
When your message is ready, click on the Export message button found on the Message Details page. This option is also available from the actions menu on the Messages page within your project.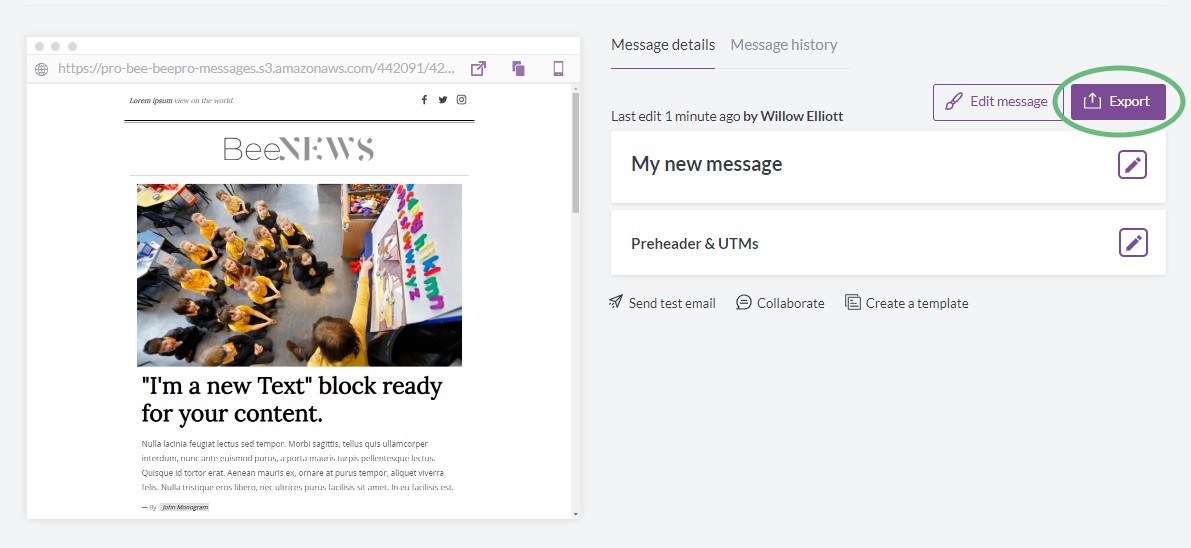 Then click on Push to your sending system.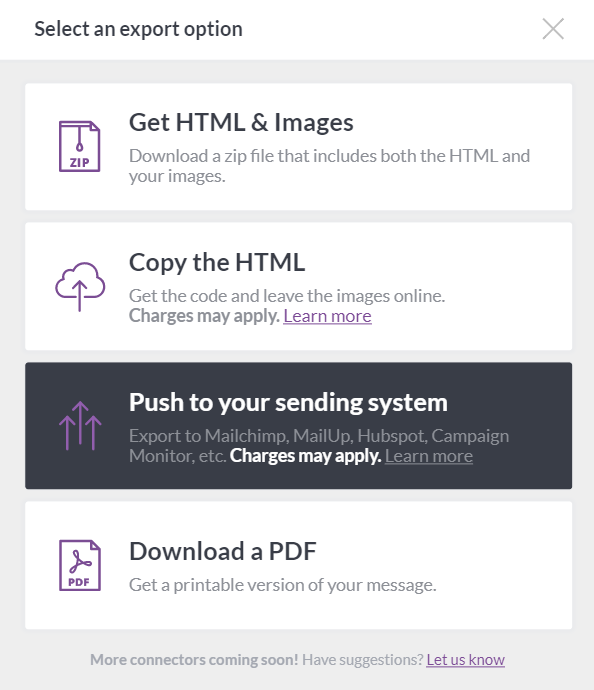 A new window will display with a list of available connectors. Select Campaign Monitor and follow the steps to log-in and connect it.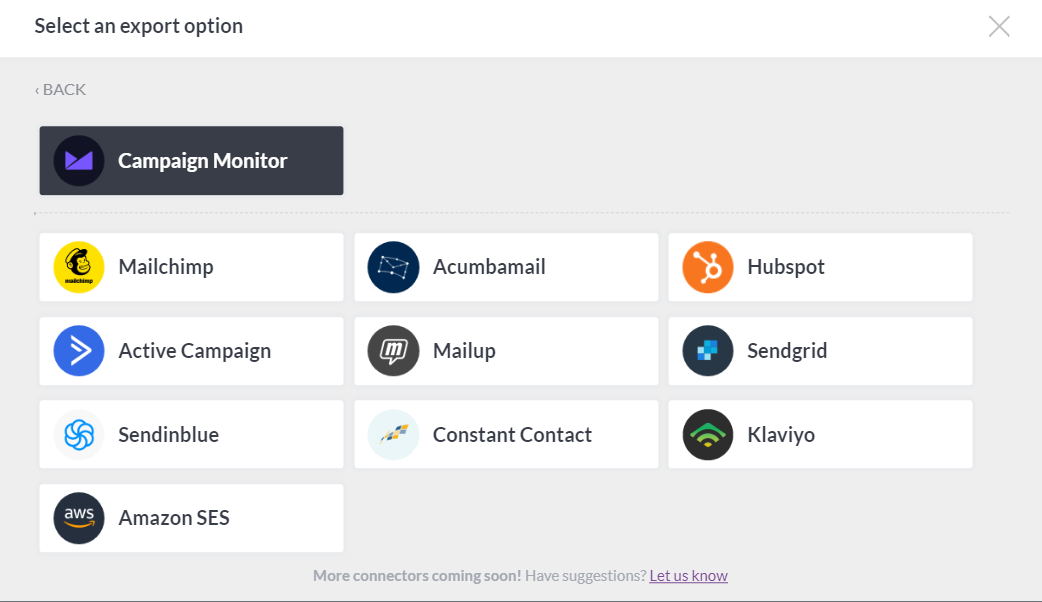 BEE Pro will confirm that the message is successfully exported. Shortly after, you will see it appear in your Campaign Monitor account.
To locate your message in Campaign Monitor, start from the Overview page. Click Create a new campaign and pick your message from My templates section.
Any doubts? Read our blog post!
Campaign Monitor Required Content
Campaign Monitor requires the <unsubscribe>Unsubscribe</unsubscribe> syntax to be part of your email template. If this is not included, you will receive an error message when you try to export it. To add this syntax to your BEE Pro email, follow these steps:
Locate the area where you want to have the unsubscribe link
Add a text block, if one is not already there
Position the cursor in that text block, in the location where you want the unsubscribe link
Click on Merge tags and select Unsubscribe (Campaign Monitor) to insert it: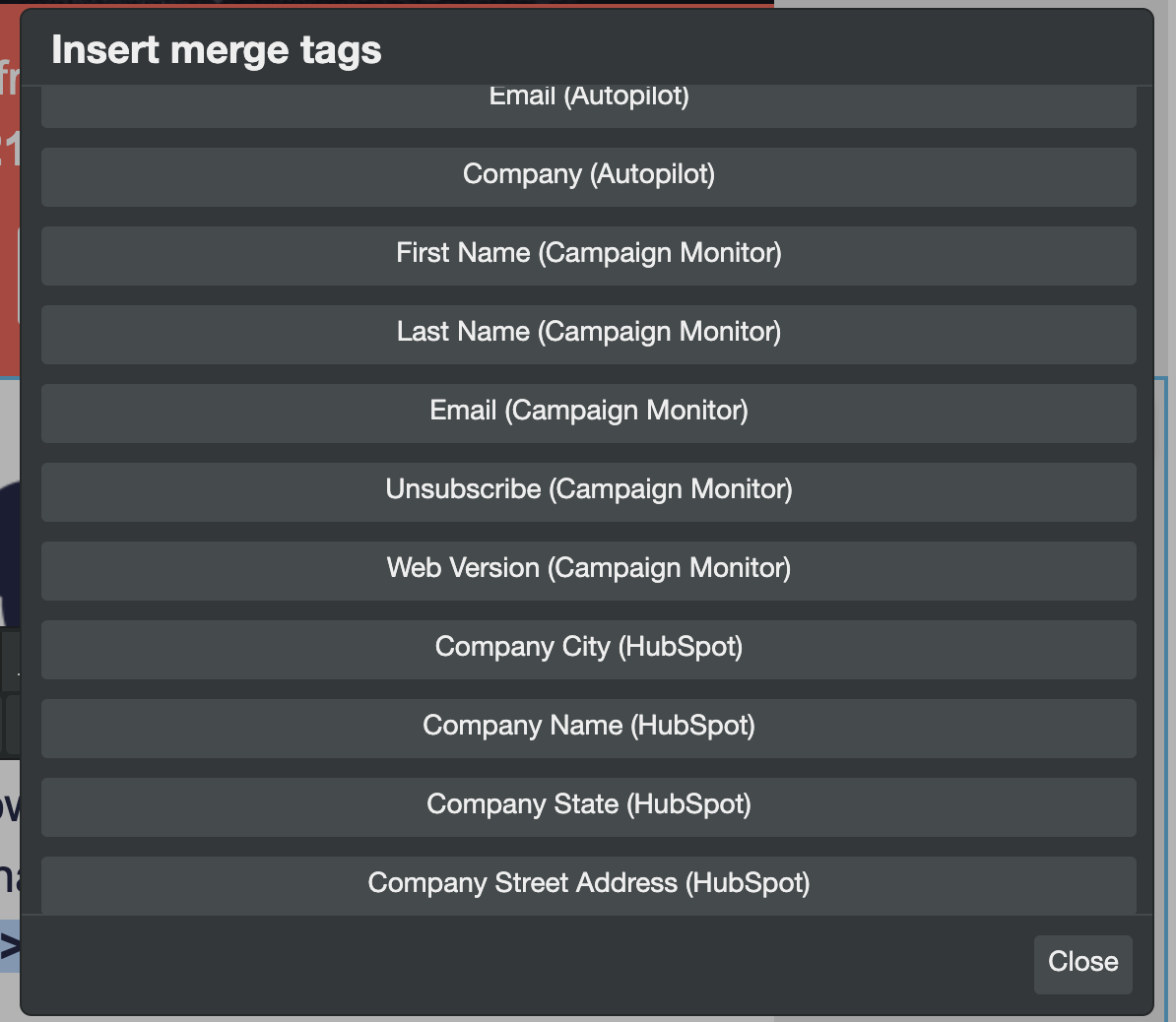 If you do not see Unsubscribe (Campaign Monitor) in the list of available merge tags, you will have to add it as a custom merge tag. However, this option is only available in Team and Agency plans.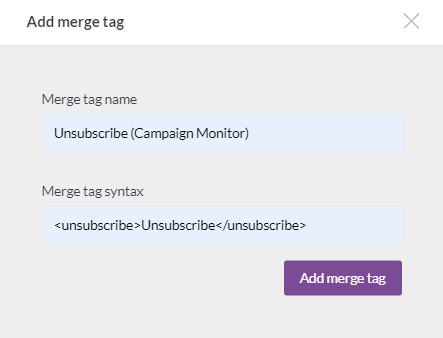 For further information on adding and managing merge tags, please see Merge tags & Special links settings.
Note that you can only add the unsubscribe link by inserting a merge tag. If you type the syntax directly in the text block, some characters will be encoded upon export. As a result, Campaign Monitor will return an error when importing your template. This syntax will also be stripped by custom HTML blocks since the BEE editor doesn't recognize it.
Also, note that the merge tag should have these properties:
contain the word you want to turn into the unsubscribe link (e.g. "Unsubscribe" in the example shown above)
have that word be at least 3 characters long (e.g. it could say "Remove me from this list")
not contain a link: Campaign Monitor will automatically convert it into a link
not be a text email unsubscribe link [unsubscribe]
not be inside another Campaign Monitor tag
not be inside another link (ie. an <a> tag)
Multiple Brands / Customers
Do you have different brands and need to easily manage all your email messages and templates?
No problem! The Agency Version of BEE Pro allows you to set up different brands so you can better organize your email creation workflow. Agency allows you to specify different connectors for each brand so you never need to switch accounts.
For example, say you are a digital marketing agency with 10 clients that use Campaign Monitor. With Agency, you will be able to create 10 brands in BEE Pro and connect each of them to their specific account.
Looking for a different sending platform? You can check our complete list of connectors for BEE Pro — or request a new one!