Level up your emails in Campaign Monitor
Would you like to connect your Campaign Monitor account to BEE Pro? It's quick and easy, and you can choose to connect the two applications in one of the following ways:
Connect BEE to your Campaign Monitor account before you start designing (from Brand Settings)
Connect the first time you need to send a specific template to Campaign Monitor (from Export)
 Follow the steps below or watch this video tutorial
1. Connect from Brand Settings
Go to Settings / Connectors ...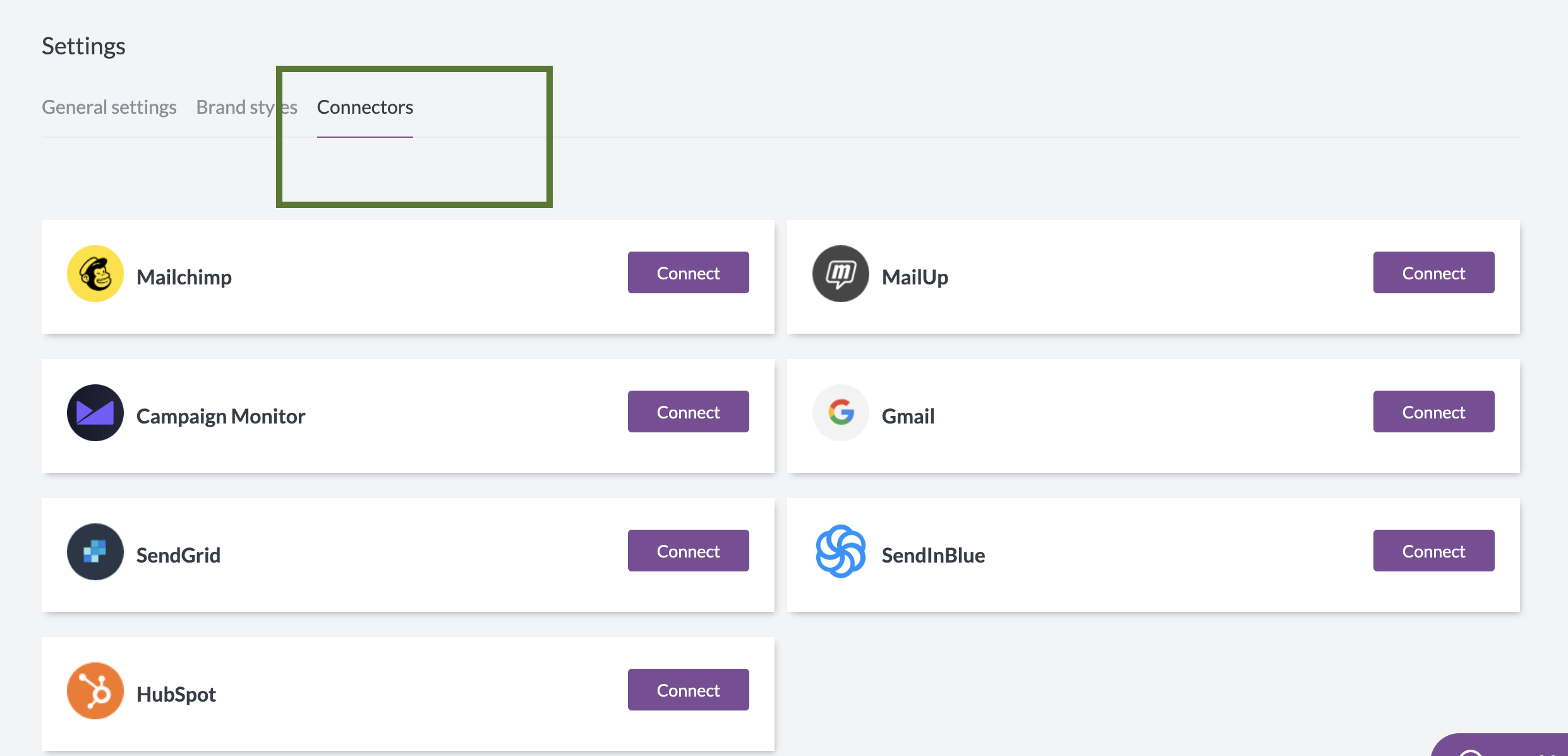 ... Click the Connect button for Campaign Monitor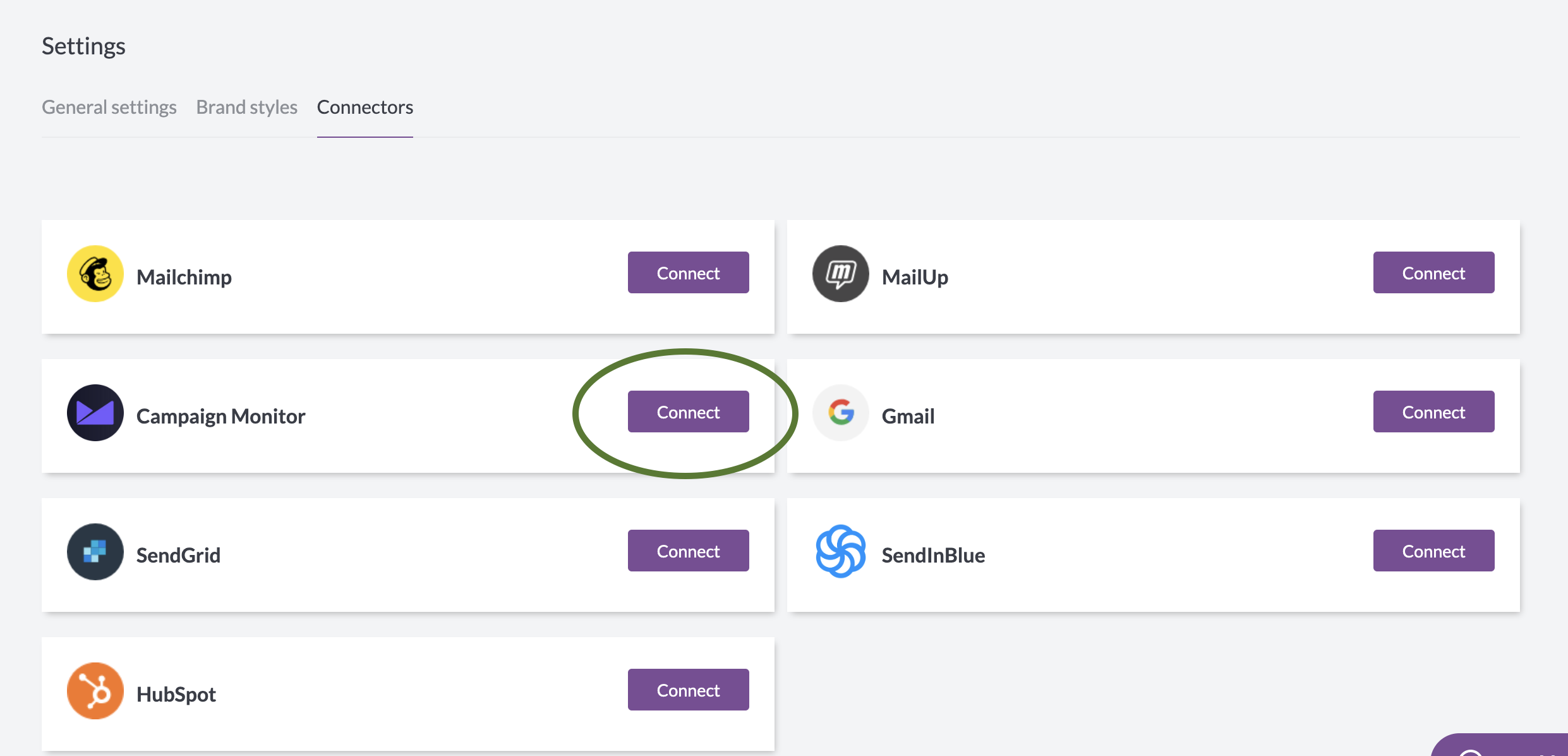 Log into your Campaign Monitor account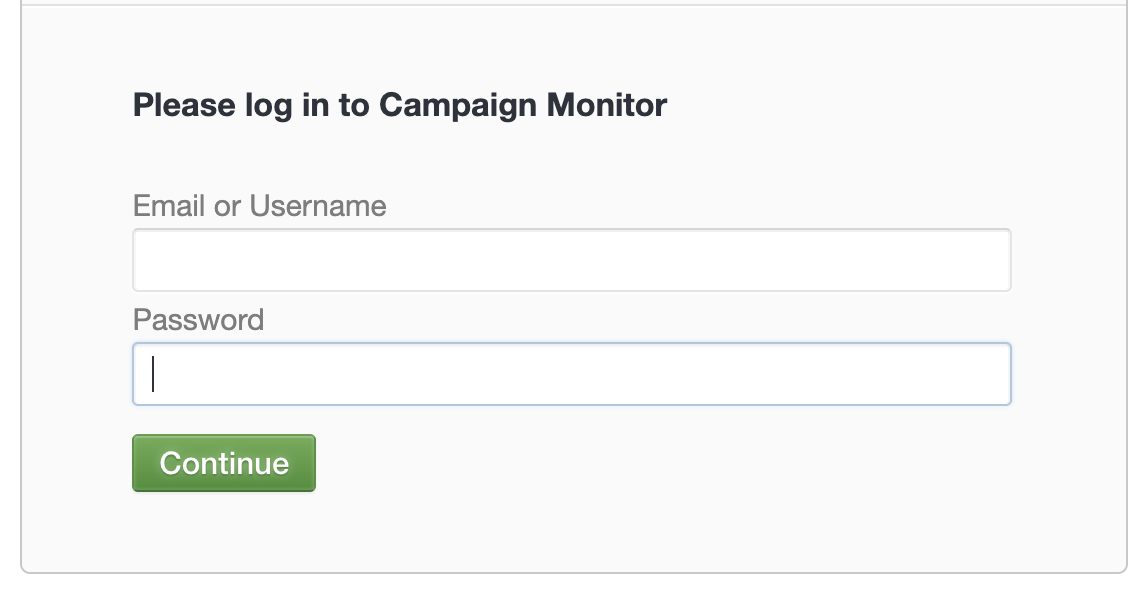 And allow permissions to access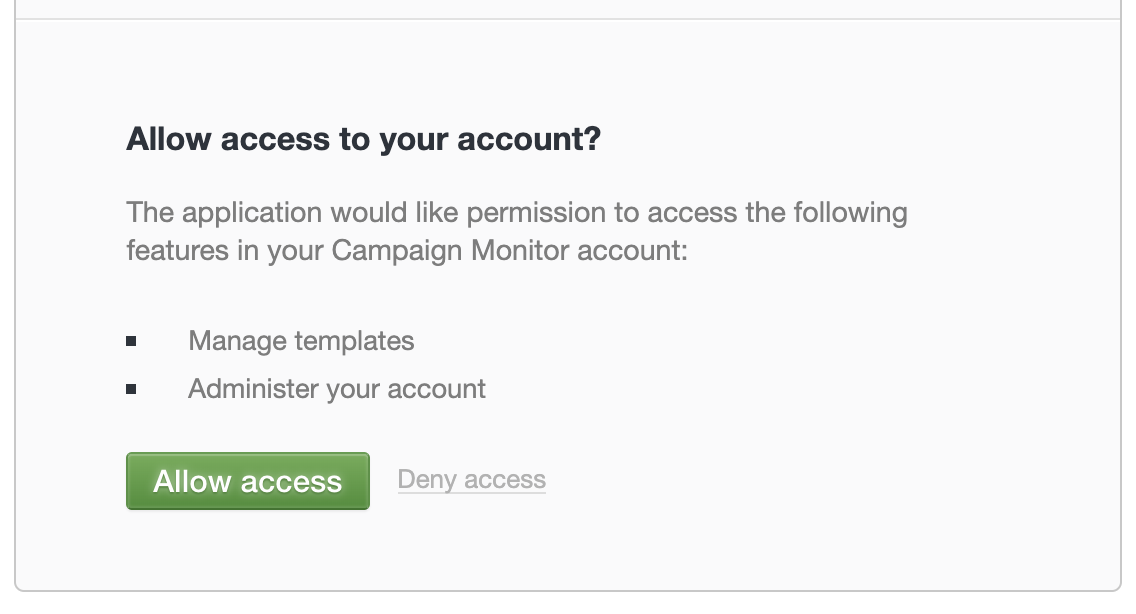 If you often need to switch between different accounts (e.g. you are designing email templates for several customers, each one with their own Campaign Monitor account), you might be interested in using a BEE Pro Agency account, which supports different Campaign Monitor accounts, one for each Brand (see Using brands in BEE Pro).
2. Connect from Export
When your message is ready, click on the Export message button in the Message Details page or by using the actions menu in the Messages page under any Project.

... and then click on Export to another application.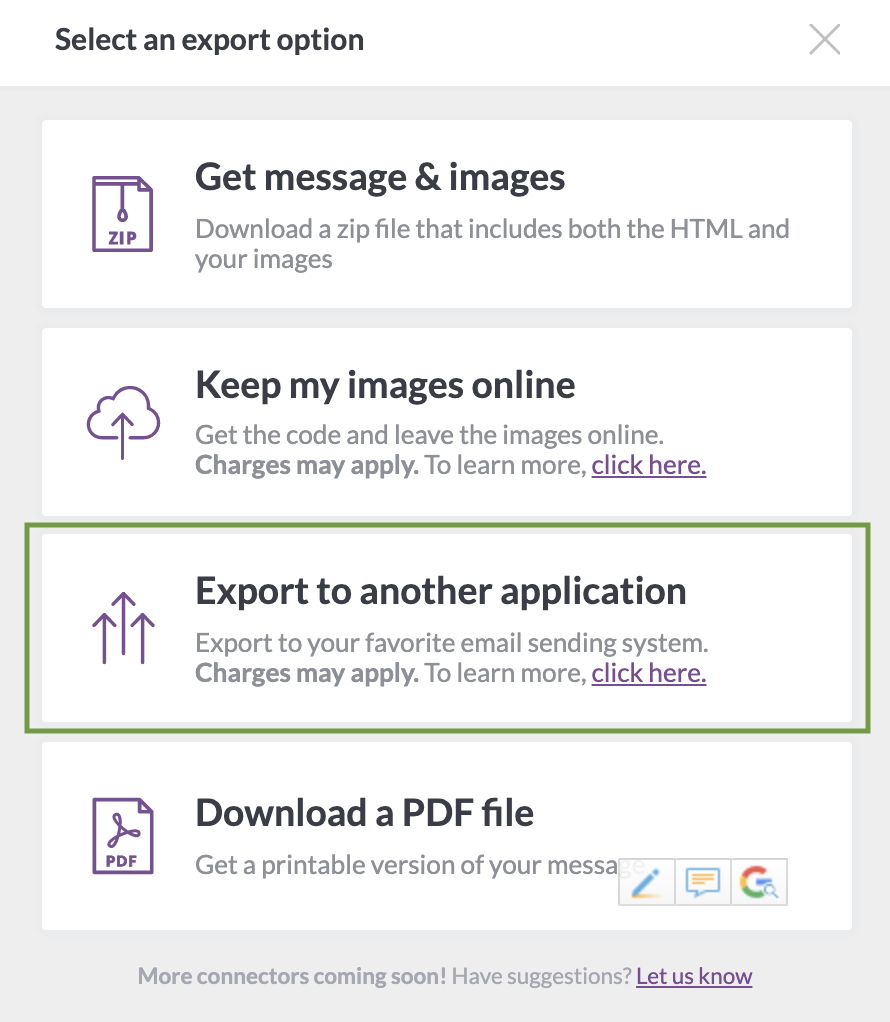 A new window will be displayed with list of available connectors: select Campaign Monitor and follow the steps to log-in and connect it.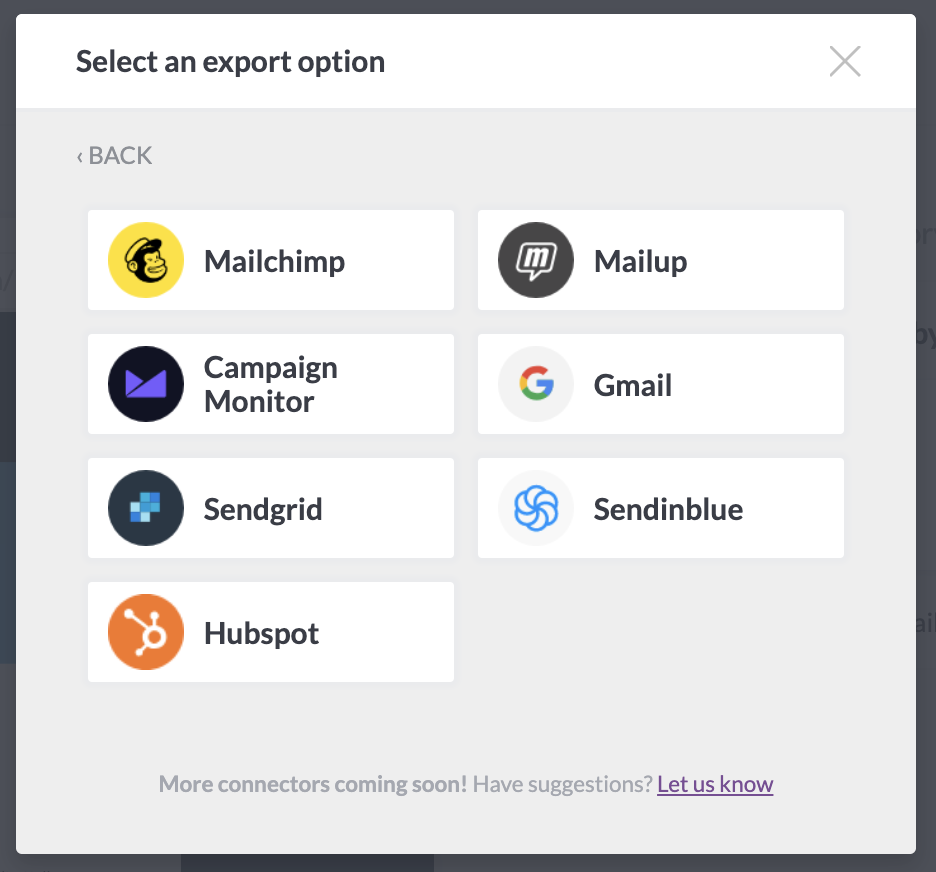 BEE Pro will confirm that the message is successfully exported, and you will see it appear in your Campaign Monitor account. 
Any doubts? Read our blog post!
IMPORTANT: Campaign Monitor - required content
Campaign Monitor requires the <unsubscribe>Unsubscribe</unsubscribe> syntax to be part of your email template (or it will not be accepted when you try to export it). To add this syntax to your BEE Pro email, follow these steps:
Locate the area where you want to have the unsubscribe link
Add a text block, if one is not already there
Position the cursor in that text block, in the location where you want the unsubscribe link
Click on Merge tags and select "Unsubscribe (Campaign Monitor)" to insert it: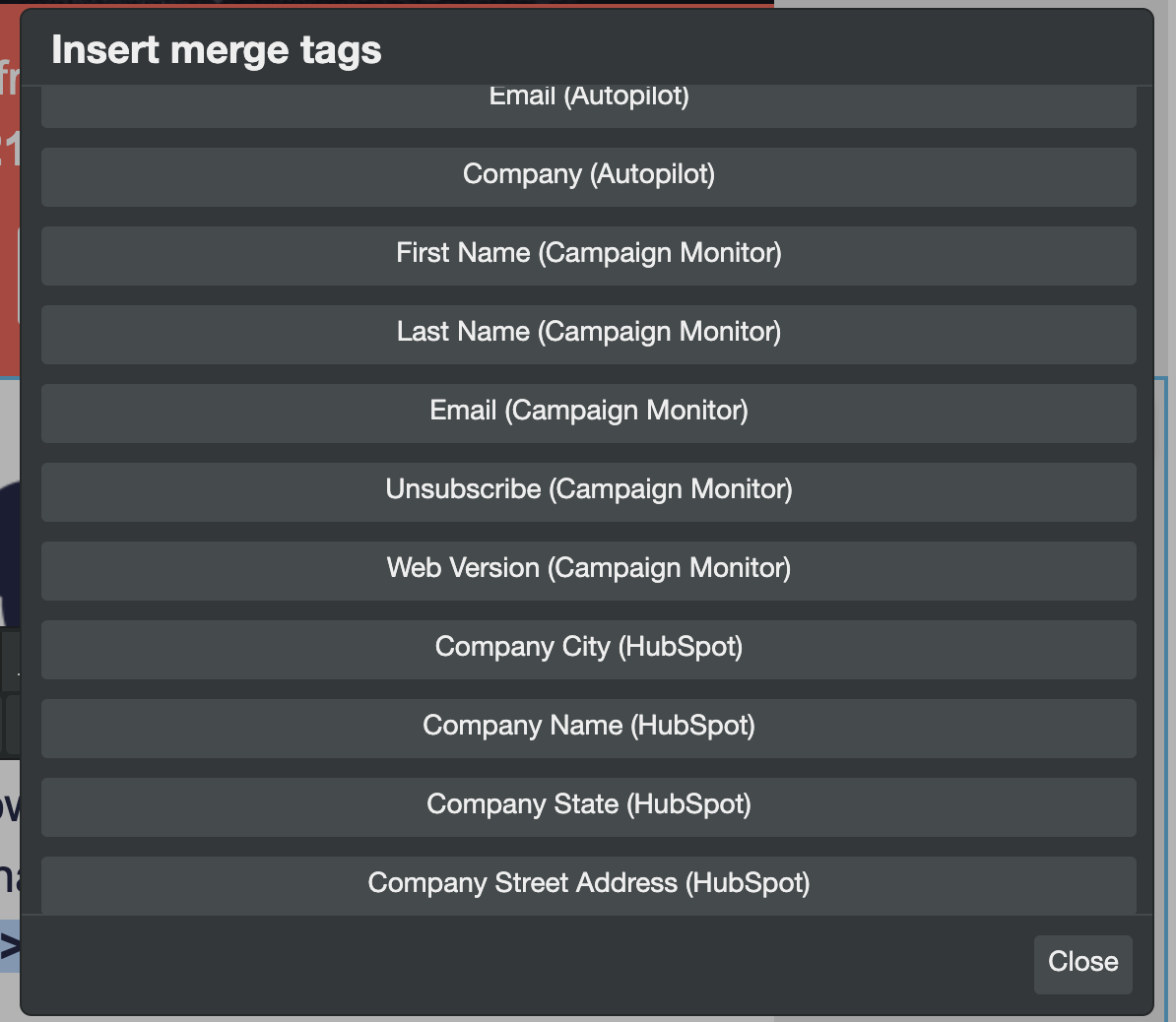 If you do not see "Unsubscribe (Campaign Monitor)" in the list of available merge tags, you will have to manually add it as a new merge tags.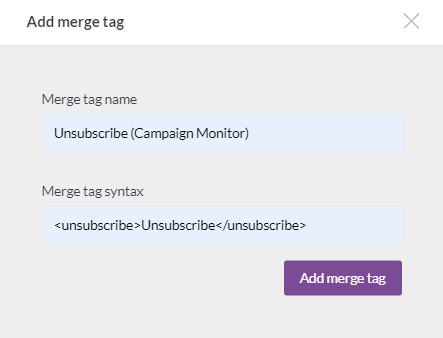 To add and manage Merge tags in your BEE Pro account, select any Project and click on Settings from the navigation at the top. For more information on adding Merge Tags, please see: Merge tags & Special links settings
Note that you can only add the unsubscribe link by inserting a merge tag. If you type the syntax shown above directly in the text block, some characters will be encoded, and Campaign Monitor will return an error when importing your template.
Also note that the merge tag should have these properties:
contain the word you want to turn into the unsubscribe link (e.g. "Unsubscribe" in the example shown above)

have that word be at least 3 characters long (e.g. it could say "Remove me from this list")

not contain a link: Campaign Monitor will automatically convert it into a link

not be a text email unsubscribe link [unsubscribe]

not be inside another Campaign Monitor tag

not be inside another link 

(ie. an

 

<a>

 

tag)
Frequently asked questions 
I'm getting an error message like the one below. What can I do?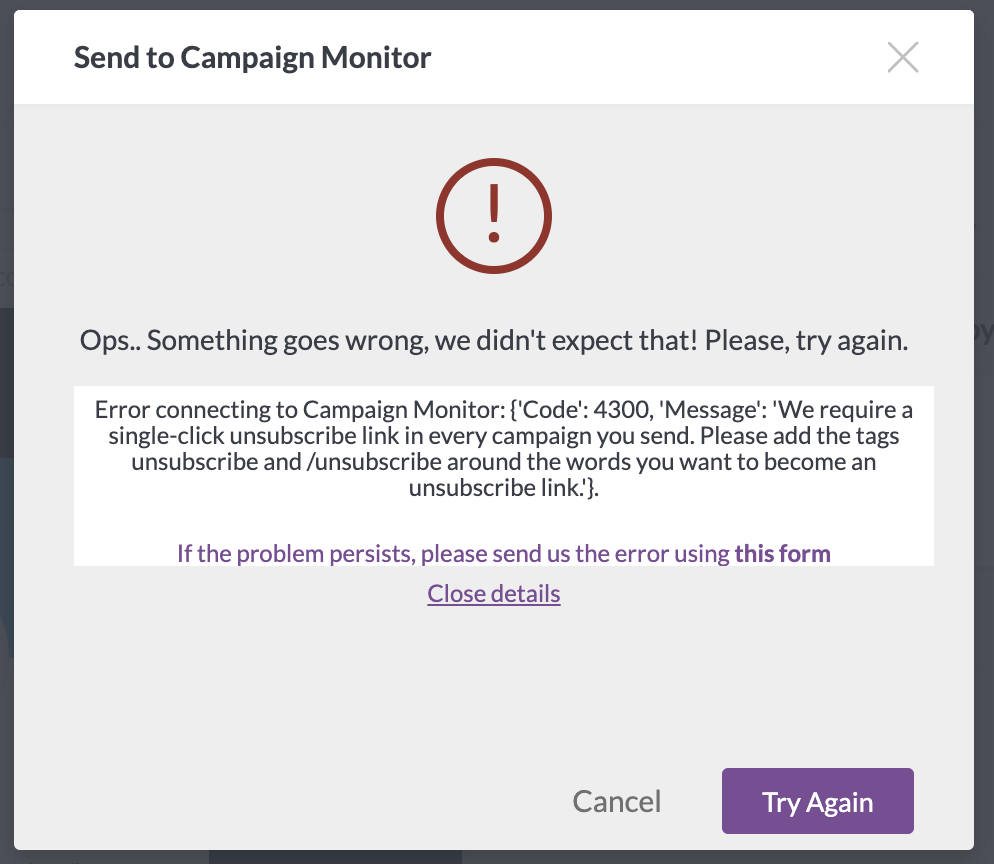 You must add the unsubscribe tag in a text block as described above. If the problem persists, please contact us using the help form or the help widget. 
Multiple Brands / Customers
Do you have different brands and need to easily manage all your email messages and templates?
No problem! As mentioned above, the Agency Version of BEE Pro allows you to set up different brands so you can better organize your emails, control user access, and specify different connectors for each brand (without switching accounts before exporting!)
For example, if you are a digital marketing agency with 10 clients that use Campaign Monitor, you will be able to create 10 brands in BEE Pro and connect each of them to their specific Campaign Monitor account.
Are you curious about the other sending apps' or ESPs' connectors available? Take a look at Using connectors in BEE Pro.