Testing and exporting your emails with Beefree
BEE Pro becomes Beefree
We're still the same design suite you know and love, just with a new name. Our team is working hard to update our documentation, but you might still see some information or screenshots that are out of date.  
This article applies to the Email builder in all plans. However, some features may be limited or unavailable on the Free plan.
Overview
Once you save an email and exit the builder, you see the Email details page. You can also return to this page by clicking on View details in your design list.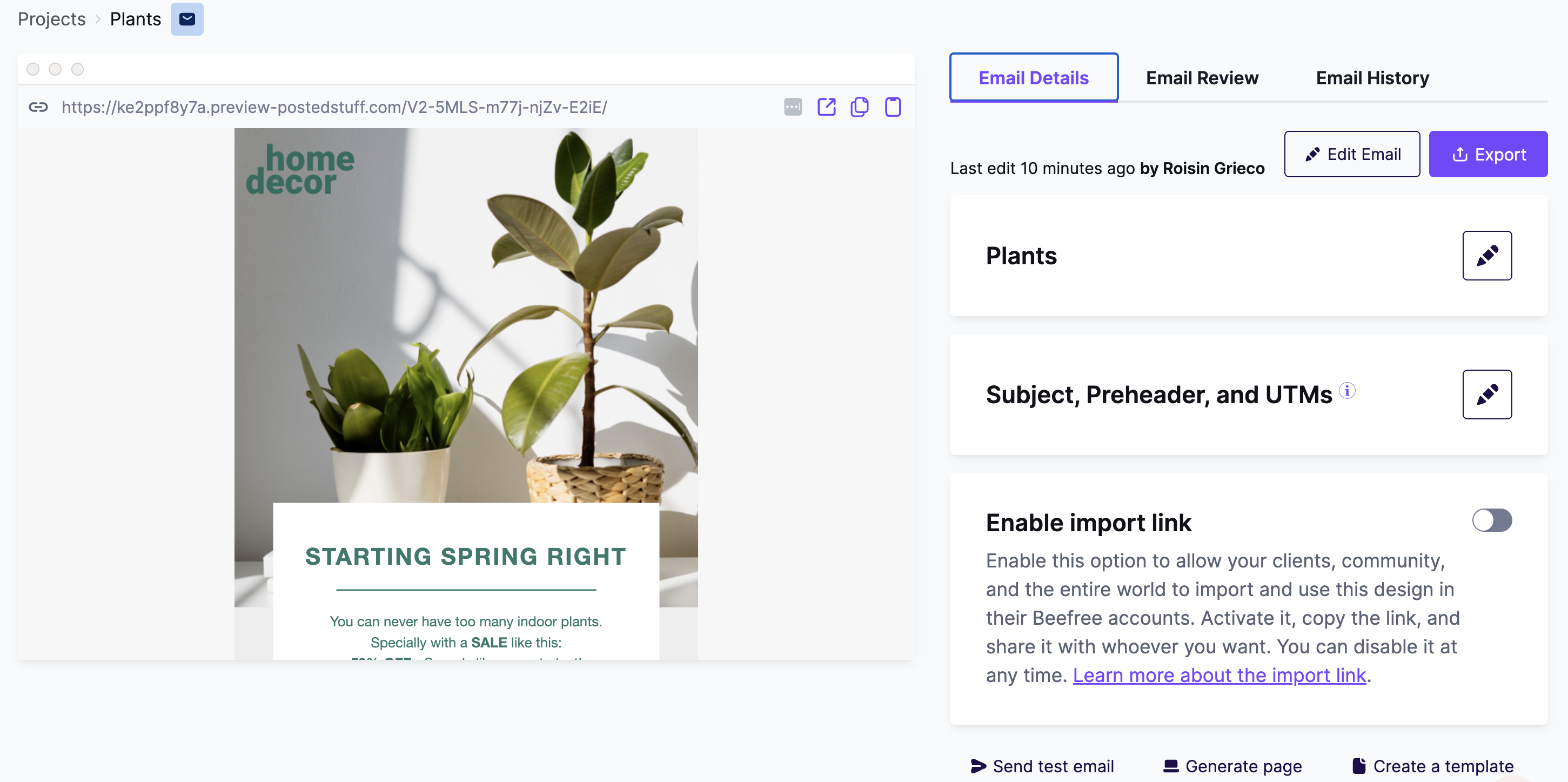 Note that if you are working with a template, fewer options are available (e.g. you cannot export an email template, but rather use it to create an email from it, and then export the resulting email).
Send a Test Email
The Send test option allows you to send the email to yourself, colleagues, clients, etc., and view it in the inbox. It also allows you to send it to another application. For example, you can...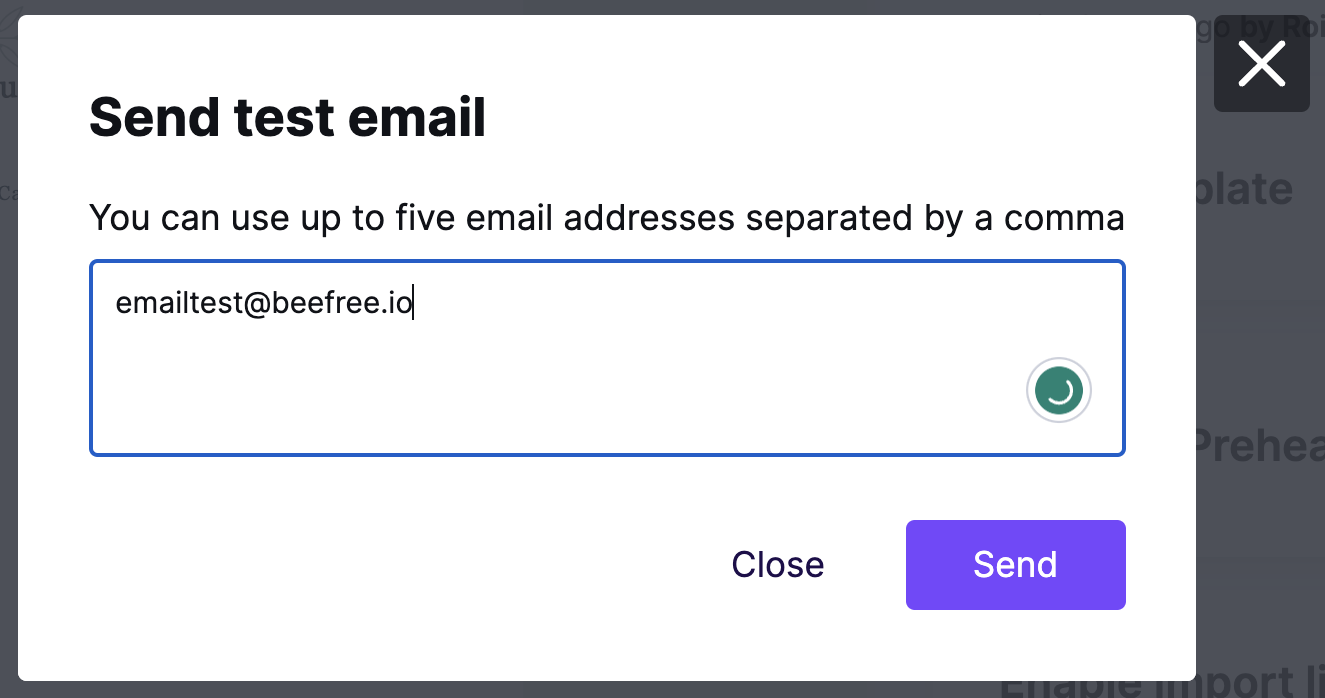 Please note that each email address can be up to 100 characters long.
Download or Export your Email
If you click on Export - both from the Designs page and the Email details page - you will see the following options: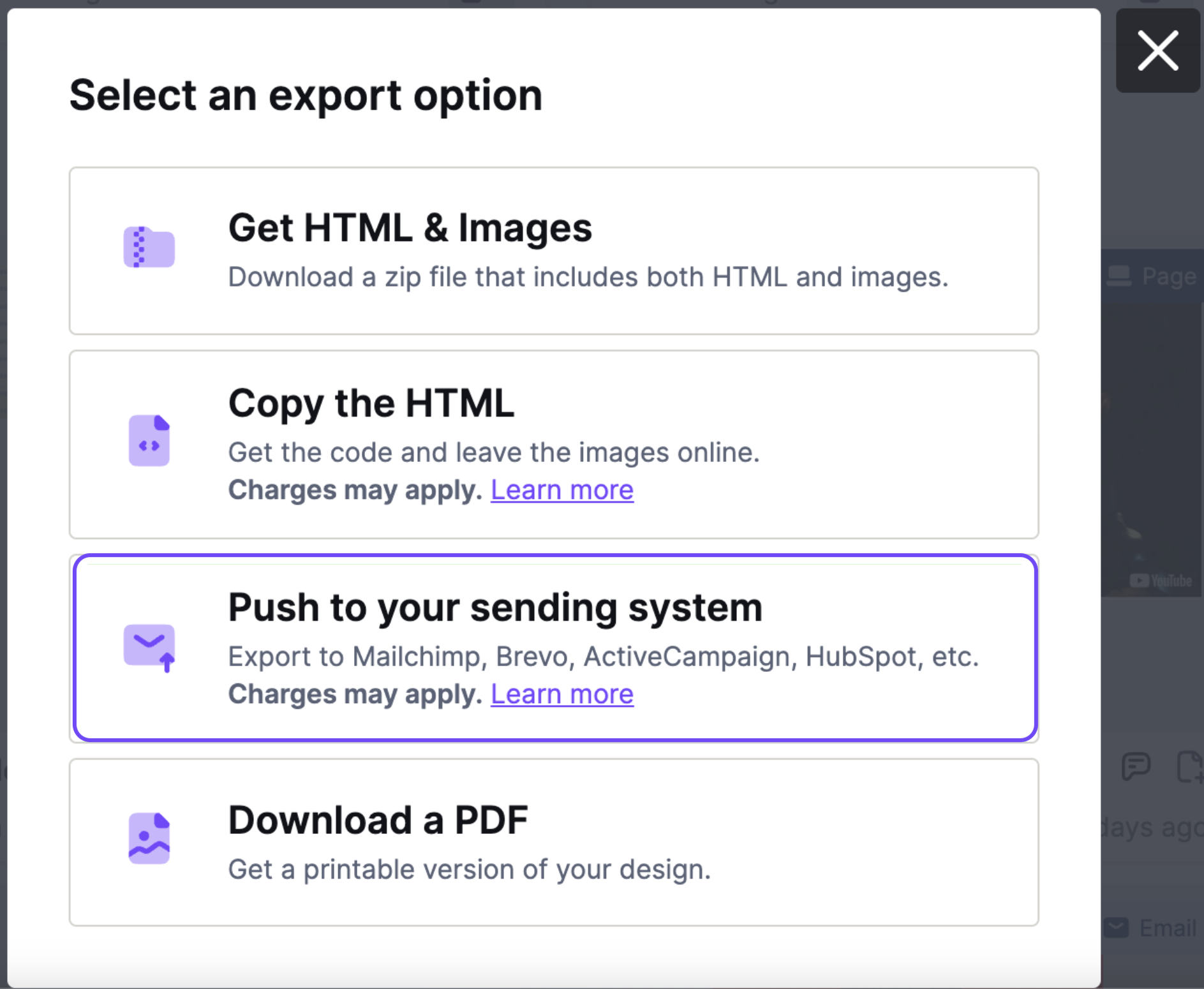 Get HTML & Images
With this option, you can download a ZIP file (which contains both the HTML of the email and all of the images used in the design) on your computer. You can import this file into any email marketing application that allows the ZIP import, like MailUp and Mailchimp, for instance.
If you unzip the ZIP file that has been downloaded to your computer, you will notice that the images have been placed in an "images" folder and that the HTML is written so that the image links in it point to those local images. This means that if you copy and paste the HTML "as is" into another application, the images will not be shown because the HTML is looking for them in that local "images" folder.
How can I solve this? You have many options:
Current limitations
Please note that images over 1 MB (or 1000 KB) will not populate in your ZIP folder, and will remain hosted on Beefree. To prevent this, resize your image to a smaller file size before you upload the image to the Beefree file manager. 
Copy the HTML
With this option, you can keep your images online and download only the HTML of the email. You can either Copy the HTML code and paste it into another application, or Download as an HTML file.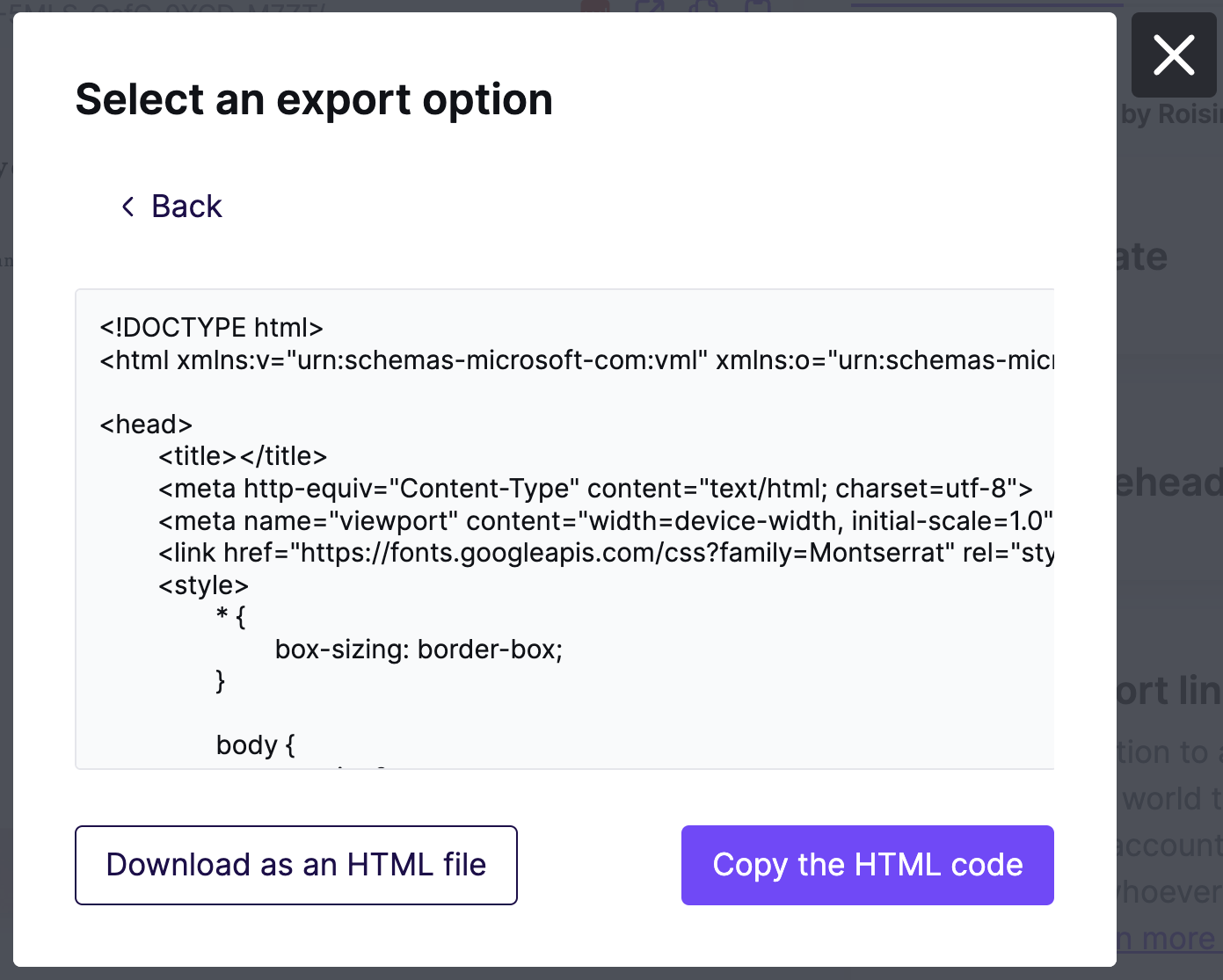 This is a good option if you need the email to be more portable. That is, you don't want to have to worry about uploading images to another application.
In that case, you will be leaving the images hosted in Beefree and they will be delivered to recipients of your emails using the fast CloudFront content delivery network. Please note that charges may apply if you exceed your data transfer allowance in a billing period. 
Are you having problems downloading? 
Your browser should prompt you to save the HTML file to your computer, as shown below.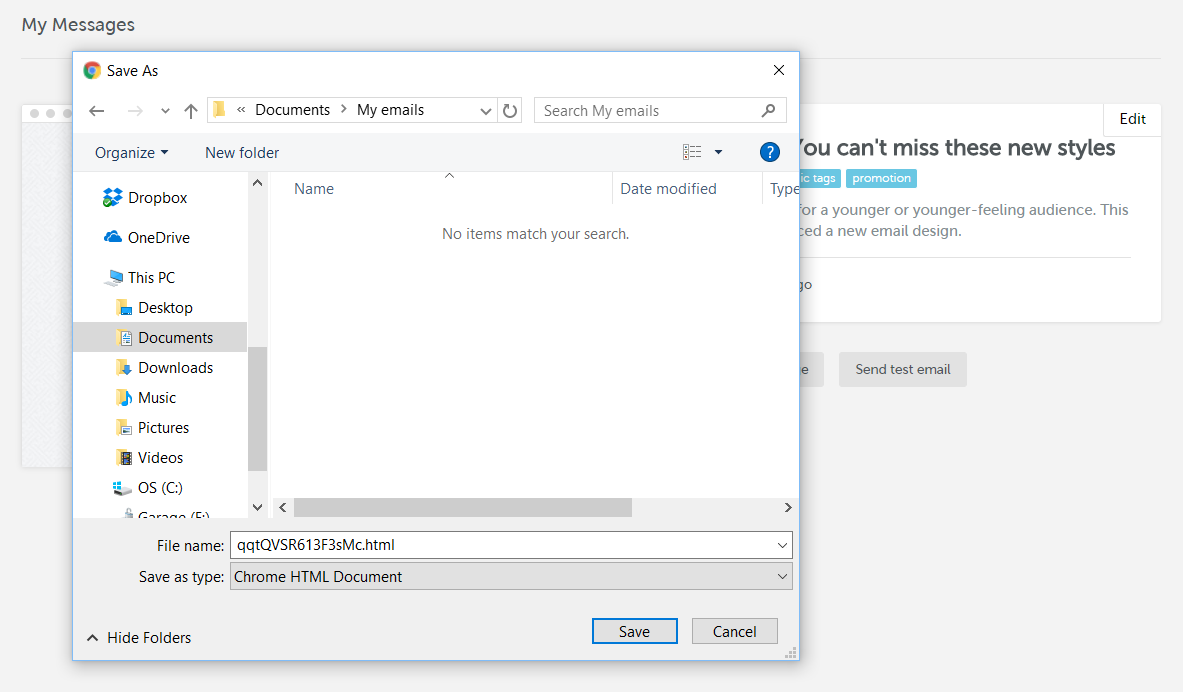 If you are not seeing this kind of window, but rather the browser automatically opens the HTML document, you may need to change your browser settings so that it always asks you where to save a file. For example, in Chrome, the setting looks like this:

Push to your sending system
With this option, you can connect your Beefree with your sending app or ESP to easily send your emails from Beefree to the ESP. Select the application that you want to export the email to, and follow the instructions on the screen.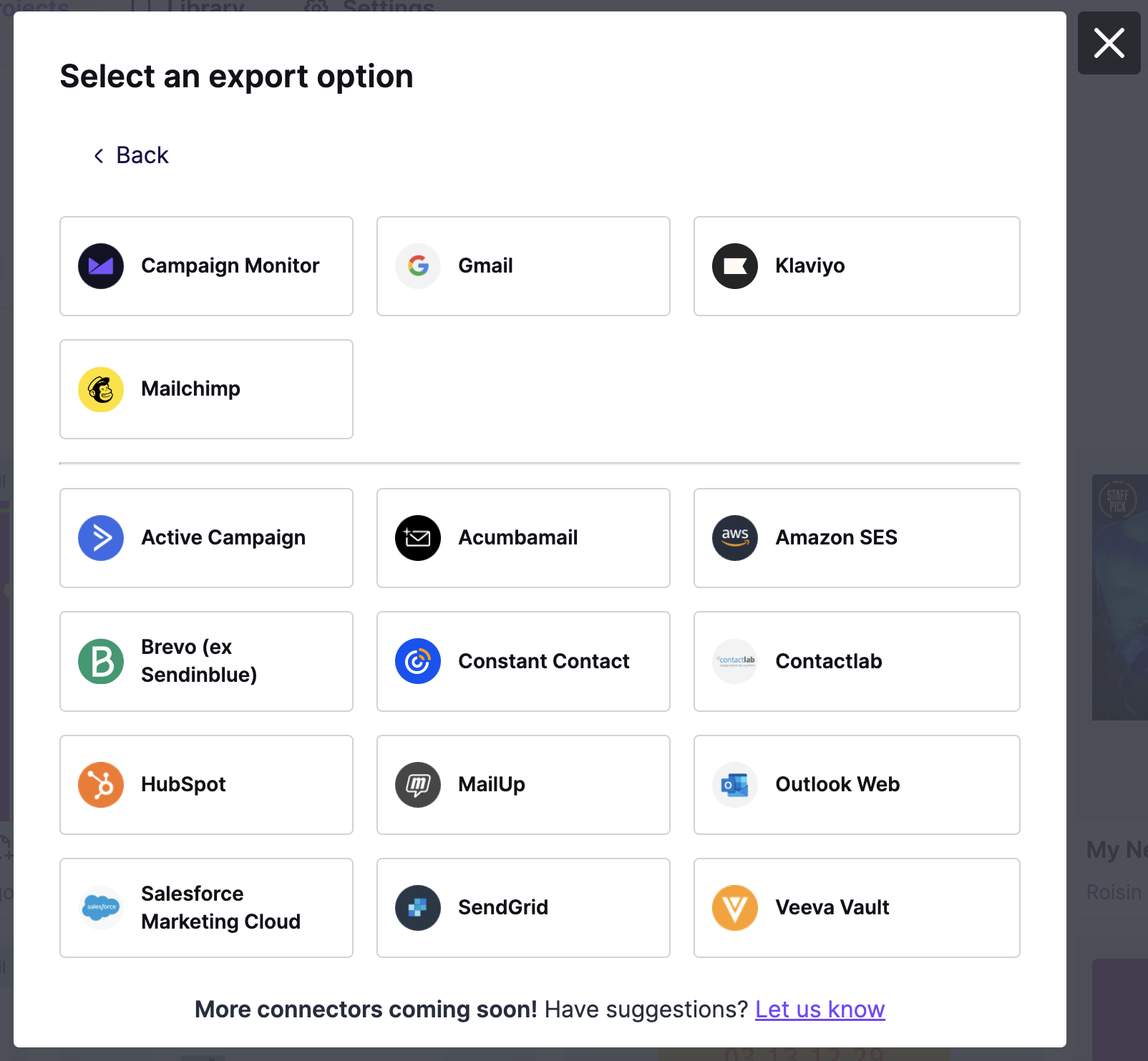 Download a PDF
This feature is not available in the Free plan.
The PDF export gives you the following options:
One long document (Desktop version)
One long document (Mobile version)
US Letter
A4
A3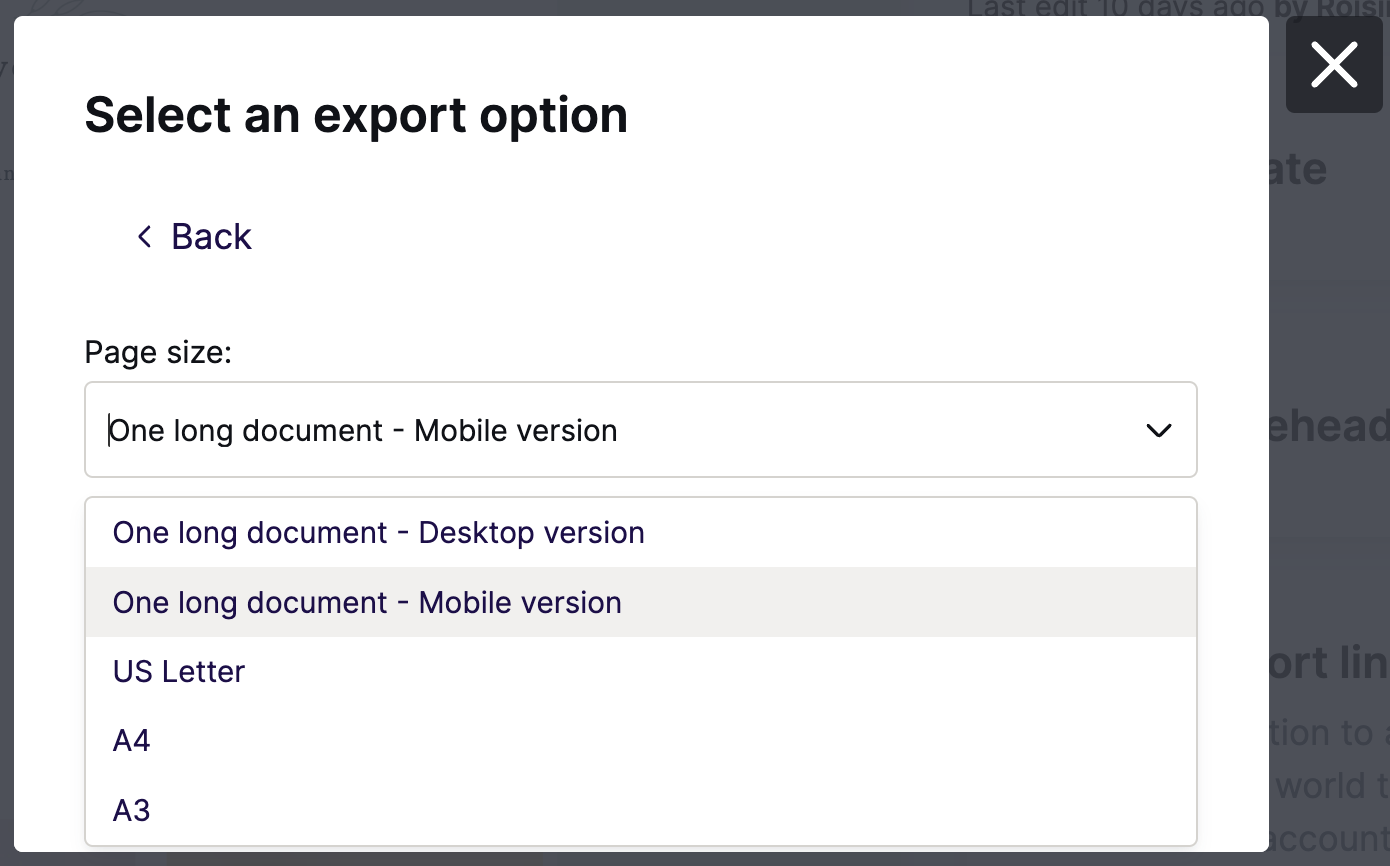 Keep in mind that PDFs are not mobile-responsive. Use One long document (Mobile version) to generate a PDF that matches the mobile preview for your design. All other options will match the desktop preview of your design.
If you select any of the last three settings, you can pick either a portrait or a landscape layout.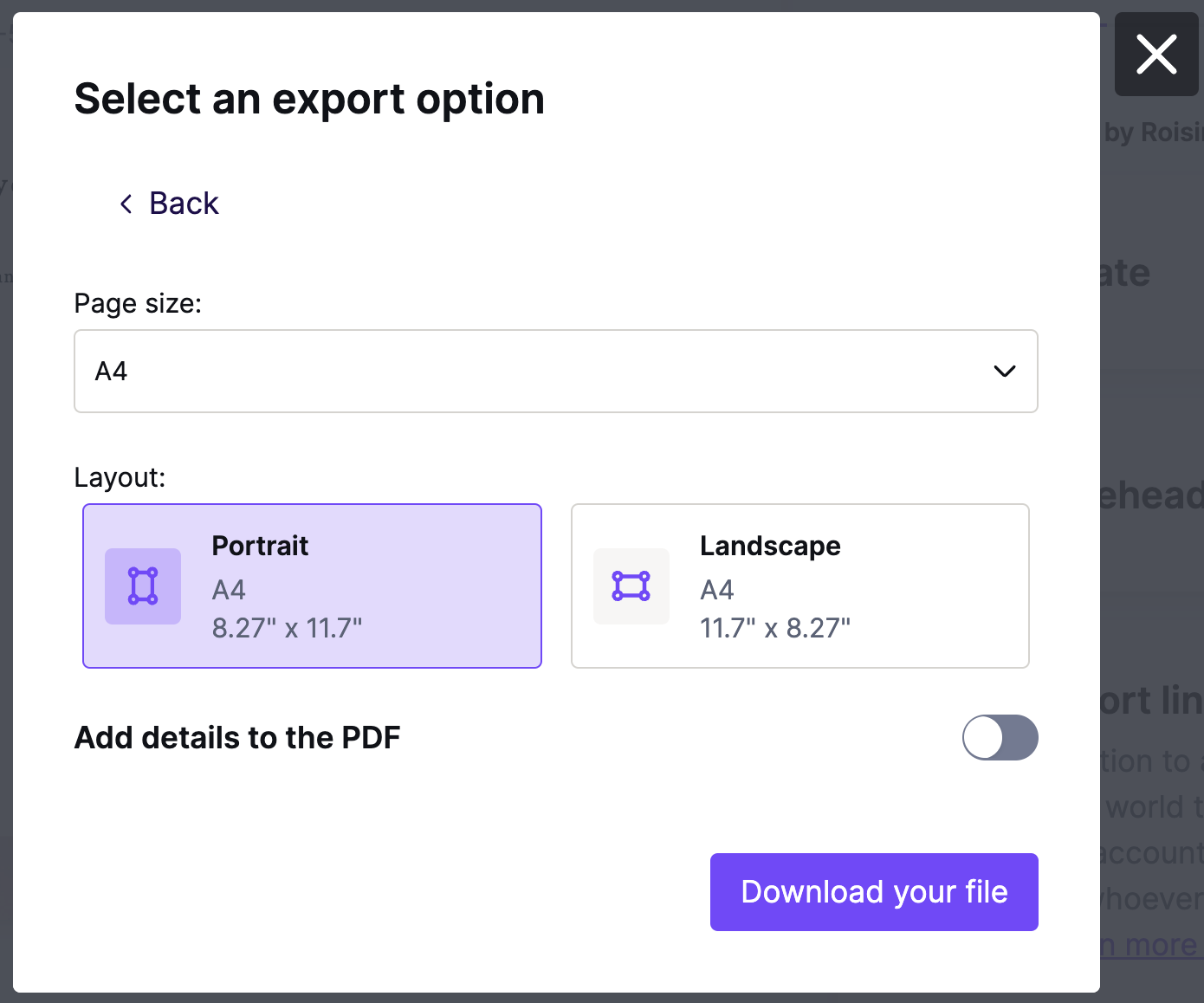 Now you can include additional information on PDF exports. You'll find the included details at the top of your PDF document. For emails, you can add a subject and preheader. For pages, you can add a title and meta description. To do this, enable the Add details to PDF toggle. You can manage these fields from the details page or directly from within the modal.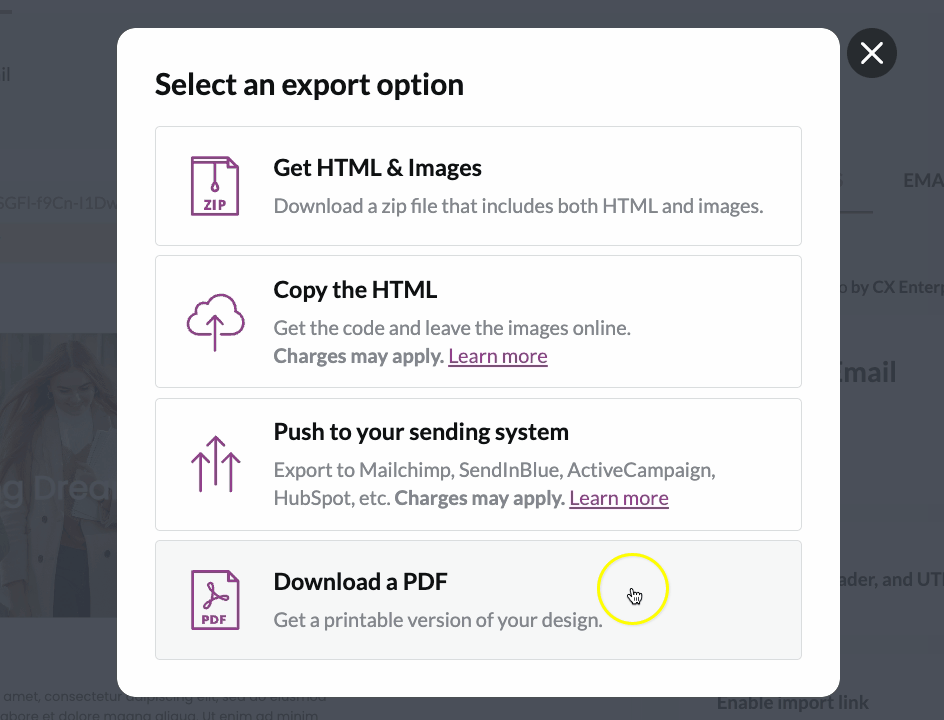 Click on Download your file to get the PDF. 
Current limitations
Please note that custom fonts, as well as emoji characters, are not fully supported in the PDF export feature at the moment.
Other ways to export to another application
With regard to exporting your emails to other applications, also see:
If you have any questions, feel free to contact us.