Just launched: direct export to MailChimp, Gmail, SendGrid, MailUp and HubSpot. Many others coming soon!
Once you save a message, you will exit the editor and land on the Message details page. You can also return to this page by clicking on View details in your message catalog.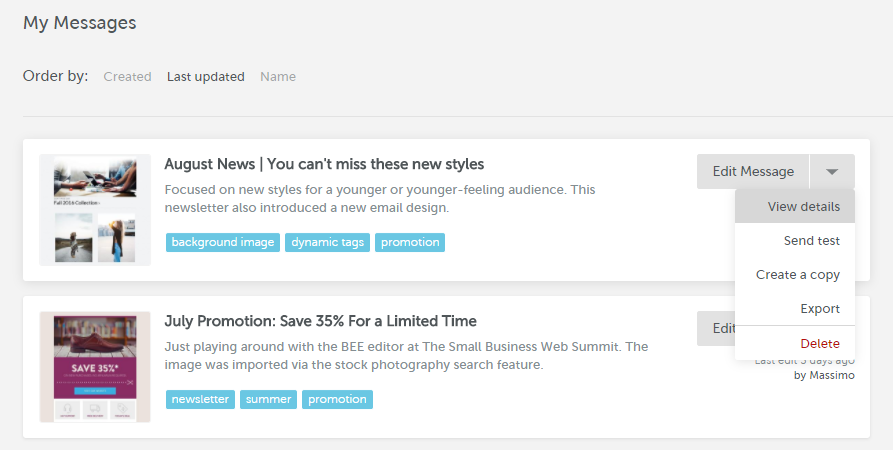 The Message details page allows you to...
edit the message title and notes.
preview it, scrolling vertically if needed.
launch the editor to modify it.
send a quick test to view it in your inbox (or to send it to another system).
download the message as an HTML file, with local or remote image links.
export the message to MailChimp, Gmail and other sending platforms.
Let's look at some of these features in more details.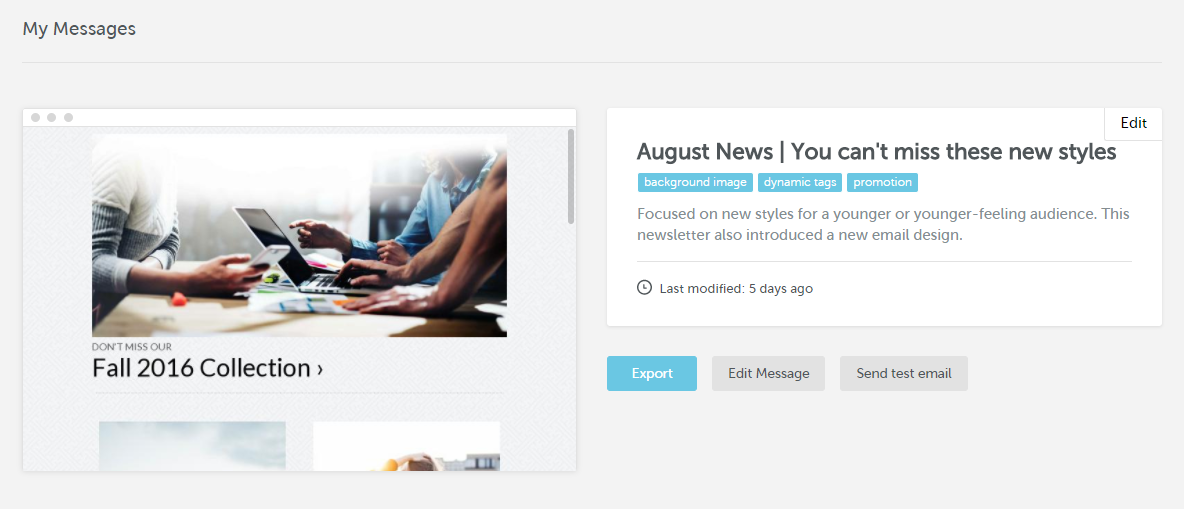 Sending a test email
The Send test email feature is not intended for sending a campaign. Instead, it allows you to send the message to yourself, colleagues, clients, etc. and view it in the inbox.
It also allows you to send it to another application. For example, you can...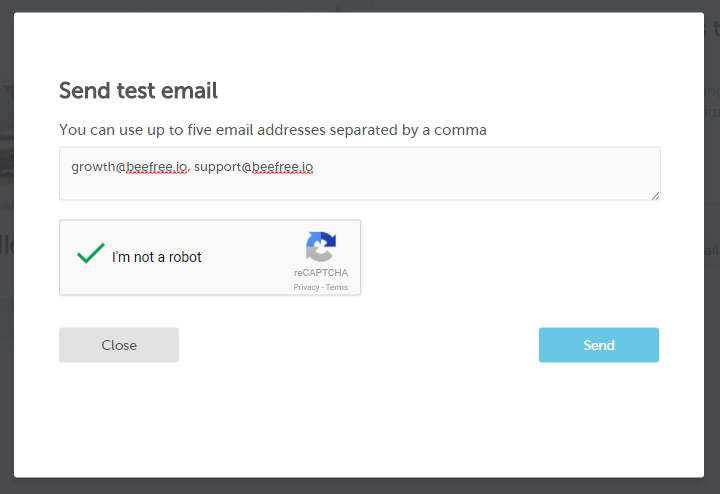 Downloading or exporting your message
When you click on the Export - both from the Messages page and the Message details page - BEE Pro gives you three options: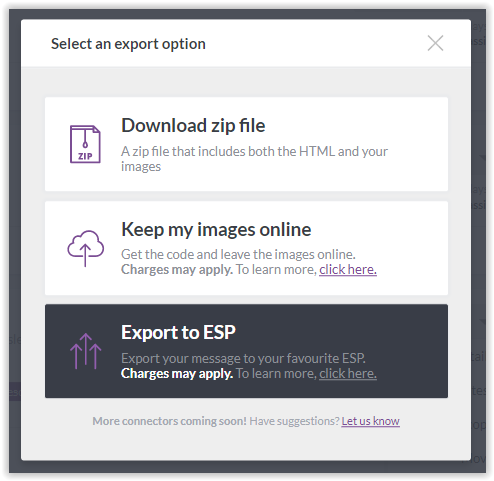 Downloading a ZIP file (HTML + images)
BEE Pro will generate a ZIP file that contains both the HTML of the message and all of the images used in the design.
The ZIP file will be downloaded to your computer so you can take it and import it into any email marketing application that has a ZIP import feature, like MailUp and MailChimp, for instance.
Depending on your browser's settings, when you click on Download zip file the ZIP file may be automatically downloaded to your computer (e.g. the Downloads folder), without any action on your side.
If you unzip the *.zip file that has been downloaded to your computer, you will notice that the images have been placed in an "images" folder, and that the HTML is written so that the image links in it point to those local images. This means that if you copy and paste the HTML "as is" into another application, the images will not be shown because the HTML is looking for them in that local "images" folder.
To get around the problem:
Download the HTML only
The second export option that BEE Pro provides is to Keep my images online and only download the HTML of the message. This is a good option if you need the message to be more "portable". That is, you don't want to have to worry about uploading images to another application.
In that case, you will be leaving the images hosted in BEE Pro and they will be delivered to recipients of your emails using the fast CloudFront content delivery network. Please note that charges may apply if you exceed 10GB of total image data transferred in a billing period. Learn more about using hosted images.
Your browser should prompt you to save the HTML file to your computer, as shown below.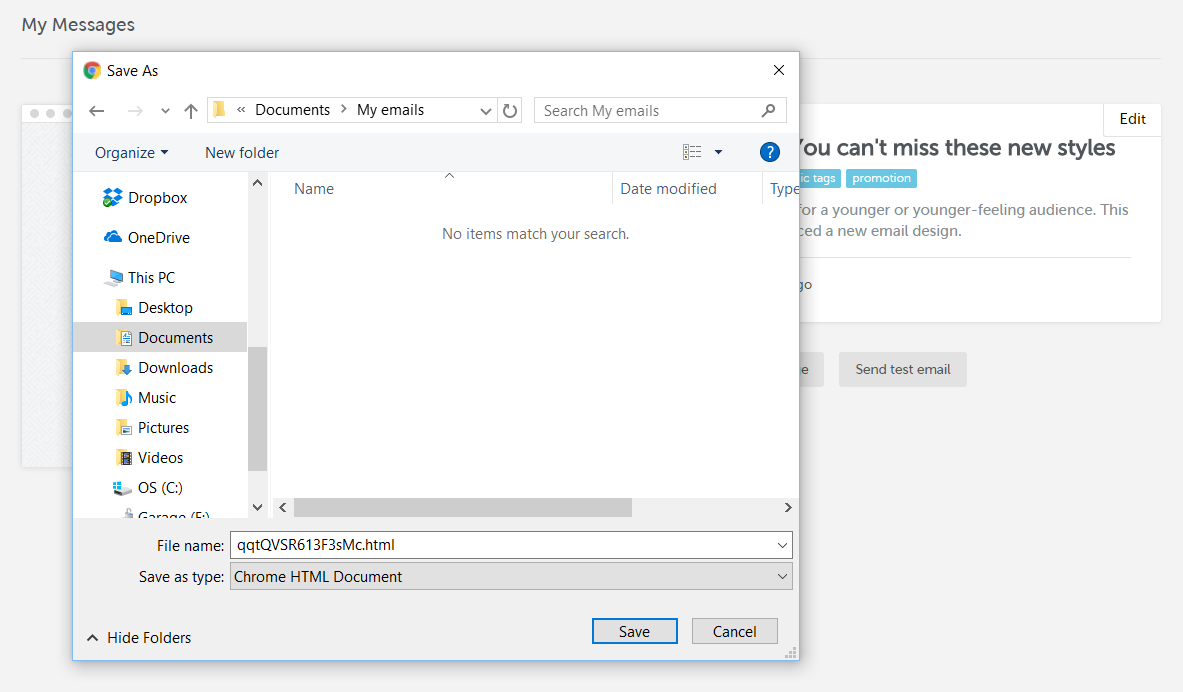 If you are not seeing this kind of window, but rather the browser automatically opens the HTML document, you may need to change your browser settings so that it always asks you where to save a file. For example, in Chrome, the setting looks like this.

Exporting to another application
We are adding "connectors" to many email sending applications, including MailChimp, Gmail, MailUp, SendGrid, and many others. Once a connector is active (see Using connectors in BEE Pro), it becomes available in the Export to ESP step of the Export wizard. Select the application that you want to export the message to, and follow the instructions on the screen.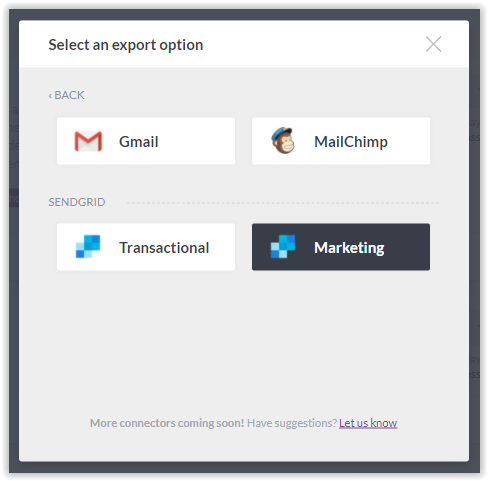 Other ways to export to another application
With regard to exporting your message to other applications, also see: