Easily & quickly export your emails to other applications
You can now export your email templates or campaigns to your email service provider (ESP), marketing automation platform, ecommerce system, CRM, or other sending application with just a couple of clicks.
There are currently connectors to...
Activating a connector
The first step in using connectors in BEE Pro is to activate them in your account. Activation & installation are two separate steps because in the Agency version of BEE Pro, you can activate connectors at the account level, and then separately make them available (i.e. install & connect them to different accounts) at the brand/client level.
You will find all the available connectors in the account menu under Manage connectors. Some are available free of charge whereas others require a monthly fee. This is indicated at the top-right of each widget.

In the example above, for instance, the user has activated connectors to HubSpot, MailUp, and SendGrid, whereas the connectors to Gmail and MailChimp are not active.
To activate a connector:
Mouse over it
Click on it
If payment is required, you will be prompted to confirm that you wish to add the new fee to your subscription. Otherwise, the connector will be immediately activated.
Once the connector has been activated, you now need to give BEE Pro authorization to connect to that particular application.
Installing & connecting
To connect any of the active connectors to the account that you have with that particular application, go to the Settings area. This is handled under Settings because users of BEE Pro Agency can configure different settings for different brands (e.g. connecting to different MailChimp accounts for different clients). If you have multiple brands/clients, see below under Using connectors with multiple brands or clients.
On the Settings page, you will see the connectors that have been activated in the Manage connectors area. If you need to activate another one, click on Manage connectors to do so.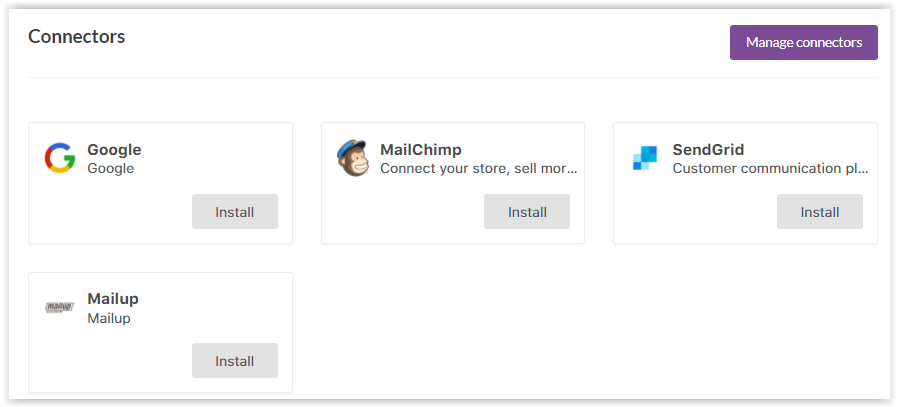 Click Install for any of the available connectors. On the window that is shown to you, click on Connect my account. For example, if you are connecting to MailChimp, the call-to-action button will say Connect my MailChimp account, as shown below.

Clicking this button will open the application login form, which changes from application to application. Use your account credentials to authorize BEE Pro to push emails to that application. Your account credentials are not stored in BEE Pro: they are only used at the time the authorization is requested.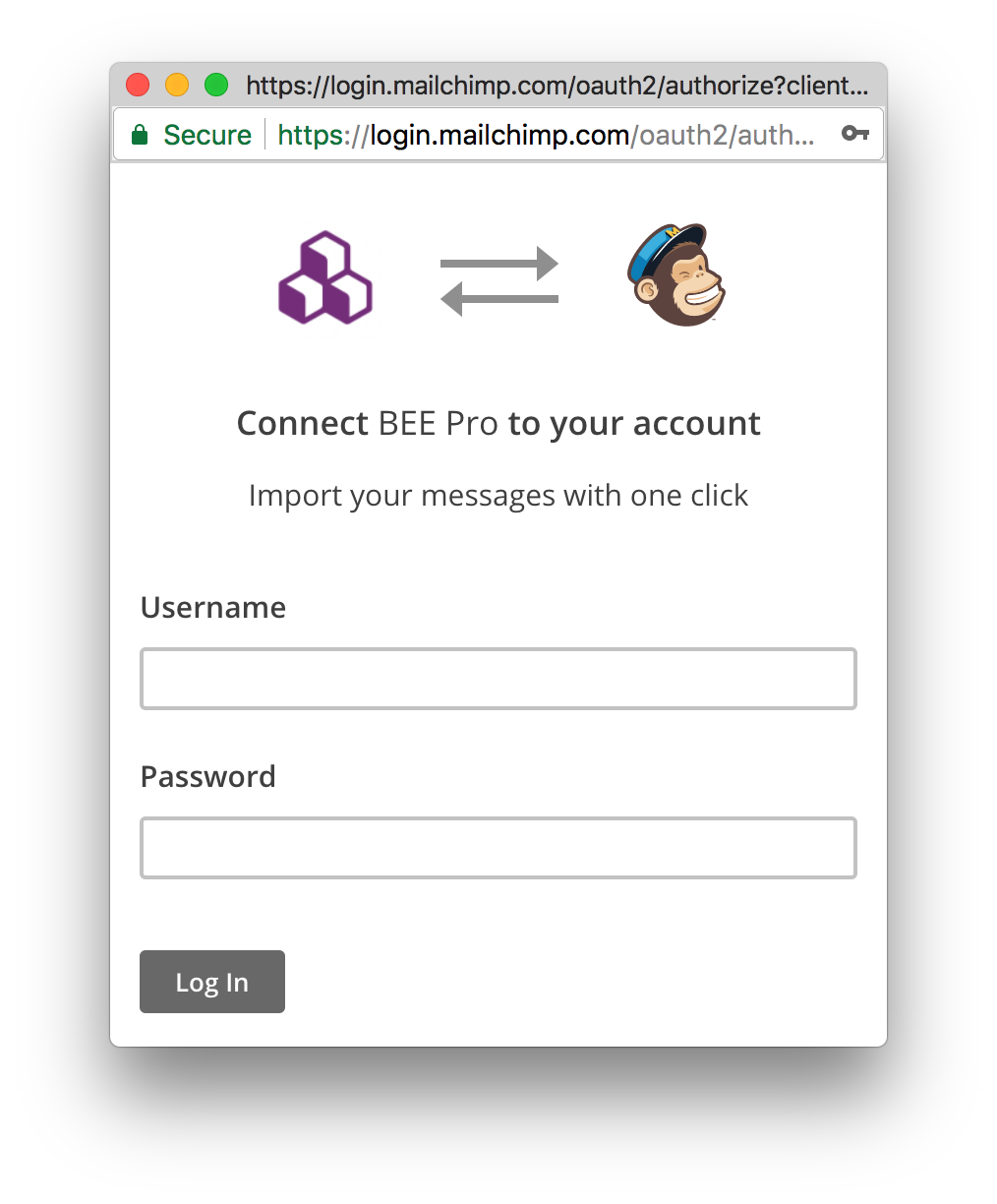 Once the destination application has confirmed your identity, BEE Pro will indicate that the connector has been installed successfully. You're now ready to start using the connector to push emails to that application.

If you wish to log out and change the account that you are connecting to (e.g. you need to connect to a different MailChimp account), just click on the View Settings link.
If you need to frequently connect to different accounts (e.g. you are designing email templates for several clients, each with their own MailChimp or HubSpot or SendGrid account), you can upgrade to BEE Pro Agency where you can manage connections separately for each Brand.
Using connectors to export your emails
Now that your connectors have been activated and installed (i.e. connected to an account you have at the destination application), you can use them to push email campaigns or email templates whenever you are ready to do so.
On the Messages page or the Message details page, click on Export and then Export to ESP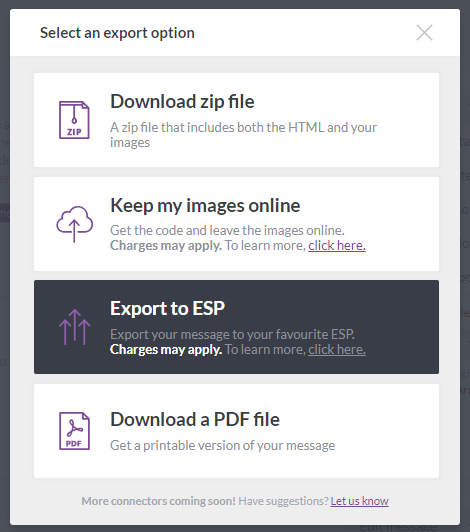 A new window will be displayed with a list of the connectors that are available for you to use. Select the application that you want to export your email to by click on it.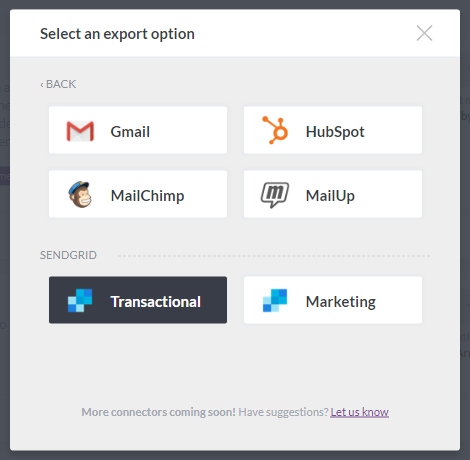 Using connectors with multiple brands (or clients)
If you are an email marketing agency or a marketing team in a larger company, you may have more than a brand/client/business unit for which you are designing email templates or campaigns.
As briefly mentioned above, the Agency version of BEE Pro allows you set up different brands (i.e. clients, business units, brands within your company) so that you can better organize your emails, control user access, and specify different connectors for each brand.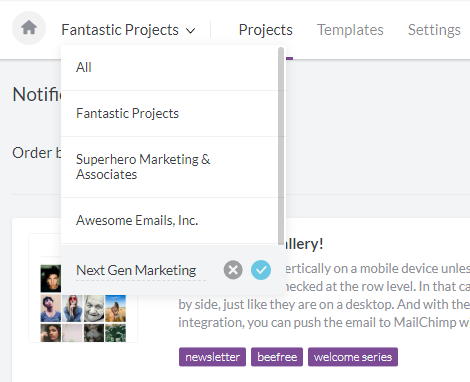 Connectors are part of the brand settings, so you will be able to set up different connectors for each brand and forget about switching accounts before exporting.
For example, if you are a digital marketing agency with 10 clients that use MailChimp, you will be able to create 10 brands in BEE Pro and connect each of them to their specific MailChimp account.
Active connectors
Exporting a message will create a draft in your Gmail account.
BEE Pro will create a new email template in your HubSpot Marketing account.
BEE Pro will create a new template in your MailChimp account.
BEE Pro will create a new message in your MailUp account, in the List of your choice.
BEE Pro will let you export messages as (and you will find them under):
SendGrid transactional templates
SendGrid marketing campaigns
Have suggestions? 
Please use the form located at the bottom of this page.