Leveraging User Roles and Permissions in your Email Workflow
BEE Pro helps you improve your email creation workflow by letting you add multiple users - colleagues, clients, consultants, etc. If you are using a Team or Agency account, you are also able to configure what they can and cannot do.
For example, how can you prevent a junior editor from modifying the dynamic links and legal language in an email footer? And what if you didn't want a new employee to have access to important projects or clients? That's exactly the kind of thing that roles and permissions help you do in BEE Pro.
Setting Different Access Levels for your Users
Roles determine what users can or cannot do in BEE Pro.
To assign roles to your users, simply visit the Manage users section by selecting that link in the top-right drop-down menu.

The Role column indicates the role that has been assigned to that user. You can choose the role when you create a new user, or by editing an existing user.
If you don't see the "Role" column, refresh your browser or clear your browser's cache.
Assigning roles to existing users
If you already invited colleagues or clients to collaborate with you in BEE Pro before this feature was introduced, or while using the Freelancer plan, their role will be Admin by default. To change their role just hover the mouse over their current role and click on the edit icon that will be displayed.
A drop-down menu will appear and allow you to select a different role: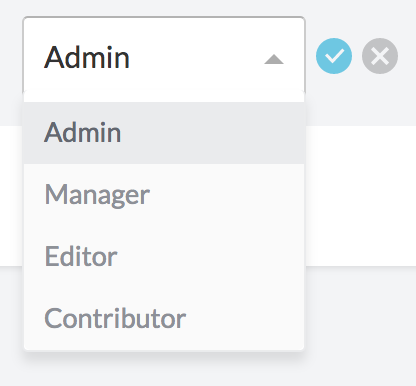 Assigning roles to new users
When you invite new collaborators, you can now assign the desired role before they access your BEE Pro account.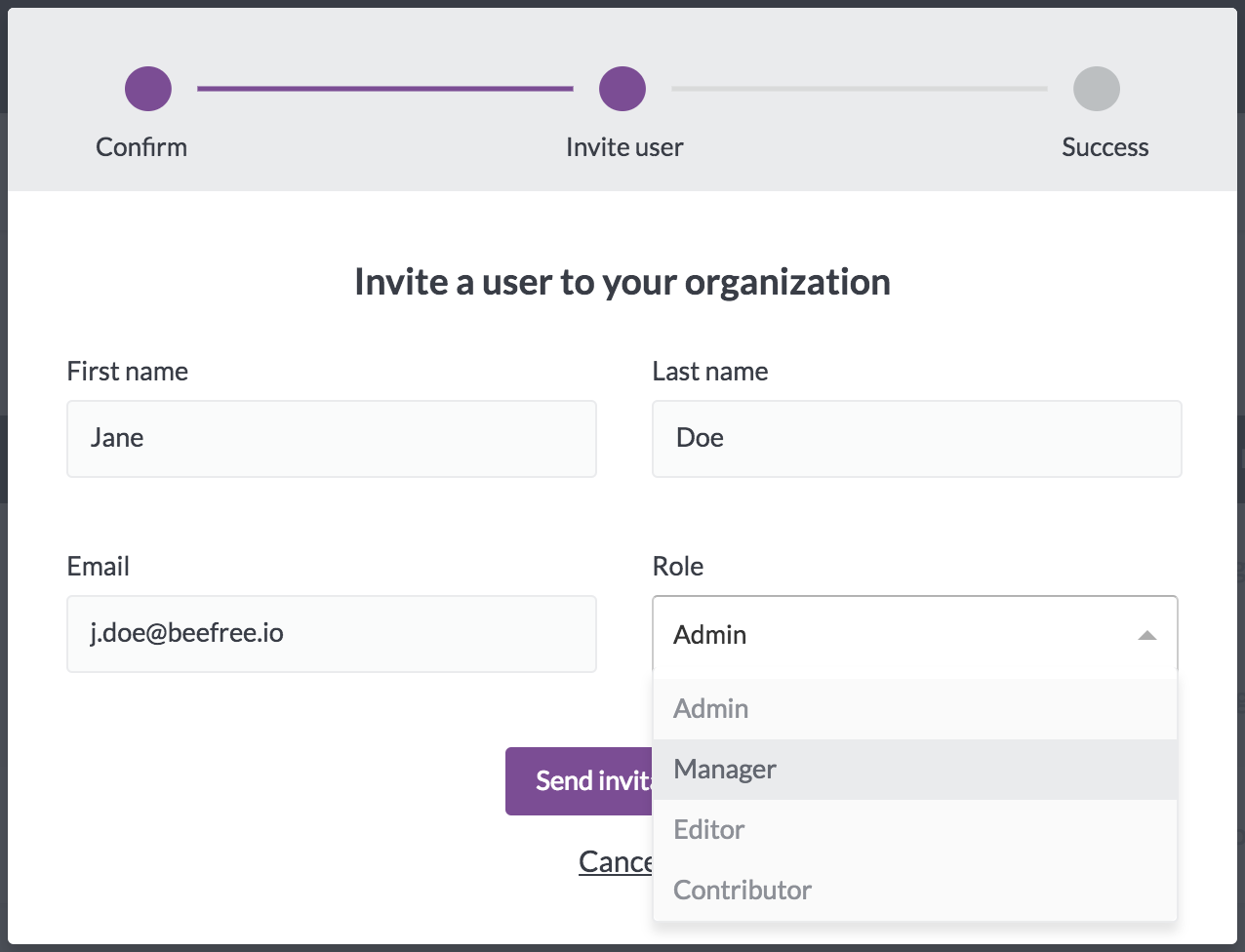 Understanding the Different Roles
Each role has a default set of permissions that define what they can or cannot do in BEE Pro.
Available roles
Owner
The user can manage the BEE Pro subscription. This is the only user that can purchase items (upgrade plan, add users, activate a connector, etc.).
Admin
Has access to all the features and can create and manage brands in an Agency plan. Usually, this is a person that is in charge of overall team management.
Manager
This user cannot create a brand or decide who has access to it but has all the capabilities to manage the message creation workflow inside a brand, including template management and content locking.
Editor
Typically someone that creates, edits, and export messages.
Contributor
Someone that will sporadically contribute to content editing (e.g. text optimization).
Permissions details
Locking Email Content, Template Layout, or Both
One of the most powerful features associated with user roles is the ability for some users to lock content that other users cannot edit. For more information, see Locking content to prevent unauthorized editing.