NEW: one-click export to MailChimp!! We are excited to introduce this new feature, free of charge to all BEE Pro users
Applicability
This article applies to users of:
A flexible email editor for MailChimp
MailChimp is one of the most popular email marketing platform in the world, with over 15 million users. Over 20% of the users of BEE Free & BEE Pro are MailChimp customers. Why do they use BEE with their MailChimp account, since there is already an excellent email editor inside MailChimp?
In a nutshell, BEE provides awesome design flexibility (e.g. the concept of adding, copying, moving, and removing "structures" in the message). So many email designers like to create their templates or campaigns with BEE, and then export them to MailChimp.
Exporting an email template (or message) to MailChimp
Whether you are designing a template to be used multiple times or creating a message for a specific campaign, you can now easily design the email with the BEE editor, and then export it to MailChimp. There are different ways to do so.
One-click export
BEE Pro users rejoice! We know that many of you use MailChimp to send & track your campaigns, so we added a one-click export feature that makes it super easy and quick to design a beautiful email with BEE and then push it to your MailChimp account. 
First, log into your BEE Pro account and go to Settings > Connectors.
Enable the connector by entering your MailChimp account credentials when prompted to do so.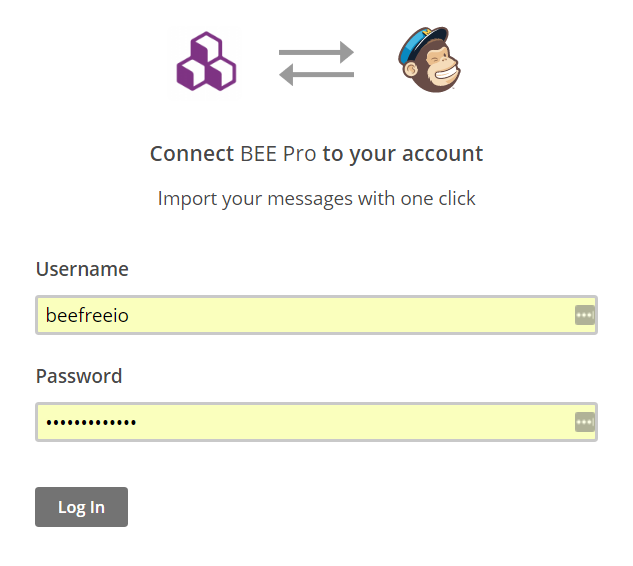 MailChimp will now show as a connected application in the Connectors section.

Now that the connection to MailChimp has been enabled, you can select it from the Export to ESP options from the message details page.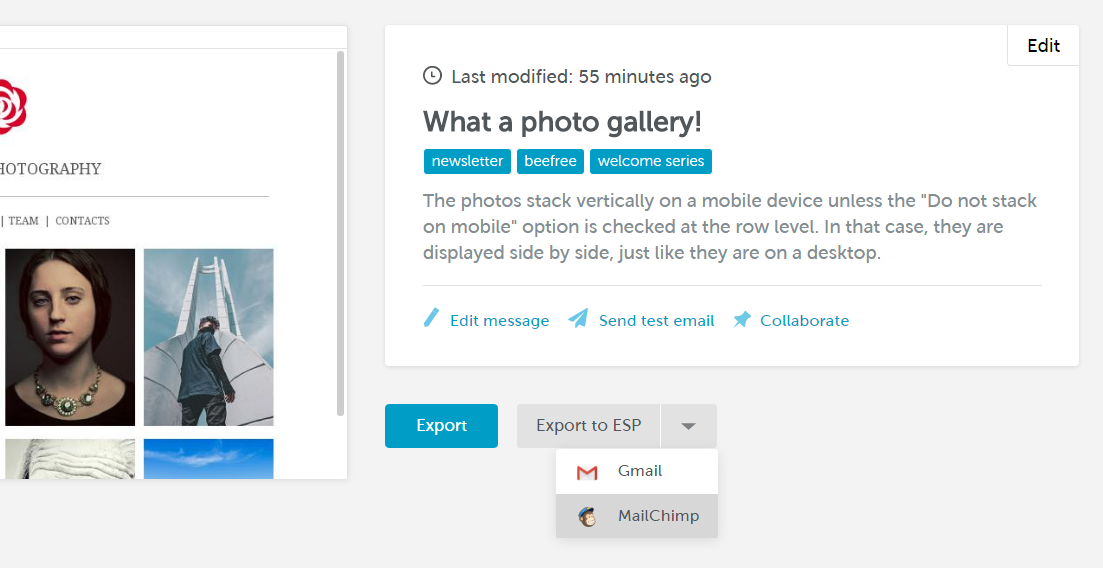 BEE Pro will ask you to confirm that you wish to push the message to your MailChimp account...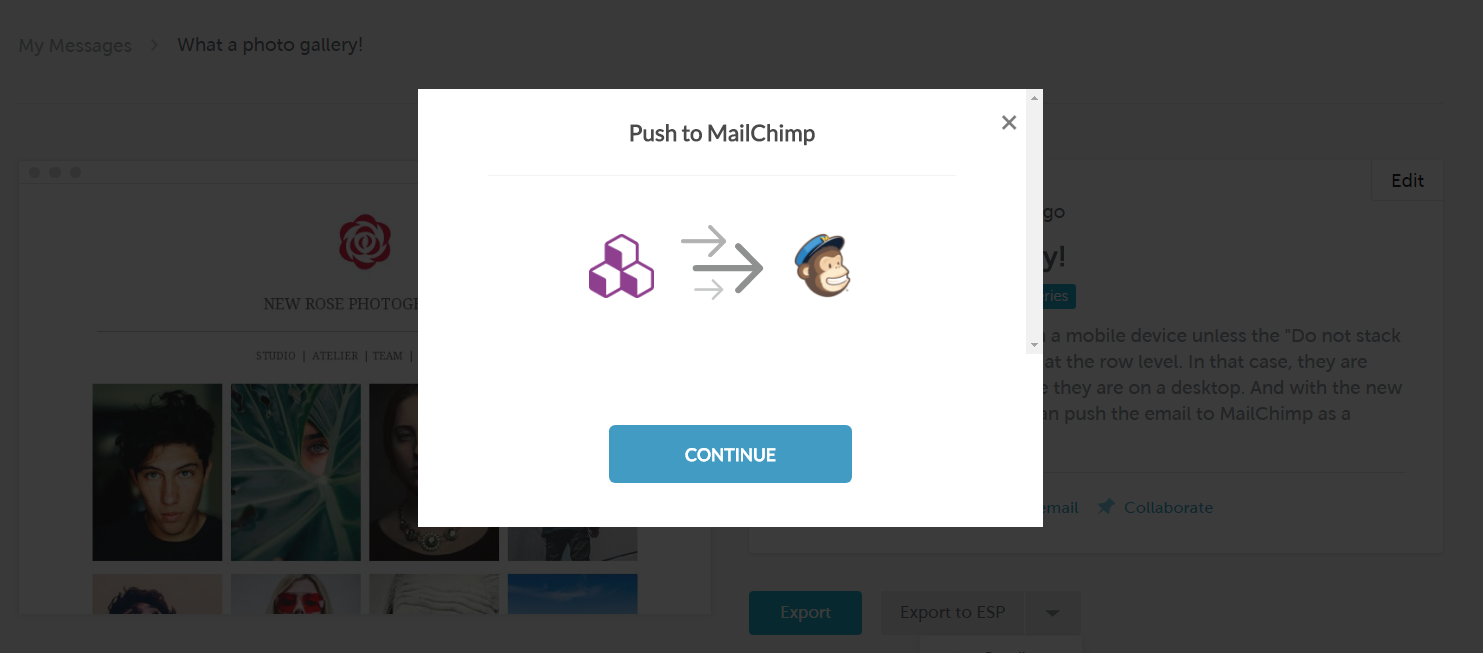 ... and then confirm that the message is on its way.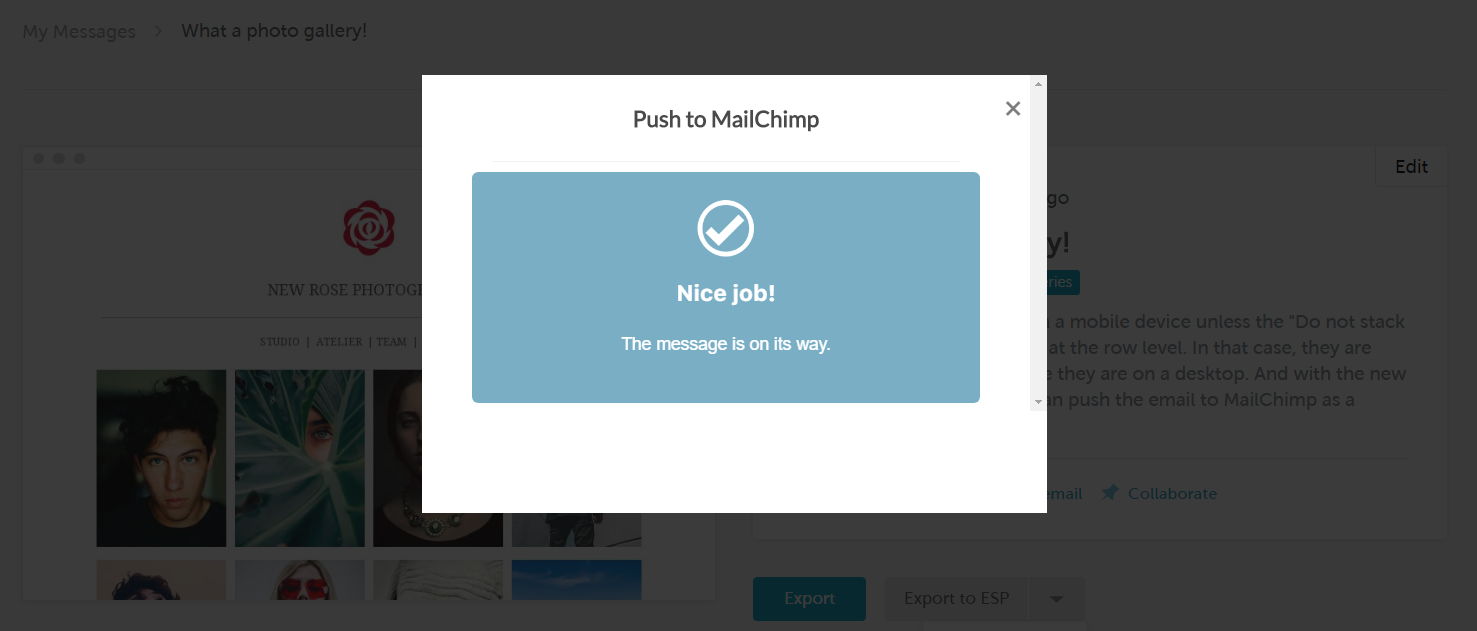 The message will be exported to your MailChimp account as a new template. It will appear in the list of templates within a few seconds. Please note that the thumbnail may not be displayed for a couple of minutes.

For a more in-depth tutorial on using BEE Pro as your email design tool for MailChimp, please see: How to use the BEE MailChimp connector
Enjoy this new feature and let us know what you think! 
ZIP Import
Simply take the ZIP file that is created for you by BEE Free or BEE Pro, and import it into MailChimp. There is a feature in your MailChimp account that does exactly that.
See: Importing a ZIP file to create a campaign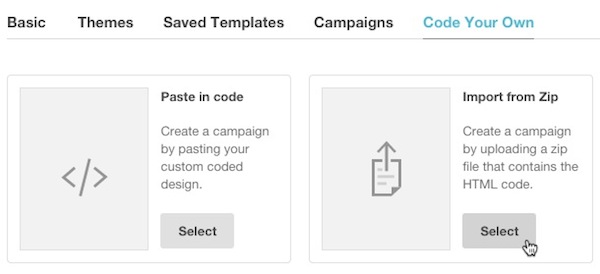 Email Beamer
Alternatively, you can use a feature called Email Beamer to create the campaign without even logging into your MailChimp account. What you do is send the message to a special email address that you can obtain from your account settings. When you send a message to that address, the email is turned into a campaign. You can use the Quick Send feature in BEE to send the message.
Then, you can then either log into your account, edit it and send it, or - if it's ready to go - send it to your entire list without accessing MailChimp at all.
For more, see: