Using workspaces
BEE Pro becomes Beefree
We're still the same design suite you know and love, just with a new name. Our team is working hard to update our documentation, but you might still see some information or screenshots that are out of date.
This article applies to the Enterprise plan.
Overview
Workspaces add a level of organizational hierarchy to your Beefree account. They allow you to manage your design process with even more flexibility. They can also allow you to better your additional users. Each workspace has its own settings, styles, templates, and user permissions.
You can add a new workspace by using the drop-down menu.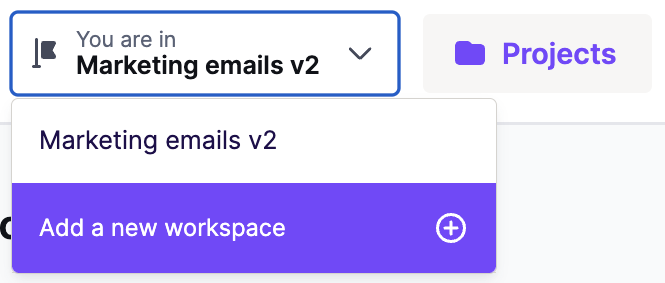 The magnifying lens helps you search through your workspaces by typing in a name. The search function only populates when you have more than four workspaces.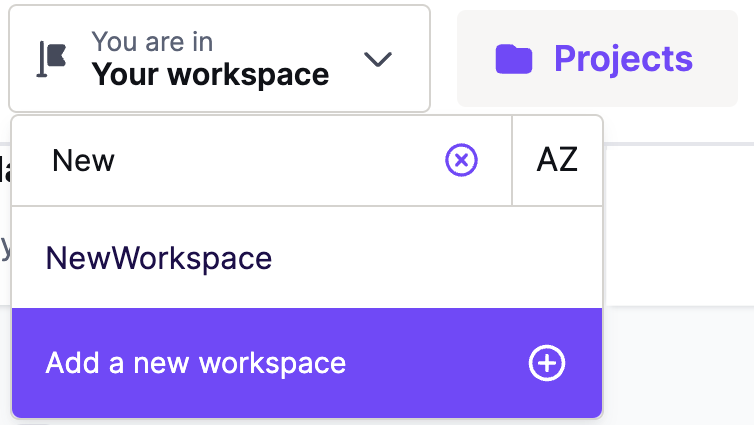 You can also decide to sort your workspaces alphabetically.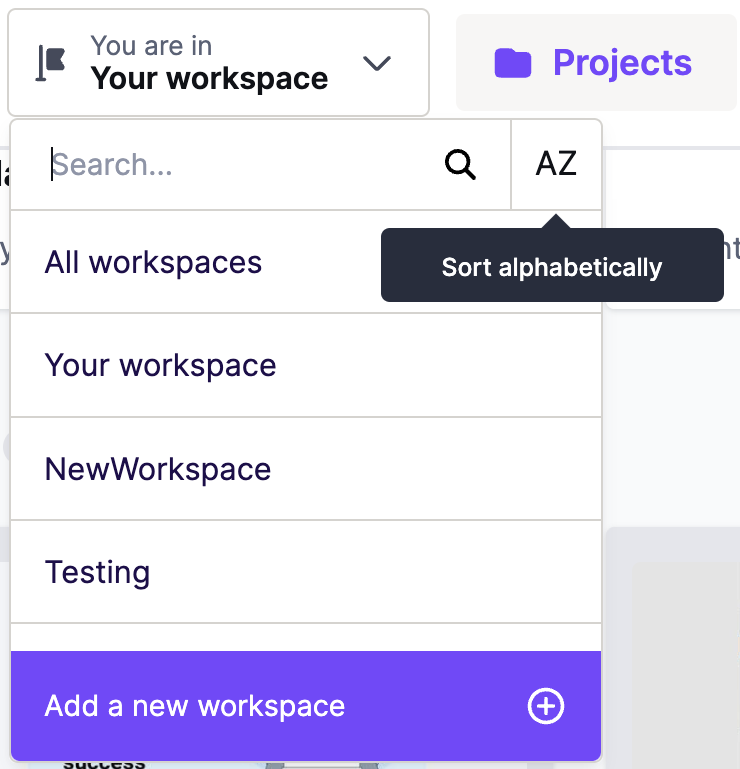 Beefree subscriptions use one default workspace until upgraded to the Enterprise plans.


More than just Design Organization
A workspace is more than a container that gives you another way to organize your designs. Workspaces operate as individual environments. They can help you manage clients or business units. Alternatively, you can isolate a project with special requirements.
With the Enterprise plan, you can create as many workspaces as you need.

Workspace Settings
General settings
In the General settings area you will find an array of workspace-specific configurations:
Workspace name: It's shown everywhere workspaces are listed.
User permissions: Choose who will see the workspace and who can work in it. You can change user permissions by using user roles. The account owner is the only default user for all workspaces.
Merge tags and special links: Add, edit and remove merge tags and special links that will be ready to use when designing in this workspace. Learn more about this feature.
Default templates: Define whether to show or hide the templates that are part of the Beefree template catalog. They populate by default when creating a new design. If disabled, only custom templates are shown when creating a new design. See Working with custom templates for more information.
Display conditions: This feature allows the use of conditional statements in the builder. It adds a Display conditions option at the row level. See how to use display conditions in this article.
Row categories order: Choose the row categories that you want to display in your builder.
Delete workspace: The whole content of a workspace will be deleted.
Workspace styles
In the Workspace styles area, you can pick the colors that you want readily available in the builder. Check out our complete documentation on Workspace styles.
This page also includes the following settings:
Button: Set the background, text, and border colors for your buttons
Text: Choose the default text and link color
Social links: Pick a set for your social links
Workspace fonts: Set which fonts can be used when designing in this workspace. You can enable or disable built-in fonts, or add your own custom fonts.
Web fonts: Some web fonts are pre-loaded into the builder. You can also use the Add custom font button to add more. See Working with custom fonts for more information.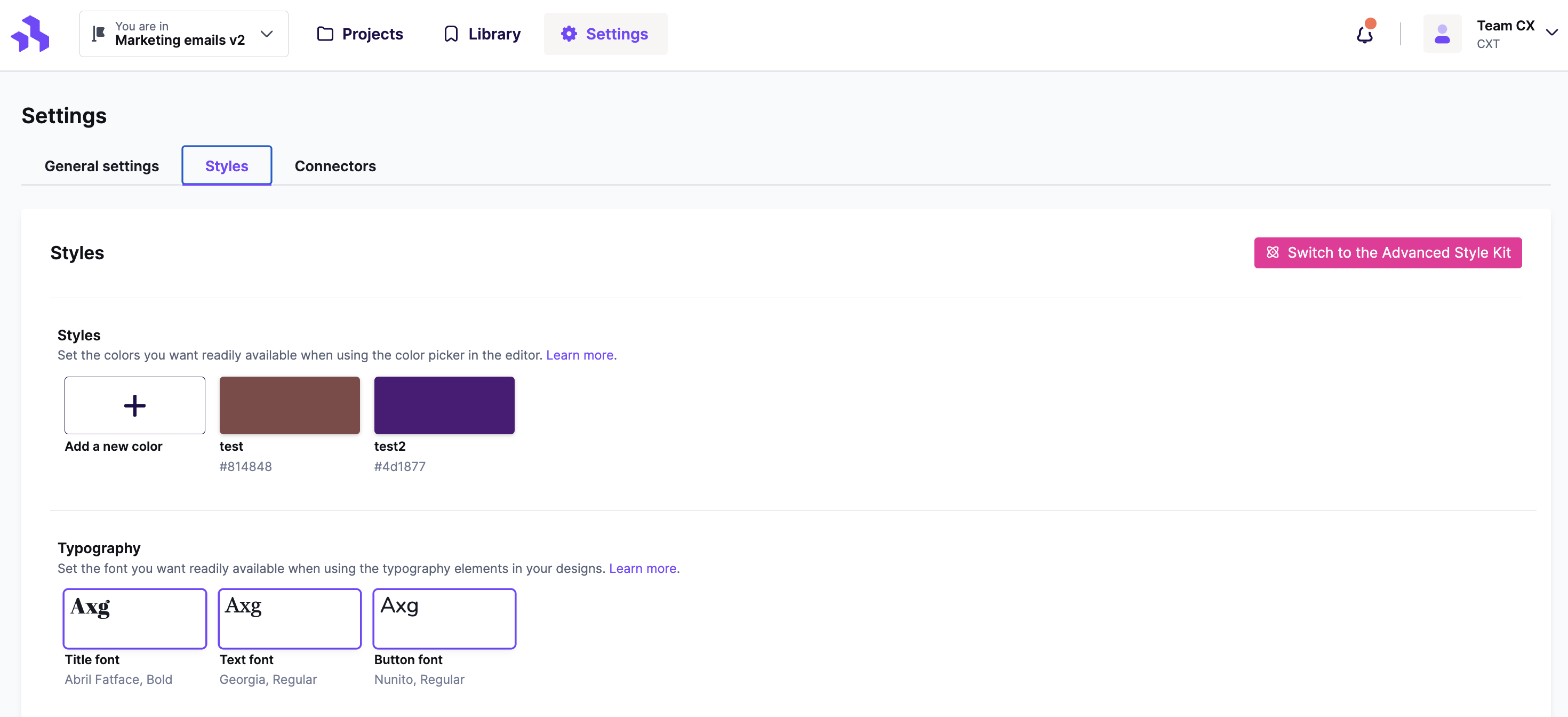 Connectors
This is where you can connect your workspace in Beefree with an external application. Connectors are available for services such as:
email service providers (ESPs)
marketing automation systems
other email sending applications
Each workspace can be set up with a unique set of connectors. See Working with connectors for more information.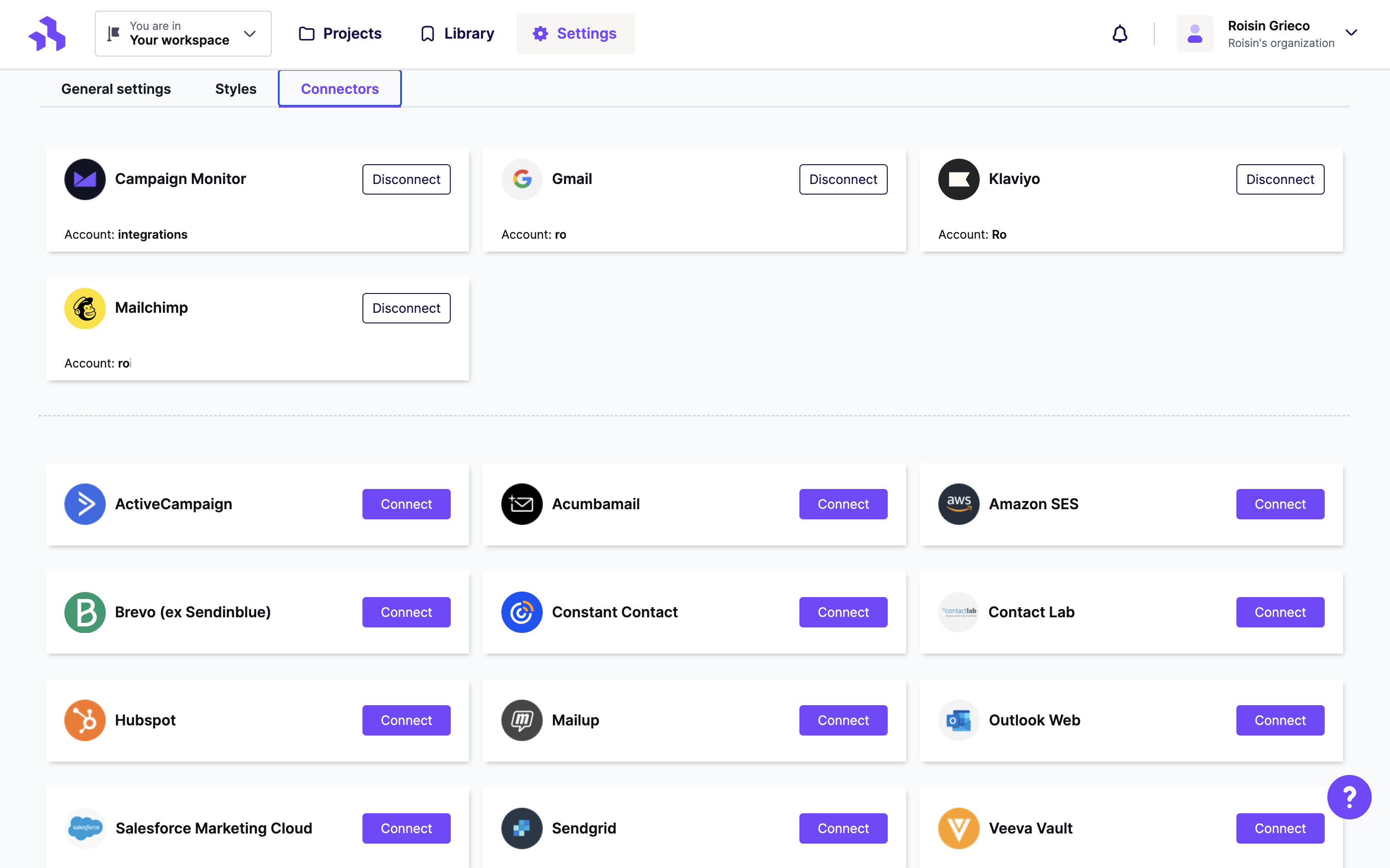 Creating New Workspaces
As mentioned above, you can add a new workspace by using the drop-down menu. When you click Add a new workspace, this turns into a text field. Use this to type the name of your new workspace. (If necessary, you can rename it later from the Settings tab.) After typing the workspace name, click the checkmark button to create the workspace.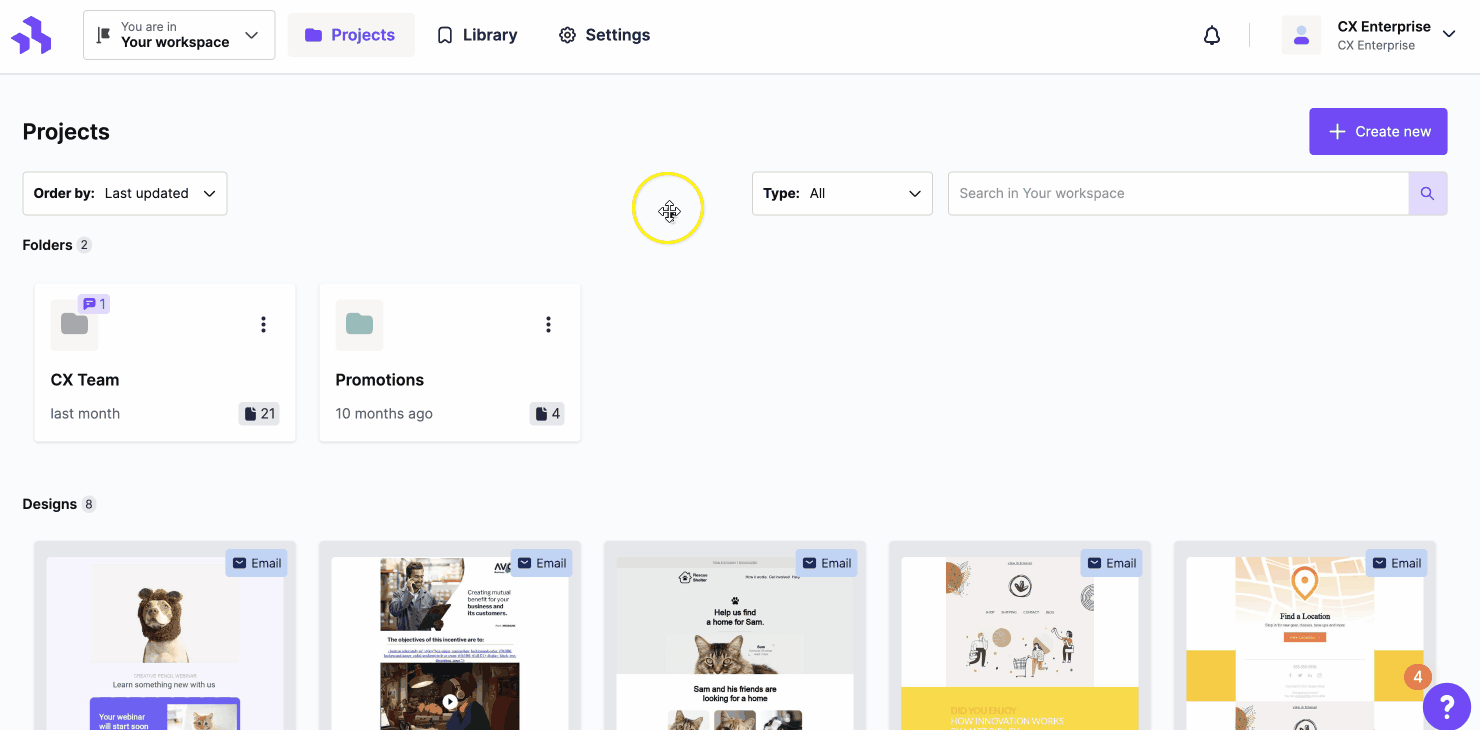 Once you've created the workspace, you'll land on a new page. This page provides some options for your new workspace. You can choose to copy settings and other assets from one of your existing workspaces. If you don't want to copy anything, you can create a new workspace from scratch.
You can copy workspace settings, styles, saved rows, and templates. If you want to copy existing settings and assets, use the dropdown to select a workspace. Then click Copy and import. If you don't want to copy anything from an existing workspace, use Add a new workspace from scratch.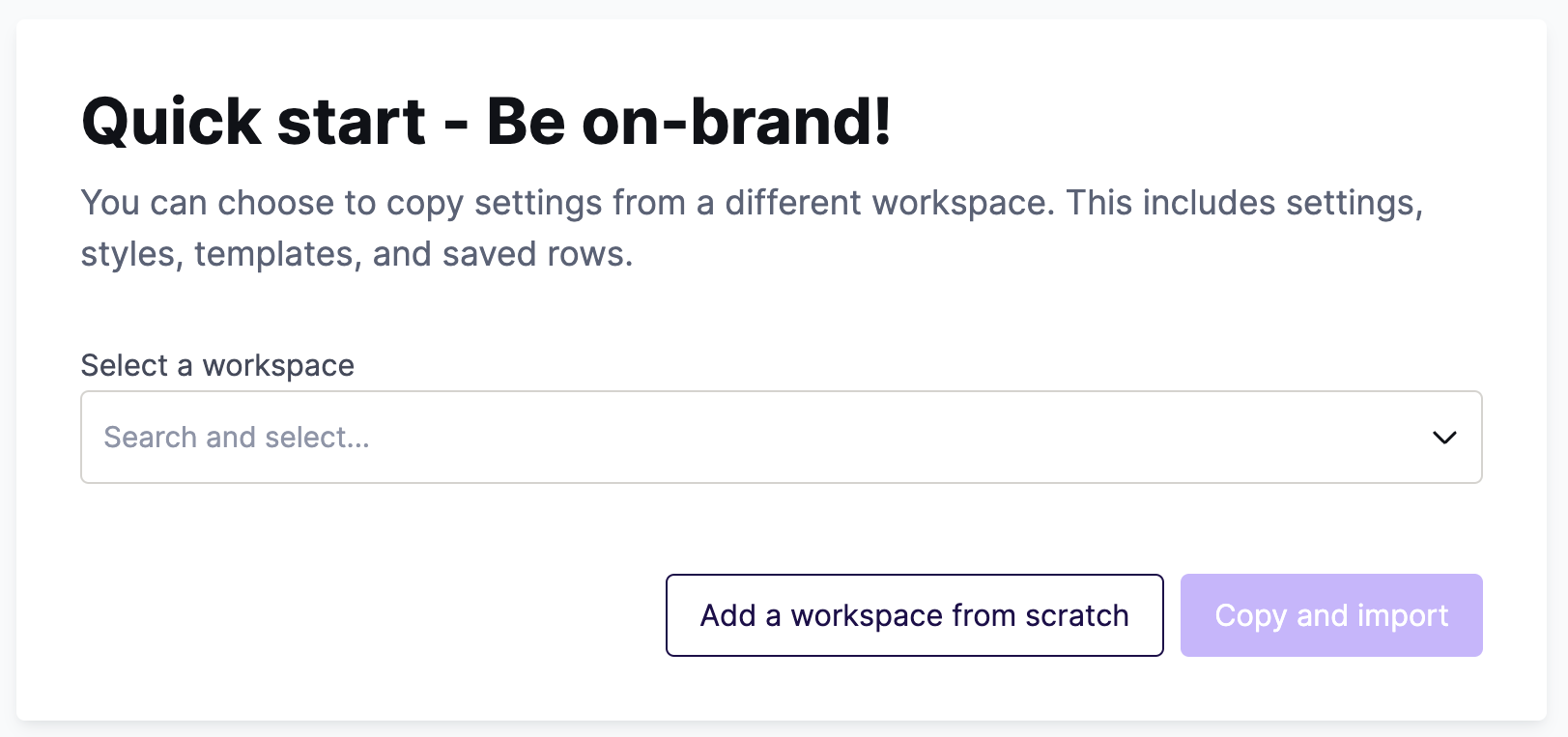 If copying and importing, you'll see an overview of all the assets this includes. To complete this process, click Copy all and proceed.
If you choose to create your workspace from scratch, you'll land on the empty workspace page. You can begin working here immediately.
If importing, the process may take a bit of time. A confirmation message populates to let you know the import is in progress. You can start working in your new workspace while you wait.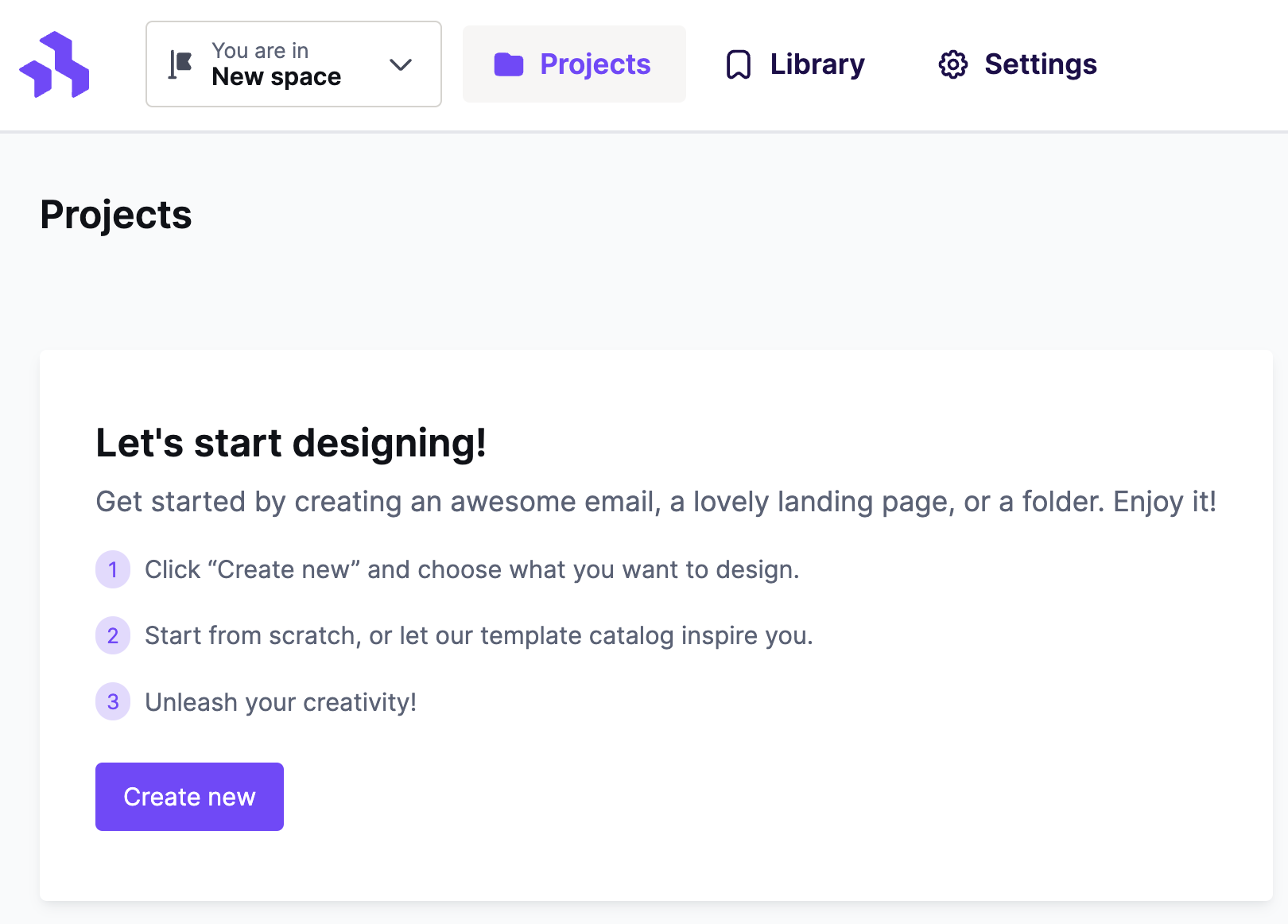 Once complete, you will receive a confirmation message in the notification center.
If you have any questions, feel free to contact us.