Search for free, high-quality stock photos in BEE
Need a cool photo for your email message? No problem, you can search for free, high-quality stock photos right inside the BEE editor!
This feature is available on BEE Pro, BEE Plugin (paid plans), and beefree.io
Lots of free, quality photos ready for your emails
Simply pull up the file manager in the BEE editor by clicking on Change image when an existing image is selected, or by adding a new image block and clicking on Browse.
You will notice the Search free photos button in the top bar.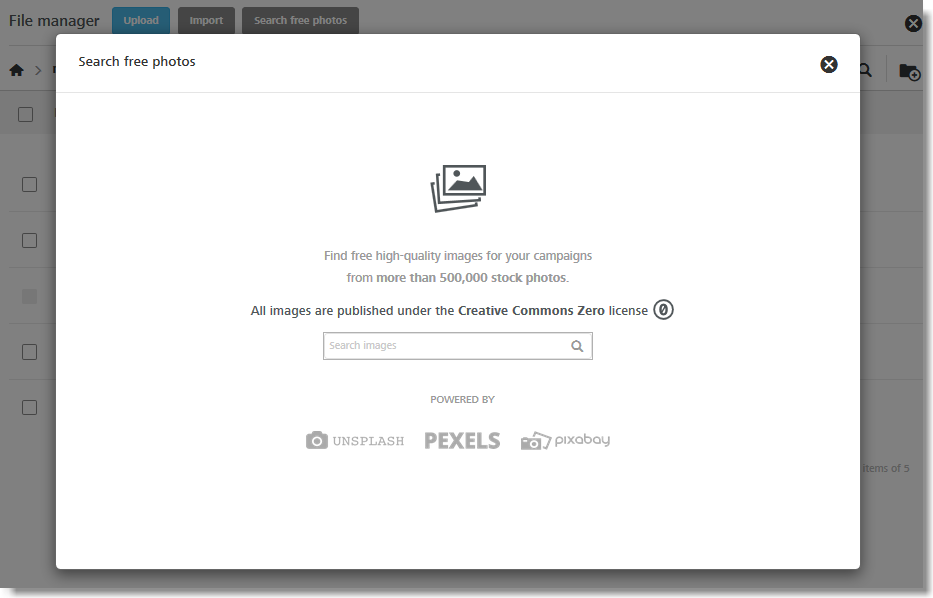 We've partnered with three popular stock photo services - Unsplash, Pexels, and Pixabay - to offer BEE users the ability to search through a large repository of high-quality images that are free to use under the Creative Commons Zero (CC0) license.
How to add an image
Finding photos and adding them to your messages is super easy!
1. For example, let's search for "summer" pictures and look at the search results of matching photos. Notice that each image preview shows you which of the three services it came from, the link to the original image, and a blue Import button.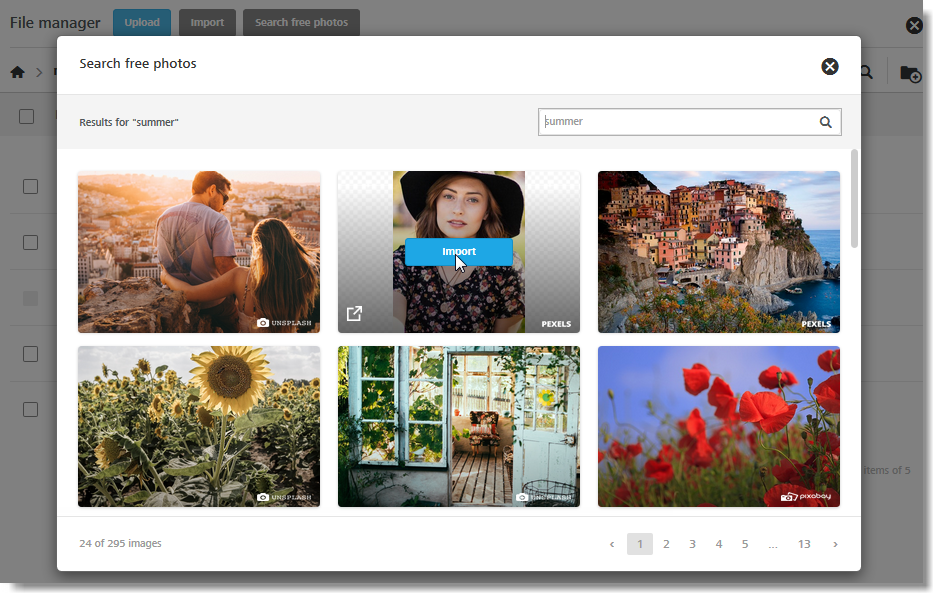 2. Let's import one of the photos from the search results by clicking on the Import button. We can now see it in the file manager:

3. Lastly, we'll click on the Insert button to add the image to the message.
It's that easy!
Additional notes
BEE Plugin customers: this new feature is available on paid plans only and is turned off by default. If you wish to enable it for your users, you can do so by logging into the developer portal and going to the Application configuration section of your BEE Plugin app(s).
The feature can be accessed if the folder is a writable folder in the file manager (i.e. not read-only). The Search free photos button remains inactive in a read-only folder.
Image search works best in English and has limited functionality in other languages. You can try searching in your language and see if the search results are accurate. Continuing on the example above, if you were to search for "verano" (summer in Spanish) you would see that the search results are pretty accurate.
You can further edit your image in the BEE editor through the built-in photo editing tool.
This feature is part of the July 2016 BEE release.