Configuring design settings
BEE Pro becomes Beefree
We're still the same design suite you know and love, just with a new name. Our team is working hard to update our documentation, but you might still see some information or screenshots that are out of date.
This article applies to both versions of the builder in all plans.
In the Settings tab, you can apply your configurations to the entire design.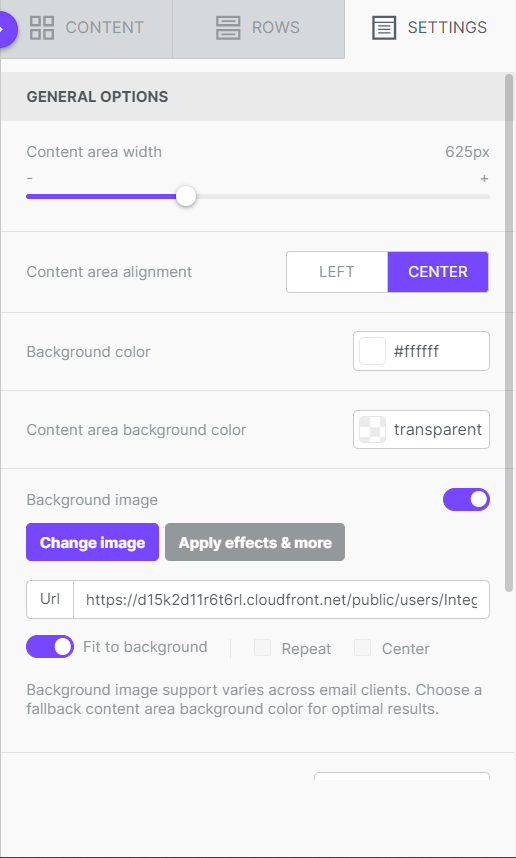 General Options
The general options are all mandatory settings. Any time you start working on a new design in the builder, general options will populate according to the template you're using, or your brand settings. The general options include:
Content area width: Set the width for the content area. This area is used when the device has a screen larger than that width. You can think of it as a maximum width for that content area. On small devices, it will be ignored.
Content area alignment: the content of the text can be aligned to the left (the standard alignment is centered). This affects the whole body of the design.

Background color: the default background color for the design. You will be able to override it at the row, column, and content block level when settings properties for those elements.

Content area background color: the default background color for the content area only.
Default font: the default font family that all content elements in the design will inherit. You can overwrite this selection at the content block level.
Link color: the default link color that all links will inherit unless you overwrite it for individual elements.

Optional Properties
Optional properties are not required, so they can be left empty if you prefer. Depending on whether you're working in the Email or the Pages builder, you will see different settings available. Optional properties include:
Favicon: This option is only available in the Pages builder. This allows you to upload a website or tab icon for your landing page. Learn more in our Pages documentation.
Language: Use this setting to declare an HTML language attribute within the source code for your design. In both emails and pages, this can help with accessibility as it informs screenreaders how to pronounce written content. For pages, this can improve SEO by

helping search engines return language-specific results.
If you have any questions, feel free to contact us.